4 Best Media Players: How to Play AMR Files in High Quality
It is good to store AMR audio files on your device since the group of this kind of file will only take up minimal space on your storage. However, you must keep in mind that regular media players do not widely support AMR. And playing such files to any media player you have on your device might be inconvenient. Having at least one reliable AMR file player installed on your device is important. But if you do not know which is reliable enough to utilize, reading this entire content is necessary.
Fortunately, we have gathered 4 of the people's choices regarding this topic utilized on Mac and iOS. Therefore, see and match their features to your preferences, then pick your best choice after!

Part 1. What is AMR File
Before we start learning about the AMR audio file players, let's not disregard the further information about the said file format. AMR, or the Adaptive Multi-Rate audio codec, is a compressed audio used on handy devices like mobile phones. The product of voice recordings from mobile devices comes with effective compression to a much smaller size to store. It uses the .amr extension that has an AMR-NB and AMR-WB type of codec that can be saved in two different formats. Due to its compression ability, AMR reflects on having poor audio or sound quality. Moreover, it is normally catered to voice memos created from iPhones and Blackberry phones.
However, this audio format is not universal, and all AMR files are not playing on many media players. It is why, to ease this inconvenience, you better ready a good audio player for your AMR files that you can use anytime.
Part 2. 4 Desirable AMR Audio Players
1. Video Converter Ultimate
If you are looking for an all-out media player for your Mac, then you must grab this Video Converter Ultimate. It is a video converter with a built-in video and audio player to play full convents without interruptions. In addition, this player also comes with a neat playback control function. So, you can change your video playback speed as you like when using this tool. As it is mentioned, this video converter can assist you in transforming your media files into more than 500 media formats based on your needs. With that said, you can also rely on it to be an all-audio-format and AMR player for Windows 10, 11, and Mac. Aside from that, it also offers extensive editing tools that will help you beautify your video and audio files. Want to see how to play your AMR audio using Video Converter Ultimate on Mac? See the steps below.
Step 1
Install the tool on your Mac by clicking the Download button below.
Step 2
Launch the tool, and go to the Toolbox tab menu. To see the Video Player tool, then click it.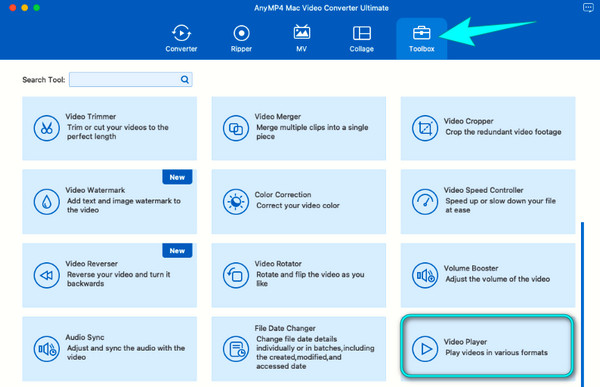 Step 3
On the next window, hit the Plus icon at the center to upload the AMR file you need to play.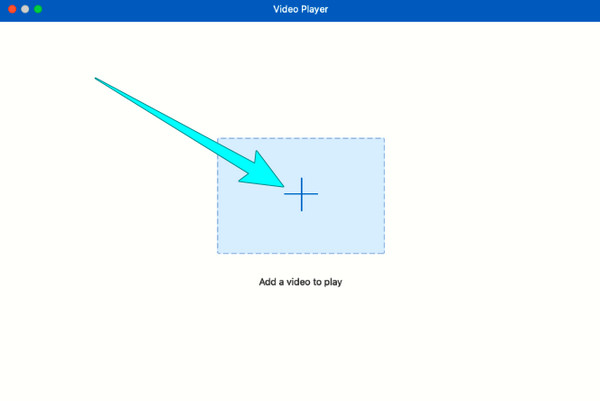 Step 4
Prepare your headphones as you upload the AMR file because it will automatically play once imported.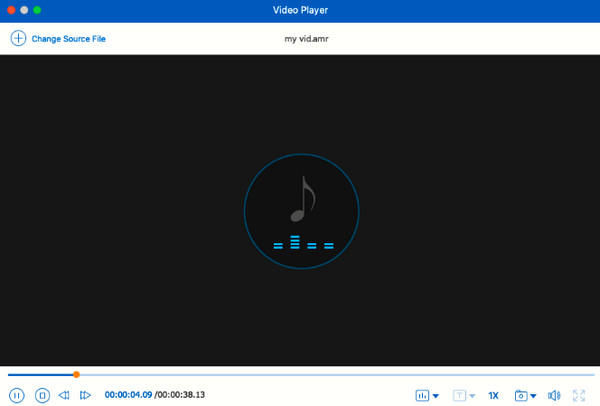 Pros
● It is a multifunctional media player.
● Infused with advanced technologies that smoothen the playback.
● It supports a wide range of video and audio files.
● You can use it for free.
● Easy to navigate.
Cons
● The free trial is limited to 30 days only.
2. Audacity
Audacity is another AMR player on Mac that you can find out. It is free and open-source software that mainly plays audio files, including AMR. Audacity is a kind of audio tool that produces high-quality sound. In addition, it allows you to edit your imported and exported AMR file if you want. Want to learn how it plays your audio files? See the steps below.
Step 1
Run the tool, and click File > Open to load your AMR file.
Step 2
When the AMR is in, click the Play button to begin the audio playback.
Step 3
Then feel free to click the Stop button anytime you need.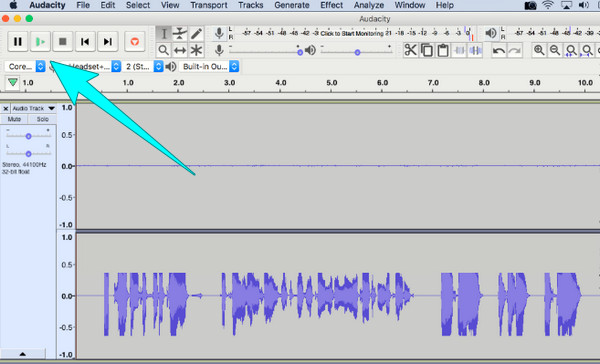 Pros
● It plays and edits your AMR files.
● It outputs high sound quality.
● It supports unit effects plug-ins for the betterment of audio.
Cons
● It is not user-friendly.
● It has high system requirements.
3. 5KPlayer
If you want a glitch-free AMR extension player for your Mac, then you can use this 5KPlayer. It is a free-to-use video and audio player that supports various formats such as MP3, AAC, Flac, and AMR. Furthermore, it allows you to create a playlist, loop AMR files, and repeat a certain music file. Hence, follow the simplified steps on how you will be able to play your AMR files with 5KPlayer. If you think that this tool can't meet your needs, we also recommend 5KPlayer alternatives.
Step 1
Fire up the player on your Mac after you install it.
Step 2
You can drag and drop the AMR file to its interface to ease the importation.
Step 3
Enjoy playing the AMR music file.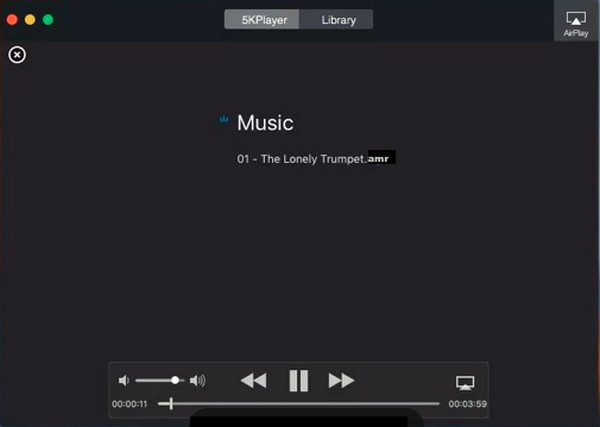 Pros
● It provides an audio bitrate adjustment function.
● It supports many media formats.
Cons
● It occupies a huge CPU.
4. VLC Media Player
Here comes an open-source media player that you can use freely on Mac, Windows, iOS, and Android, the VLC media player. Almost all users of computers know about the existence of VLC since it is the most popular media player worldwide today. One of its greatest features is its ability to play even unfinished or interrupted video and audio downloads, making it a good choice for people who do not want to waste what their effort has made. Thus, here is the instruction on how to use this AMR player on the iPhone. Click here to get how to use subtitles in VLC.
Step 1
Launch the VLC app on your iPhone. And tap the Audio tab menu.
Step 2
Search your AMR file from your cloud or iTunes library, and tap it to play.
Step 3
Start listening to the audio till it finishes.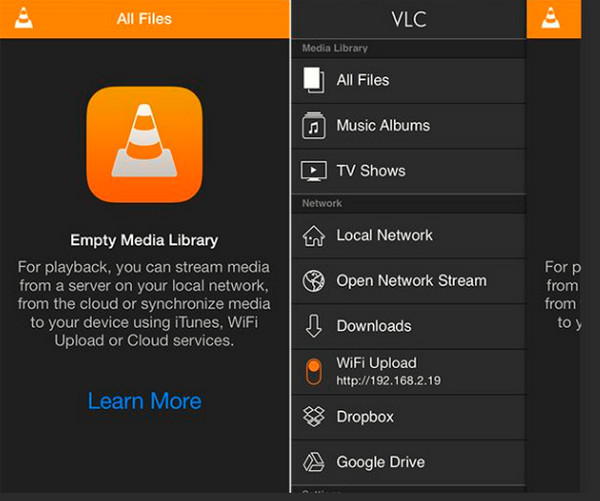 Pros
● It is an entirely free app.
● It provides various settings.
Cons
● It only accesses the AMR files from iTunes and the cloud.
Part 3. FAQs about AMR File and AMR Players
Is there an AMR player online?
Yes. The AMR player with Google Drive allows you to play AMR files online.
Can I use Windows Media Player to play AMR audio files?
No. Windows Media Player doesn't support AMR audio format. But, you can use the Video Converter Ultimate to play the AMR and other audio formats.
Can I play AMR on my Android without a third-party app?
No. Android's built-in audio player doesn't support AMR files. With this said, if you want to play AMR on Android without downloading a third-party app, then better if you convert the AMR to another audio format like MP3 using Video Converter Ultimate.
Conclusion
To wind up this post, the presented AMR file players have their individual and unique attributes. However, not all can be the best for you. Video Converter Ultimate. is the best choice because it is multifunctional with more unique features as an audio player, like an audio sync, volume booster, media metadata editor, and many more.