Ultimate Guide to Convert WebEx ARF to MP4
Have some ARF recordings but can't directly open them with QuickTime Player or Windows Media Player?
In general, ARF files can only be supported by WebEx Player and can't be played with media players like QuickTime Player and WMP. When you have restriction in playing ARF recordings, you need to convert ARF to MP4 or another popular format.

Do you know how to convert WebEx ARF to MP4 ? Here in this post, we like to share 2 ways to help you change your ARF recording to a file in MP4 format.
Part 1. Common Way to Convert ARF to MP4 Online
When you want to play a Cisco WebEx Meeting, Event, or Training session recording file in ARF, an ARF player is necessary. However, you can also convert ARF to MP4. Good thing is, you can directly rely on its official player and converter, Network Recording Player to make the ARF file conversion.
Step 1
First, you need to download and install Network Recording Player on your computer.
Step 2
Click the File tab on the top menu bar and then choose Open from the drop-down list. You can use it to locate and open the ARF file you want to convert.
Step 3
This WebEx ARF file will be automatically played after loading. You can click the pause button to stop the playing. Click File menu again and this time you should choose the Convert Format option. From the drop-down list, select MP4 (MPEG-4) as the output format.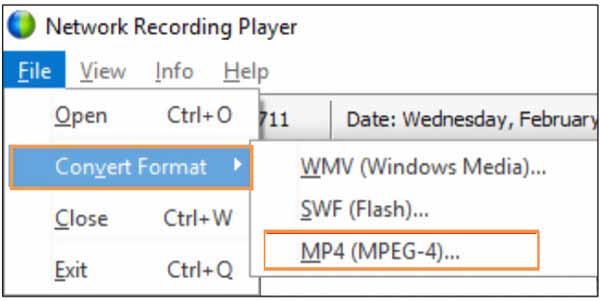 Step 4
Now you can see the Network Recording Player dialog box. Sign in your WebEx account as it required. Then click the Continue button to move on. By doing so, you can install the ARF to MP4 conversion tool. Click Continue button again to confirm your operation.

Step 5
Under the Convert Format to MP4 dialog box, you can click Browse button to select a suitable destination file folder. During this step, you can also rename the file. After that, click on the Save button.
Step 6
Click OK to start the file conversion from ARF to MP4. You will see a Conversion complete window as soon as the converting is finished. Then you can choose Open, Open Folder, or Close based on your need.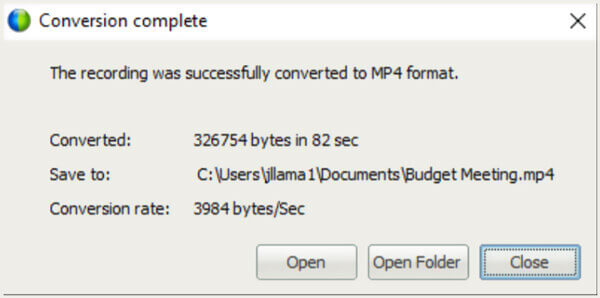 Part 2. Better Way to Record ARF to MP4 on Mac and Windows PC
To record in WebEx, you have to be the host. Moreover, the output ARF recording file can't be natively supported by most players and devices. Why not directly record the WebEx meeting as an MP4 video?
Here we strongly recommend a powerful WebEx recording tool, Free Online Screen Recorder for you to record any WebEx meetings with high image and sound quality. Even when you are just a participant, you can rely on it to capture the WebEx content with ease.
Step 1
Open your browser and navigate to this Free Online Screen Recorder site. You can use it on any frequently-used browser including Chrome, IE, Firefox, Yahoo and Safari.
Step 2
Click the Launch Free Recorder button to install a small-size launcher for the WebEx recording. After that, you can see the main recording window appears on the screen.

Step 3
You are allowed to free adjust the recording area, web camera, audio recording source and more. You can custom these settings based on your WebEx meeting.

Step 4
After all these operations, you can click on the REC button to start the recording process. The captured WebEx meeting will be saved in MP4 or WMV based on your setting.
Apart from recording WebEx meeting, this this free online screen recorder also supports recording Zoom meeting, Google Meet, and more online meetings.
More than just the WebEx meeting, you can rely on this free online screen recorder tool to capture anything displayed on your computer. If you want to record a higher resolution video, or directly edit your recording file, you can upgrade to its Pro version.
Part 3. FAQs of ARF Format and ARF to MP4 Conversion
1. How to export ARF file from WebEx?
You should know that; the WebEx recording file will be automatically saved in ARF format. You can go to My WebEx, choose My Files, and then My Recordings to locate the WebEx recording you want to download. From the recording, click on the More icon. Now you can click Download to export ARF file from WebEx.
2. Can I save a WebEx recording in MP4 format?
Yes. You can choose to save the WebEx recordings in MP4 format in cloud. But you are allowed to directly save your WebEx recording as an MP4 file on local computer.
3. Can VLC open ARF files?
No. VLC Media Player can't play ARF files. You need to use the Network Recording Player to open the WebEx ARF recordings. Or you can use the methods above to convert ARF to MP4 for better playback.
4. What are the differences between ARF and WRF?
Compared with ARF, WRF is an older format, and it stores the lower audio and video quality. ARF file is created inside WebEx. But WRF file is created outside of a meeting, with the WebEx Recorder. WebEx Player can convert ARF to MP4, WMV and SWF, and convert WRF to WMV.
Conclusion
Hope you can learn more useful information about the WebEx ARF and ARF to MP4 conversion after reading this post. If you have any better WebEx ARF to MP4 converter recommendation, please share it in the comment with other readers. For more questions about ARF file, you can also leave us a message.
More Reading
Top 3 Ways to Record a GoToMeeting Session
Can I record a GoToMeeting session with audio? How do I record GoToMeeting as attendee for free? How do I access my GoToMeeting recording? How to convert a GoToMeeting recording to MP4? All your questions will be answered in this post.
When you have multiple video formats, what are the best methods to convert to MP4? Just learn more details about the solutions from the article.
3 Must-have Meeting Recorder Apps to Capture Your Online Meetings
How do you record a meeting? What app records zoom meetings? What is the best app for recording meetings? This post shares 3 great meeting recorder apps for you to capture the important content of an online meeting, interview, phone call, lecture and more.
How to Record Microsoft Teams Meeting With or Without Notification
How to record Microsoft Teams meeting or group call? Is it possible to record Teams meetings without anyone else knowing? This post shares 2 simple ways to help you record a Microsoft Teams meeting with or without others knowing.