Create a Slideshow in Premiere Pro: Complete Guide for 2023
Adobe Premiere Pro is the go-to video editing software for professional users. With its advanced features and versatile customizations, you can modify everything on your videos. This also makes it excellent for making slideshows. For starters, there are pre-made templates that are free to use and paid ones as well. You can access the program for free for seven days only, which is a bummer. But even so, the free trial version is the complete version of the tool, meaning you can access and use all the included features. Let us not prolong this any longer. Continue reading below to know how to create a slideshow in Premiere. We also included a tool that is an excellent alternative for Adobe Premiere Pro.

Part 1: How to Make a Slideshow in Adobe Premiere Pro
Adobe Premiere Pro can create slideshows with satisfying results. Although this program is not easy to use, especially for beginners. You need to know and understand the steps properly before you start using them. Be patient in reading; it is normal for us to have difficulties when using an app for the first time.
Without further ado, here's your guide on how to make a slideshow in Adobe Premiere Pro.
Step 1
Download Premiere Pro and install it on your desktop computer. Open the application and click New Project to start making a slideshow. A new window will appear where you can change the file name.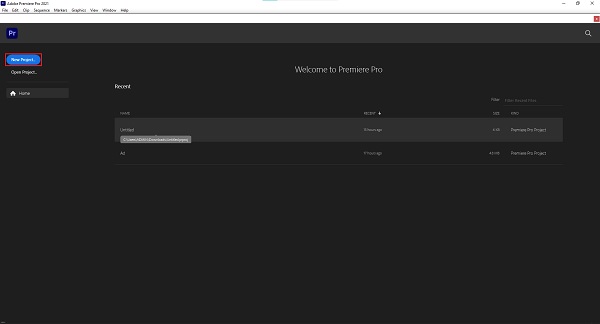 Step 2
On the lower left-side of the interface, click Import Media to begin importing images or videos to the program. Wait for the importing process to finish. After that, you drag the files to the timeline. You can arrange the files in any order you prefer.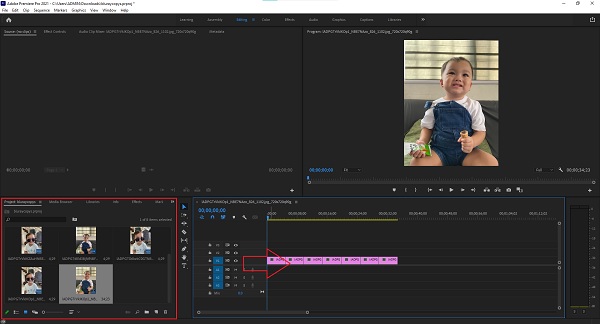 Step 3
Click the Effects tab on the top of the program's interface to see the available templates, transitions, and other effects. Drag your chosen effects and apply them to the images included in the timeline. You can put several effects in one media file.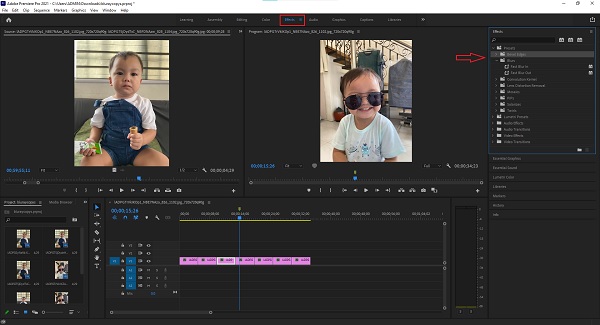 Step 4
For the final part, click the File menu and choose Export. On the sub-menu, select Media or CTRL+M to open the Export Settings windows. From there, you can change the file output format, the name of the file, and other settings. Click the Export button to save the newly made slideshow on your PC.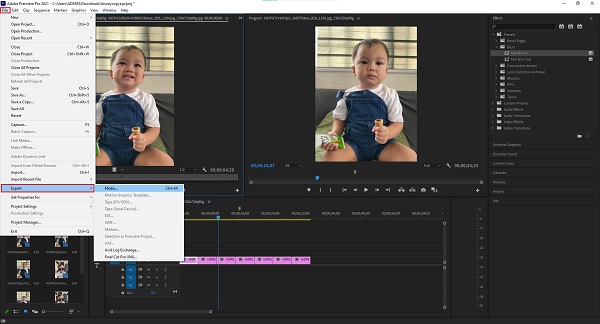 Part 2: Easier Way to Make a Slideshow than Using Premiere
In all honesty, Adobe Premiere Pro for slideshow making is not for everyone. There are numerous things to learn and things to memorize, and there is no free version as well. Even if it has plenty of functions and tools for customizations, the difficulty of using it turns off many users. But don't be saddened by it, there are great alternative programs available that are beginner-friendly and effective slideshow makers. One example is Video Converter Ultimate.
This free-to-download program is trusted and proficient in making slideshows. The program's user interface is clean and easy to understand. Also, there are plenty of templates for you to choose from that will indeed create fantastic slideshows. You can also apply filters, adjust the effects, add a watermark, add background music, and more. This also makes this program great for making music videos, movies, presentations, etc.
Key Features:
1. It supports various audio and video file formats like MP3, WAV, AC3, MP4, MOV, AVI, MKV, etc.
2. Tailored for Windows and Mac platforms
3. Supports videos up to 4K HD resolution
4. Great for novice users
Follow these detailed steps on making a slideshow using the best alternative for Adobe Premiere Pro.
Step 1
To start, open your browser and go to the Video Converter Ultimate website to download the program. You can also tap the Download button provided above. Allow the installer to run on your computer. After the installation process, the program opens immediately. Choose the MV feature so you can start making a slideshow.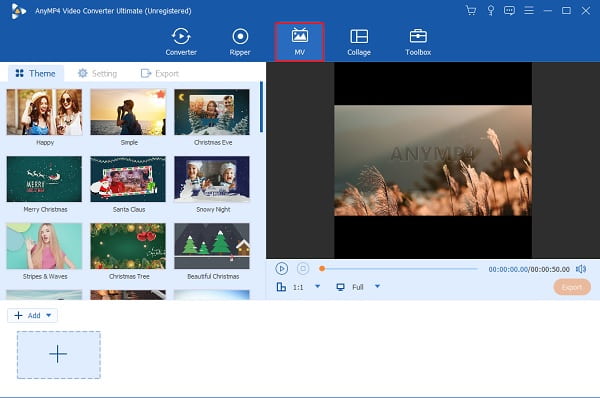 Step 2
You will see the +Add button on the MV feature. Click the said button to import media files from your media storage to the program that you will use for the slideshow. You can put as many photos and videos as you want.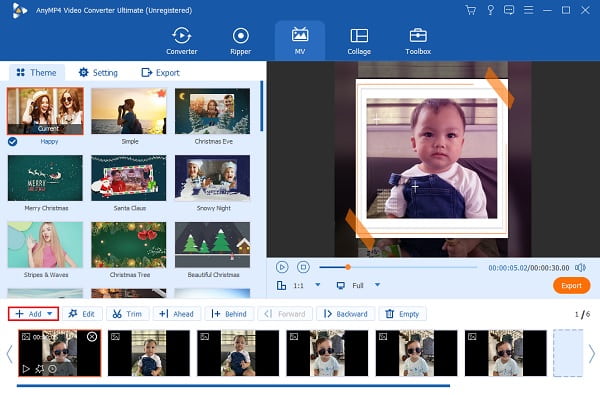 Step 3
Next, tap the Edit button to do enhancements on your media files. Under the Effect & Filter tab, you can adjust the contrast, saturation, brightness, and hue by adjusting the slide control. There are free filters for you to use as well. Once you complete the customizations, hit the OK button to apply the changes. Then choose any template like Happy and Simple to enhance your slideshow further.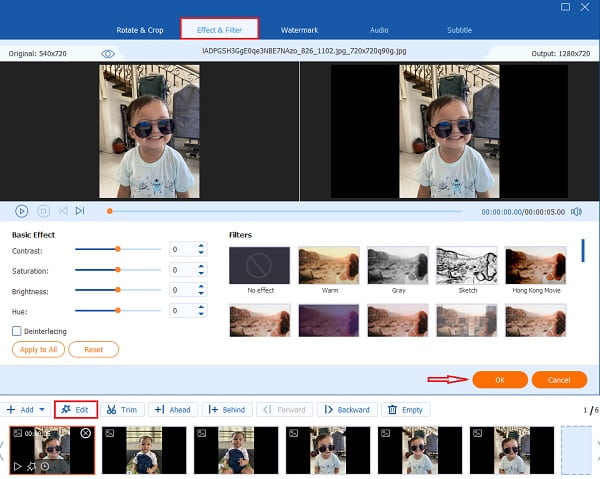 Step 4
Afterwards, head to the Setting tab to change the background music using your preferred audio. Click the drop-down list or press the + sign button to include your storage of songs. Simply skip this step if you are good with the default music included in the slideshow templates.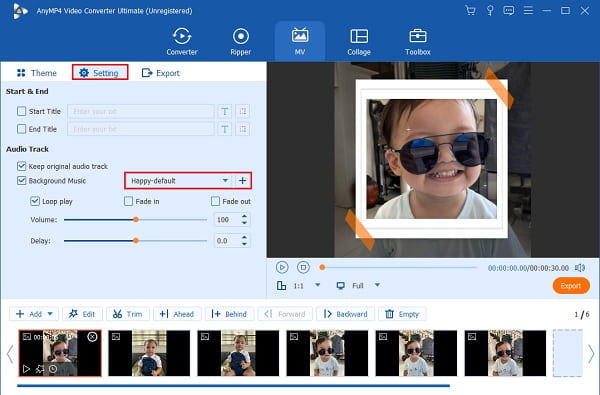 Step 5
Finally, move on to the Export tab. Select your final file output destination on your computer or laptop to find your media files quickly. Click the Start Export button to begin exporting the slideshow. Your slideshow will be saved after the process. You can safely close the program and enjoy watching your new slideshow.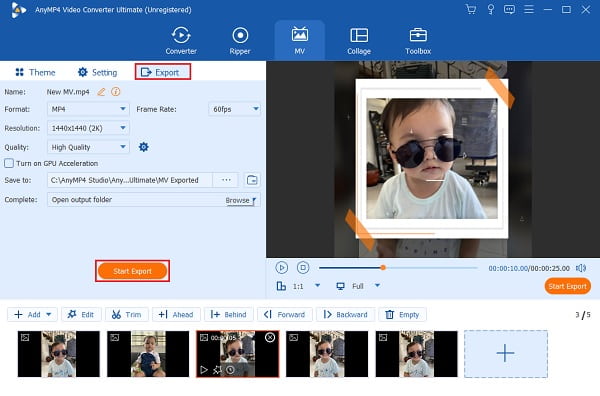 Part 3: FAQs on How to Make a Slideshow in Premiere Pro
How much does the Adobe Premiere Pro pricing plan cost?
Adobe offers three pricing plans for Premiere Pro: Annual plan, which is paid monthly for $27.62/month, a Prepaid annual plan for $315.61/year, and a Monthly plan worth $41.43/month.
Is there a mobile version of Adobe Premiere Pro?
No, Premiere Pro has no mobile version, but Adobe offers a different program with similar functions, Adobe Premiere Rush. Premiere Rush is free to download on iOS and Android platforms.
Is Premiere Pro suitable for Beginners?
Premiere Pro is good for beginners dedicated to learning professional video editing skills. There are tutorials that are readily available on Adobe's website if you want to know its features in detail.
What are the supported file formats of Adobe Premiere Pro?
Premiere Pro supports several formats for video and audio that are compatible with the newest broadcast formats. These formats are; 3GP, AAC, AIFF, Apple ProRes, ASF, ASND, AVC, AVI, BWF, and other widely popular formats.
Conclusion
Adobe Premiere Pro for slideshow really lives up to its fame. Almost all features you are searching for in software regarding video editing are included. You can easily create a slideshow in Premiere Pro with the help of its advanced features. The price is the only thing that keeps users from using this program. Good thing Video Converter Ultimate is here to help make professional-looking slideshows on par with Premiere Pro. It is relatively easy to use with lots of features available, templates, and themes for making fantastic slideshows.