How to Crop Videos on Windows 10 in 3 Best Possible Ways
I have difficulty cropping videos on my desktop. What is the best way to crop video on Windows?
Is this a question you've heard before? Continue reading this article because we will provide you with the most incredible cropping options available for you.
Cropping video on Windows 10 is quite popular when you focus on a particular area in the video taken or crop out undesired areas. Yet, it may be difficult for unskilled amateurs to select a tool that they can handle independently. Let us look at the different ways to crop videos on Windows online and offline.
Part 1. The Trusted Solution to Crop Videos on Windows
Video Converter Ultimate is your buddy when it comes to cropping and editing your videos. Crop out the undesired sections of your clip using the tool's crop option. Additionally, you can improve the quality of your clip by cropping it to the desired size. What's more, it does not only allow you to crop films in a few clicks, but it also includes a plethora of fantastic free filters and transitions for you to use on your videos. More so, after editing your video, convert in no time. Since this tool is empowered with 70X faster conversion, it will give you the best editing experience. Meanwhile, this walkthrough will teach you how to crop a video on Windows 10 using Video Converter Ultimate
Key Features
1. Improve video quality by rotating/clipping/cropping the video, adding a filter and a watermark, and adjusting the effect
2. With your favorite videos, pictures, and music, you may make gorgeous MVs or split-screen videos.
3. Produce a GIF video, compress a video file, and change the ID3 tags
4. Rip a DVD to MP4, MOV, AVI, WMV, MKV, FLV, and copy a DVD in 1:1 ratio
5. Convert 8K/5K/4K/1080p HD video to 500+ formats like MP4, MOV, MKV, AVI, and more
Step 1
Visit the official website
To start, go to the main website of Video Converter Ultimate and install the tool on your desktop. Otherwise, you can hit the download buttons above.
Step 2
Add the video you wish to crop
Next, upload your video clip by hitting the Plus (+)button in the middle of the interface.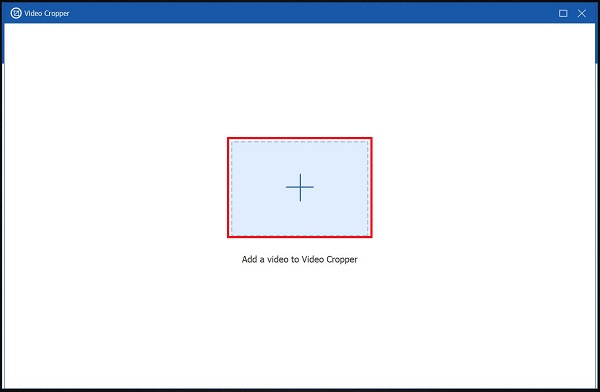 Step 3
Look for the edit button
After that, to go to the cropping tool, navigate the Edit button.
Step 4
Crop the video now
After clicking, you will be taken to another window, click Rotate and Crop. Using the handlebar, manually crop the video according to your needs. When you are done, click OK.
Step 5
Rename the cropped video
Before converting, you can rename the video clip by clicking the Pen button down the Converted Tab.
Step 6
Enable the hardware acceleration
To activate this, hit the Hardware Acceleration on the lower corner of the interface.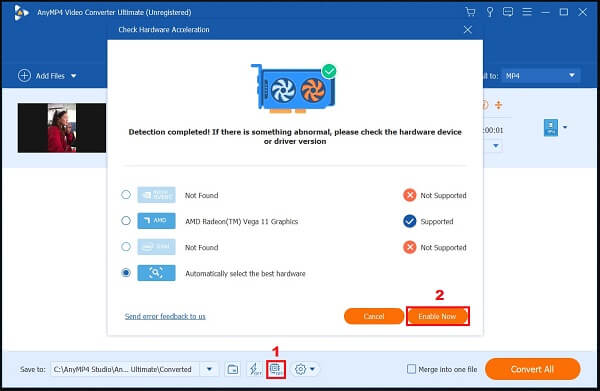 Step 7
Start the conversion process
Finally, to convert the newly cropped video, select the Convert All button on the right-bottom of the interface.
Part 2. Simple Method on How to Resize Videos on Windows
The following solution to crop video on Windows 10 is the Microsoft Video Editor app, which includes a built-in editor with the operating system. It can be used to trim films or make your film clips and slideshows. This Microsoft Video Editor can crop videos by eliminating black lines, turning the 16:9 video to 4:3, and turning the horizontal video vertically 9:16 or 3:4. Regrettably, Windows 10 does not allow you to modify a cropping box to crop the video frame easily. Still, neither does it allow you to choose the area to be shown by adjusting the position of the video. Below are the guides on how to resize video in Windows 10.
Step 1
Open the Windows Photos app. Locate and click Video Editor. Next, click the New Project button and import the video you wish to crop.
Step 2
To import the file, click the Add button. Drop the newly added clips to the bottom storyboard. Drag a video to the first storyboard if you only want to crop one.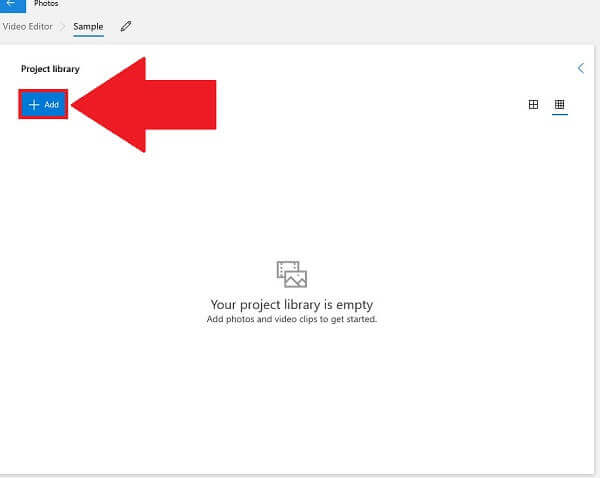 Note: When you add numerous clips to the storyboard, they will be blended into one film when exported.
Step 3
To crop the video, select the three-dot icon in the top right-hand corner and modify 16:9 to 4:3. You may even make a landscape video vertical using the same menu.
Step 4
Lastly, hit Finish Video to export the newly cropped file.
Part 3. The Free Online Tool to Crop Videos on Windows
If you want an online tool that will help you crop videos, EZGIF can be of assistance. EZGIF is an open-source web application that, in addition to cropping, allows you to edit videos in many other ways. It supports various popular formats, including FLV, MOV, MP4, M4V, and more. Moreover, it only has a 100MB maximum file size to crop videos. Without fuss, look at the steps below to crop video on Windows using EZGIF.
Step 1
Pull a browser and go to the official website of Ezgif. After that, click Video to GIF, and from the list of editing tools, hit Crop Video.
Step 2
Browse your computer's files to upload the video. You may also paste the actual URL of a video.
Step 3
Next, crop the video using the crop video tool from the dashboard above the video player. Use the handlebar to crop the video according to your preference.
Step 4
After that, locate the Crop button to save changes. The newly cropped video will show below. You can preview and edit before converting.
Step 5
When you're pleased with the cropped video, hit the Convert button to export the cropped video quickly.
Part 4. FAQs about Cropping Videos on Windows 10
Is there a video editor in Windows 10?
Windows 10 features Video Editor, a full-featured collection of video production and editing tools that use music, text, motion, and 3D effects to convey your story. Video Editor is Windows 10's replacement for Movie Maker, focusing on simple creative tools that allow you to share your story.
What is the simplest method for cropping a video?
A simple and easy video editor may save you a lot of time for video cropping, which I felt would be the simplest way to crop a video. Video Converter Ultimate, a one-stop-shop editor that does not place a watermark on the exported file and offers a plethora of solid video editing capabilities, may be the most straightforward and most convenient method to crop a video on Windows 10.
Is MP4 supported by the Windows 10 video editor?
Yes, Windows 10 features a free video editor, the successor to Windows Movie Maker. It includes a variety of essential video editing tools for modifying MP4 videos.
Conclusion
Online tools provide a quick cropping option when you're in a rush. Nevertheless, they have size constraints, Internet access loss, and lack certain features in their free plans. Video editors, on the other hand, such as Video Converter Ultimate, provide a rapid and accessible answer to day-to-day video editing demands when you need to crop videos on Windows.