How Can You Do Split Screen on Facebook Live [Step-by-Step Tutorial]
Everyone was astonished when finally Facebook live split screen was introduced. This feature on Facebook has built and improved the identity when it comes to socialization. Furthermore, it was beneficial for streamers to collide on one screen for their viewers to enjoy. However, Facebook has decided to remove this feature from desktops and laptops but continues it to mobile devices. And to answer why Facebook did that is because of the unprioritized experience this meg platform gained from its users. In other words, the "Live With Friends" feature was used by very few users at that time. Thus Facebook has given up this feature for its software to give way to its other new innovative features.
So moving forward, this will only mean that there is no way for you to do a Facebook live video split screen unless you do it on your mobile device. Fortunately, we have the best tactic that you can use in posting a split-screen video on Facebook. This you will learn with the instructions on a split screen on the Facebook app through the content below.

Part 1: How to Split Screen Live on Facebook App
As we mentioned above, Facebook software ceased the split screen live feature. Therefore, you can only do this task using your mobile phone with the Facebook app. However, as the saying goes, it takes two to tango, which applies to Facebook live split screen. This means that your friend needs to join your live streaming along with your approval for you to have a joined screen. Hence, to do so, please follow the instructions below.
Step 1
Launch your Facebook app on your iOS or Android phone. Then, you reach for the Live option located above the Stories and Reels.
Step 2
Then, on the setup page, tap the Add Friend icon at the bottom left corner of the screen. Search for the friend you will be collaborating with, toggle the box beside your friend's name, and tap Done.
Step 3
Now ask your guest to send you a request to join your Facebook Live, and accept it once you receive it.
Part 2: How to Stop the Split Screen on Facebook Live
Now that you know how to live with a split screen on Facebook, you should also know how to stop it. We have been receiving the same question about how to get rid of split screens on Facebook recently, and this would be the perfect time to answer it as it requires the topic. Thus, you will be surprised at how simple it is to get rid of the split screen when you see the guidelines below.
Step 1
TWhile Facebook Live is still ongoing, you see two split screens on your phone. Now to get rid of it, you can either tap the X icon on your guest's screen or the Finish tab at the bottom part. Please note that by tapping the X icon, your Live video will continue and end if you tap the Finish tab.
Step 2
Suppose you tap the X icon, and a popped-up window will appear. From there, tap the Remove selection to proceed in getting rid of the split screen.
Part 3: How to Make a Split Screen Video on Computer for Facebook
Since you cannot do a Facebook live interview split screen on the computer, this doesn't mean that you cannot make way for it. You can still create a split-screen video of an interview by using the phenomenal Video Converter Ultimate. You have read it right; this ultimate converter can do the job for you! It has this split screen maker that offers stunning templates and layouts to make your split screen videos more engaging. Furthermore, this software is flexibly built for it can ultimately work on both Mac, Windows, and Linux OS devices. On top of that, it provides users with a wide range of editing tools, formats, and presets they can work with like a professional.
With regards to its security, Video Converter Ultimate is unfused with a hardware acceleration that works to protect and run your device smoothly. What's more, as part of its powerful toolbox, it comes with a video recorder that allows you to capture your Facebook videos and collide them via split screen without a hassle. Other things that you can expect from this fantastic software are written below.
1. No watermark on your split screen video.
2. Collide two to thirteen different videos on one screen.
3. Export your split-screen videos into over 300 various formats.
4. You can create 3Dsw, GIFs, and MVs besides creating split-screen videos.
How to Make a Video Split Screen Via Video Converter Ultimate for Facebook Live
Step 1
Start by installing the software on your computer device. Once you have it, launch it. On its user interface, get directly to its Collage tab.
Step 2
Next, you need to choose a template among the multiple choices below. See that the templates also contain the number of screens you need for your split screen. After choosing, hit the Plus icon to upload your recorded videos of any local videos you want to collide.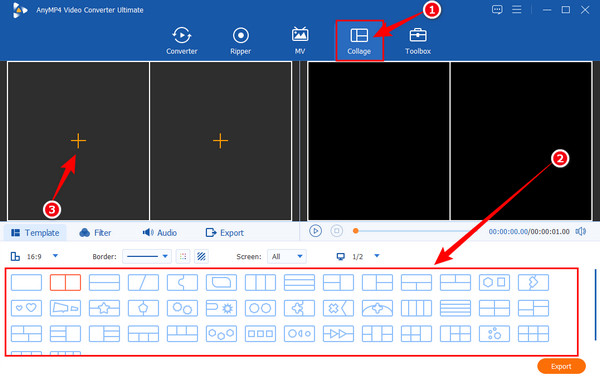 Step 3
Once your videos are in place, click the Filter menu. Then, choose the best filter that you want for your split-screen video. Otherwise, skip this step if you don't want to apply a filter on it.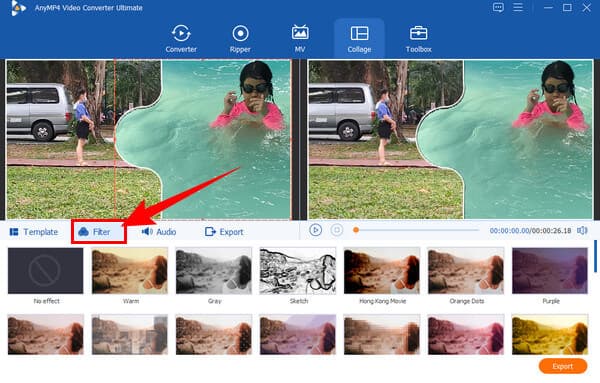 Step 4
Finally, proceed to the Export menu and work on the presets. After completing the exportation process, you can create a new file name and adjust the format, resolution, frame rate, quality, and even the command. End it by clicking the Start Export button and wait until the exportation process ends.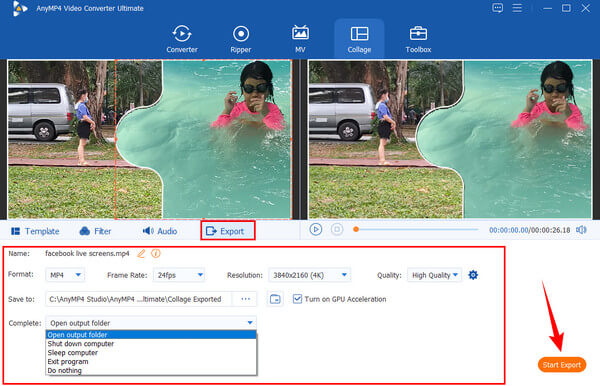 Part 4: How to Split Screen Facebook Messenger
Unfortunately, the Facebook messenger split screen is not working anymore. This is due to the update done years ago. This unfortunate event saddened the other users and, at the time, was accepted by the others as well due to security reasons. However, if you want to split screen your Facebook and Messenger, you can use your Android's default split-screen function. While your Facebook is open, you can tap your three fingertips on the screen and drag them up. This way, you will have a split screen, then open your Messenger app on the new screen. Then, swipe up or down the bar to exit the split screen.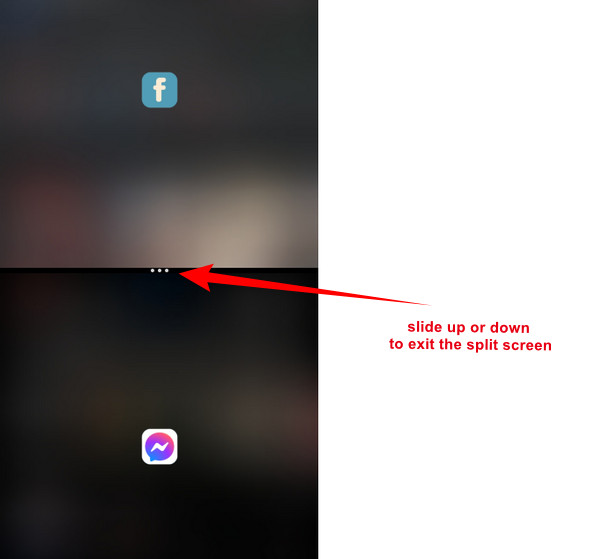 Further Reading:
How to Use Skype Split Screen on Video Call to Open Message
Two Simple Ways on How to Disable Split Screen in Safari
Part 5: FAQs about Facebook and Split Screen
Can I split-screen 3 videos?
It depends on the screen splitter that you use. If you are going to use your mobile phone, unfortunately, you can only split your screen in two.
Can I use another app to split screen my Facebook Live?
No. But third-party streamers offer split screens, which you can integrate on Facebook.
Does Facebook offer templates for split screens?
No. Unfortunately, Facebook cannot offer templates for split screens. Hence, with the Video Converter Ultimate, you can choose from a wide range of template selections.
Conclusion
Facebook live split screen is limited. Nevertheless, if you really need to create a split-screen video on this mega platform, you can do so by following the given instructions. However, you won't be able to unleash your creativity on this task since Facebook lacks tools for editing. Therefore, with the Video Converter Ultimate, you can now create tons of creative split-screen videos within your expectations.