Offline and Online Solutions to Convert GIF to WMV [2023 Update]
Graphics interchange format or GIFs are moving pictures that we see almost every day of our lives- on Facebook, Twitter, chatbox, or even on web pages. But, how can these become so prevalent and a sensation?
Well, tons, if not all of the people have drawn their love for these pictures as it enables them to communicate to their neighbors with the same feelings when talking to them face-to-face. Scientifically speaking, humans process images faster than by merely reading words. Amazing, right?
However, you may be in an instance where you want to convert GIF to WMV. Stay tuned to today's blog post if you are looking for the best software to do it.
Part 1. Convert GIF to WMV with Best GIF to WMV Converter
If you are wondering why a desktop program is a good choice, it's because you don't have to rely on an internet connection. Plus, it is way faster and provides a smoother experience. Going back to converters, let's start with the Video Converter Ultimate. This GIF to WMV converter is suitable for you because it provides a lossless or high-quality output. To make it more precise, the Video Converter Ultimate supports more than 500 output formats and can set your video's quality up to 8k.
With Video Converter ultimate, you do not need to fear converting your GIF files and even how to make one. As for the system requirements, this desktop program is compatible with Windows (7 and up) and Mac (10.12 and above) platforms.
Without further ado, here is a quick tutorial on converting GIF to WMV using VCU.
Step 1
Download the Program
Begin by installing the program on your device. To do this, tick the Free Download buttons below.
Step 2
Import the GIF on the Converter
After that, select the Plus icons in the center of the interface. Then, select the GIF file that you want to convert and select Open. To give an alternative way to import GIF files, drag the file from the folder location and drop it on the program.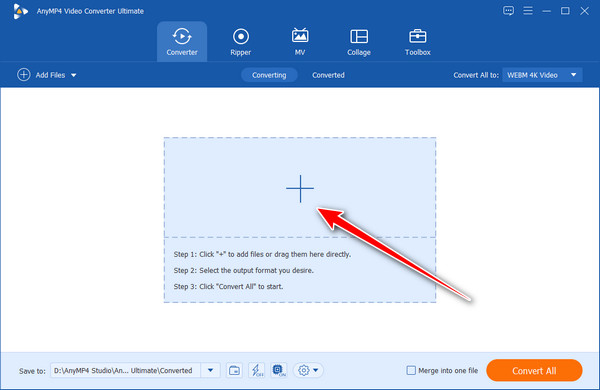 Step 3
Select the WMV from the Output Format
To select the output, drop down the Convert All to Tab. Select the Video category and scan through its list until you see WMV. Also, you may choose what type of quality you want your output to have such as 1080p, 720p, or 480p.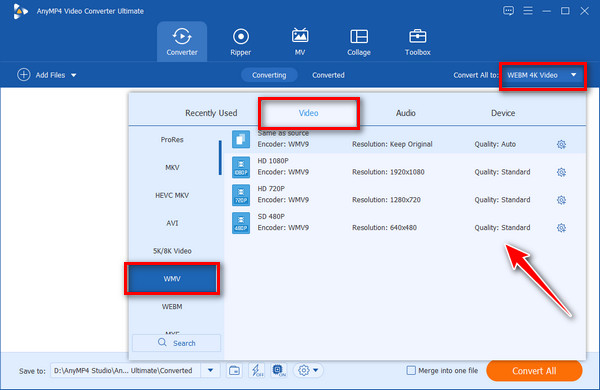 Step 4
Wait for the Conversion
Once your settings are set, you can now hit the Convert All button. To check the file, move to the Converted panel of the program.
Part 2. Convert GIF to WMV Using an Online Tool
While desktop programs are highly recommended, online converters are also rising. In fact, you can convert a GIF to WMV using the Blu-ray Master Free Video Converter. This web-based app is ultimately free and can be used without limitations. Moreover, you can also access the program's site even on a mobile device.
While the known ones have drawbacks when it comes to uploading a file to convert, you should not compare it with Blu-ray Master Free Video Converter. Even if your file is large, worry not because this tool can still hold it.
Now, let's try the program and see how it works.
Step 1
First, open your web browser and type the program's name on the search bar. After that, press Enter on your keyboard to load the page. Next, click the Launch Free Converter button on the center of the interface. A dialogue message will appear asking you to download the launcher first. After downloading the program, install it right away.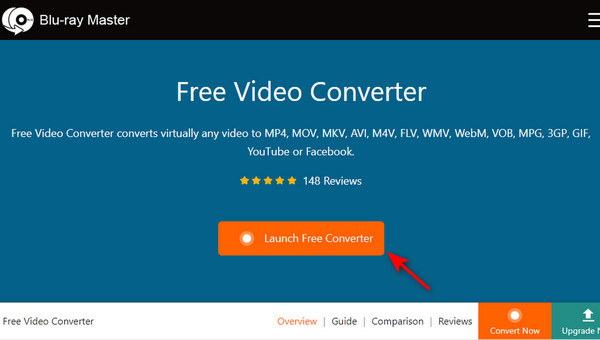 Step 2
After the installation, click the button again. This time, your file directory window will show up. Select your GIF file and import it into the program.
Step 3
Now, you should see another window. At the bottom of the interface, select WMV among the list of formats.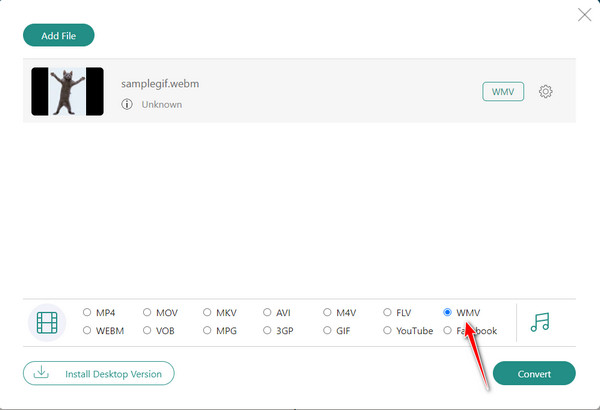 When you tick the Settings icon, you can change your file's video and audio quality. On top of that, the Resolution, Bitrate, and Frame Rate are the aspects you can change. When done, hit OK.
Step 4
To start the process, tick the Convert button. Before that, the program will show your computer folder again and select where you will save the output. After hitting the Select Folder button, wait for some time, and you are done.
Part 3. GIF vs. WMV
What is the distinction between a GIF and a WMV format? Well, you can refer to the comparison table we have made below.
| | GIF | WMV |
| --- | --- | --- |
| What does it stand for | Graphics Interchange Format | Windows Media Video |
| Compression type | Lossless picture format | Compressed video file |
| Who developed this format? | Stephen E. Wilhite | Microsoft |
| Distinct Feature | GIF is an animated picture and loops infinitely. Most of the time, these pictures are available on online messaging apps. | WMV was primarily made to be compatible with Windows devices. |
| File extension | .gif | .wmv |
Part 4. FAQs about GIF to WMV Converters
Can I play WMV files on apple devices?
Unfortunately, WMV files are not playable with Apple devices since it was really designed for Windows media players. However, if you need to open WMV using Macbook or iPhone, you may still do so by first converting the WMV file into different formats like the MP4.
How long does the conversion of a GIF to WMV take?
It only takes a short amount of time when you are converting a GIF into WMV format. Usually, GIFs only come no longer than 10MB. However, if you are using an online tool and the internet connection is unstable, waiting might take forever.
Is it safe to convert GIF to WMV on Blu-ray Master Free Video Converter?
Definitely, yes! That's why Blu-ray Master Free Video Converter is becoming a rival to paid online tools. Although it's free, users are never required to register before converting their files. As for security, the server automatically deletes any information that was processed as soon as possible.
Conclusion
For the bottom line, we believe that these converters are suitable enough to meet your needs. However, if you are weighing things out, you should go for the tool that operates more than being a GIF to WMV changer. With Video Converter Ultimate, you can make your videos appear professionally made. One more thing, this desktop program offers a Toolbox where you will see a library of functional features.