Complete Walkthrough on How to Make a 3D Movie on Your Own
Creating 3D movies is for professionals only. You need to allot time and effort learning the basics. Creating a 3D movie itself will also take a lot of your time and resources. It is no easy task, but it doesn't mean it is impossible to create one, especially for beginners like you. There are several desktop programs that can help you create your own 3D movies, even if you have little knowledge about the process. Technology really makes our lives easier and better. And in this article, we will help you learn how to make a 3D movie without you attending a learning session about 3D movie making. Are you excited? Let's begin!
Part 1: Best Way to Make 3D Movie by Yourself
Want to try and experience creating a 3D movie by yourself? It may sound impossible, especially since all known 3D maker programs need to be purchased. But if you may not know, there are free programs you can download that are capable of creating 3D movies effectively. One such program is Video Converter Ultimate. This top-rated all-in-one software can convert files, rip DVD files, create photo and video collages, and make music videos.
What's more, 2D videos can be converted into 3D ones within seconds. You can use the MV feature to make stunning videos by applying themes, filters, soundtracks, subtitles, and more. This tool is also available on computers and laptops with Mac and Windows OS.
Key Features:
1. Can convert videos and photos into GIF
2. It supports multiple formats for audio and video (MP3, AC3, DTS, MP4, AVI, MOV, etc.)
3. Different video aspect ratios are available
4. The user interface is simple and easy to operate
Follow the provided steps below so you can quickly create your own 3d movie using this commendable desktop tool. Let's start.
Step 1
Go to the website of Video Converter Ultimate to download the real program or tap the Free Download button to obtain the software. Launch the EXE file to start the installation process. Open the program and use the MV function to start creating a movie.
Step 2
You can add the images and videos on the MV function by tapping the +Add button. Tap and select the media files on your folders you will import to the program for the movie. You can also rearrange the media files in any order you like on the timeline.
Step 3
Head over to Setting to change the background music of the movie. You can choose any song from your file folders. Tap and select your desired music and import the file to the program.
Step 4
Move on to Export to begin saving the movie to your computer. Choose a location where to save the video for easier access. Click Start Export to store the movie.
Step 5
After saving the movie, you can proceed to the Toolbox function and select 3D Maker. This feature will change your 2D movie into a 3D one.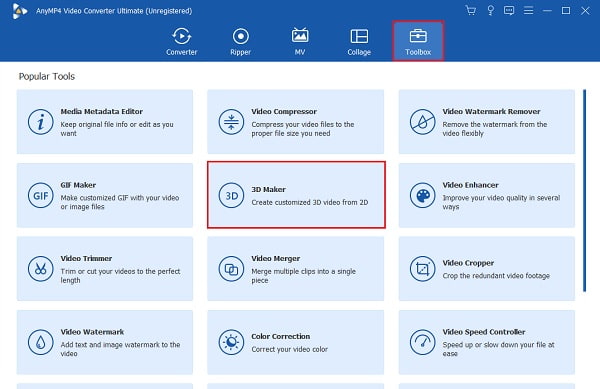 Step 6
Another window will pop up where you can import the video to the program. Drag and drop the video on the space provided to start importing the movie. It will take seconds to finish.
Step 7
Click the drop-down list beside Anaglyph to choose which color you want to apply to your 3D movie. You can select Red/Cyan, Green/Magenta, and Amber/Blue. And to end, click Generate 3D to create the 3D movie. Enjoy viewing your newly made 3D movie.
Part 2: How to a Make 3D Movie in After Effects
Adobe After Effects is a desktop software where you can freely create movie titles, transitions, intros, etc. You can also use it for applying visual effects, motion graphics, compositing, and computer animation. This tool really is impressive, but it has drawbacks like any other software.
After Effects is not for beginners because of how complicated it is to use and the price, which is expensive for general users. Regardless, you can create 3D texts, images, and even videos. After Effects calls it Composition. And in this part, you will learn how to make a 3D movie in After Effects. Read the guide step below to learn how to use this program properly.
Step 1
Launch Adobe After Effects and import a video that pops out in front of the video frame. This will help you easily create a video with added 3D effects when you put white lines.
Step 2
Rotoscoping sounds like a tedious part of the editing, but it is simple for this type of method. You need to create a mask on your solids. Right-click and select Mask>New Mask. Change Add mode to Subtract to block out the solid within the mask.
Step 3
Find a point in the video you want to pop up in the foreground. Begin keyframing the masks to block the white lines over the foreground part. Continue keyframing until it is completely passed through the white lines.
Step 4
After completely rotoscoping the white lines to a split-depth, proceed to export the video. You can save it as is or make a GIF copy. Save and close the program. Click here to get how to create a slideshow in After Effects.
Part 3: Make a 3D Movie Online for Free
If you are searching for a 3D movie maker online tool that is free, here's one you can try, FlexClip. It is an online program where you can create 3D video designs for promotions, intros, movie clips, and more. You can make awesome 3D videos with the help of free templates, soundtracks, images, videos, etc. Aside from that, you can do 3D texts, which are perfect for school projects. Here's a guide you can follow to make a 3D movie online for free using FlexClip.
Step 1
Proceed to the official website of FlexClip and click Make a Free Video to start creating a 3D movie.
Step 2
On the next page, you will be selecting the template for your movie. Use the search bar and type 3D to view the templates for 3D videos. Tap your chosen template and select Timeline Mode for better customizations.
Step 3
Use the menu on the left side to edit your movie. You can upload your media files or use the ones found on the internet. Drag and drop the images, videos, and music to the timeline below the interface.
Step 4
Hit Export to start saving the 3D video. You can export and save the project as a video file or GIF and can also choose the resolution you prefer. Click here to learn how to make a movie on Android.
Part 4: FAQs on How to Make 3D Movie
Can you make 3D movies on an iPad?
Yes. You can download 3D Video Maker on the Apple App Store for free. This is also downloadable on iPhone and Mac devices.
What is a 3D movie?
A 3D movie is basically two movie clips playing at once, whereas each video is only seen by one eye, making an illusion of depth.
What file format is a 3D movie?
The two common formats for 3D movies are .3mm and .vmm.
Conclusion
We have covered the basic things we need to know about how to make a 3D movie at home with your effort alone. Are you satisfied with the results? 3D movie making has been made easier with the help of this very capable tool, Video Converter Ultimate. Not only can you make amazing 2D movies and videos, but you can also convert them into 3D ones with ease. You will never find another tool as convenient as this one. Make your 3D movies now and enjoy watching them with your friends.