How to Make Videos for TikTok: Best Guide to Creating Viral Videos for TikTok
TikTok is one of the most popular social media platforms nowadays. It is filled with videos of dancing, singing, trending videos, educational content, and more. With how diverse the content you can post, it's no wonder it became the fastest growing social media platform with over 1 billion users worldwide. Many desire to be famous and become well-known TikTok content creators and influencers. And to become one, you need to create videos and content that will be a trend. That's why in this article, we will teach you how to make videos for Tik Tok that will indeed become a trending one. There are also tips that you should always bear in mind to become a successful content creator.
Part 1. How to Make Videos using TikTok
Smartphones are the most commonly used device nowadays. And almost everyone has one. They can quickly access TikTok with just a few touches on their phone. Moreover, creating videos using TikTok on a smartphone is the most convenient way. You can easily capture videos using its camera and edit them directly using your TikTok app. In addition, you can quickly share it with your other social media accounts since TikTok allows cross-platform sharing.
Here is a straightforward guide on how to make a video using TikTok on your smartphone.
Step 1
Download the TikTok app on your smartphone. After downloading, open the application. Tap the Plus button to start capturing videos using your smartphone's camera.
Step 2
Click the Effects option to use popular effects that can alter your appearance, background, and voice. You can upload photos or videos from your media library or capture a new one by hold-press the red button to start recording. You also can slow down a video using TikTok.
Step 3
After you finish recording, you can click Filters to apply filters that can further enhance your videos. You can tap Add Sound to include trendy music. Tap the Check icon to apply the effects.
Step 4
Finally, click Post to Story to share it as a story that lasts a day, or tap Next to add a description to your post. You can put hashtags, mention someone, tag people, and more. Tap Post to upload it on TikTok.
Part 2. How to Make Videos for TikTok
You can create video content for your TikTok account using your desktop. Video editing desktop programs are more powerful than mobile applications in terms of features. You get more advanced features that mobile phones cannot handle. There is also the convenience of working on a huge screen, making video editing much easier. Here's a tool we can proudly recommend to you, Video Converter Ultimate. This offline program is capable of making videos for your next TikTok content. With its straightforward interface, using it won't make your head hurt.
This makes it excellent for beginners who have little experience in video editing. You can create music videos, movies, slideshows, presentations, and content for social media using its MV feature. Moreover, you can edit your images and clips, add filters, effects, watermarks, background music, etc., making your videos more appealing.
Key Features:
1. Plenty of templates and themes for your videos
2. Supports up to 4K HD resolution in quality
3. Free to download (Windows and Mac)
4. Supports 500+ video and audio file formats (MP3, AAC, AC3, MOV, MP4, MKV, and more)
Follow this detailed step-by-step tutorial on how to make videos for TikTok using this reliable desktop tool.
Step 1
For starters, you can visit the main product page of the program to acquire the program by clicking the link. You can also click the Download button above to start the download process. Proceed to install the program and wait for the installation wizard to finish. The software opens automatically after installation. Head to the MV feature to start creating videos for your TikTok.
Step 2
From there, you can choose themes that will complement certain occasions, events, and holidays. Use the + Add button to start adding photos and video clips from your PC to the program. Another way is to drag the media files from the folder and directly drop them into the space provided on the program's interface.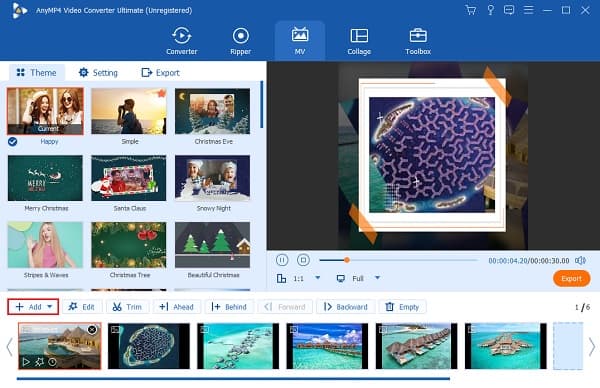 Step 3
After adding all the media files you will use for your video, you can tap the Edit button to modify each image and clip. A new window containing editing tools like rotate & crop, effect & filter, watermark, audio, and subtitle will appear. Head to the Effect & Filter tab to start applying different filters. You can also adjust contrast, saturation, brightness, and hue by adjusting the slider controls or putting numerical values. Once you are done, hit the OK button to apply the changes.
Step 4
Move to the Setting tab to add background music to your video. Tick the box beside Background Music and click the Plus sign to add audio tracks from your device. Use the slider controls of Volume to increase the loudness of the music and Delay to make an echo effect. You can also adjust the said options by adding numerical values.
Step 5
Head to the Export tab to end your video making. Set your file output location so you can locate the folder of your videos quickly. Click Start Export to begin the exporting process. Your videos are saved automatically once the process ends.
Step 6
Head over to the Converter feature in this video maker to alter the format to a format compatible with Tiktok. Click the Format icon and choose the TikTok tab. Select your desired resolution, but it is recommended to use 1080p HD.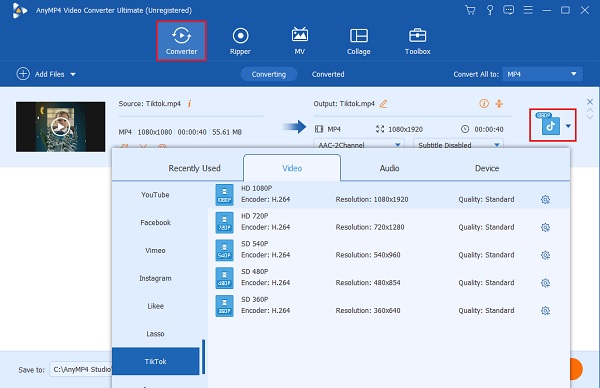 Step 7
Finally, click the Convert All button to start file converting. Wait for the process to finish then post your newly converted video to your TikTok account.
Part 3. Tips about Making Videos for TikTok
Looking for tips on how to make your video content for TikTok trending on social media? We can help you with that. Here are some useful tips for upgrading your next video content.
Follow the Trend
You can't just make videos with random content, hoping that people will like them. You must have objective, relevant video content and a target audience with similar interests. You can add trending hashtags to make your videos visible on the Trending page.
Post at Least One Video Daily
To be successful and well-known in the TikTok community, you must be an active user who posts content frequently. The more content, the higher the chance you will be noticed.
Upload Videos in High Quality
If you want your videos to trend, you must share your video content in high-quality. Make sure your videos are not shaky, have a clear mic input, and put effort into editing your videos.
Connect with other TikTok Users
Engaging with other users and content creators by liking, commenting, and sharing their content. You can also collaborate with our content creators and influencers to increase your followers and viewers.
Showcase your Talents and Skills
Many famous Tiktok creators become well-known because they create content showcasing their talents and skills. It could be in sports, music, art, dancing, and other unique talents. Do not be afraid to show the world how talented you are.
Make a Video Tutorial
You can create educational and informative videos such as make-up tutorials, cooking tips, and reviews about technology, food, and science. These are the trending videos nowadays, so make sure you create videos worth watching.
Part 4. FAQs on How to Make Video for TikTok
What is the maximum time limit for the videos you make on TikTok?
When TikTok was first launched, videos lasted only 15 seconds, perfect for quick watching while scrolling through thousands of videos. They bumped the video length to 60 seconds in 2017. In July 2021, they extended the video length to 3 minutes, and recently, they expanded the maximum video length to 10 minutes.
What are the common video formats that you can use for videos on TikTok?
TikTok supports video formats in MP4 and MOV. AVI, MPEG, and 3GP files are also compatible with TikTok. You can use Video Converter Ultimate to convert video files to formats supported by TikTok using the file converter tool.
What is the recommended video dimension on TikTok?
For the video orientation, portrait videos are preferred, but landscape videos are also allowed. For resolution, you can use videos up to 1080p HD, and for the aspect ratio, 16:9 and 1:1 are the most recommended.
Conclusion
Success! You are now very familiar with how to make videos for TikTok on your smartphone and PC. You are also knowledgeable in creating videos that will surely go viral because of helpful tips. When working on a desktop, always choose Video Converter Ultimate as your go-to video editing program. This program has all the necessary tools to make your videos for TikTok unforgettable.