3 Excellent Methods to Make a Video for Facebook (PC/Online/Mobile)
Nowadays, social media has become a part of our lives. Almost everyone uses a social media platform. One of the most well-known social media websites today is Facebook, with over 2.9 billion monthly active users worldwide. You can do many things on Facebook. You can post photos and videos, connect with people worldwide, watch video clips, play games, and others. And if you are fond of posting videos online, we have the tools you might need for it. We have programs for each type of device, off and online. In addition, we included steps on how to make a video for Facebook using the said tools. Start reading now, and don't skip any part of the post.

Part 1: Make a Video for Facebook on Computer
The easiest way to make a video for Facebook is using a desktop or laptop. You can easily view every detail of the video because of the widescreen monitor. Editing videos will be a breeze because of the powerful programs you can get on PC. One such program is Video Converter Ultimate. This free-to-download desktop program with an intuitive and clean interface can help you make videos for Facebook easily. This program has basic and advanced features and tools that can make your videos look fantastic. Few features include creating slideshows and movies, adding background music and subtitles, and applying filters and effects. What's more, this software is available on both Windows and Mac devices.
Key Features:
* Allows you to create reverse videos.
* Enables you to compress videos
* Includes many themes and templates
* It helps in syncing your audio to the video
Step 1
You must download the program first by tapping the Free Download button above. A program installer will be downloaded and run on your computer. Once the installation wizard ends, the app automatically opens. Use the MV feature to start making a video for Facebook.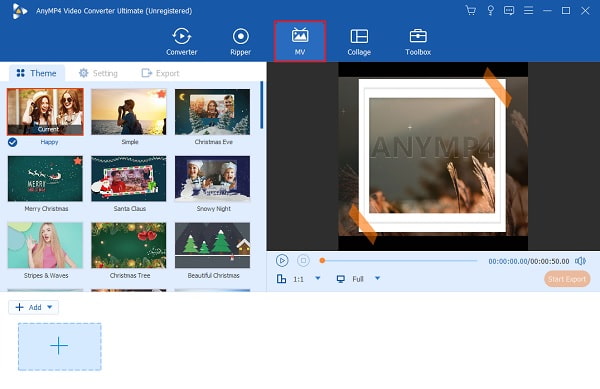 Step 2
On the MV feature, tap +Add to import images and videos to the program you will use for the video. The photo will be added automatically to the timeline. You can rearrange them in the order you want.
Step 3
Click the Edit button so you can enhance your media files individually. You can rotate and crop, add watermark text or logo, apply filters and effects, and edit audio and subtitles head to Effect & Filter to apply filters using the pre-built ones. For advanced modifications, you can also adjust the slide controls for brightness, contrast, saturation, and hue. Tap OK to save the changes.
Step 4
Move to the Setting tab to change the background music to your video by using songs on your computer's media library. Click the Plus sign button, choose audio tracks, and add them to the program.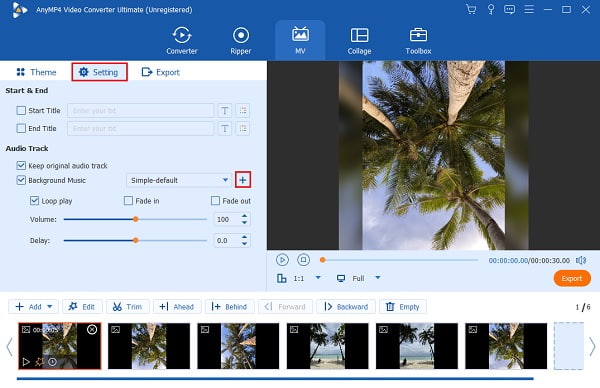 Step 5
Finally, move on to the Export tab for the last step. On the Format selection, click the drop-down list and choose the best format for posting online. Watch the preview playback first before exporting the video to see if the video is perfect. If you are pleased with the output, you may click Start Export to begin the saving process. Close the program after it ends and proceed to share the video on your Facebook account. You can also use this method to make a video for Instagram.
Part 2: Create a Video for Facebook on the Phone
For mobile users, there are plenty of apps you can download on the Apple App Store and Google Play Store, most of which are free with in-app purchases. You can try this reliable video editing app you can get on both OS platforms, PowerDirector.
Here's how you can make a Facebook video with music using this free mobile video editing app.
Step 1
Download PowerDirector to your Android phone or iPhone and immediately open the app after installing it. You can type the project name and select the aspect ratio you want on the small pop-up window.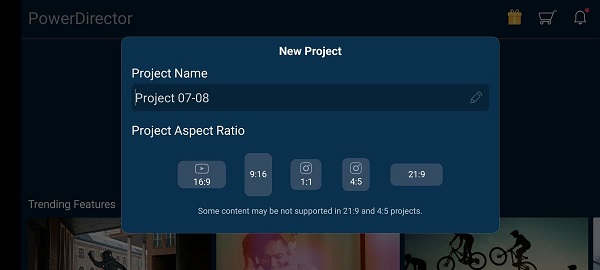 Step 2
Import the media files you will use for your video that you will post on Facebook. You can add multiple photos at once and add more later. The files will be automatically added to the timeline.
Step 3
Tap the media files on the timeline to begin editing them. You can add text, stickers, decor, and effects which can greatly enhance your video.
Step 4
To save and share the video you made on this app, tap the Export button. Make sure that your Facebook account is logged in for smooth uploading. Close the program and enjoy watching your video.
Part 3: Make a Video for Facebook Online
You can create a video for Facebook for free on your web browser using an online tool. You can use Veed.io to make and edit your videos without downloading any program on your computer. You just need to make an account and are good to go.
Refer to the steps on making a video for Facebook using this online program.
Step 1
Visit the official website of Veed.io just by typing the web address on your browser. Click Choose Video to start creating videos for your Facebook post.

Step 2
On the app interface, a pop-up window will appear where you can upload your video clips and images from your computer. Wait for the upload process to finish, then you can start editing it.

Step 3
You can use many editing tools to modify your videos. You can add text, subtitles, background audio, elements, and filters. You can also draw and add annotations if you are doing a tutorial video.
Step 4
You can watch a preview of the modified video before sharing it on Facebook to see if everything is perfect. Click the Export button on the top part of the interface of this video maker to save the video or share it online or on social media platforms.
Part 4: FAQs on How to Make a Video for Facebook
What is Facebook?
Facebook is a social media app that makes it easy for everyone to connect and share with family and friends in any part of the world online. It was created in 2004 by Mark Zuckerberg while he was a college student at Harvard University.
Why do the videos you sometimes upload on Facebook come out blurry?
Facebook automatically compresses the videos you upload, even if they are in 1080p resolution, for efficient playback. You can go to the Facebook Settings to change the Video Default Quality setting to HD if available.
What is the maximum time limit of the videos you upload on Facebook?
Based on Facebook, you can upload videos with a maximum time length of 240 minutes, and the maximum file size is 10GB.
Conclusion
You have successfully understood how to make a video for Facebook using the given tools above. Whatever device you are operating, there is a tool that you can rely on to make amazing videos with ease. And for those who prefer to work on a desktop or laptop, Video Converter Ultimate should always be your choice. With the features and functions included in the tool, the videos you post on your Facebook are guaranteed to gain hundreds of likes. Make unique videos and impress your friends online.