Safari Not Playing Videos: Best Solutional Guide to Follow
Safari is the standard browser for Mac and iOS. It is a reliable browser with features everyone loves, such as smart tracking prevention, group tabs, and support for extensions. For this reason, many Apple users choose not to switch to other browsers. However, for some technical reasons, there are events when Safari cannot play videos, which ruins the browsing experience of many users. This is why, in today's article, we identify the possible reasons behind this issue. In addition, tips to solve this issue are importantly evident in the content below.

Part 1. Why Videos Not Play in Safari
As mentioned above, different factors cause Safari to stop playing videos. For the ones using iOS devices and have encountered it, there are recent reports that the latest update of iOS has hugely affected it. On the other hand, for those not affected by this latest update or those using Mac, then look at the causes below why Safari cannot play video.
Poor Connection
This is the common apparent cause of why we encounter video playback issues, including Safari.
Conflict Between Extensions
Safari allows you to increase your productivity by installing extensions. Unfortunately, there are some instances where an extension has an issue with others, resulting in Safari malfunctioning.
Content Blocker is Enabled
Safari has this setting where you can block unnecessary content on a website. If the said setting is enabled, the tendency is even the videos will be blocked, disabling you from playing them.
Full Cache or Cookies
Let us not also disregard this other obvious casing issue which is the full cookies or cache. This results in many apps, software, and, yes, even web browsers like Safari not playing videos.
Part 2. Solutions and Tips to Fix Safari Not Playing Video Issue
Now that we know the possible cause of the problem let us move on to the solutions to fix those roots. Furthermore, additional tips are also included to provide you with an extensive fixation on this problem.
Solution 1. Check Your Internet Connection
Check if your internet is good. You may use an online speed tester, or if you are using a Mac, you can press the CMD+Space keys, then type terminal and click the Return tab. Then, use the command you see in the photo, and if it gives you a positive response, it means your internet is fine.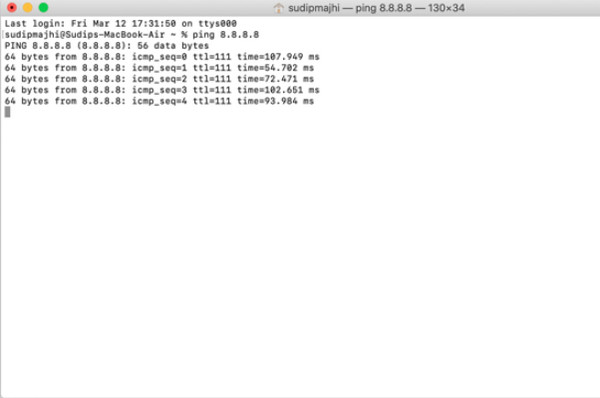 Solution 2. Uninstall or Deactivate Extensions
Try deleting or deactivating the extensions you have added in Safari. To do so, launch your browser and click Safari, then click the Preference>Extensions tabs to do the job.
Solution 3. Disable the Content Blocker
For instance, you search for a tutorial in Safari, and it cannot play the video you found. In that case, you need to click on Safari and hit Settings for this Website option. After that, uncheck the box saying enable content blockers.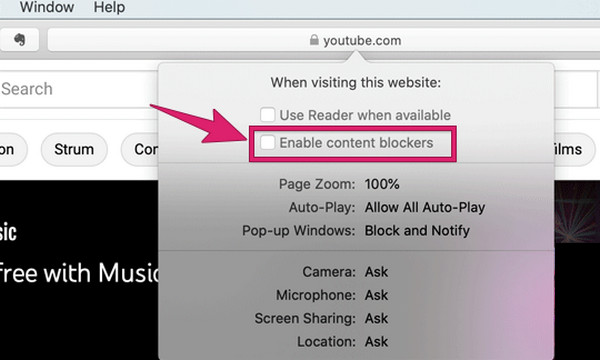 Solution 4. Clear the Cookies/Cache
Experience the major changes by clearing the cookies and cache in your browser. How? Launch Safari and hit the Preference tab. Click the Privacy tab menu on the new window, and hit the Manage Website Data button. Then, work to clear all the cache by clicking the Remove button.

Tip 1. Enable JavaScript
JavaScript is necessary for playing videos in Safari. It plays a vital role in fixing and playing the embedded videos that cannot play in Safari. Therefore, ensure it is always enabled, which you can check under the Security tab menu of the Preference window.

Tip 2. Convert the Videos
Converting the videos that experience errors in Safari is also a great thing to do. This will enable you to pick the best video format that will suit Safari.
Bonus: Best Video Converter to Use for Safari Videos
If you want to convert your videos to Safari supported formats, we highly recommend you use Video Converter Ultimate picked by Blu-ray Master. It is an ultimate media file converter that has extensive support for more than 500 different media file formats, including the ones that Safari supports. Therefore, you can work to convert all types of videos on your device without worrying if they are compatible. There are many reasons for you to love this fantastic converter. One among those is its infusion with advanced acceleration technologies that help it quicken the conversion process to 70x faster. Thanks to its hardware and GPU, and Artificial Intelligence tools that work without compromising the videos' high-quality even after the conversion. What is more surprising is that it allows you to convert batch videos simultaneously! Therefore, even if multiple videos are not playing in Safari, you can grab them all and work for their conversion simultaneously!
Meanwhile, this awesome Video Converter Ultimate has the best extra features you will love. Take its Toolbox as an example. It holds all the editing tools, including a Video Enhancer, Media Metadata Editor, Video Compressor, GIF Maker, 3D Maker, Cropper, Watermark Remover, and many more. Hence, let's cut to the chase and see how this excellent converter converts batch videos for Safari.
Key Features
1. Share your converted videos on the web and to different social media sites you love.
2. Extensive support for over 500 various video formats.
3. Convert batches to videos using its Ultrafast procedure at 70 times faster.
4. Many extra features and potent editing tools to enjoy, such as a video enhancer, compressor, watermark remover, and many more.
Step 1
Launch the best converter after installing it on your Mac. Then, click the Plus icon at the center of the interface to upload the videos you need to convert.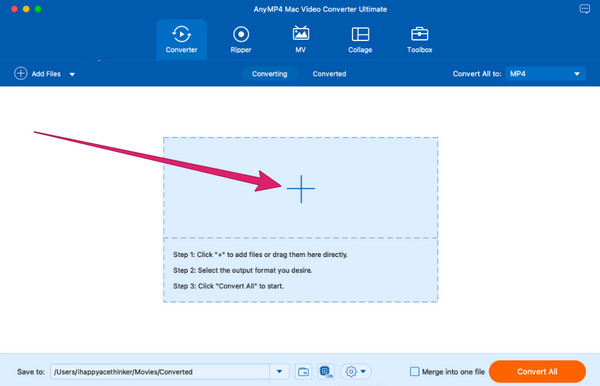 Step 2
When the videos are available, go to the Convert All To section and click its Arrow button. Then, a new window will prompt. From there, choose a video format that you want to achieve.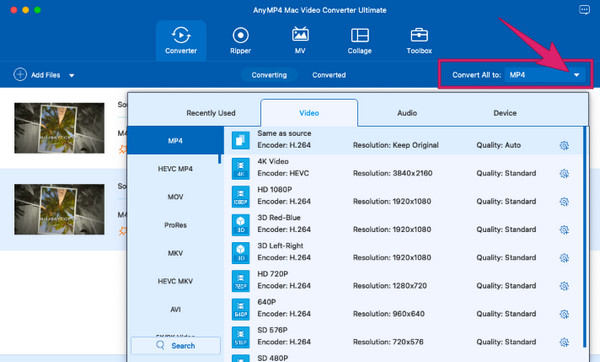 Step 3
After that, click the Convert All button to start the conversion process.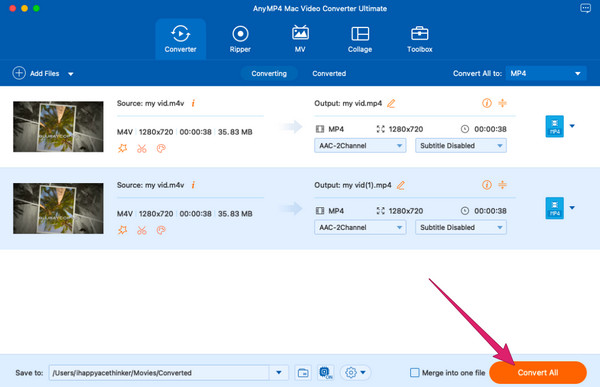 Further Reading:
Two Simple Ways on How to Disable Split Screen in Safari
TikTok Videos Not Playing: Learn the Reasons and Solutions
Part 3. FAQs about VLC and Looping a Video
Are videos not playing Safari will play on a different browser?
They may or may not play, depending on the cause of the issue.
Is it possible that a video doesn't play because of the wrong format?
Yes. A video with a format that is not compatible with the browser or device you use will not play.
Should I frequently clear the cache of Safari?
Yes. By clearing your browser's cache, you will have a more secure and can solve some recurring issues on your device.
Conclusion
There you go, the reasons and solutions to do when Safari is not playing videos. Those are some of the multiple solutions you can have, but we assure you they are the most used ones. Regarding your video conversion interest, don't fail to use Video Converter Ultimate because it is the most reliable and powerful converter you can find today.