Complete Guidelines on How to Split Screen Using Adobe After Effects for Video Editing
Thanks to advanced video editing techniques, cinematography can be at your hand. One way of claiming it is by combining video clips as if they are one. This technique has something to do with a splitting screen of two identical or even different videos in one. And as we often see in movies today, this effect has been very influential in showing the actual facial reactions of the actors at the same time of an occurrence. Well, if you happen to like the idea for your newly recorded videos, then this is the right time to learn to do it. One of the accessible tools that you may use is After Effects. And so, to teach you the proper procedure on how to split screen in After Effects, this article comes to the rescue.
However, After Effects may not be as user-friendly for everyone. Thus, if you are a beginner, you probably feel the same way. Therefore, let's begin the orientation and simplified tutorial by reading the content below without further adieu.

Part 1: How to Split Screen Using After Effects
A split screen is not a slide in After Effects. It is a slide because it is not as smooth a fix as the other tools. Therefore, we have done our very best on our part to provide you with a simplified yet detailed tutorial on how to do the task smoothly. So, here's what we got for you if you already have the After Effects on your computer device.
Step 1
Launch the Adobe After Effect software on your Mac or Windows computer. You can immediately import your video clips now once you launch it by clicking File > Import. Once the video files are imported, create a file name for your project.
Step 2
Now you need to cut a track of each of your video files by the timeline editor. Set the manual for the point in cutting a track. After that, click Edit, then the Split Layer selection.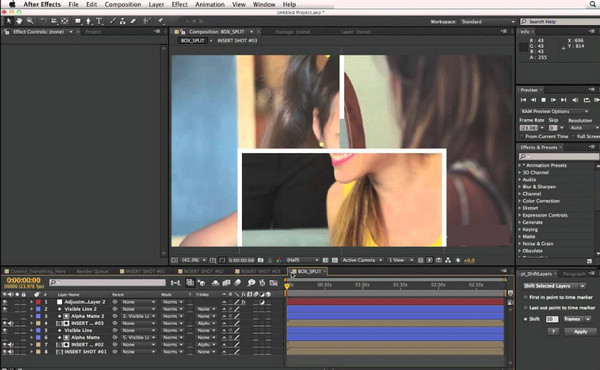 Step 3
Once you are on the Split Layer setting, you may start moving off the different cut layer tracks together. Then, include some change impacts and other effects as you need.
Step 4
Finally, you can now export the newly split screen video by going to File > Export.
Part 2: After Effects Best Alternative to Split Screen Easily
As mentioned previously, Adobe After Effects is not an easy tool for everyone. This means that if you are new to video editing, you might get bombarded with the requirements, such as in split-screen plugins in After Effects. This is why we give you the best choice, which is the Video Converter Ultimate of Blu-ray Master. As its name suggests, it provides an ultimate solution in video converting as well as in video editing including the splitting of screens. Unlike After Effects, Video Converter Ultimate gives a remarkably easy-to-understand interface that helps beginners do the job easily yet like a pro.
As a matter of fact, it takes only a few clicks for users to see and claim their outputs. And speaking of, they can have their creations in more than 300 various formats without embedded watermarks on them! Aside from that, this Video Converter Ultimate can also provide and work for you with the following:
1. Video collage maker that contains numerous templates and filters for your split screen needs.
2. A toolbox that contains all the essential video editing tools, including a video recorder, GIF maker, video enhancer, file data changer, and more!
3. Movie maker enables you to create engaging movies from your video clips.
4. Hardware acceleration will enable your device to perform better than ever.
How to Split Screen in After Effects Best Alternative: Video Converter Ultimate
Step 1 Acquire the Software
Freely download and install the tool on your computer device. Don't worry; it is safe to acquire on both Mac and Windows devices.
Step 2 Access the Collage
Launch the software once you have it. Then, on the interface, hover over the Collage menu located at the top center along with the other options.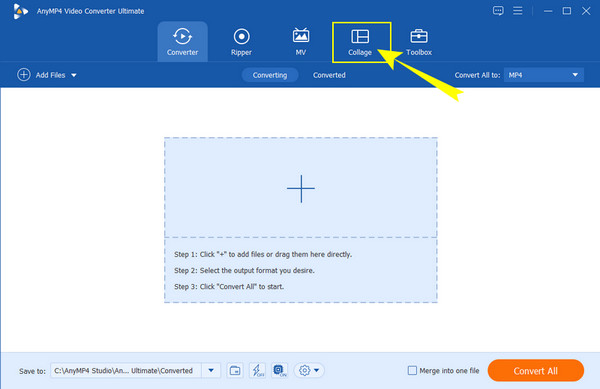 Step 3 Upload the Videos
Next, you can now upload the videos you want to combine. How? Just click on the Plus icons on the screen. Also, you can select your preferred template among the numerous selections below.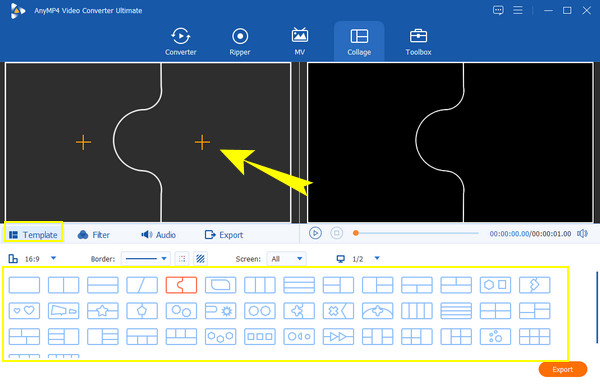 Step 4 Customize the Split Screen
After that, you can now customize the videos for your split screen. You will see the editing tools when you click on the uploaded video, and then you can cut, enhance, and customize the audio of the file. Plus part of the customization, you can apply an effect for your output by just choosing one from the selection below.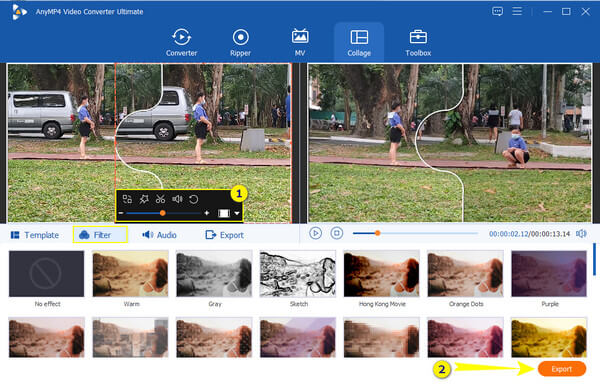 Step 5 Export the Split Screen File
Finally, you can hit the Export button. After that, feel free to personalize the file by editing the presets shown. Otherwise, hit the Start Export to finish it.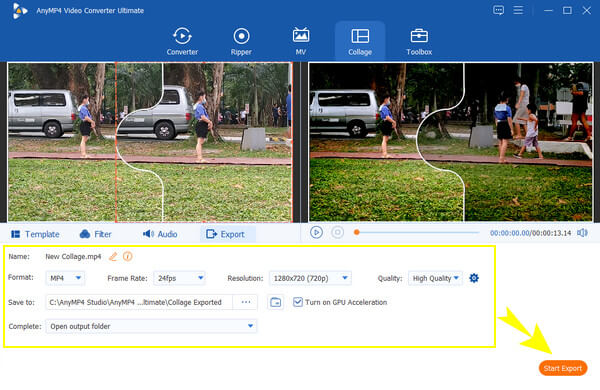 If you want to make your videos more engaging, try using the After Effects split screen template for free. To do so, you can download various great templates from a trusted website that offers such templates ready to use in After Effects. As you know by now, After Effects lacks good templates for split-screen projects, and the best solution is to seek help from third-party websites like MixKit, Motion Array, and Envato elements. Click here to know how to crop videos using After Effects.
Don't worry because, as we mentioned, getting templates from those offering websites will cost you nothing. However, we would expect you to be more vigilant in doing so.
Part 4: FAQs about After Effects and Splitting Screen
Is After Effect worth using in splitting screens?
After Effects is a tool best for professionals. Thus, for those users on this level, it is worth using, which gives a contrasting reaction for beginners.
Can I install After Effects for free?
Yes. After Effects is free to download and install. It gives its new user a 7-day free trial offering its full functionality in it.
How much will it cost me to purchase After Effects?
You can subscribe to After Effects at 20.99 dollars per month. Yes, it is quite pricey for a video editor.
Conclusion
To conclude, After Effects might not be the best companion for newbies, but it can be the best choice for professionals. However, the tutorial on how to split screen in After Effects can ease your job. On the contrary, why will you settle for something that can confuse you where you can utilize something much more straightforward, like the Video Converter Ultimate? So, if I were you, choose what best fits you, choose the reliable one for you, and choose Video Converter Ultimate!