Incredible Apps to Make Video Collage for Mobile Usage Plus Tool for PC
A video collage is a video that combines several photos and videos into a single video that you can offer with friends and family or on social media. It's a great way to display your favorite movies and photos in an easy-to-use format.
Users of video collage apps can easily display multiple images or videos on the screen at the same time. So many excellent video collage apps are available on the Android Play Store and even for iOS users in the App Store. Some are free, while others require payment. In line with that, here are the top five video editing applications that can offer video collage features, which you can use immediately. These apps are great for mobile phones and will make creating a video collage a breeze.
Part 1: Best 5 Video Collage Maker Apps on Phones
Canva
Canva is a complete graphic design app with basic video collage capabilities. That feature will enable us to easily merge video in a split-screen aspect as long as we have the app on the phone. It has a straigforward drag-and-drop interface and thousands of pre-designed layouts, making it ideal for casual users. Canva, like the other apps mentioned here, is free to download, though some advanced features require in-app purchases. On the other hand, it is also available for online editing with our web browser on the computer.
Pros:
1. Pre-designed layouts make it simple to begin.
2. It is ideal for newcomers and casual users.
3. It poses tremendous features for video and photos.
4. They offer a free version.
Cons:
1. Some features necessitate an in-app purchase.
2. Functionality is limited.
PicPlayPost
Here comes the second free video collage maker. PicPlayPost allows you to create collages with up to six photos, GIFs, and videos and then combine multiple collages into a video slideshow without a smooth process. Many users are fascinated with its features, where you can include background music or narration. Transitions and customizable text boxes are also available in the app. When you are finished, sharing it on Facebook, TikTok, YouTube, and other social media platforms is compatible.
Pros:
1. Simple sharing to a variety of social media platforms
2. A smooth video collage app with music.
3. Theme music in various genres is available for free.
4. It possesses unique features compared to other apps.
5. The application is free to utilize.
6. Work as a GIF collager to make animated split-screens.
Cons:
1. Only in-app purchases can unlock advanced features.
2. It only works with videos captured on your phone or tablet.
Adobe Premiere Rush
Adobe Premiere Rush is the application version of Adobe. This app is a photo and video collage creation, editing, and sharing app. Using the drag-and-drop interface, you can easily create professional-looking video collages with background music, motion graphics, and other artistic effects. It includes many attractive templates, and you can share your finished product on Facebook, Instagram, YouTube, and other social media platforms. Since this application is from the infamous Adobe, we can expect more from it. As an overview, users love this app because of its full-featured video editing software and video effects created by professionals. All of these features can provide us with significant quality outputs.
Pros:
1. Drag-and-drop user interface
2. Easy to share videos on social media
3. It offers excellent video effects.
Cons:
1. Rendering can be time-consuming.
2. Users report that the app occasionally crashes and glitches.
3. The application on mobile is minimal.
4. To use more pro features, you need to upgrade Adobe Premiere Pro to split screen video.
KineMaster
The fourth app is among the infamous video editing applications for mobile users. KineMaster is well-known for its powerful built-in video editing tools, which allow you to trim, splice, crop, and apply color adjustments to your videos. The app also includes professional-level special effects with blending modes. You can also add your background music, voiceovers, and special effects to your projects and share them on Facebook, Instagram, YouTube, and other social media platforms. A few key features we can enjoy about this application are the smooth Interface with drag-and-drop functionality plus the Integrated professional video editor. Many users will probably say it is the best app for video collage for Android.
Pros:
1. Transitions and special effects at the highest level
2. Effective video editing software
Cons:
1. You must purchase the Premium version to remove watermarks and gain access to professional tools.
2. The premium version is pricey.
Mojo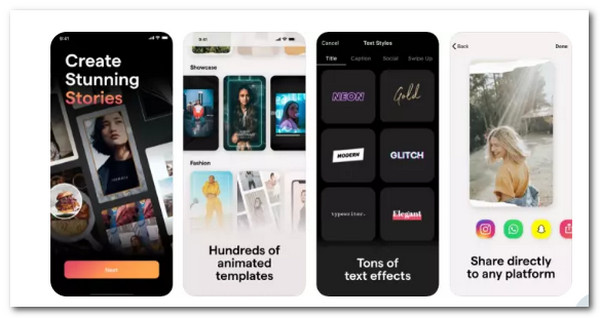 Lastly, but probably not on the list, is the excellent Mojo editing application. This app is the most popular and well-rated video collage app on the market today. The app lets you quickly create video stories from hundreds of animated templates, with new templates added monthly. Add photos, videos, GIFs, text, and music, then apply various special effects before sharing on all major social media platforms. Among its remarkable features is more than 300 pre-designed templates with over 100 music soundtracks that we can use for fantastic collage videos. Indeed, a great app as a video collage maker with music.
Pros:
1. It is simple to create professional-level stories.
2. Share videos on all major social media platforms.
3. It offers various templates for a video collage.
Cons:
1. You must purchase the Premium version to remove watermarks and access professional tools.
2. The premium version is pricey.
Part 2: Best Video Collage Maker on Windows & Mac Computers
With this next position of the post, we will also provide you with the most incredible video collage maker for Windows and Mac users. As we all know, editing videos using our computer is much more tremendous than having an application on our mobile devices. In line with that, Blu-ray Master picked Video Converter Ultimate is one of the rising software we can use to create video collages easily and has outstanding features. In addition, we do not need to worry about the complexity of the process. Because similar to mobile devices, the tool is straightforward to use, and every novice user will master it immediately. For all of these features, let us see its simplicity in creating a video collage.
Step 1
We need to download the Blu-ray Master Video Converter Ultimate for free through their official website.
Step 2
Please launch the editing tool on your computers and the main Interface. Please access the Collage icon placed in the top portion of the device.
Step 3
After that, the tool will lead you to a new tab where we can see different aspects of College. From there, choose the template you want to use. Two or more cells for College are suitable.
Step 4
It is now the time to select various clips you want to place on your College. Carefully click the Add button and filter the videos you will use.
Step 5
After finishing the Video Collage, we are not about to click the Export button on the lower-right corner of the Interface to end saving your output.
Part 3: FAQs about Video Collage Maker Tools
Can I create a video collage with my iPad?
Yes, and here is the application that most iPad users will recommend. Video Collage and Photo Grid is an iOS video and photo collage maker app. It enables you to make photo and video collages on your iPhone and iPad. It is available for free download from the App Store. It includes a plethora of templates for creating split-screen videos. Video Collage and Photo Grid are compatible with iOS 8 and later.
Can I add text to my video collage?
Yes. Most video collage maker applications also offer text features that enable you to add elements to your video, like text. Adobe Premiere Rush, KineMaster, Mojo, and Canva offer these kinds of features with various fonts that you can use.
Can I create a video collage with more than ten videos on the screen?
Cheating a video collage with more than ten videos on the template is possible Blu-ray Master Video Converter Ultimate. As we all know, it possesses various incredible features, including a video collage maker that can enable you to add video from two cells up to thirteen cells. Many users will probably use this rather than any editing tools.
Conclusion
These applications and software are excellent for creating an incredible video collage. We can see these editing applications possess various features yet serve one purpose: to offer a great quality video collage. However, we only need one to use, so you must choose a great application based on its features and prices. On the other hand, you can consider using your Windows or Mac computer to edit the video with the help of Blu-ray Master Video Converter Ultimate. This tool is very recommendable to use. You can get it for free right away.