8 Powerful Video Makers for Creating Fantastic Videos
Behind the most cinematic, thrilling, and exemplary videos is a poured-out effort in the editing process. Certainly, all the raw footage taken did not appear as well as it seemed until it underwent a great deal of tweaking by the editor. And of course, this would not be possible without using a video editor program that functions perfectly and excellently.
Whether you are a professional or a rookie aspirant in the video editing field, you have just arrived in the right place. This blog post will give you 8 video makers online and offline. Follow until the end so you can examine the programs for yourself.
Part 1: 4 Best Video Makers for Desktop
Video Converter Ultimate
You are just in the right spot to encounter the best video creator, which is the Video Converter ultimate. This desktop program lets you put in your creative side by turning simple footage into something you can call a masterpiece. Through this program, worry no more as it offers basic video editing features like rotation, cropping, layering a watermark, and even putting a text on your video. Video Converter ultimate also possesses a straightforward user interface that is perfect for amateurs and not only for the skilled ones in video editing.
Key Features:
1. Works excellently with Windows and Mac operating systems
2. Toolbox covers additional features such as the GIF maker, 3D Maker, the Video Compressor, etc.
3. Supports numerous input and output formats like FLV, MKV, MP4, MPEG, and more
4. Renders a high-quality video for a better viewing experience.
5. Convert your movie after the reporting process into different types of video formats for a higher compatibility playback on any device
6. Provides stylish themes for your clips
Step 1
Install the best video maker
Begin by clicking the Free Download button above to start downloading the exe. file. After locating the program file, double-click it with your mouse and follow the installation wizard to install. Then, wait for the program to launch to start creating videos.
Step 2
Import recorded clips to the video creator
Go to the video creator section on the program's main interface by clicking the MV tab. Hit the Plus icon beneath the area of the interface to import your files. If you wish to add a folder that contains all of your footage, hit the expand the Add button and then select Add Folder.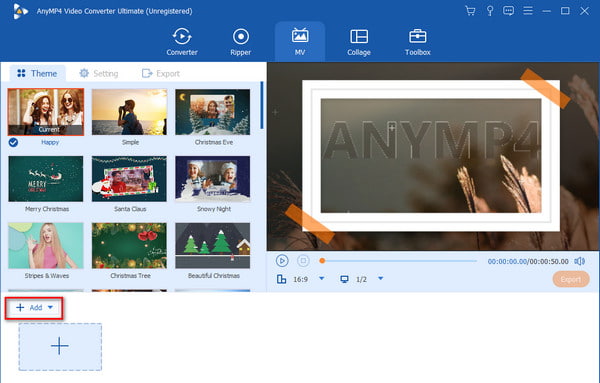 Step 3
Enhance video clips
Select the Edit button after uploading your file to access the editing tools. On the first tab of this section, you can rotate your videos to any angles like counterclockwise, clockwise, or flip vertically or horizontally. In the same way, you can move on to the Effect and Filter tab if you want to change the tone of your clips. Next, you can add a watermark to your video to avoid property theft.
As you can see, the program's left pane shows you the raw footage, while the left one is the preview panel to check the progress of what you're working on. When looks good already, hit the OK button.
Step 4
Set music in the background
In case you didn't know, this program also acts as a music video maker. If you wish to intensify your work add background music to it. Head over to the Setting section and check the Background Musicbox. Also, hit the Plus icon aligned to this box to upload your audio file. Move the Volume head and test the appropriate loudness of the background sound for your video.
Step 5
Save the output project
After all, the editing process and you are finally pleased with the way your videos appeared, hit the Export button to render the clips into a polished video. Next, start to name your file and also choose the desired video format. You can drop down the Resolution tab and select your preferred quality. Lastly, set the file location and then hit the Start Export.
Adobe Premiere Pro
Many consider Adobe Premiere Pro as one of the best movie maker programs in the industry of filmmaking. Adobe Premiere Pro is an application for professionals who are into video editing and high-quality movies, advertisements, and video clips. You can easily make videos with its powerful tools like the titling option, native file support, cross-app integration, etc.
Pros:
1. Compatible with Windows and Mac
2. Realtime video editing
3. Multicam editing
Cons:
1. Only a 7-day free trial
2. Must be using a 64-bit system
Final Cut Pro
Final Cut Pro, now called Final Cut Pro X, is Apple's own video editing tool for professional and basic users. This tool is capable of creating high-grade movies and video clips. You can add cinematic effects, object tracker, multicam editing, advanced color grading, HDR effects, and more. You can say that this tool can rival Adobe Premiere Pro in terms of quality and performance. And this is a more powerful video maker than iMovie, another program of Apple.
Pros:
1. Auto-correction feature for noise reduction, color, and audio
2. Customizable effects with 2D and 3D options
3. Audio Editing capabilities
Cons:
1. No Windows version is available
2. A bit expensive program
Filmora Video Editor
Filmora Video Editor is a software of Wondershare and a famous video creator program. You can freely download this tool on Windows and Mac devices. With its features like turning effects, filters, motion graphics, making split-screen videos, adding text and transitions, and overlays, your videos will surely come out spectacular. You can also export your videos easily and share them on Youtube and Facebook or burn them to make a DVD.
Pros:
1. Fast rendering of videos
2. Straightforward interface
3. Can directly share videos on Youtube and Vimeo
Cons:
1. The free version contains watermarks
2. Lacks advanced editing options
3. Monthly and yearly plans are expensive
Part 2: Top 4 Online Video Makers
If you want a better and more convenient way to make a video, you probably want to use online video makers. Using an online video maker is convenient because it will not require you to download anything on your device. So, if you want to learn about the most outstanding video makers online, read this part below.
InVideo
InVideo is a popular online video maker that is free and safe to use. It has many editing features like trimming and cropping videos, adding transitions, texts, stickers, and more. With its easy-to-use interface, many people like using this video maker. Also, it is accessible on almost all web browsers, including Google and Firefox. Moreover, the paid users of this tool can access up to 3 million media libraries. But if you use the trial version, you can access up to 1 million stock libraries.
Pros:
1. Amazing elements, vector shapes, stickers, and masks.
2. Beginner-friendly tool.
3. Can download your video in 720p resolution.
Cons:
1. Needs to have a fast internet connection
AdobeSpark
Another famous video maker that you can access online is Adobe Spark. Many professionals prefer using this online video maker because it has advanced editing tools that you can use. Using this app, you can make customized graphics, videos, and web pages. Moreover, you can choose many beautiful templates which you can use for your video. Adobe Park also has a feature called Adobe Stock, which is provided by the app. However, when you use these pictures, there are watermarks embedded in them. Although it exports high-quality videos, you cannot download your output immediately because you need to compress the images or transitions.
Pros:
1. It has many advanced editing tools.
2. Exports high-quality videos.
3. Accessible on all web browsers.
Cons:
1. It has a hard-to-operate interface.
2. Requires compressing your output before downloading.
Flyr
Flyr is a perfect online application if you are looking for an online video maker. If you want to have aesthetic videos that are appealing to millennials, then this is the right tool for you. In addition, it has many templates and HD videos that are available in its stock library. Also, an amazing feature of this tool is that you can export your videos in 1080p SD or HD video resolution. You can also choose your preferred video orientation from landscape, square, and portrait.
Pros:
1. It has a simple user interface.
2. It contains amazing templates to use.
3. Allows download for paying customer.
Cons:
1. Subscribing is mandatory.
Wave.video
Wave.video is a known marketing platform that many people also recommend. It enables you to make, edit, share, and host videos. Many entrepreneurs and vloggers use this online video maker to create high-quality videos. Furthermore, it has an easy-to-use platform, making it easy for users to create a video. Wave.video contains 400 million stock videos and images, so you can scroll through its stock library if you don't have your video. What's more, is that you can export your videos directly on Facebook, Wistia, Vimeo, Google Drive, and HubSpot.
Pros:
1. This tool can export your video in MP4 format.
2. It has beautiful stock videos to use.
3. It is safe to use.
Cons:
1. Premium members can only access the media library.
2. It is not available on all platforms.
Part 3: FAQs about Video Makers Online
Can I use Canva to make videos?
Yes. Canva has a feature where you can make your own video. It has incredible editing features you can use to create outstanding outputs.
What is the best format to use for a movie?
The best file format that you can use for your movie is MP4 format. This file type works well on all media platforms, like Windows, Mac, and Linux. It also works well on all social media platforms, including Facebook, Twitter, and Instagram.
Is there a better movie maker than iMovie?
Yes. There are many professional software applications you can use to produce high-quality videos. Many professionals use Adobe Premiere Pro, Camtasia, Adobe Creative Cloud Express, and Filmora.
Conclusion
Through this content, you have thoroughly learned eight different video maker tools. Which of these tools do you like the most?. As for me, an easy-to-use interface with plenty of features like file converter, collage maker, DVD ripper, music video maker, and others in a single program is a jackpot. Video Converter Ultimate fits the bill. Do not hesitate to get this amazing program for your next video-making sessions.