Top 7 Alternative to Snagit for Windows and Mac
Snagit is an amazing screen recording tool, but there are several alternatives that shine in clean interface, video & audio quality, and price. This post is intended to make your screen recording a little easier by comparing different screen recorders on the market today, and how each stands out as an alternative to Snagit. Review the following Snagit alternatives to see if there are any Snagit competitors that you should also consider into your consideration.

Top 1. Blu-ray Master Screen Recorder

At the top of this list is Blu-ray Master Screen Recorder. Considered as the most full-featured screen recording software, Blu-ray Master Screen Recorder offers professional solutions to satisfy all of the needs of your HD screen capturing, including not only screencasting, but many useful video editing features. You can record any part of your screen or full screen, or even record your webcam and desktop screen at the same time. As for the video editing, it allows you to do basic editing on your video, including adding annotation, applying cursor effects, adding texts and callouts, trimming videos, plus more.
It also comes with the features of audio and webcam recording. It is capable of recording any audio from the system sound, microphone, or both, and capturing the webcam directly. Additionally, you're able to create high-quality screenshots in BMP, JPG, and PNG format while recording. The interface is intuitive and easy-to-use, even for beginners, so you don't have to be a professional to get the job done.
Supported platforms: Windows and Mac
Top 2. OBS Studio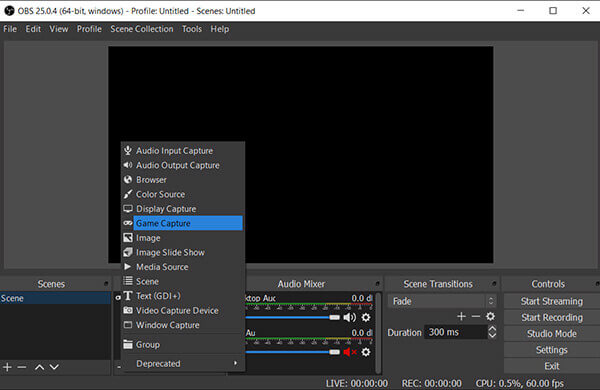 As one of the best alternatives of Snagit, OBS Studio is a free and open-source cross-platform software for recording. As a professional solution, OBS can record everything along with the audio on your desktop, and support capturing directly from your webcam and microphone. You can also incorporate footage from games, add in existing videos and still images, and much more. Although OBS is a great tool, as freeware with limited functionality, there's plenty more to explore in the realm of screen recording solutions.
Supported platforms: Windows, Mac, and Linux
Related: What Is OBS Studio and How to Use It to Record Screen with Best Settings
Top 3. Bandicam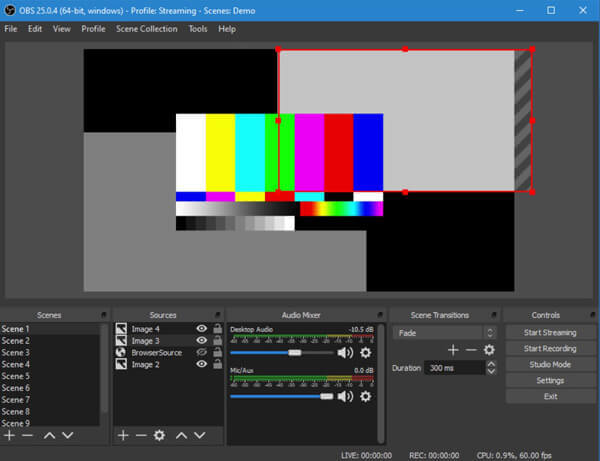 Bandicam was developed to be the all-in-one solution for everybody seeking to record HD resolution and capture up to 120 frames per second. It offers four recording modes which are the game recording mode, device recording mode, video recording mode, and screen recording mode. You can use this screen capture tool to record gaming sessions, create video tutorials, keep online academic lessons, and more. You can buy Bandicam for $39. That's a little higher than its competitors.
Supported platforms: Windows Only
Related: Top 5 Free/Paid Alternatives to Bandicam Screen Recorder for Windows and Mac
Top 4. ShareX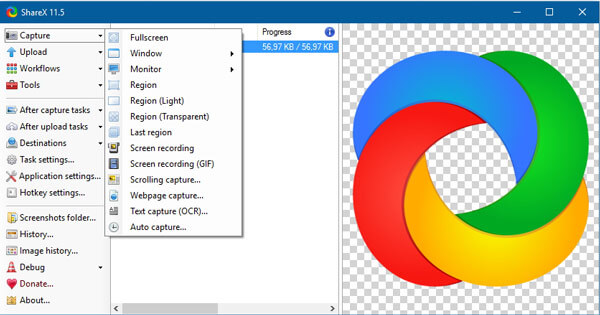 ShareX is another free and light-weight program that allows you to capture a portion of your screen, and export your captures to OneDrive, Google Drive, Dropbox, Box, FTP, Imgur, Google Photos, Photobucket, Flickr, Azure, Mega, MediaFire, Amazon S3, etc. The screen capture offers a wide range of screen capture options: full screen, window, region, scrolling capture, and more. You are able to set up a timer to delay capture, perform OCR on text, choose whether or not to include the cursor in screenshots, and more. You can also record on-screen activity as a video or animated GIF.
Supported platforms: Windows only
Top 5. Blu-ray Master Free Online Screen Recorder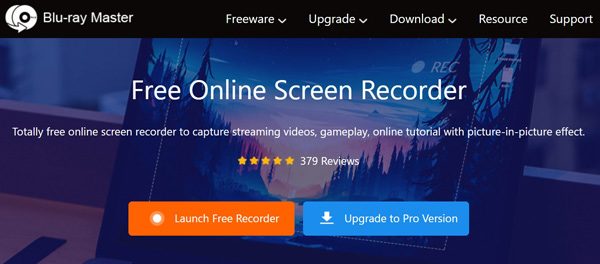 Blu-ray Master Free Online Screen Recorder is a free online tool that is proven to be a powerful screen capture tool offering professional screen recording solutions and allowing a better deal of editing and customization. It is an all in one on-screen recording solution for capturing voice-over, webcam, and any area of the screen with a single click. The advantages of Blu-ray Master Free Online Screen Recorder include practically no learning curve and a straightforward approach. With few features, it's easy for a new user to understand what to do on the first try.
More importantly, there is no limit to screen recording time, no watermark added, and no registration needed. If you don't use the screen recording tool frequently, an online tool is a relatively good option for screencasting.
Supported platforms: Any browser
Top 6. Lightshot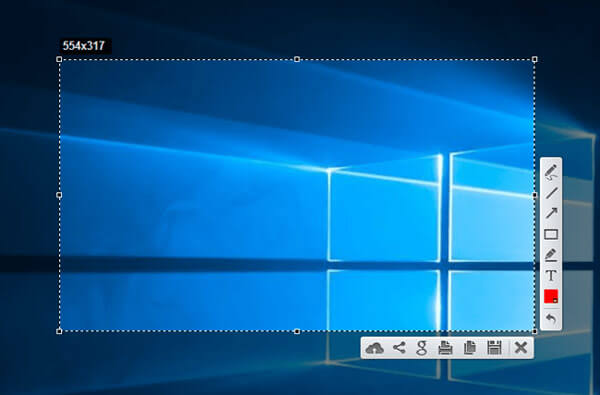 Lightshot is a free application available for Windows and Mac that will make your screen recording experience amazing. It allows you to capture the screen and create screenshots quickly and easily. You can choose to capture the full screen or select a specific area. It also allows you to take screenshots effortlessly, and you can add texts, annotations, colors, effects, and more to make the screenshots attractive.
Supported platforms: Windows, Mac, and browser
Top 7. TechSmith Capture (Formerly Jing)
TechSmith Capture is a free, cross-platform screen capture tool developed by TechSmith for taking screenshots and recording videos of actions taking place on your PC or Mac. The program claims to share screenshots and screencasts with others in real time. Once you have created an image or video, you can share it with another person in seconds, even if they do not have Jing. Furthermore, TechSmith Capture is free up to 2GB of online storage space.
Supported platforms: Window and Mac
FAQs of Snagit Alternatives
Is there a free version of Snagit?
Snagit is available to purchase for $49.95.
Is Snagit safe?
It is! Snagit is a tool that's been around for years. Be careful with any cracked versions or unofficial releases, though.
Snagit doesn't work! What do I do?
If you have trouble using Snagit, the support team on the official Snagit website should help. Or you can try using its alternatives mentioned above.
Can you record audio with Snagit?
Yes, you are able to capture the audio from your computer. Head to the Video tab and turn on the Record System Audio option.
The best alternatives to Snagit on the list above are all excellent programs that are similar in terms of features. We hope this article has been helpful and you'll find the suitable screen capture tool for your needs.