What Is CamStudio Screen Recorder and How to Use It
Suppose you want to record something on your desktop, such as gameplay, so you search for free screen recorder in Google Engine. Chances are that CamStudio appears on the first page. However, you may have a lot of questions about this free screen recorder, such as whether it is really free to use, how to use it and more. This post intends to share you a complete introduction and an unbiased review for CamStudio, so that you can make the best decision.
Part 1: Introduction and Review of CamStudio
As a screen recorder, CamStudio is a simple way to create screen captured videos and ideal to produce video tutorials. There are actually a lot of things that you can do with this application if you are a bit creative. Let's see what CamStudio can do first:
1. Record everything on your screen along with audio.
2. Record screen as high quality AVI video files.
3. Convert AVI screen recording to SWF flash video.
4. Highlights your cursor path for clarity.
5. Add text comments to screen recordings.
Briefly Review of CamStudio Free Screen Recorder
Pros
1. CamStudio is free of charge and open source.
2. The interface is clear and users can find what they want easily.
3. It won't add watermark or limit recording time.
4. It integrates a media player to play AVI recordings.
5. CamStudio is compatible with Windows 10/8/7/XP/Vista
Cons
1. It can only record screen in AVI or SWF format.
2. The output file size is very large and it takes time to load.
3. The installer contains unwanted program and malware.
4. It costs a lot of CPU resource when recording.
How to Record Screen with CamStudio
Step 1
Firstly, install CamStudio on your computer successfully. You can download the installer file from the official website for free, and execute it to install the software.
Step 2
Then open the free screen recorder. You can see the menu bar on the top of the window and a toolbar under menus. If you want to record screen with hotkeys, for example, click Options, choose Program Options and select Keyboard Shortcuts. Now, set them based on your habit.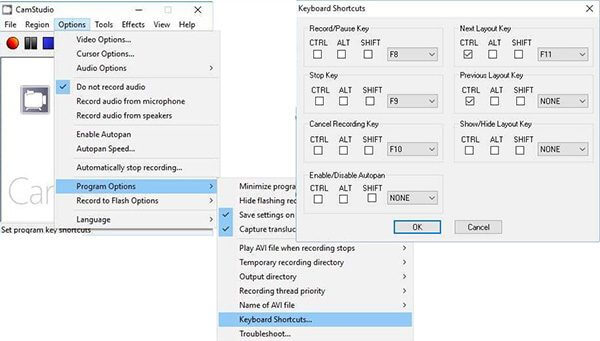 Step 3
Enter the screen you want to record. Turn to CamStudio free screen recorder, click Region on the menu bar and select a record mode, like Full Screen.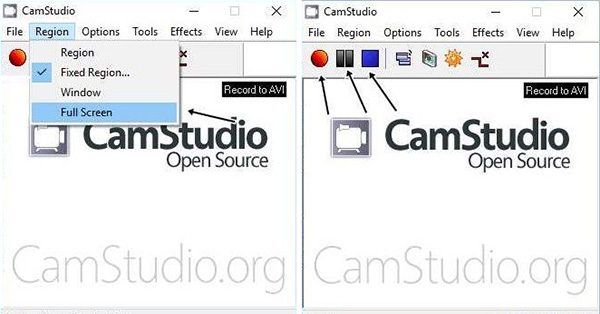 Step 4
Once you click the red circle button, screen recording will start.
Step 5
To stop recording with CamStudio, go to the system tray icon and select Stop or use the shortcut you set. When prompted, select a location, enter a filename and click Save button. When it is done, the movie player window will pop up.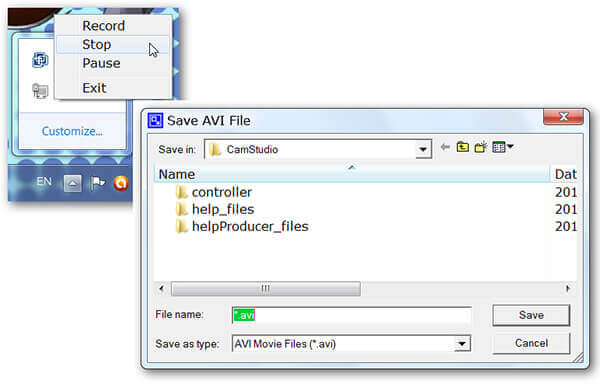 Part 2: Best Alternative to CamStudio
Similar to other freeware, CamStudio has downsides as well, such as the limited output format. Moreover, it does support webcam capture at all. It makes sense that some users look for alternatives to the free screen recorder. Blu-ray Master Screen Recorder can meet you need.
Key Features of the Best Alternative to CamStudio
1. Record screen, gameplay, online videos and external device.
2. Add your face and voice through webcam and microphone.
3. Offer extensive custom options and bonus tools.
How to Record Screen with the Best Alternative to CamStudio
Step 1
Install Screen Recorder
Launch the best alternative to CamStudio after you install it to your PC. There is a specific version for Mac users. Then choose Video Recorder from the home interface. Advanced users can click the Gear icon to open the Preferences dialog, and set custom options related to hotkeys, output format and location, video quality, and more.

Step 2
Record screen without lag
Make sure to keep Display option enabled and set the recording region, like Full screen or Custom region. If you want to capture your reactions while recording screen, enable Webcam; otherwise, disable it. Then you can choose the audio source, such as System Sound and/or Microphone.
Once you are ready, click the REC button to initiate screen recording with best alternative to CamStudio. During the process, you can add text and paintings to the recording with the Edit icon or take screenshots with the Camera icon.
Step 3
Preview and save screen recording
Whenever you want to stop the recording, click the Stop button. Then the preview window will show up. Here you can view the screen recording by hitting the Play icon. If it contains redundant frames, cut it with the Clip feature. When everything is ok, click the Save button and follow the onscreen instructions to export it to your hard drive.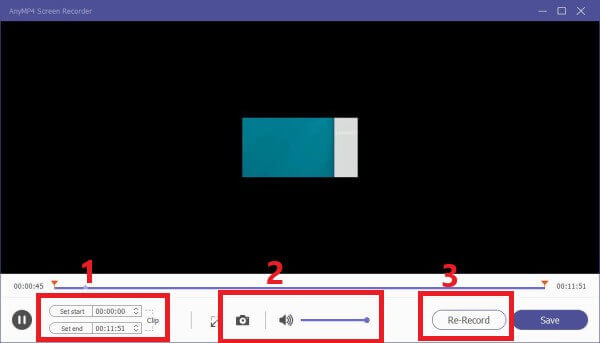 With this screen recording too, you can download capture audio from Internet, record Clash Royale, and more.
Part 3: FAQs about CamStudio
Why CamStudio doesn't record audio?
Firstly, check your volume settings and make sure it is large enough. Moreover, CamStudio only works if your audio driver is compatible. If your audio driver is outdated, you should update it right now. If the problem persists, you'd better use another screen recorder directly.
Is CamStudio malware?
CamStudio is an open-source project and most antivirus software will alert you or block it. Some experts suggest users to turn off antivirus when installing CamStudio free screen recorder. Though CamStudio is safe to use and not malware, the installer file does contain extra programs.
Conclusion
This post has shared a full introduction for CamStudio HD recorder. As a free screen recorder, every PC users can use it for free. Of course, there are some costs, such as installing extra program, limited output format, and more. If you mind it very much, we suggest you to use an alternative solution, like Blu-ray Master Screen Recorder. It is not only easy to use, but also works smoothly. More questions? Please write them down in the comment area below the post.