Review of 5 Best Screen Recorders for Chrome
Want to record screen on Google Chrome but don't know which screen recorder you should use? What is the best screen recorder for Chrome?

Good thing is, there are a large number of chrome screen recorders offered on the market that can help you capture screen on your browser. Do you know which one is best for you? Here in this post, we make a list of 5 best screen recorders for Chrome. You can get main features of each Chrome video recorder and then pick your preferred one to make the screen recording on Chrome.
Part 1. Best Chrome Video and Audio Recorder- Screen Recorder
To record a video or audio on your Google Chrome browser, you can rely on the all-featured screen recording software, Screen Recorder. It has the capability to capture any activities happened on your computer screen with its original image and sound quality. It enables you to record Chrome and save it in any popular output format you need.
1. Record Chrome screen and any activities happened on Windows PC or Mac.
2. Capture a Chrome video with full screen, custom region or specific window.
3. Capture videos, online meetings, 2D/3D gameplay, video calls, and more.
4. Record webcam and capture sound from microphone, system audio or both.
5. Save recorded Chrome video in any video format like MP4, MOV, FLV, AVI, and more.
Double click the download button to free install and run this screen recorder for Chrome on your computer. This Chrome recorder provides you with Video Recorder, Audio Recorder and Screen Capture features.

You can pick the specific feature based on your need. As it mentioned above, you are allowed to adjust the Chrome video recording area with entire screen or selected region. What's more, you can select the audio recording source from System Sound or Microphone.

You can simply click on the REC button to start the Chrome video and audio recording. The recording file can be saved in any popular video or audio format like MP4, MOV, AVI, FLV, MP3, AAC, FLAC, and more. After recording, you can preview the recorded file and edit it.
It also offer a convenient way to take a screenshot on Google Chrome from Screen Capture.
Part 2. Screen Recorder Chrome Extension - Screencastify
If you prefer online browser application to capture screen on Chrome, the screen recorder Chrome extension can be especially useful. You can find many different Google Chrome extensions available in Chrome Web Store. In case you don't know which one you should use, here we introduce you with a popular screen recorder Chrome extension, Screencastify.
Screencastify is a popular Chrome video recorder which allows you to capture entire desktop screen, current browser tab or webcam. This free screen recorder for Chrome can free record a video up to 5 minutes with no watermark. It can narrate with microphone's audio and embed your webcam into the recording with ease.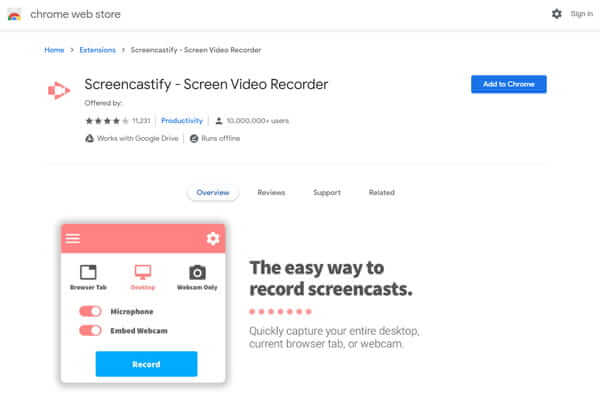 Besides the Chrome recording feature, this screen recorder for Chrome is equipped with some basic editing features. You can trim the start and end of your recording according to your need. What's more, you can draw on your tab with the pen tool, merge, crop, and add text to your recorded video.
Part 3. Free Chrome Video Recorder - Free Online Screen Recorder
Similar to the screen recorder Chrome extension, there are some online video and audio recorders can help you capture your Chrome with high quality. Here we sincerely recommend the popular Free Online Screen Recorder for you.
This free screen recorder for Chrome can help you record anything displayed on Chrome. It can record any video or audio with high quality and save the recording file in any frequently-used video or audio format including MP4, MOV, AVI, MP3 and more. Besides Google Chrome, it also supports Safari, Microsoft IE, and Firefox.

This free Chrome video audio recorder allows you to capture any part of your Chrome browser. It is able to capture sound from system audio card, microphone, and external speaker. Free Online Screen Recorder doesn't offer any editing features.
Part 4. Windows Screen Recorder for Chrome - Game Bar
Xbox Game Bar is the pre-installed Xbox game recording software in Windows 10. If you are using a Windows 10 PC, you can rely on it to capture your Google Chrome. It is specially designed to record your video game playing on computer. This Windows video recorder has the capability to record your Chrome with full screen.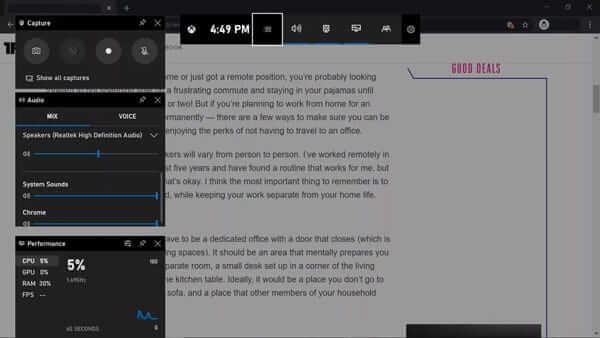 You need to enable Game Bar in Windows Settings. Then you can simply press Windows and G keys to arise the screen recording window. The Chrome recording file will be saved in the Captures folder by default.
Part 5. Screen Recorder for Chrome - Loom
Loom is one of the most popular chrome screen recorders which allows you to record videos in browsers and share them to social media quickly. This Chrome video and audio recorder is compatible with Windows, Mac and iOS. It enables you to record your Chrome browser and video messages of your screen, cam, or both.
This screen recorder for Chrome provides you with a free version. You can free capture your operations on Google Chrome. The free version carries the basic recording features you need. You are required to sign in for the free Chrome recording. If you want to edit your captured video, you need to upgrade it to the paid version. Loom also offers a screen recorder Chrome extension for you to start a recording.
Part 6. FAQs of Screen Recorder Chrome
Question 1. Does Android have a screen recorder?
For now, Android doesn't offer you a built-in screen recorder. But it seems that Google is finally ready to release this native screen recorder in Android 11. You can use the screen recorder if you have upgraded your Android to the latest 11 version.
Question 2. How to record screen on iPhone?
There is a native video and audio recorder signed in iOS. If you are using an iPhone or iPad, you can rely on this Screen Recording feature to capture any activities or operations on the screen. It captures sound from microphone. (How to fix iOS Screen Recording not working?)
Question 3. How to capture screen on Mac?
If you are a Mac user and want to capture your Mac screen, you can rely on the official screen recording software, QuickTime Player. QuickTime is the default media player which carries the basic video and audio recording features. It allows you to record your Mac with full screen or selected area based on your need.
Conclusion
We have mainly talked about screen recorder Chrome in this post. You can get some key features of 5 great Chrome video recorders and then make your choice. If you have any better Chrome screen recorder recommendation, please share it in the comment with other readers.