What to Do to Fix OBS Game Capture Black Screen While Recording
OBS is a free and open source screen streaming and recording platform on multiplatform. You can use OBS to record screen video and audio for free on your Windows, Mac and Linux computer. However, it is annoying when OBS turns into black screen while recording. The OBS black screen problem is quite common. You can see many complaints about OBS capture black screen in Reddit, OBS forum and more. What to do when OBS stops working and turns black screen during window capturing? You can get satisfying solutions here.

Part 1: Use OBS Alternative to Capture Screen
OBS is a popular game recording freeware for desktop users. You can use OBS game capture to record gameplay. However, OBS is not the best choice. The overwhelming layout, high learning curve and high CPU usage are not good for game recording. Sometimes when you close the problem, OBS still continue working. You need to force quit to stop recording on OBS.
If you want to record gameplay to show off skills, you can use Blu-ray Master Screen Recorder to get rid of OBS black screen game capture problems. It is a lightweight and powerful screen recorder. You can record video, audio and webcam with the original quality freely. There is no need to worry whether your gameplay video lag while recording. Being equipped with the advanced hardware acceleration technology, you can record gameplay and videos without laggy. Moreover, you can adjust video quality, resolution, frame rate and more before recording.
1. Capture game video with audio in full screen, particular window or selected region.
2. Record audio playing via browser, program or even external microphone.
3. Edit the recording video and screenshot in real-time with text, line, arrow, callout and many other annotations.
4. Set hotkeys to start/stop/pause/resume recording, open/close webcam and show/hide float panel.
5. Adjust the output recording quality and other preferences.
Step 1 Free download Blu-ray Master Screen Recorder. Choose Video Recorderto record gameplay and videos, just like Open Broadcast Software.
Step 2 Set to record video with full screen, browser, window or custom region. Just like OBS game capture software, you can record not only gameplay audio, but also your voice and face, just turn on Webcam, Microphone and System Sound based on your need.

Step 3 Click REC to start recording after OBS black screen game capture. You can pause, resume and stop recording via hotkeys or on-screen controls.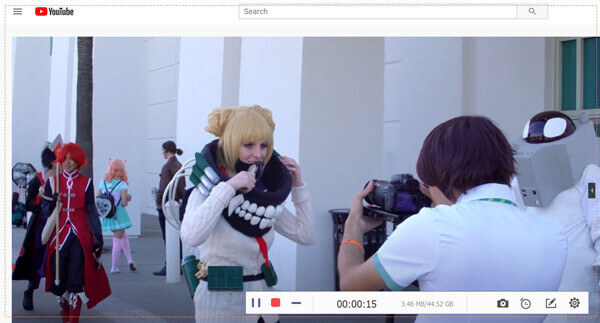 Step 4 In the Preview window, preview and trim the recording game video. At last, click Save to export your recording video as MP4 or other formats.
If you just want to record screen video with audio only, Blu-ray Master Free Online Screen Recorder is also a good choice. You can screen record on your computer with no time limit for free.
Part 2: How to Fix OBS Window Capture Black Issue
Just do as the following paragraphs show. You can troubleshoot OBS capture black screen issue with ease.
Way 1: Power Cycle Your Computer
Step 1 Turn off your computer completely.
Step 2 Remove the power outlet or battery. This method can remove all temporary configurations from your computer.
Step 3 Hold and press the Power button for several seconds to drain the battery.
Step 4 Put back the power source.
Step 5 Power on your computer to see if OBS black screen recording issue is resolved or not.
Way 2: Reinstall OBS
Step 1 Check the system type of your computer. You can right-click on This PC and then select Properties.
Step 2 Search for the OBS download package in your computer.
Step 3 Choose the correct OBS Studio 32 bit or 64 bit version to install.
Way 3: Change OBS Compatibility
Step 1 open the file location of OBS software. Just choose Open file location from the right-click menu.
Step 2 Right-click on the OBS executable. Then select Properties.
Step 3 In the OBS Studio Properties window, navigate to the Compatibility section.
Step 4 Enable Run this program in compatibility mode for. Select the current OS version of your computer.
Step 5 Click OK and Apply to save changes. Now, restart OBS to see if OBS capture black screen still exists or not.
Way 4: Adjust GPU to Improve Performance
Step 1 Shut down OBS. Right-click on the computer's screen. Then select NVIDIA Control Panel.
Step 2 Choose Manage 3D Settings under 3D Settings category.
Step 3 Click Program Settings followed by Select a program to customize. Later, click the Add option to find the OBS .exe path.
Step 4 Select High-performance DVIDIA processor from the drop-down list.
Step 5 Save changes and exit the window. After that, you can restart OBS to fix OBS black screen display capture.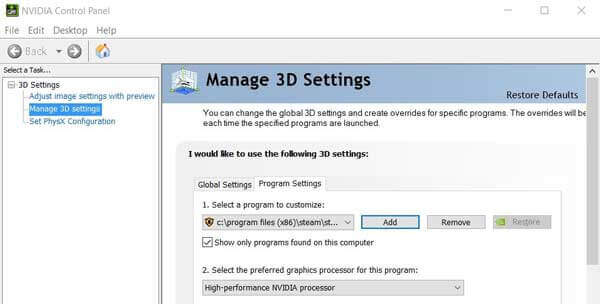 Part 3: FAQs of OBS Black Screen While Recording
Why OBS showing in black screen?
The black screen game capture OBS problem can be caused by many reasons. For instance, the dedicated graphics interfering, administrator privileges, application conflict, compatibility and more issues can cause OBS black screen while recording or broadcasting. You can fix OBS black screen and not working issues by trying above solutions one by one.
What to do when OBS display capture not working?
Check if you run OBS is NVIDIA GPU. The display capture mode runs in Intel instead.
How to reset OBS?
If you want to reset all OBS settings back to the default state, you can go to OBS Settings. Choose General and then Delete Cache. Later, click Restart to reset OBS settings. If you want to completely reset OBS, you can delete OBS scene collection as well.
By using the above troubleshooting methods, you can fix OBS capture black screen issue successfully. If the problem still exists, you can use Blu-ray Master Screen Recorder as an alternative. Compared with OBS, it is a lightweight and beginner-friendly screen recorder for Windows and Mac users. You can get better screen recording performance without the annoying black screen issue.