How to Record Gameplay on PS4 with Facecam and Commentary Unlimitedly
No matter which game you play, it is quite common that you want to record highlights and interesting moments for sharing or saving. For PS4 users, you can use the built-in gameplay recording feature to record on PS4. It is supported to broadcast and upload PS4 Gameplay video directly. Or you can make a PS4 gameplay tutorial video with professional gameplay recording software. Compared with the PS4 gameplay recording feature, you can get more drawing effects and advanced tools. Both two PS4 recoding methods will be introduced in details here.

Part 1: How to Record Unlimited PS4 Gameplay
If you want to add annotation, commentary and other on-screen drawing effects to your PS4 gameplay recording video, definitely Blu-ray Master Screen Recorder can be your first choice. It is supported to record PS4 game video with internal audio and voice chats, as well as your webcam. You can edit and record gameplay on PS4 for YouTube and Twitch. The built-in video trimmer and customizable recording preferences are also helpful.
1. Record PS4 gameplay with voice, system sound and facecam flexibly.
2. Add commentary, annotation, shapes and other drawing tools to your PS4 game recording video or screenshot.
3. No maximum time limit. You can set a task schedule to record gameplay video on PS4.
4. No lag or delay during the entire PS4 gameplay recording.
5. Trim the recorded PS4 game video.
6. Save PS4 gameplay video with original quality as MP4, MOV, GIF, M4V or WMV format.
Step 1 Connect PS4, HDMI and capture card to your computer. Make sure the PS4 game can show on the display screen. Free download, install and launch Blu-ray Master Screen Recorder.
Step 2 Click the Video Recorder option. Select the PS4 game window. To record gameplay on PS4 with sound, turn on System Sound. Then turn on Microphone to record game on PS4 with voice as well. For people who want to record gameplay on PS4 with camera, you can turn on Webcam. There will be a picture-in-picture overlay in your PS4 recording.

Step 3 Click REC to record PS4 gameplay in HD. All gameplay video, audio and webcam can be captured simultaneously. You can click the Screenshot icon to screenshot on PS4 game. Or you can click Edit to record Ps4 gameplay with commentary.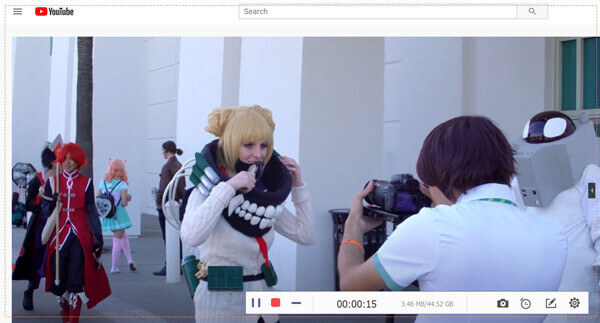 Step 4 Click Stop to stop gameplay recording on PS4. In the popping-up Preview window, click Play to have a check. Here you can extract any part of your PS4 game recording video. Click Save to save PS4 game video. Or you can share PS4 gameplay video to YouTube in Recording History.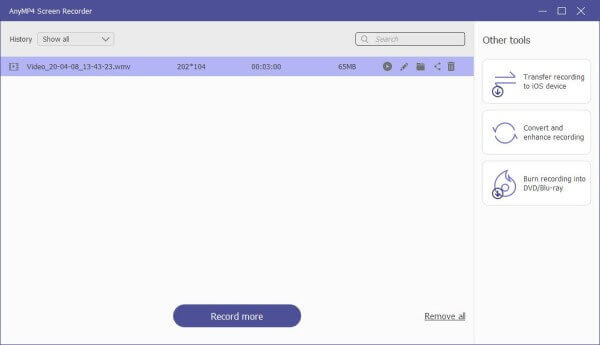 Note: Blu-ray Master Free Online Screen Recorder is 100% free and safe for PS4 game video and audio recording. Though its hardware acceleration and editing tools are disabled.
Part 2: How to Record Gameplay Video on PS4
Or you can record, edit and share gameplay videos with your PS4 controller directly. The maximum PS4 recording time limit is 60 minutes. So you can record on PS4 no more than an hour. Now, let's see how to record PS4 gameplay without a capture card.
Step 1 Open the gameplay on PS4 you want to record. Hold down the Share button on your PS4 controller.
Step 2 Choose Length of Video Clip. Then adjust PS4 recording length from 30 seconds to 60 minutes.
Step 3 Press the Share button twice to start recording gameplay on PS4.
Step 4 Press the Share button again to stop recording gameplay on PS4.
Step 5 Choose Save Video Clip to record gameplay on PS4 without sharing.
Step 6 Open the Capture Gallery folder to find the recorded footage. That's where your PS4 game recording file is saved.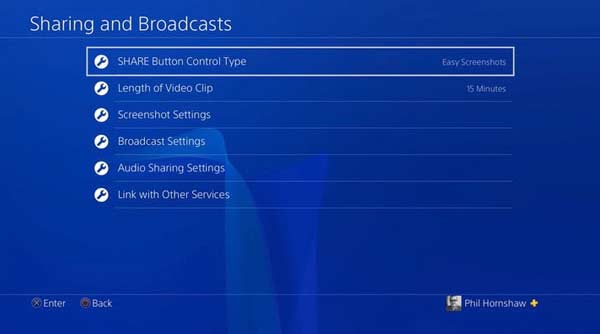 Part 3: FAQs of Recording Gameplay on PS4
How to share PS4 gameplay recording to YouTube?
After recording gameplay with PS4, you can share it to YouTube or Facebook too. There will be Upload Video Clip and Share Play options in the popping-up page. Just choose one to record gameplay on PS4 and upload to YouTube or Facebook.
How to record previous gameplay on PS4?
PS4 record and save the latest 15 minutes of gameplay footage automatically. If you want to record past gameplay on PS4, just press the Square button. You can find the saved PS4 game footage in Capture Gallery. Or you can share gameplay video on PS4 to social media platforms as well.
Is PS4 always recording?
Yes. PS4 will keep recording the latest 15 minutes of your gameplay by default. But it does not mean that you can always get all your gameplay footages. You need to press Share to save it to USB drive or elsewhere manually.
Can I record on PS4 with my voice?
Yes. To record gameplay on PS4 with voice, you need to use a headset or microphone on a PlayStation Camera. Then head to Audio Sharing Settings in Sharing and Broadcasts to specify details.
That's all to record gameplay on PS4 in 2 different ways. PS4 itself allows users to get the latest 15 minutes of recording. Even though you haven't started recording, you can still save or share a gameplay recording. But if you want to record PS4 gameplay for hours with more functions, Blu-ray Master Screen Recorder can also be your good choice.