How to Record PS3 Gameplay on Windows & Mac
If you want to share your gameplay video with friends or even post it to video-sharing platforms, a PlayStation 3 video recorder is required. Thus, you can record and keep that moment forever.
The traditional way to record PlayStation 3 gameplay requiring an HDMI cable and HDMI capture card, or AV cable and USB capture card. What if you don't have any capture card around you? Is it still possible to record PS3 gameplay without a capture card?
The answer is Yes. Here're the detailed steps to record PS3 gameplay without buying anything.

Part 1: How to Record PS3 Gameplay on Your Computer
A good gameplay recorder should be lightweight and powerful. It is annoying that your computer runs slowly due to PS3 gameplay recording. To record PS3 on PC without lag, you should not miss AnyMP4 Screen Recorder. It is a superfast PS3 recorder. You can record PS3 game as a normal video smoothly.
There is no maximum time limit or resolution restriction. Thus, you can record the original PS3 gameplay video without quality loss. Furthermore, you can add mouse effects and other real-time drawing effects while recording with PS3 gameplay. It is also supported to enable webcam recording. Thus, you can record PS3 gameplay and your face at the same time. Of course, all audio sources can be synchronized and recorded.
1. Record PS3 gameplay video and audio with the original quality.
2. Screen record PS3 game with different audio sources and webcam video.
3. Keep your computer run as fast as before.
4. Draw on your PS3 recording and set hotkeys to control the entire gameplay recording process.
5. Save PS3 gameplay recording video as MP4, MOV, GIF, WMV or M4V.
6. Share PS3 recording file to YouTube, Twitch or any other gameplay sharing platforms.
Step 1 Run PS3 recorder software
Before recording PS3 gameplay with a laptop or PC, you need to play PS3 game on your computer's display screen. You can use a PS3 emulator to solve the problem. Then free download, install and launch AnyMP4 Screen Recorder.
Step 2 Activate its game recording functionality
Choose Video Recorder in the main interface. Set the screen capture area with Full and Custom options. If you want to record with PS3 gameplay window, just hover your mouse above that window, This PS3 game recorder will recognize the window smartly. It is also supported to set the custom region by dragging with your mouse.

Step 3 Prepare for PS3 game video recording
Enable System Sound to record PS3 gameplay with audio from your computer. If you want to record your voice at the same time, you can enable Microphone as well. By the way, enable Webcam to record playing PS3 video game and your face in the same window.
Step 4 Record PS3 gameplay without capture card
Click REC to start recording PS3 gameplay. There is a little bar with multiple options. Here you can pause, resume and stop recording on PS3. Moreover, you can click Edit to make recording effects as well.
Step 5 Save or share your PS3 game recording video
When you stop recording on PS3, you will be in a preview window. Preview and trim the PS3 recording video based on your need. At last, you can click Save to download your PS3 game video recording. Or you can click Share to share it to YouTube and more in the Recording History window.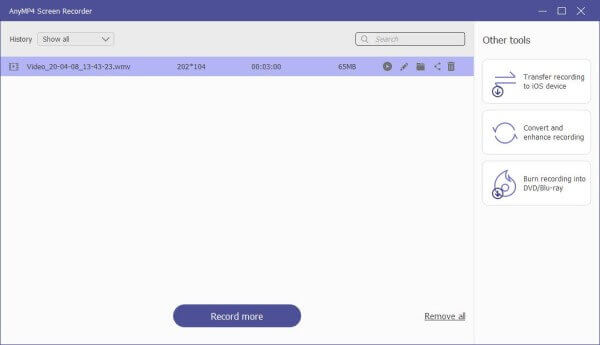 You May Also Be Interested in:
How to Record Xbox 360 Live Gameplay on Laptop (No Capture Card)
3 Ways to Record 360 Degree VR Gameplay on PS4/PC in High Quality
Part 2: FAQs of Recording PS3 Gameplay
Any PS3 emulator for Windows and Mac?
To run PS3 games on your computer without clutter, you can use RPCS3, Mednafen, ESEX-PS3, PlayStation Now, PS3 Emulator and more. Thus, you can stream PS3 video games on your computer successfully.
Is there a free PS3 recorder?
Yes. You can use Blu-ray Master Free Online Screen Recorder to record PS3 game online for free as well. It is a free PS3 game recorder that allows users to record gameplay from PS3 on desktop. You can capture the PS3 game video and audio for free. The recorded PS3 game recording video will be saved as WMV format.
What is the cheapest capture card for capturing PS3 gameplay?
If you want to try any other cheap way to record PS3 gameplay, you can take a look at some cheap capture cards. The specific price of each capture card depends on the discount you get. Here're some affordable capture cards you can use, such as Mypin capture card, Homful capture card, Elgato HD60, AVerCapture HD and more.
Can you record PS3 gameplay with your phone only?
Well, it can be another free way to record PS3 gameplay without buying anything else. If you don't mind the output video quality, you can hold your phone as a camera to shoot PS3 streaming video game as well. Just face the phone camera towards TV or other display screens. Or you can use a camera to record PS3 gameplay without a computer instead.
Can I record PS3 gameplay with iPhone?
Actually, you can use the camera on your iPhone to record PS3 gameplay, but I'm afraid that you couldn't get a HD quality recording. So it is more feasible to use a capture card or a screen recorder to capture your PS3 gameplay.
Conclusion
That's all to screen capture PS3 game video without a capture card or any expensive equipment. You can record PS3 gameplay using your Windows or Mac computer directly. It is an easy and cheap way for beginners. You can get pretty good output quality and powerful gameplay recording features here. So, if you are new to PS3 game recording, you can free download AnyMP4 Screen Recorder to have a try right now.