How to Record VR Gameplay in High Quality
Want to capture the full 360 degrees while playing VR games but don't know how? How to record VR gameplay with high quality?
There are more and more fantastic VR games produced and brought to the market since the HTC Vive and Oculus Rift first launched several years ago. Similar to the traditional video games, you also have the need to record 360-degree Virtual Reality gameplay and then share to friends or sites like YouTube and Twitch.

It is much more challenging to record VR gameplay on HTC Vive, Oculus Rift, PS4, Xbox, and desktop with high quality. Here in this post, we like to share 3 simple and effective methods to help you capture your VR gameplay in best quality.
Part 1. How to Record VR Gameplay on PS4 and Xbox
If you are playing a VR game on PS4 or Xbox gaming console, you can simply capture your VR gameplay just like you normally record gameplay videos. You can press the record button on your controller to save and share your VR gameplay video.
To record VR gameplay on PS4, you can press the Share button on the controller. When you get to the Share menu, choose the Save Video Clip option to capture your VR game playing.
By doing so, PS4 will capture directly from one of the PS VR Headset lenses, and optimize for display on the PS VR. So, you will get a recorded VR gameplay video that being diagonally cut off in the top corners.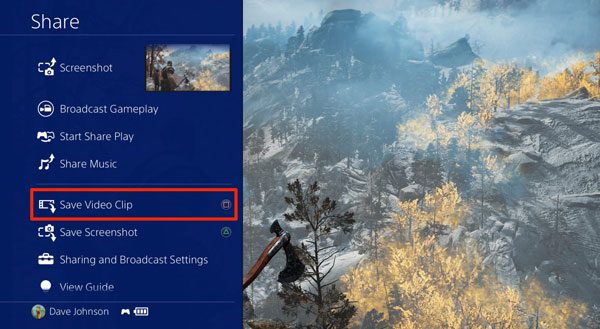 To record VR gameplay on Xbox, you can press the Xbox button on the controller when you want to capture the VR game playing video. After the operation, you will enter the record menu. Here you can choose the Capture and then select the Record from now option. Now you can simply press the A button on your controller to start the VR gameplay recording.
More details about recording gameplay on PS4 are here.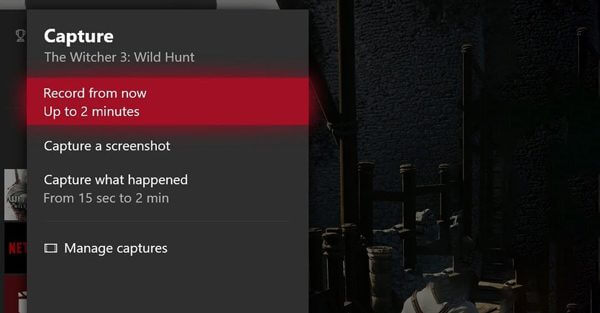 Part 2. How to Capture VR Game Playing on Desktop
If you download some VR games from Stream for your HTC Vive or Oculus Rift device, you can capture your VR game playing on desktop with VR gameplay recorder software. Here we strongly recommend a powerful VR gameplay recorder, Screen Recorder to help you capture your game playing without any limits.
Screen Recorder is the best VR gameplay recording tool which can help you capture any VR games with high image and sound quality.
1. Record VR gameplay with entire screen, specific window or custom area.
2. Capture high resolution VR game playing videos even up to 4K UHD.
3. Save captured VR gameplay video in any popular format like MP4, MOV, AVI, etc.
Step 1To record your VR gameplay, you should free download and install this VR gameplay recorder on your computer first. When you enter this recorder, choose the Video Recorder feature to capture your Virtual Reality game playing.

Step 2Before you capture your game playing, you can adjust the VR gameplay recording area based on your need. As it mentioned above, this game recorder allows you to record full screen or custom region as you like.
During this step, you are also allowed to select the audio recording source, from System Sound, Microphone, or both. If you want to record your own face, here you can turn on the Webcam option.
Step 3When you want to record your VR gameplay, you can simply click on the REC button. You are given the full control of the VR game recording. To stop the process, you can click the Stop button.

Step 4You will be guided to the preview and edit window as soon as you stop the recording. Some basic editing features offered for you to edit the captured gameplay video. If you are satisfied with the recording result, just click the Save button to save it on your computer as an MP4 video.
This software also allows you to record other popular games like LOL, Pokémon, and more.
Part 3. How to Record VR Gameplay with VRCapture
To capture your VR game playing and create amazing VR videos, you can also rely on the popular VRCapture. This VR game recorder provides you with a free and high-quality way to record the full scene of your gameplay. VRCapture is available as a free download on Steam. It supports most headsets and games within SteamVR. You can take the following guide to record VR gameplay with it.
Step 1First, you need to download VRCapture from the Steam store. Then install and launch it on your computer.
Step 2When you want to capture your VR game playing, you can click the big Record icon on the top-right corner.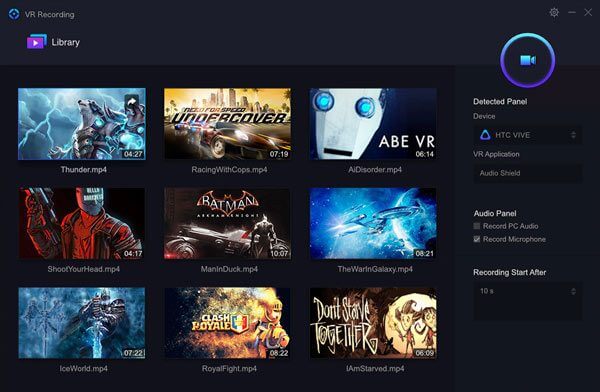 It is able to capture videos in head-mounted display and record multi-channel audio with ease. After recording, you can choose to view the recording file or share it to YouTube. VRCapture is compatible with most VR devices including HTC Vive, Oculus Rift CV1 and Oculus Rift DK2.
Part 4. FAQs of How to Record VR Gameplay
Question 1. How can I see VR on my monitor?
To mirror your VR gameplay on your monitor, you can rely on the SteamVR tool. You can install SteamVR and then choose the Display Mirror option. By doing so, you can display a new window called Headset Mirror. It can show exactly what the user would be seeing inside the HMD.
Question 2. How to download SteamVR?
When you want to download SteamVR, you need to go to Stream store and then locate the SteamVR. You need to sign in your Stream account. After that, you can install the SteamVR with ease.
Question 3. What do you need to play VR games?
To play VR games, you need at least a VR headset. You need a powerful gaming PC or smart phone to support the VR headset. Now you can also use a standalone VR headset to play VR games without a PC or smart phone.
Conclusion
How to record VR gameplay? You can get 3 useful ways to capture your VR game playing in this post. If you still have any questions about the VR gameplay recording, you can leave us a message.