How to Record Xbox 360 Live Gameplay without a Capture Card
Recording gameplay and post it to YouTube and Twitch is a common way for game players. You can build your channel and attract fans to make money as well. Whatever, no matter why you record Xbox 360 gameplay, an Xbox 360 recorder is required.
The traditional way is recording Xbox 360 gameplay with a capture card. You can get HD output quality and other advanced features. Well, a USB capture card is a good choice too. However, those game capture devices are expensive. If you just start recording your Xbox 360 gameplay, you can use a cheap and easy alternative instead. This is also what this article mainly talks about.
Here you can get the easiest way to record gameplay on Xbox 360, Xbox one and other Xbox series.

Part 1: How to Record Xbox 360 Gameplay without a Capture Card
In past times, you can record gameplay from Xbox 360 directly by using a recording device or capture card. The expensive price and complex operations are not friendly to beginners. So if you are looking for an Xbox game capture software that allows users to record videos on Xbox 360 without a capture card, AnyMP4 Screen Recorder can be your first choice. You can record gameplay from Xbox 360 to show off your skills effortlessly. The Xbox recording software will not slow down your computer. You can grab any actions from Xbox game video without lag.
1. Record Xbox 360 gameplay with no lag or time limit.
2. Capture Xbox 360 gameplay sound, voices from external microphone and webcam video flexibly.
3. Take a screenshot on the streaming Xbox game in one click or hotkey shortcut.
4. Make a gameplay tutorial video with real-time drawing tools, such as text, line, arrow, shape and more.
5. Preview and trim Xbox 360 game recording video to remove unwanted part.
6. Save or share Xbox recording video to YouTube, Twitch and other platforms.
Step 1 Free download, install and launch the Xbox 360 game capture software on your computer. Choose Game Recorder for Xbox game video recording.

Step 2 Select the game from the drop-down option to choose the live Xbox 360 game you are playing. You can find them from the game window and game process.
Then don't forget to enable System Sound and/or Microphone. Or you just record a muted Xbox 360 gameplay screen.

Step 3 Click REC to start game recording on Xbox 360. If you want to take a quick screenshot for Xbox 360 game, just click the Screenshot icon to screenshot on Xbox 360 instantly.
This software also supports camera recording, which can capture the live commentary from you.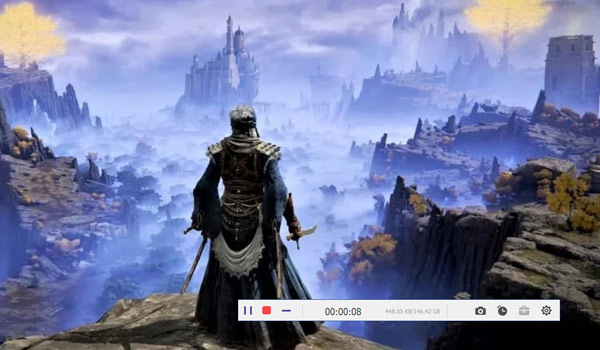 Step 4 Once stopping the Xbox 360 recording by click the stop button, you will be in a preview window. Play the Xbox game video to have a check. You can quickly trim it by settings the start and end time.
At last, click Save to export Xbox gameplay recording video as MP4, MOV or other formats. By the way, you can head to its Recording History window to share or manage Xbox 360 game recording files as well.
Part 2: How to Record Xbox 360 Gameplay on Windows 10/11
If your computer runs Windows 10/11, you can use the built-in Game Bar as your free Xbox 360 recorder app as well. It lets you record Xbox 360 gameplay in teh background. There are default Windows 10/11 Game Bar recording hotkeys.
Step 1 Search for Xbox Game Bar from the Start menu. Log into your Microsoft account.
Step 2 In Xbox Settings page, trigger on Game DVR.
Step 3 Open the downloaded Xbox game. Press Windows + G keys on your keyboard when you are notified about game recording.
Step 4 Click REC to record on Xbox 360. Or you can press Windows + Alt + R shortcuts instead.
Step 5 When you stop recording game on Xbox 360, you can use the same option.
Step 6 Go to the Xbox app to edit your Xbox 360 recording file.
Also, if you want to record Xbox One gameplay, this settings also work. However, this method will limit your recording time. The maximum recording length is 4 hours. However, once you enable background recording, the time will reduced to 10 minutes.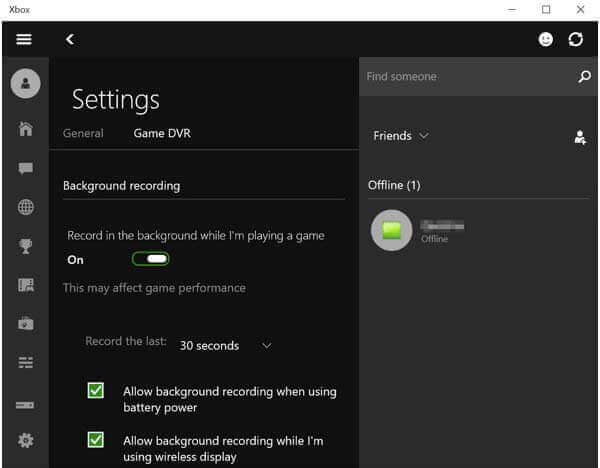 Part 3: FAQs of Recording Xbox 360 Gameplay
What Xbox 360 recording equipment need to prepare for traditional ways?
If you want to record Xbox 360 game in high resolution, a capture card is required. You can use PCI or USB for Xbox game recording. Moreover, you should also prepare a USB cable and two HDMI cables. Connect them together. By the way, a stable and fast network connection is also necessary.
How to record Xbox 360 gameplay using USB?
To record Xbox 360 gameplay with a USB, you need to download Snagit and install it into your USB drive. After that, you can plug it into Xbox. It will start recording Xbox 360 game automatically. If you want to stop recording Xbox with USB, just unplug it.
How to record Xbox 360 gameplay with iPhone?
ReplayKit gameplay recording app is your good choice. You can record Xbox 360 game and your voice using iPhone.
These are cheap ways to record Xbox 360 gameplay with your computer or phone. Even though it is your first time to record game on Xbox 360, you can still get a high-definition gameplay recording here. Why not download the free trial of Blu-ray Master Screen Recorder? It is totally free and safe to try.
how to change the record time for Xbox 360?
To change the recording time on Xbox Game Bar, you just need to find Settings, search for Xbox, then navigate the Captueres tab, and finally to select the recording length you want to record as long as you.
Conclusion
Here we talked about how to record live gameplay for Xbox 360 in 2 methods. You can capture the gameplay on laptop Windows 10 or 11 with the free Xbox Game Bar feature with a maximum 4 hours or 10 minutes limit. However, you can also use Screen Recorder to capture the gameplay from Xbox 360 without limits. What method is your preferred one? Let me know.