Livestorm VS Zoom – Which Is Your Best Video Conferencing Tool
What is the best webinar software, Livestorm or Zoom? You can see many reviews about two video and web conferencing software. Some people recommend to use Livestorm to start cloud meetings. While others think Zoom does a better job than Livestorm. Is it true? What you can get from Livestorm and Zoom? To get a direct answer, you can check the following Livestorm VS Zoom comparison.

Livestorm VS Zoom in Price
The starting price of Livestorm is $39.00 per month. The basic Livestorm plan can support no more than 12 participants per meeting. The maximum recording length is 4 hours.
The starting price of Livestorm is $39.00 per month. The basic Livestorm plan can support no more than 12 participants per meeting. The maximum recording length is 4 hours.
Compared with Livestorm, Zoom has a reasonable price.
Livestorm VS Zoom in Download
Livestorm is a browser-based cloud communicating tool for all users. There is no Livestorm download. As for mobile users, you can open Livestorm website to have webniars.
Zoom releases a standalone webinar hosting software. Before joining a Zoom meeting, you need to download Zoom software first. Well, iOS and Android users need to download Zoom app.
This is also a big difference between Livestorm and Zoom.
Livestorm VS Zoom in Functions
Livestorm offers webcasting, streaming, screen sharing and recording features. The easy to use interface is friendly to all users. Moreover, Livestorm is web based and mobile friendly. Not only Windows and Mac, but also iOS and Android users can join a webinar via a browser directly. That's a great help to attract more Livestorm users. In addition, you can use Livestorm automated email templates to all of your contacts instead of plain text.
Zoom offers presentation tools for online meetings. You can also get Zoom presentation streaming and on-demand webcasting functions. The Zoom video quality ups to 720p. However, there is no HD audio quality support in Zoom. Zoom doesn't have learning curve. The simple interface is easy to use. You can invite other attendees to your video conference via a Zoom link directly.
Both Livestorm and Zoom are easy to use and powerful webinar tools. The detailed features depend on your subscription. Thus, you can check the Livestorm and Zoom price list to get more information.
Livestorm VS Zoom in Customer Support
Livestorm offers the premium customer support for all paid plans. You can get Livestorm customer support in business hours in English, French and Spanish.
The basic Zoom plan has a ticket support only. If you upgrade to Zoom Pro, Business or Enterprise plan, you can get live chat and even phone support.
In the battle of Livestorm VS Zoom, Livestorm support is more reliable.
Livestorm VS Zoom – Which One Is Better
Livestorm offers more webinar hosting features. You can see something from the Livestorm price as well. Livestorm provides a free version for all users. You can invite up to 10 attendees per webinar. Each free Livestorm webinar can be hosted up to 20 minutes. You can start unlimited webinars per day. But you cannot schedule polls and offers in Livestorm automated webinars. The slideshow injection, call-to-action and registration page playout need to be improved. (Find MP4 recorder here)
Zoom has a cheaper price than Livestorm. You can communicate with your workmates remotely for business needs. The Zoom free version allows small companies to have webinars no more than 40 minutes. You can host unlimited meetings without exceeding this limit. The basic Zoom plan allows users to have a meeting up to 100 attendees. Or you can subscribe to Zoom Rooms to host a meeting up to 500 people. However, there are too many subscriptions and add-ons. The lack of comment control is also annoying.
How to Record Livestorm and Zoom Meetings Secretly
Though you can use the built-in screen recording feature in Livestorm, Zoom and other webinar hosting software, your recording activity will be notified to all attendees. If you want to record webinars and meetings without others knowing, you can run Blu-ray Master Free Online Screen Recorder to record Livestorm video into WMV format.
The maximum video frame rate option ups to 24 fps. If you want to record webinars without delay, you can upgrade to Blu-ray Master Screen Recorder to record webinars and video conferences losslessly and quickly. Moreover, you can add annotations, mouse effects and other preferences during recording.
1. Record videos from Livestorm, Zoom and other webinar platforms without knowing
2. Use hotkeys to control the entire recording process.
3. Add real-time editing effects during recording, such as text, highlight, callout and more.
4. Adjust the output video format, quality, frame rate, codec and more.
5. Trim the recording video delete unwanted video clips.
Step 1Launch Blu-ray Master Screen Recorder. Choose Video Recorder to record online meetings and webinars.
Step 2Select the recording area as your Livestorm or Zoom interface. Turn on System Sound to record audio of other participants. You can turn on Microphone to record your voice while recording from Livestorm or Zoom as well.

Step 3Click REC to start recording. You can click Stop to end up the screen video process. In the Preview window, you can trim the recorded video. Or you can click Saveto export the video webinar.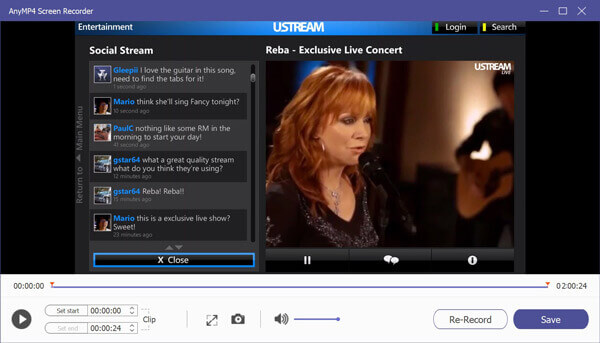 FAQs of Livestorm VS Zoom
Is there any other online conferencing tool alternative to Livestorm and Zoom?
Yes. There are many Livestorm and Zoom competitors in the market, such as Zoho Meeting, BigMarker, Adobe Connect, GoToWebinar, ON24, etc.
Where to get coupon code for Livestorm and Zoom?
The default Livestorm promo code is 10%. You can get 30% off, 80% off and even 90% off discount code in 2020 from couponseeker, joinsecret and other similar sites. As for free Zoom coupon codes, you can head to couponfollow, wikibuy, retailmenot and more to get Zoom codes.
Can you use Zoom or Livestorm for eLearning?
Yes. Both of them are cloud-based video conferencing platforms. You can have online classes, training and any other purposes with a group of people on the Internet.
Conclusion
That's all of the Livestorm VS Zoom webinar comparison. You can make a decision according to the above details. Livestorm is expensive than Zoom. But you can get better customer support and browser-based platform. While Zoom is a budget choice for people who want to have remote live meetings. Well, you can regard these as Livestorm and Zoom reviews as well. Just read and choose the one you really need.