How to Make a Tutorial Video by Recording Your Screen like Professionals
Today, the first thing appears in mind when you need to learn something new is to search online. What if you want to ask help for support and fix some issues? Or what if you have to learn a new program or application? Nothing is better than a concrete video tutorial. However, how to make a tutorial video? Regardless what do you do, instructional videos are the best way to delivery information and guide. This article will tell you everything you should know about video tutorial making.

Part 1: Prepare for Video Tutorial Making
Making a tutorial video is not as difficult as you thought, but you still have to do some preparation:
Firstly, pick a subject that is useful and of value to your audience. If you have no idea, you can do some investigation on social media or forums.
Secondly, make an outline for your guide video. It should include the elements you want to use in the tutorial, such as content, background, music, and more.
Thirdly, create a new folder on your desktop and put all essential files and documents into it, such as your script about the narration and more.
It is necessary to dill as much as possible, and the more you apply it in real situations, the natural it will become. Therefore, practice the tutorial for several times before recording it.
Part 2: The Easiest Ways to Make Video Tutorial
When you have prepared everything you need, you also need a tutorial video maker as well. Here you identify two easiest ways to make a video tutorial on your desktop or online.
Method 1: How to Make a Video Tutorial on Desktop
Blu-ray Master Screen Recorder is one of the best screen recorder software on market. It can meet almost all you need on train video making by recording your screen.
Main Features of the Best Tutorial Video Maker
1. Record everything on your screen in one click.
2. Add you face and voice to tutorial video in real time.
3. Produce high quality tutorial videos automatically.
Needless to say, it is the easiest way to create a video for training on PC and Mac.
How to Make a Tutorial Video by Recording Screen
Step 1
Install tutorial video maker
The best tutorial video maker offers one version for PC and Mac respectively. Download and install the right version on your computer and launch it. Choose Video Recorder to open the main interface. Optionally, click the Gear button to open the Preferences dialog and customize options related to hotkeys, output and more.
Step 2
Make a tutorial video
Turn on the Display option and set the recording region based on your need, like Full screen or Custom area. If you wish to add your reaction to the tutorial video, enable Webcam; otherwise disable it. Next, determine the audio source such as System Sound and/or Microphone. Then adjust the volume. Once you are ready, click the REC button to begin making a tutorial video. During the process, click the Edit icon and you can add paintings and text on the tutorial. The Camera icon can take a screenshot at important moment.
Step 3
Preview and save tutorial video
When tutorial video creating is done, click the Stop button to open it in the preview window. Now, you can view the video and remove unneeded frames with the Clip feature. Finally, click on the Save button to export it to your hard drive for sharing online or other purposes.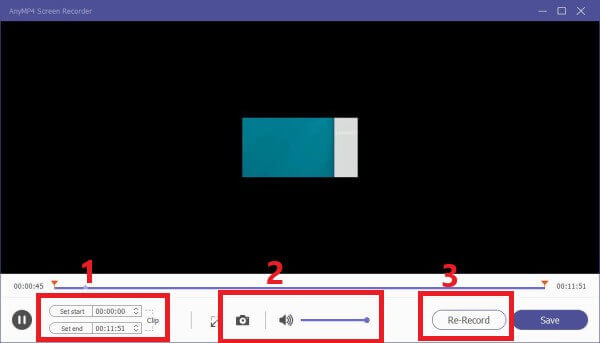 On top of that, you can use this tutorial video making tool to record a GoToMeeting session, a lecture, or gameplay on Switch.
Method 2: How to Make a Video Tutorial Online
For beginners, the web app, such as Blu-ray Master Free Online Screen Recorder, is the good starting point to make a video tutorial. Though it does not provide plentiful bonus features, it can meet your basic need on guide video creating.
1. Record full screen or certain region smoothly.
2. Support multiple sources like webcam and microphone.
3. Totally free to use with no watermark or other limit.
How to Create a How-to Video for Training Online
Step 1
When you need to make a tutorial video, visit https://www.bluraycopys.com/free-online-screen-recorder/ in a browser. Press the Launch Free Recorder button to download the launcher.

Step 2
On the launcher, you will get four options, Recording area, Camera, Speaker and Microphone. Now, you can enable or disable each option according to your need.

Step 3
Click the REC button to start recording your screen and make a tutorial video. The Pause button is used to suspend the tutorial making. Wait for tutorial video making to finish and click the Stop button. Next, download the video to your hard drive or share it to social media directly.

Related: Use Windows Steps Recorder to Record Your Steps in Windows 10
Part 3: Tips about Making Video Tutorial
Sometimes, you may wonder why your tutorial video is not as professional as others. Maybe you just need some tricks, such as:
1. Quality your microphone. When making a tutorial video, you need to capture the sound from your system as well as your narration. Using the right microphone will minimize the distractions caused by echoes and background noise.
2. Long videos are boring. According to our research, the video tutorials no longer than 10 minutes have the best completion rate, which count the video share that has been watched through the end.
3. Always consider your audiences. Your tutorial videos are made for audiences, so you should know who they are and what they need. For instance, you can add captions on your tutorial if your audiences cannot listen to the video. Moreover, you'd better use clear language and easy to digest.
4. Share the tutorial video on social media. When creating a tutorial video, you may just want to play it in your classroom or deliver it to as many audiences as possible. You should consider the last touch point and the platform's rule in order to avoid distortion.
5. Don't try to make it perfect. Perfect is an illusion. If you start with it in mind, your creative will be restricted. That is why many vloggers do not use video editors.
Part 4: FAQs of Making Video Tutorial
How can I make DIY videos?
The workflow to make a DIY video is much similar of tutorial video creating. In fact, it is a kind of video tutorials to share an idea or design and how to turn it to something real.
What makes a good tutorial video?
First, you should have a good idea and make a good plan. Then a right tutorial video maker will determine the final result. That is why we share this concrete guide.
Can I use background music in a tutorial video?
Yes, background music is able to make a tutorial video more appealing. However, you should use it carefully. Choose the music genre based on your subject. Plus, don't play the background music too loud since your audiences may be distracted and cannot hear your narration.
Conclusion
This article has shared a guide for tutorial video making. No matter you are a teacher, vlogger, developer or small business leader, the tutorial video is a simple way to deliver important information covering a wide range of topics. We shared the whole workflow, including the best tutorial video maker, Blu-ray Master Screen Recorder. Even if you are a beginner, you can produce high quality guide videos following our suggestions. More questions, please write down below this post.