Tutorial – How to Record Online Video Lectures Quickly at Home
If you are good at something, you can create online courses to earn money. There are many online teaching platforms. After recording an online source, you can post it to sell online sources. Moreover, you can also record online video lectures for free. This is a good way to attract more viewers, especially for beginners. After that, you can make a channel or even create a brand for your online video courses.
What you need to prepare for recording online lectures? If you want to create how-to videos, software tutorials, online training and more, a reliable screen video recorder and your computer are enough. You can record the computer's screen and your face into the same video. Just read and see how to record online classes here.

Part 1: How to Record Online Video Lectures
Blu-ray Master Screen Recorder is a powerful and easy-to-use video and audio recorder software for all users. You can record any activity on your computer without losing quality. The on-screen drawing tools and recording effects are helpful. You can emphasize the key point in your online video lecture during recording directly. For example, you can enable mouse effects to show viewers what you click. Or you can add text and highlight something important in different size and color. The real-time editing tools can help you save a lot of time while recording online classes.
1. Screen record online classes with full screen, specific window or selected region.
2. Make online lecture recordings with audio from your computer or microphone.
3. Add webcam overlay to record yourself into the online video lecture.
4. Edit the video recording file with text, line, arrow, callout, highlight and other shapes.
5. Customize video recording preferences, including output settings, hotkeys, mouse effect, timer and more.
Step 1Free download and install Blu-ray Master Screen Recorder. Choose Video Recorder to record an online video class.
Step 2Set the screen capture area on your computer. Then set the input audio source. You can turn on System Sound to record screen video with audio. If you want to record with your face and voice, you can turn on Webcam and Microphone as well.

Step 3The default output video format is MP4. You can click Settings and navigate to its Output section to change video format and other options. Moreover, you can set custom hotkeys and mouse effects within the Preferences window.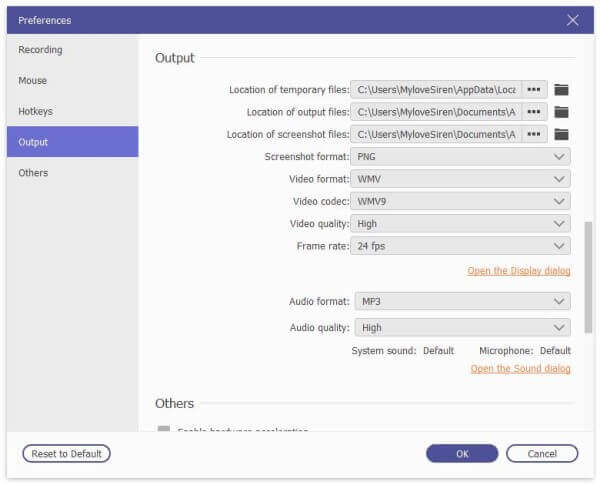 Step 4Click REC to start recording. You can click Edit to apply on-screen tools into your video class. Pause, resume and stop recording based on your need.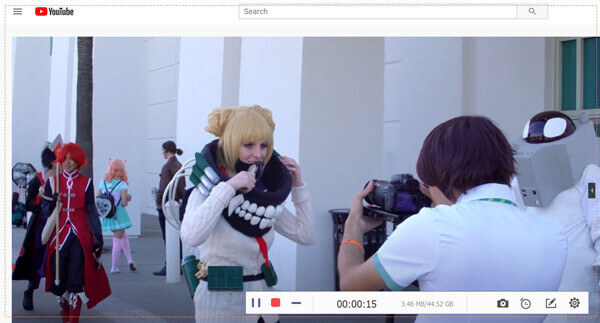 Step 5When you stop recording, click Play in the Preview window to have a check. You can cut out unwanted video clips within the built-in video trimmer. At last, click Save to export your recorded online video lecture. (Find MP4 recorder here)
Part 2: FAQs of Recording Online Sources
Why the audio quality of the online video lecture is not good?
You need to record online video lectures in a quiet room. Speak close to the computer's built-in microphone to record audio clearly. Or you can use an external microphone. Just plug it into your computer. After it is recognized, set it as the input audio source.
How to record online video courses with a smart phone?
You can film yourself using the phone's camera. Use a tripod to place your phone. Or you can ask someone to film you as well. If possible, you can record online video lectures with a camera to get better video quality.
Any free software for making video lectures?
If you just want to record computer's screen with audio, you can try Blu-ray Master Free Online Screen Recorder. It can record videos and online tutorials into WMV format for free. The online screen recorder is completely free to use. You can record screen video without maximum recording length.
Conclusion
All in all, you can quickly record online video lectures on your computer. No expensive equipment or learning curve. You can make online lectures in a short time with ease. By the way, you had better control the video length within 1 hour. Or people may not have patient to watch the video completely.