AVCHD to Blu-ray Converters; Top 3 Reliable Programs in 2023
AVCHD is a media file format that was popular back in the day when camcorders were widely-used. The videos you record using a camcorder have a maximum resolution of 1080p HD. It might be the best back in the day, but today it is the minimum standard. Also, AVCHD is not supported by all desktop media players. But you can try another method to watch your AVCHD videos, and that is to create a Blu-ray disc. Don't worry because we will provide you with three AVCHD to Blu-ray converters for desktops and a tip on how to use the program. Without further discussion, let's go!

Part 1: What is AVCHD and Why to Burn AVCHD to Blu-ray
What is AVCHD? AVCHD stands for Advanced Video Coding High Definition and is a file-based format for digital recording and playback of HD videos. You can save this media file to DVDs, Blu-ray discs, hard drives, and memory cards. It is mostly used for camcorders created by Panasonic and Sony, and it was designed to replace magnetic tape recorders. As it supports HD videos, you can expect to watch them in 720p to 1080p HD resolution with up to 60 fps.
Now that you know what AVCHD is, the question we will answer next is why do we need to burn AVCHD to Bluray? One of the main advantages of burning AVCHD to a Blu-ray disc is its portability. You can send a physical copy, like a CD, to your friends or families who don't have a computer or are not that tech-savvy. They can watch your videos using a DVD player device.
Another advantage is the extra option to store your videos safely. We all know that computers are vulnerable to viruses and corruption that destroy our digital files and can never be recovered. That is why we are constantly being reminded to back up our files using cloud storage or hard drives. And one of the physical storage you can use to store videos and other media files is CDs. It also gives you another method to watch videos on your computer aside from streaming, just make sure your PC has an optical disk drive. In part 2 of this article, we will give you three Blu-ray creator programs you can try on your computers for free. These programs can burn AVCHD to Blu-ray effectively and are completely safe to use.
Part 2: 3 AVCHD to Blu-ray Converters/Creators
Note: You can only use these products for personal use.
Blu-ray Creator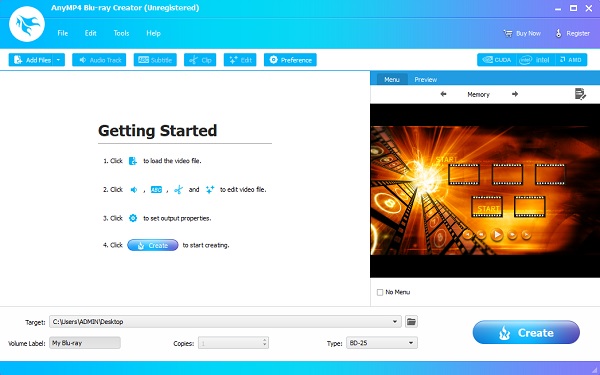 First on our list is Blu-ray Creator. This amazing program is one of the best AVCHD to Blu-ray converters right now. You can save your high-quality videos to your Blu-ray discs without losing quality. It is a very useful tool if you want to watch your videos at your home theater. You can add a personal touch as well by using editing features like adding subtitles and watermarks. You can also adjust the audio's volume and other effects like contrast, brightness, hue, etc.
Pros:
1. Accepts importing videos in 100 different formats.
2. It has a straightforward and well-designed interface.
3. Provide multiple menu styles.
Cons:
You need to avail the full version to unlock all features.
Leawo Blu-ray Creator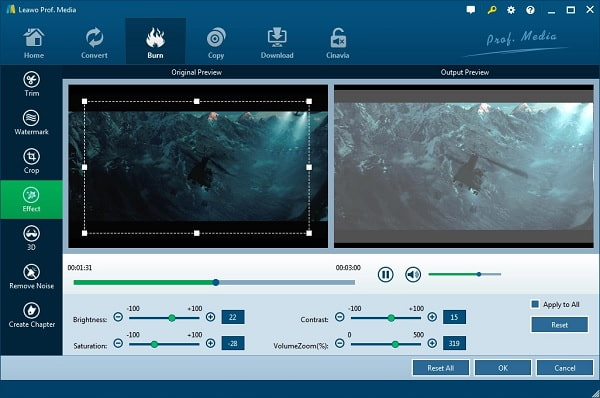 Next is Leawo Blu-ray Creator, a comprehensive disc-burning program that does an excellent job of burning files to discs. The files that you can burn to DVDs and Blu-rays are images, audio, and videos from 180+ media file formats. Moreover, you can edit audio tracks and subtitles and offer various disc menu customizations. This tool is also able to burn AVCHD to Blu-ray discs easily. You can download the software for free on both Windows and Mac platforms.
Pros:
1. Fairly easy to use.
2. Burn Bluray in 720p resolution.
3. Works also as a media player.
Cons:
1. No data disc or CD support.
2. Ads are present on the program.
3. It crashes frequently.
Xilisoft Blu-ray Creator
Last on the list, we have XilisoftBlu-ray Creator. This is a free-to-download, 100% virus-free software that allows you to convert and burn videos to Blu--ray discs. It is also capable of burning AVCHD videos to Blu-ray discs. Other supported video formats are AVI, MP4, MKV, MOV, MPEG, and other popular formats. You can also do Blu-ray video editing like clipping, cropping, adding subtitles, audio, watermarks, and other effects. You can use this tool on the Windows platform only.
Pros:
1. Create a menu freely for Blu-ray/DVD.
2. High-speed file burning.
3. Allows adding subtitles and audio output.
Cons:
1. Watermark is present when using the trial version.
2. Complicated user interface.
3. No Mac version is available.
Part 3: Bonus: How to Convert AVCHD to Blu-ray using Blu-ray Creator
For you to understand how to burn AVCHD to Blu-ray using Blu-ray Creator, you can follow the guide we will provide below.
Step 1
First, insert a blank Blu-ray disc on your computer using the optical drive.
Step 2
Download the desktop program by clicking Free Download provided above. Install the software by following the set-up tool properly. Open the software, then click the Add files button to import the video you will burn on the disc.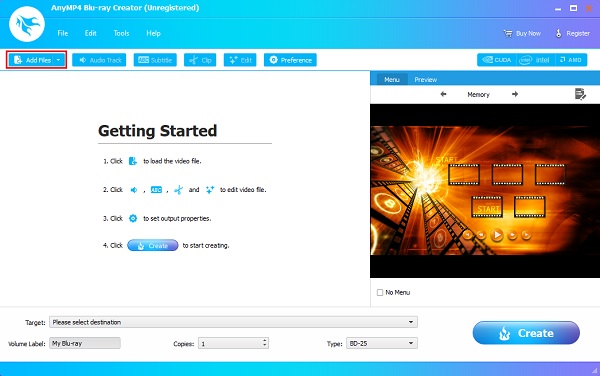 Step 3
On the right side of the interface, you can choose a menu style for your Blu-ray file. There are plenty of menu styles to choose from. Select the style that is appropriate for the disc you are doing.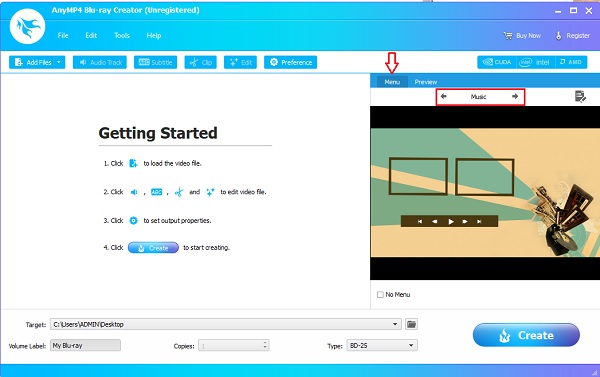 Step 4
On the bottom part, click the drop-down menu next to Target and choose the file destination of your video. You can also save it as a Blu-ray Folder or an ISO file.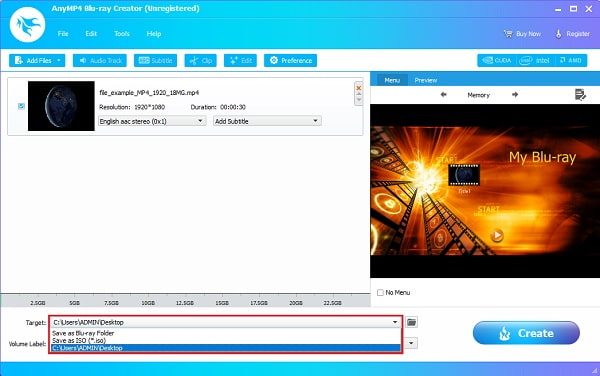 Step 5
Once finalizing the video, click Create to begin the process. Wait for the file-burning process to finish. Your video will be saved after the process. Close the program and watch your video. Have fun!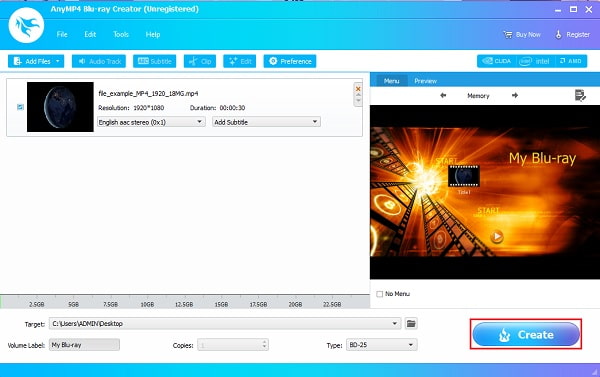 Further Reading:
Can the Nintendo Switch Play DVDs? Top Answer and Workaround
Top 4 AVCHD to DVD Converters in 2023 [Windows and Mac]
Part 4: FAQs about AVCHD to Blu-ray Converter
What is the difference between AVCHD and Blu-ray?
The main difference between AVCHD and Bluray is the storage space it consumes. AVCHD consumes less storage space by half compared to Blu-ray. But Blu-ray offers more storage capacity.
What is a Blu-ray disc?
Blu-ray is the latest optical disc format and offers five times more storage capacity than DVDs, storing up to 50GB of data.
Is AVCHD a good format?
AVCHD provides good video quality when using camcorders from Sony and Panasonic. But today, MP4 is the better choice because of the smaller file size and can be played on several devices.
Conclusion
You have become familiar with using the AVCHD to Bluray converters we have included in this post. You also have become adept at burning media files to Blu-ray discs so you can watch them in your home theater. The process is easy to do, isn't it? Especially when you use Blu-ray Creator to get the job done. There is no complicated process, it is easy to use, a fast burning process, and most of all, it is free to download. Enjoy watching your Blu-ray movies at home.