Convert Your Treasured Blu-ray to MP3 Music in 2 Simple Ways
Blu-ray discs come with hi-res audio and videos compared to DVDs, resulting in a better and more immersive watching experience. Isn't it great to listen to clear and loud soundtracks while watching your favorite and most anticipated videos at home? You may wonder if it is possible to convert your Blu-ray audio to MP3 so you can listen to them on any chosen device. With today's technology, it is possible. Some desktop programs can extract Blu-ray files and convert them to different video and audio formats. This article consists of two methods you can try to convert your favorite soundtracks from videos to MP3 easily and safely. Let's start!
Part 1. Can You Rip Blu-ray to MP3?
Can you rip a Blu-ray disc and convert it to MP3 or any other format? The answer is yes, it is possible. Extracting and converting your Blu-ray files to MP3 is the same as any other method you use for converting videos to other formats. The good thing about MP3 is that it is one of the most popular formats for audio. Many users widely use it since it is compatible with almost all devices and platforms. Plenty of software and applications are available to download on the internet for free and paid. Even if there are major differences between free and paid solutions, it doesn't mean you are required to purchase one. There are free programs that are reliable in ripping and converting your Blu-ray to MP3 and are safe to use. In the next section of this guidepost, you will find two free software solutions that you can depend on.
Part 2. How to Convert Bly-ray to MP3 in 2 Different Methods
Note: You can use these products for your personal use only.
Blu-ray Ripper
Key Features
The most effortless and easiest method to rip Blu-ray audio to MP3 music is by using this amazing program, Blu-ray Ripper. This software solution is free and ready to use on any Mac and Windows devices. It enables users to safely extract their Blu-ray discs and save them on their devices in different formats for later use. You can extract the video and audio separately and convert them to various formats that are being used today. The good thing when using this program is that there is no quality loss during the process, so expect your files to be the same quality as the original.
1. It can convert different files simultaneously.
2. Straightforward program
3. Guaranteed privacy protection
Follow this detailed tutorial for ripping Blu-ray audio to MP3 music files using this commendable desktop software.
Step 1
To acquire Blu-ray Ripper on your PC, you can go to its website to download, or you can simply click Free Download above. Install, then open the program.
Step 2
Insert the disc and you will extract the audio on your optical drive. Tap Load Blu-ray to add the files into the application. You can add the files from the Blu-ray disc, Blu-ray Folder, and ISO file. An easy way of adding files to the program is by dragging the chosen files and dropping them directly on the interface.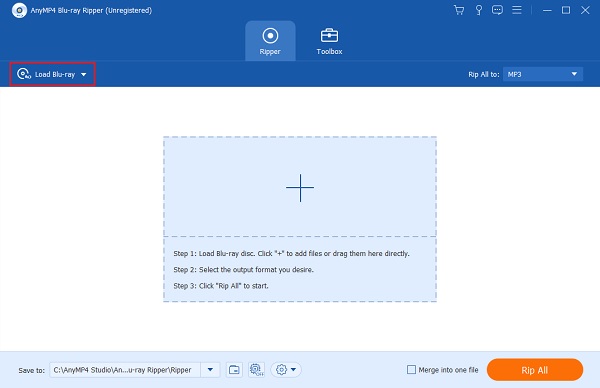 Step 3
On the right part of the program, you will see Rip All to. Click the button beside it, which reveals the supported output formats of this app. Since we need to export audio, select the Audio tab. Tap and select MP3, then choose Same as source to copy the original quality.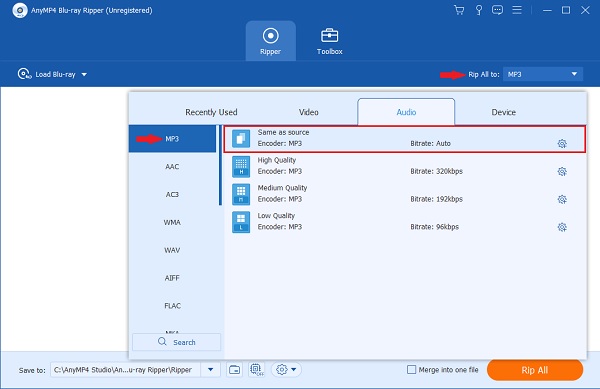 Step 4
Once you finish choosing the format you need, you can now proceed to convert the Blu-ray to MP3 by tapping the Rip All button. The converting process immediately begins, and it may take a few seconds to minutes to end, depending on the size of the file. Close the app after you are done.
Free Blu-ray Ripper
The next program capable of efficiently ripping Blu-ray videos to MP3 audio is Free Blu-ray Ripper. As the name suggests, it is an entirely free program for Mac and Windows OS. It has a very easy-to-understand interface which is perfect for beginners. In addition, this tool can quickly extract files from Blu-ray discs and store them on your PC in different formats of your choice. You can then convert those files to video and audio formats, including MP3. To know how to convert your Blu-ray to MP3 audio files, refer to the simple steps below.
Step 1
Get Free Blu-ray Ripper by downloading the app on its official website. Install it on your desktop. After that, run the program.
Step 2
Load the disc in your computer that needs to extract - Press Load Disc to import the files.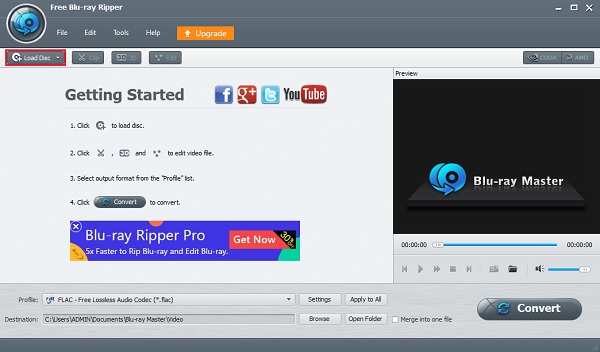 Step 3
Next is choosing the output format. On the lower part of the interface, you will see Profile. Click the drop-down button to reveal the different output formats available. Choose General Audio, then select MP3.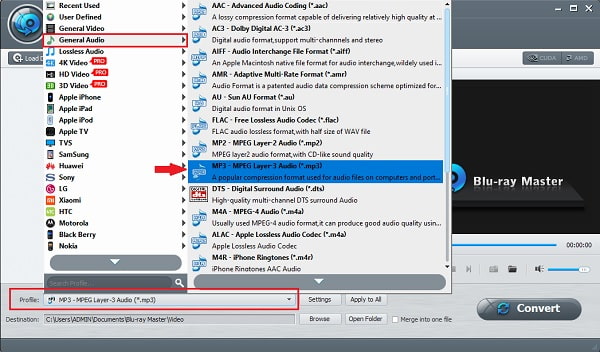 Step 4
After you are done selecting the output format, click Convert to start converting the file to MP3. The process starts instantly after pressing the button. It may take several seconds to minutes based on the file size. Close the program once finished.
Further Reading:
How to Convert Blu-ray to FLAC in 3 Excellent Ways 2023
4 Quick Ways to Rip Blu-ray to WAV Audio Format on PC 2023
Part 3. FAQs on How to Rip Blu-ray to MP3
What is the MP3 audio format?
MP3 or MPEG-1 Audio Layer 3 is an audio file format that uses a compression algorithm that reduces the final file size of music or soundtrack. This is the reason why MP3 is a popular format.
What are the disadvantages of MP3?
The disadvantage of the MP3 audio format compared to other formats is that music sometimes becomes low quality after converting. The reason is that it loses data during the process. Another disadvantage is that lossy compression is hard to edit.
When should you convert your Blu-ray to MP3?
You should convert your Blu-ray audio to MP3 when you want to store a large number of music files on your device. MP3 files are also supported by most music players and social media platforms.
Conclusion
You can easily extract your Blu-ray files to MP3 audio format when you use the different methods provided above. This solves your problem of extracting your favorite Blu-ray soundtracks and saving them to different devices. With that, you can now listen to them anywhere, whether you are at home, outside, or during a workout. This is possible because of this outstanding program, Blu-ray Ripper. This tool will surely help you convert any Blu-ray files to any format you want. Use this software now and start creating a playlist of your favorite music to lighten up your day.