Adobe Premiere Pro: The Surefire Software to Burn a DVD
While most people have heard CD burning, what does it mean? To give knowledge, this is one of the traditional ways of storing data like videos, music, and pictures into a writable disc.
IUsually, computers on any platform have built-in software to do the job, but you do not have to worry if you happen to have none. There are plenty of tools out in the market, and our team will teach you how to create a DVD from Adobe Premiere Pro effortlessly.

Part 1. How to Create DVD from Premiere Pro (Detailed Guide)
Adobe Premiere Pro is considered the most sought software for manipulating videos. Countless YouTubers, content creators, and even filmmakers rely on this because of its diversity and comprehensive set of tools. You can trim, add subtitles, edit, rotate, and compile your clips through this software. Not only that, it offers special transitional effects and themes, turning simple footage into a professional-looking masterpiece.
But, can you burn a DVD from Adobe Premiere Pro? The answer to that is yes but with the help of a plug-in called Adobe Encore CS6. And so, after editing your video clips, you can go straight to burning them on a compact disc and have a permanent copy of your footage. We have provided easy peasy steps below to do it.
Step 1
First, you must import your video files on Adobe Premiere Pro. After doing this, drop down the File > export > media.
Step 2
When the Export Settings Panel appears, change the format of your footage into MPEG2-DVD. On the same Panel, go to the Multiplexer section and choose DVD in the Basic Settings. After that, move on to the Video section and check Render at Maximum Depth and Use Maximum Render Quality.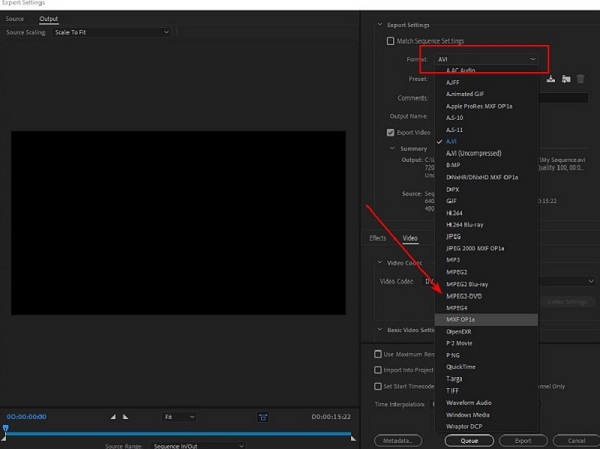 Step 3
Once done configuring the settings, hit Queue to transfer the footage on Adobe Encoder to convert the footage to DVD-compatible format. After that, launch the Adobe Encore CS6. From there, start a new project and select DVD as your authoring mode.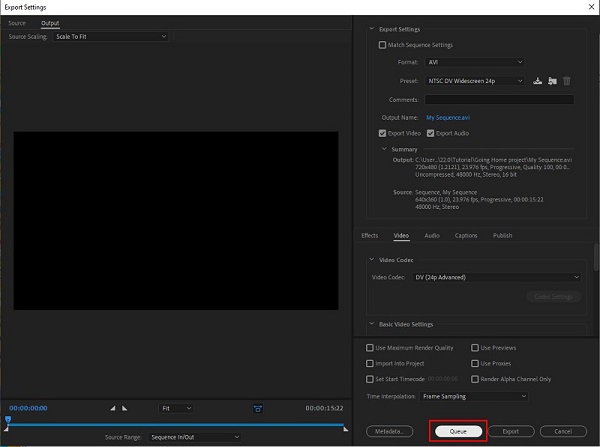 Step 4
inally, import the files you rendered in the Adobe Encoder. After that, press Ctrl+T to add the files on the timeline panel. After that, mount your DVD on the tray and go to the build section. When all is set, hit the Build button to start the burning process.
Part 2. Easier Way to Create a DVD than Using Premiere Pro
It is possible to burn DVDs on Adobe Premiere CS6 because of its Adobe Encore integrated feature. However, if your software has a lower version of Premiere Pro, you will have to install Adobe Encore CS6 separately. In this situation, looking for an alternative tool or upgrading to CS6 are your two ultimate choices. If you go for the first option, AnyMP4 DVD Creator is what we recommend the most.
With AnyMP4 DVD Creator, you burn DVDs from any file format like MTS, TS, MP4, and MOV. Not just that, it contains a built-in video editor which allows you to trim, rotate and merge clips. What is more, this tool provides a variety of templates for your DVD files that you can put in the title menu.
Step 1
Install AnyMP4 DVD Creator
First, you need to install AnyMP4 DVD Creator on your Device. To do this, you can click the buttons downloads below, run the software and follow the setup wizard.
Step 2
Add Media Files
After you open the tool, select the DVD Disc as your disc type and then hit ok. After that, import the video file you want to burn by selecting the Add Media File(s) at the center of the interface.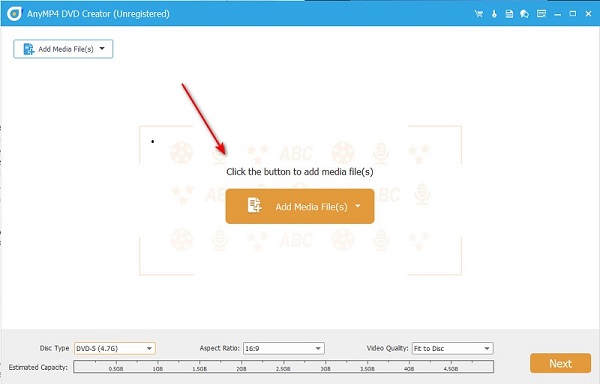 Step 3
Configure the Settings
Once done importing the file, drop down the Disc Type according to the storage capacity of your DVD. Then, move on to the Aspect Ratio and set the frame size of your footage, and you can have the Video Quality in its default. Click Next right after configuring these settings.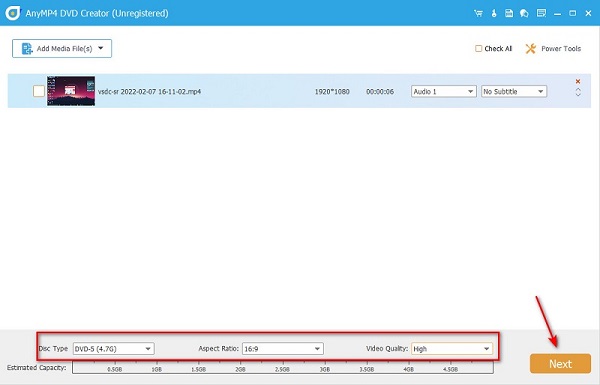 Step 4
Add Templates
Before hitting the burn button, you can modify the DVD by adding templates. By templates, this means that when you insert the DVD on the player, the title menu will have a design.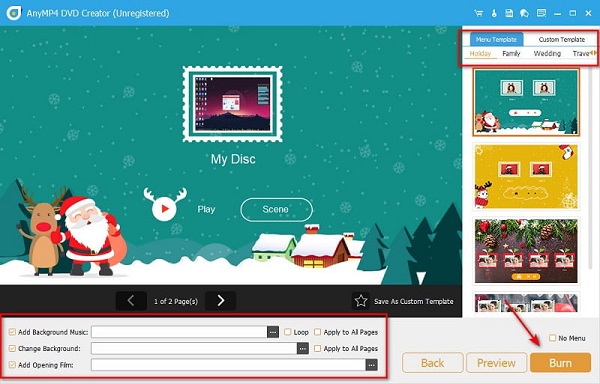 Step 5
Burning Process
Lastly, insert the disc on the drive tray and tick the Burn to Disc option. Then, hit Start for the tool to burn the file onto your DVD Disc.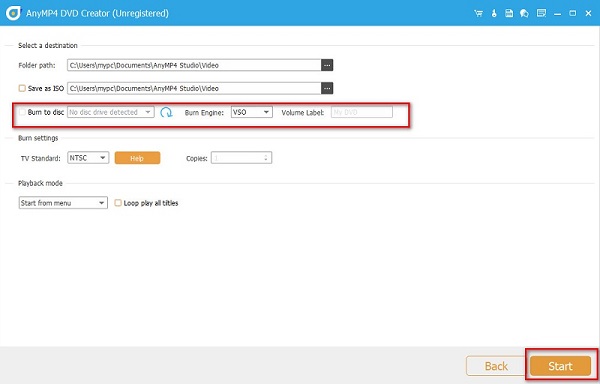 Part 3. Tips About Creating a DVD Using Premiere
If using Adobe Premiere Pro is like learning a new language for you right now, don't lose hope yet. Whether you are just a newbie or an aspiring video editor in the making, you are in the right place to learn. So, we have gathered these tips and techniques for you to follow and acquire basic to pro-level skills in a short period. In that way, before burning your clips into DVD, you will leave an impressive remark with your audience.
1. First, you do not want a video output of low quality. But, you have to check the estimated file size of your videos that they should not be larger than the storage capacity of your disc.
2. Sometimes, there are pesky and noticeable transitions when the shotted scenes are at different angles. Before authoring your footage, you can make the clip appear in seamless transition through the flip effect. On the search bar of Adobe premiere, simply type flip, and drop down the Video Effects. Options are either a vertical or horizontal flip; choose what fits your footage the best.
3. Lastly, if you want to have special hotkeys while using Adobe Premiere, you may do so. For example, you can apply a shortcut instead of navigating the eraser tool first and doing the right clicks to delete the clip. To customize this, go to the top of the interface and drop down the Premiere Pro C. After that, select the Keyboard Shortcuts, and it is up to you whatever character you want to use as a shortcut.
Part 4. FAQs About Adobe Premiere Pro
What is the advantage of using Adobe Premiere Pro?
If you are looking for a high-end tool for your professional services, Adobe Premiere is your best choice. This software provides various tools to make your clips a fantastic work of art. However, if burning DVDs is your ultimate purpose above video editing, you can opt for other trusted programs like AnyMP4 DVD Creator.
Is it illegal to rip copyrighted movies on DVD?
Absolutely, yes. Ripping materials that do not belong to you is considered copyright infringement and may lead to legal sanctions. But it is legal if you only want to convert your DVD to MP4 or other video formats.
Is it long to burn files on your DVD?
It will depend on the size of your footage. The bigger it is, the longer the burning process will take. Usually, great DVD burners will estimate the time needed, and you may rely on that.
Conclusion
That's it! While many people are no longer into DVD burning, it is still worth trying in such a time like this. One advantage is your files are protected from corruption when your pc drive crashes. The tools mentioned above have different distinctions and advantages. But, if you are only looking for a simple tool to create a DVD as Adobe Premiere Pro does, you should go for AnyMP4 DVD Creator.