Sometimes when you get a file with .m3u8 file extension or an M3U8 stream link, you may be confused and don't know how to play it on your computer. Don't worry. In this post, we will take you close to the M3U8 format and let you understand this file type better. Besides, you can also know 5 best M3U8 video players to help you open this special file type.

Part 1. What is M3U8
M3U8, or M3U8 playlist, is a plain text-based playlist format that contains multimedia playlists. This file extension uses UTF-8 character encoding and describes the locations of media files to most media players. Normally, it can give you references to online media files/folders through absolute paths, relative paths, and URLs. You can also employ this file type to build a playlist for the videos and music on your computer.
And M3U8 is based on HTTP Live Streaming (HLS), an HTTP-based media streaming communications protocol implemented by Apple. So, if you want to play M3U8 files, you will need a media player that supports HLS streaming and M3U8 technology.
Part 2. How to Play M3U8 Videos Online
If you only want to open an M3U8 stream link, you don't need to install any software on your computer. You can simply paste the URL address of the video into an online M3U8 Player and enjoy the video without any hassle.
Here is a list of the most popular M3U8 players we have found on the Internet. Basically, you can run them on any web browsers, including Google Chrome, Firefox, Safari, Internet Explorer, and Microsoft Edge.
1 m3u8player.net
This M3U8 streaming player is free to use. With an intuitive interface, you can play M3U8 stream links and test HLS streaming examples online effortlessly. Just copy and paste the URL to the box and click on the Play button. It supports HD videos playback and provides several bit rates for you to choose from while playing videos.

2 HLSPlayer.net
With no installation required, this online player enables you to access M3U8/HLS streams for free. Besides M3U8 files, you are allowed to play online streaming videos in other formats, such as RTMP and MP4.
As you can see in the picture below, you can even play the video with the Picture in picture mode. So that you can watch the video and doing your business at the same time.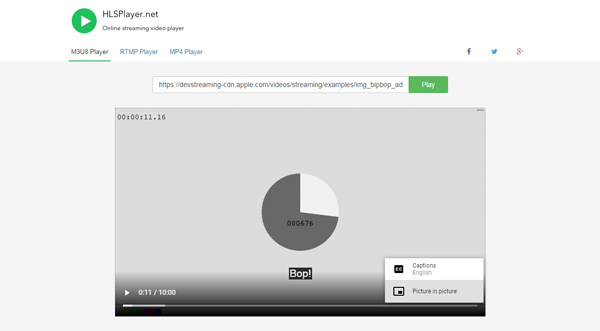 3 Castr Live Streaming Player
Castr, an HTML5 based player, can help you test HLS streams instantly and stream live videos in high quality. It offers a bunch of live streaming features like stream rewinding, cloud recording, and more. But unlike other M3U8 players we have introduced, Castr player is not free to use. You can only enjoy a 7-day free trial after signing up.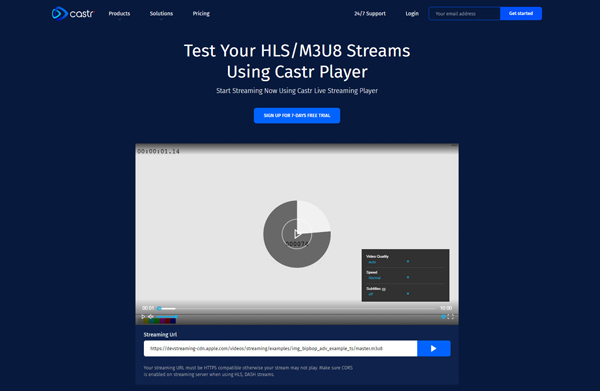 Part 3. How to Open an M3U8 File/Link on Windows & Mac
Even though these online M3U8 players are convenient to operate, they cannot work if you want to play a local M3U8 file. You can only use them when you have a URL directing the M3U8 file that is also online.
Therefore, to play local M3U8 files on your Windows PC or Mac, you should use desktop software that supports M3U8 format, like VLC, iTunes, Windows Media Player, etc.
1 VLC Media Player
As a free and open-source program, VLC media player is one of the most common media players in the world. Perhaps you have already installed it on your computer. If you don't know how to open M3U8 videos with VLC, please follow the steps below.
Step 1. Launch VLC media player on your computer. Then if you want to play .m3u8 file, click on the Media list and choose Open File…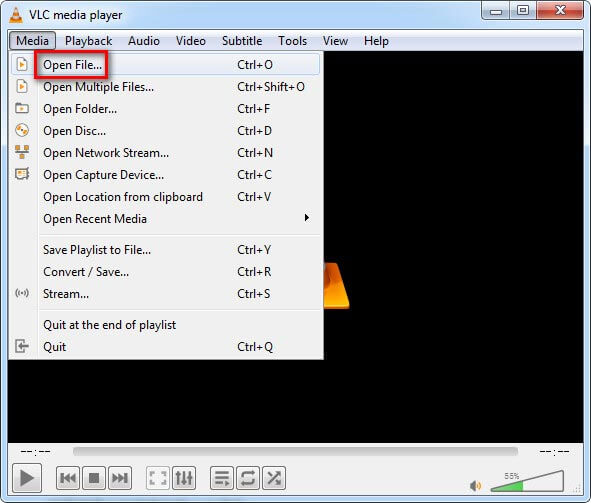 Step 2. Select the M3U8 playlist file you want to open. But please make sure this playlist file and the video(s) it refers to are in the same folder. Click the Open button. Then you can sit back and enjoy the video.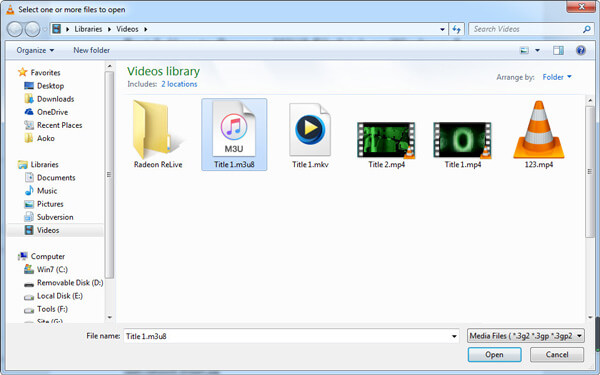 Step 3. You can also use VLC to play M3U8 stream links. Find Media and select Open Network Stream…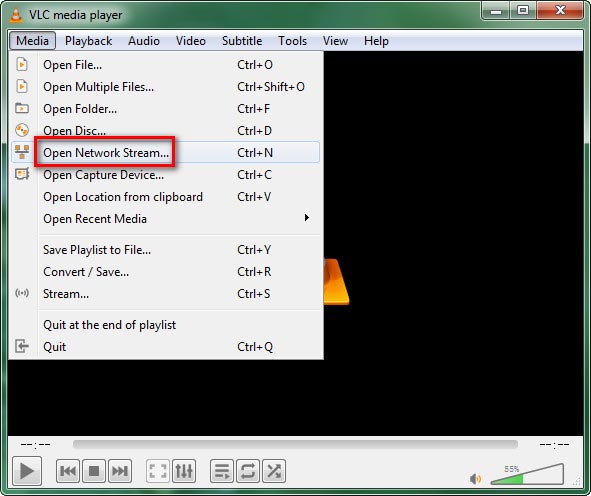 Step 4. Paste the network URL in the box and click Play.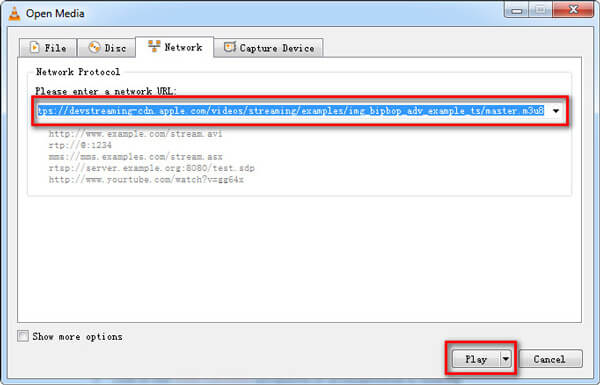 2 iTunes
As we have mentioned, you can also consider iTunes as an M3U8 player. And it is unnecessary to make the M3U8 file and the video it refers to stay in the same folder. To open the file, you can simply double-click it. And iTunes will display the file automatically.
Bonus: Best Media Player to Play High-quality Video
If you want to play Blu-ray/DVD movies, you can give Blu-ray Master Free Blu-ray Player a try. With this software, you watch videos in popular formats including MP4, AVI, WMV, MTS, TS, FLV, MTS, M2TS, WKV, TRP, MXF, MPEG, etc. with original quality.
Free Blu-ray Player
Play many video formats and Blu-ray/DVD movies without quality loss.
Optional audio/subtitle tracks and adjustable video effects.
Provide full, half, normal, and many other playback modes.
Take snapshots of your favorite scene while playing the video.
Offer a user-friendly interface that is easy to operate.
Part 4. FAQs of M3U8 Video Player
1. What is HLS?

As we said, HLS (HTTP Live Streaming) is an HTTP-based media streaming communications protocol. Apple implemented this protocol to serve its iOS and macOS devices. Generally, it uses MPEG-2 transport stream technology and has the capability to cross any firewall or proxy server.

2. How to create an M3U8 file?

You can use VLC media player to create M3U8 files. The operations are quite easy - just go to Media > Save Playlist to File... after opening the file(s) you want to add. Then select M3U8 as the output format.

3. Can we convert M3U8 to MP4?

Technically, you can't. Because the M3U8 file is a plain text file. But you can use Video Converter Ultimate to convert the video/audio files, which the M3U8 file refers to, to MP4 or any other media formats you like.
Conclusion
In this post, you have learned a lot of information about M3U8 and M3U8 Player. Hope you have found the perfect player that suits you best. Online M3U8 players are easier to use as there is no installation. But they cannot open local M3U8 files. Compared with them, VLC has more functions.
If this post has answered your questions, you can give a five-star review and share it with your friends.