5 Ultimate M4V to DVD Burners to Use Offline and Online
If you have lots of videos from iTunes, then all of them may be in M4V formats. There are some circumstances when you want to back up all those videos to keep them from losing. If that is so, why don't you turn your M4V files to DVD? Burning your M4V files to DVD is the best solution if you want to back up the videos, especially to the disc. The good news is that you will discover various M4V to DVD burners while reading the post. With that, you can have an idea and various options on what software to use. Aside from that, we also included an easy-to-understand method to burn the M4V files to DVD, making it more ideal for you. So, read this review and learn everything about the astounding M4V to DVD burners.

Part 1. Top 5 M4V to DVD Burners
1. DVD Creator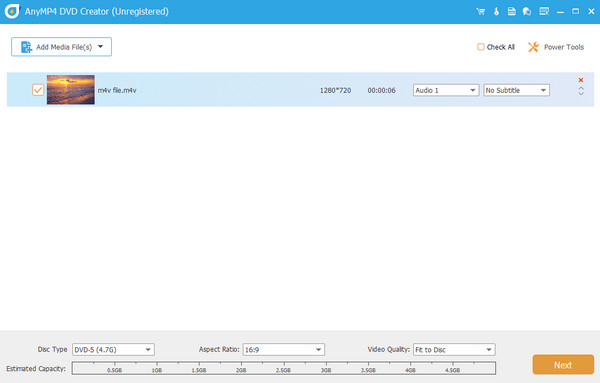 If you prefer burning your M4V to DVD with the easiest process, consider using the DVD Creator. The program can offer an understandable, user-friendly interface that doesn't require a skilled user. With this, even non-professional users can use the program with ease. Also, the procedure when burning the files is quicker compared with other burners. After a few clicks, you can get your desired outcome. Plus, you can do more things while you are in the burning process. You can edit your video if you want. Some of the features of the offline program are cropper, trimmer, flipper, effects, and more. So, if you want to beautify the video first before making it a DVD file, rely on the program. You can also insert a DVD menu into your file to make it more engaging to watch. There are some ready-to-use and free menu templates you can select for your video. Therefore, if you want to enjoy all of its features, use the DVD Creator as soon as possible.
Pros
• The process of burning M4V to DVD is simple.
• Its interface is perfect for all users.
• It provides various editing features for the video's development.
• It offers a high-speed burning procedure.
• It supports various formats, like MP4, MOV, FLV, AVI, MKV, MTS, and more.
Cons
• Get the plan to encounter more advanced features.
2. Handbrake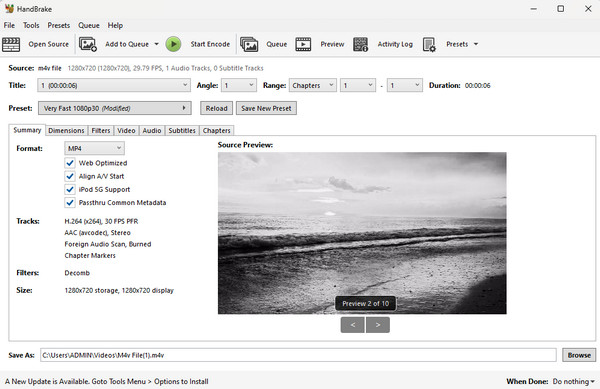 You can burn M4V to DVD on Handbrake. If you have no idea, Handbrake is capable of transcoding any file to various formats and discs. This way, you can trust the program and begin converting the M4V file to DVD. Aside from that, you can also edit your video while you are burning the files. You can go to the video section and modify the video's frame rate, encoder, quality, and other parameters. You can also modify the audio codec, bitrate, and sample rate. Using those functions, you can ensure to get the outcome based on your needs. But, there are some disadvantages you might encounter when utilizing the program. The Handbrake's main interface is confusing. It contains various options and functions, making it complicated for new users. Also, some of its functions are not performing well. Lastly, the process of converting the M4V to DVD takes a lot of time.
Pros
• It can turn M4V to DVD smoothly.
• The program offers basic editing functions.
• It is available for Windows and Mac OS.
Cons
• The interface of the software is confusing, which is unsuitable for new users.
• Some functions are not working well.
• The burning procedure takes so much time.
3. WinX DVD Author
Another effective tool to convert M4V to DVD format is the WinX DVD Author. It is among the free offline DVD creators available on Windows that can cater to your needs, especially when converting files. Also, it can convert more popular video formats, like MP4, AVI, ISO, and more. Plus, it is convenient for users since it can convert your M4V files in just a few seconds. However, WinX DVD Author is only accessible to Windows computers. So, Mac users must find another program for burning the video files. Also, its interface is outdated, which is ungrateful to view.
Pros
• It can convert the M4V to DVD in just a few seconds.
• The downloading process is simple and fast.
• It supports various formats, like M4V, MP4, AVI, and more.
Cons
• Mac users can't operate the program.
• The interfaces need some improvement.
4. Cisdem DVD Burner for Mac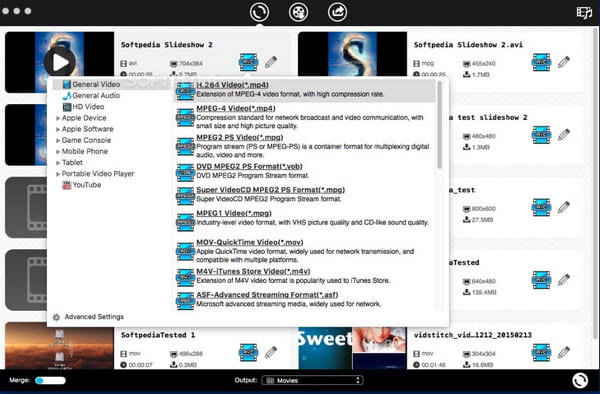 Additionally capable of producing DVD and chapter menus is the Cisdem DVD Burner. This offline program is designed for Mac users. It can help all users burn the M4V file to DVD effectively. Also, it offers you a ton of templates that are appropriate for your occasion, such as Christmas, the summer, the seaside, a wedding, or a birthday. The real-time preview is one of this tool's outstanding distinguishing features. By doing so, you can view the modifications you are making to your work before burning it. However, since it is for Mac, another OS, like Windows, can't access the software. Also, the program's interface is complicated to understand.
Pros
• It can produce DVDs from M4V files without any trouble.
• The software is capable of producing chapter menus.
Cons
• It is not accessible on Windows
• The interface is hard to understand.
5. Zamzar
Don't you know that there is a M4V to DVD burner online? Yes, you read it right. With the help of Zamzar, you can make a DVD from your M4V file online. Also, it only takes three clicks to get the process done. Zamzar is also available on almost all web platforms. You can access it on Google, Safari, Firefox, Edge, Explorer, and more. However, during the conversion process, various ads are showing up on the screen, which is disturbing. Moreover, if you are using the free version, you can only upload the M4V files with a maximum size of 50 MB. To upload large video files, you must get a subscription plan.
Pros
• It can convert M4V to DVD online.
• It is accessible to various online platforms.
Cons
• The file limit for the free version is 50 MB.
• It shows annoying ads during the conversion process.
Part 2. How to Burn M4V to DVD
If you want a simple tutorial to burn the file, use the DVD Creator. You can use the simple steps below and begin the process using the free M4V to DVD converter.
Note: Before going to the process, insert the DVD on your computer.
Step 1
Use the Free Download button below to access the DVD Creator. Then, launch the interface to start the burning procedure.
Step 2
When the interface shows up, select the DVD as your disc type. Then, click the Add Files button to insert and load the M4V file from your computer folder.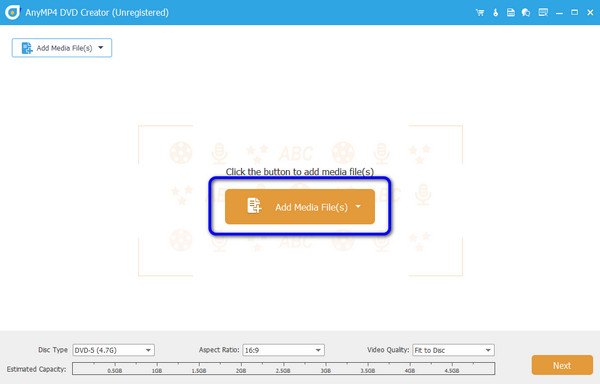 Step 3
After that, click the Next button to go to the next step. Then, you can choose your DVD menu if you want. You can tick the box below to remove the DVD menu from the video.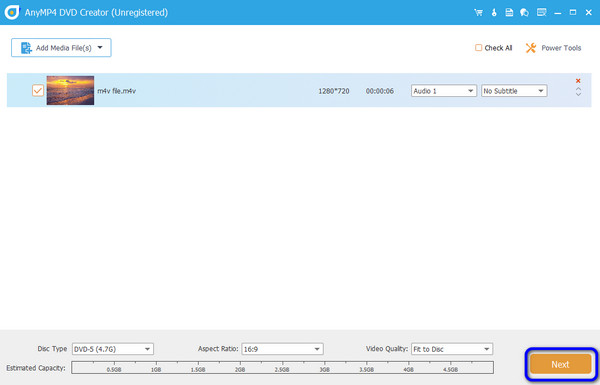 Step 4
Finally, you can click the Burn > Start button to begin the burning process. After a few seconds, you can try playing your DVD on your computer.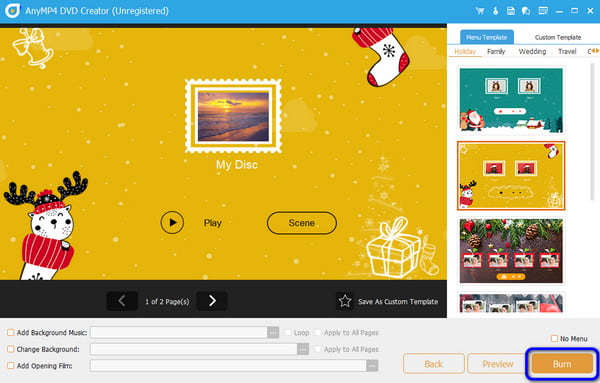 Part 3. FAQs about M4V to DVD Burner
Is M4V the same as MP4?
No, they are not the same. Apple created the M4V format to prevent piracy. The MP4 format is a more popular video format than M4V. It can be played on almost all platforms, making it an ideal video format.
What is the free software to burn M4V to DVD?
Use the DVD Creator to burn your M4V to DVD for free. With its burning feature, you can get your desired DVD file easily and quickly.
Can you play M4V on Windows?
Yes, you can. Playing the M4V files on Windows is possible. But, if there are times when you can't play the M4V, it must be best to convert the file to other formats.
Is M4V protected?
Yes, it is. The M4V file format is protected. One of the main reasons is to prevent the file from piracy. This way, it would be impossible to steal the file from others.
Conclusion
To burn M4V to DVD, you will need the help of burners. Thankfully, the post introduces various software to operate to burn M4V to DVD. But, if you want a burner with splendid features, try using the DVD Creator. It can help you burn the M4V to DVD and enhance the file using the editing features it offers.