Hassle-Free Method to Rip Your Nope Blu-ray Disc
Have you recently watched a movie that's in a Blu-ray format and want to keep or watch it on your mobile phone or computer? Well, you are not alone. In fact, some of the Nope Blu-ray streamers and fans are in search of how they can turn it into an accessible way to watch it. The best method you can do is to rip it. Many of you might be familiar with or heard the term already. So, it is a process of extracting the content of a physical media and saving it in another format. Thus, enabling it to be compatible with various media players and other devices. If you are here for the same purpose, keep reading this post as we show you the best and free Blu-ray ripper you can use.
Part 1. What is Nope Blu-ray
Director Jordan Peele delves into the horror and unusual realm of UFOs in his movie Nope. Peele intertwines the exploration of human psychology and various underlying themes. How? It is by blending elements of Sci-Fi and Western genres. Once more, Peele showcases his talent for crafting captivating and innovative films. And that holds the audience's attention with its intriguing and peculiar content.
Nope uses seamless effects, turning the sky into a canvas for themes. Peele's cast shines, especially Daniel Kaluuya as OJ, who blends grounded expression with internal chaos. Thus, complementing the film's mystery. Subtexts enrich the experience, some evident at first watch, others requiring deeper inspection. While the film is imperfect, it remains an impressive cinematic experience due to many reasons. It includes distinct vision, meticulous construction, unique characters, polished narrative, and multi-dimensional storytelling.
The Blu-ray version of Nope also did not disappoint disc buyers and streamers. It indeed delivers the best picture and sound experience.
Part 2. Nope Blu-ray Review
When the Blu-ray version release of Nope was made available, it scored 4.0 out of 5. Here's an in-depth review of Nope Blu-ray that you might want to check.
Universal's Blu-ray release of Nope boasts a stellar 1080p transfer. The visuals are sharp and detailed, impressively showcasing Western landscapes and facial close-ups. Vibrant colors and realistic, earthy tones shine, while black levels and shadows remain deep and clear. Skin tones, whites, and image quality are top-notch. Universal's presentation meets expectations for a high-budget new release.
Universal's Dolby Atmos soundtrack for Nope enhances the audio experience. It captures the film's powerful and subtle aspects, immersing listeners in various locations. From tranquil landscapes to tense "UFO" interiors, the sound replicates the atmosphere accurately. Surround channels are utilized to create an all-encompassing effect, blending with the music. The subwoofer is well-balanced, prioritizing dialogue while maintaining clarity and impact.
Part 3. Nope Blu-ray Release Date
The Nope Blu-ray version was released last October 25, 2022, and made available on Digital HD from Amazon Video and iTunes last September 20, 2022.
Part 4. Rip Nope Blu-ray
The best solution you can use to rip your favorite sci-fi horror film – Nope is using Blu-ray Master's Free Blu-ray Ripper. It is a professional and easy-to-use Blu-ray ripping tool for your needs. It will help you to rip your Blu-ray discs to compatible formats, such as MP4, MOV, MKV, FLV, and more. After the conversion, you will be able to convert Blu-ray on your desired media player. At the same time, it allows you to watch it anytime and anywhere. Apart from the various supported formats, it also supports batch conversion. Ensuring you can save time and convert more media content. Moreover, Free Blu-ray Ripper offers several output settings to personalize your video. These settings include encoder, frame rate, resolution, aspect ratio, and more. Also, you can Anaglyph 3D or split screen effects on your Blu-ray videos. Not just that, editing functions like crop, adding effects, watermark, etc. are also available.
Moreover, the supported file formats of this tool can be played on portable devices, like iPhone, iPod Touch, iPad, Samsung, and more. Given all these things, here's now how you can rip Nope Blu-ray with Free Blu-ray Ripper.
Step 1
To start with, download Free Blu-ray Ripper on your Windows/Mac. Once the installation is complete, launch it on your computer.
Step 2
Afterward, insert Nope Blu-ray into your computer's disc drive. Then, on the tool, click the Load Disc button at the top-right part to add your Blu-ray disc.
Step 3
Subsequently, navigate to the Profile drop-down menu and select your desired output format. Optionally, click the Edit button next to the 3D button to customize your video, like crop, add effect, watermark, etc.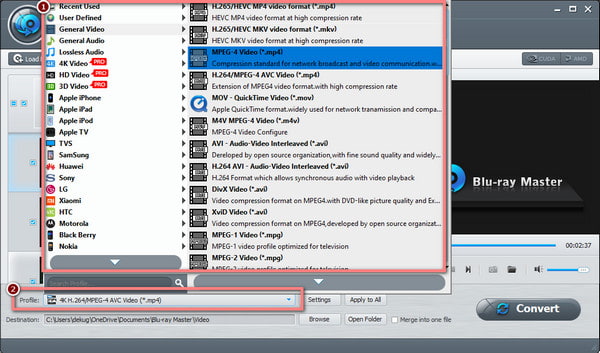 Step 4
After editing and enhancing your Blu-ray video, hover your cursor over the Browse button. Then, select the folder destination for the converted file. Once all set, click the Convert button in the bottom right-hand corner to execute the conversion process.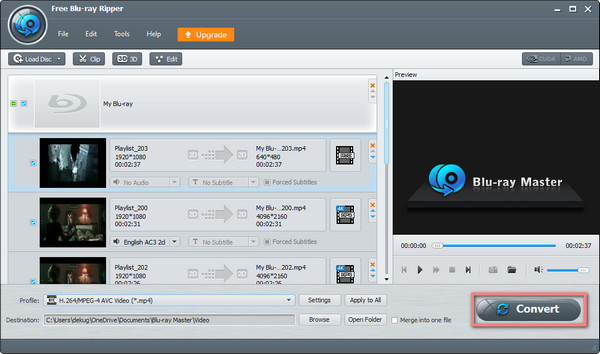 Step 5
Wait until the ripping process is complete, and check your chosen destination folder. Finally, play your converted Nope Blu-ray film!
Further Reading
Jurassic World Dominion Blu-ray: Best Way to Rip Blu-ray
Rip Mulholland Falls Blu-ray: Easily and Losslessly
Part 5. FAQs About Rip Nope Blu-ray
Is Nope supposed to be a horror movie?
Yes. Nope is a science fiction horror film. The movie has elements that are scary and creepy. It also has a few jump scares.
Is the Nope movie a sequel to Get Out?
Absolutely no. Though Nope and Get Out shared several small details, they are not entirely connected. There is also no evidence that Peele's Nope is a sequel to his Get Out movie too.
What is the storyline of Nope?
Above their horse ranch in California, a man and his sister stumble upon an uncanny presence in the skies. Meanwhile, the owner of a theme park near the ranch seeks to capitalize on the mysterious, otherworldly occurrence.
What was the point of the chimpanzee in Nope?
According to Peele, the addition of a chimpanzee in his movie Nope, is a reminder of how people treat anything that does not qualify as human. He also thinks that animal cruelty happens in real life.
What's the scariest scene in Nope?
The scariest scene in Nope is when Jupe tries to prove that he has contact with the UFO and offers his audience the opportunity to see them. So, he uses a horse to lure in the aliens. But, the situation takes a dark twist as the UFO swallows Jupe, his relatives, and the entire crowd. While leaving only the horse as an unexpected survivor.
Conclusion
With this helpful guide, you have learned the important details you need to know about Nope Blu-ray. Including what the movie is all about, its review, and its release date. Furthermore, you were also able to discover the best solution to convert Blu-ray content into a compatible format. And that is the Blu-ray Master's Free Blu-ray Ripper. Using it, you can rip any Blu-ray disc to your desired format without any hassle. What's more, whether you're a pro or a beginner, you can also enjoy utilizing it!