Ripping Blu-ray for Plex Media Server – Here is the Fix You Should Know
"I have a collection of Blu-ray movies, is there a method to playback Blu-ray movies via the Plex Media Server? How to rip them and do some encoding, then stream them from Plex to my HDTV?"
Plex, also called the Plex Media Server, is a free and amazing streaming service that connects your computer to your home theater. With it, you can instantly play your HD movies on large screen. If you wish to copy and rip Blu-ray movies to Plex, you can walk through the detailed process from the article now.

Part 1: The Easiest Method to Rip Blu-ray for Plex
In order to copy and rip Blu-ray disc for Plex media serve, you should extract the Blu-ray movies from the Blu-ray disc first. What should be the best method to rip Blu-ay movies for free? Free Blu-ray Ripper is the desired tool that you can convert Blu-ray movies to MP4, MOV, MKV, other file formats and device presets.
1. Rip Blu-ray movies to digital videos/audio/device presets for Plex service.
2. Support a wide range of output formats, like MP4, MOV, MKV, etc.
3. Offer multiple output settings to customize your Blu-ray movies.
4. Remove encryption and restriction from Blu-ray movies automatically.
How to Rip Blu-ray Movies for Plex Media Server
Step 1
Import Blu-ray movies
When you want to stream Blu-ray movies to Plex, download and install Free Blu-ray Ripper to your computer. Then insert your Blu-ray disc into your Blu-ray drive. Launch the software, click the Load Disc menu at the top left side and select your disc to import movie data files.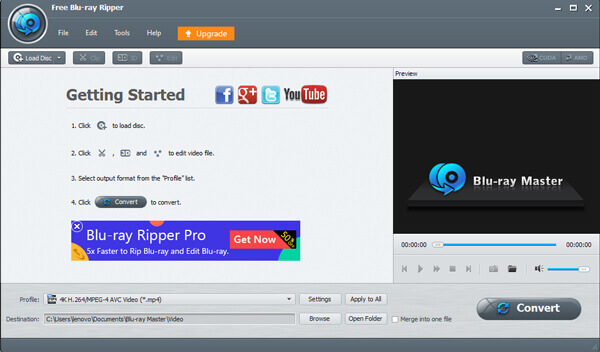 Step 2
Preview and edit Blu-ray movies
After that, you can preview any Blu-ray movies and select the desired files with the built-in media player on the right side. You can also select the audio track and subtitle in the Audio Track option and the Subtitle option next to the selected Blu-ray movies.
Step 3
Select the desired format
Click the Profile option to choose the Plex compatible video format, such as MP4. As for the case, you can convert Blu-ray for Plex for most of the other devices. If you want to change video resolution, bitrate and other parameters, click the Settings button to open the profile settings dialog.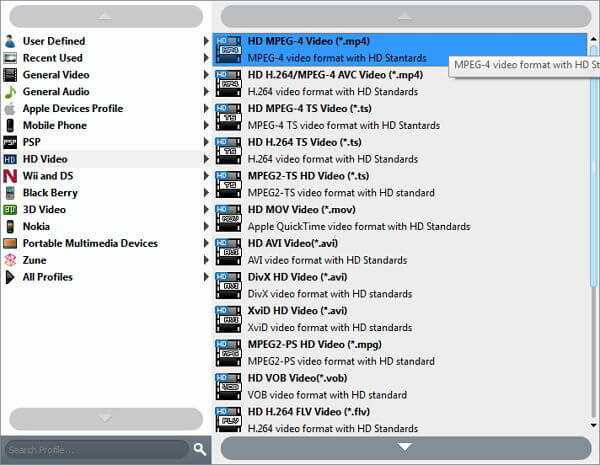 Step 4
Rip Blu-ray movies for Plex
Select a specific folder for the output file for Plex via the Browse button. Once you click on the Convert button at the bottom right corner, the Blu-ray ripping for Plex process will initiate. After that, you can click the Open Folder button to open the ripped file.
With this software, you can easily rip Blu-ray to other formats to play Blu-ray on Xbox 360, Wii, PS4, and other devices.
Part 2: How to Stream Blu-ray with Plex Client
The client of Plex Media Server is able to play Blu-ray movies and stream your movies to large screen with a third-party Plex client, such as Roku, PS and more. Just take a PS4 as the example to show you how it works.
Step 1
Access Plex official website in your browser and get the Plex Media Server. Next, install it to your computer and open it. Log in your Plex account. If you do not have, register one on the website. Click the Plus icon on the left side to access the Add Library dialog.
Step 2
Select the Movie option and hit the Next button. Now, pick up a language if need be, and then hit the Next button to open the next window. Click add folder to set the directory where the ripped Blu-ray movies for Plex are saved. Hit Add library to continue and complete setup process.
Step 3
In order to play Blu-ray movies on the Plex Media Server, connect PS4 to your computer. Open the browser on PS4 and access www.plex.tv/web. Sign in the same account that you used on your computer.
Step 4
Then all Blu-ray movies loaded to Plex Media Server will show up and you can watch your movies on your home theater. If your Blu-ray movies are unencrypted, you can insert it to your computer and play them in Plex directly. However, you cannot play the protected Blu-ray movies in Plex. (See how to play Blu-ray on PS4)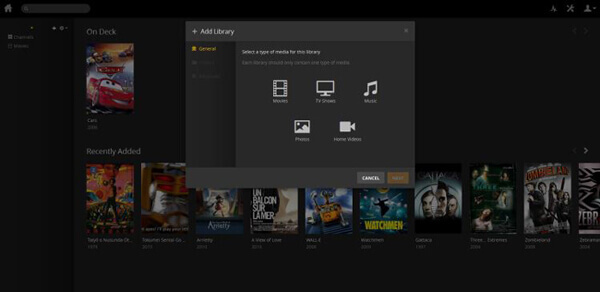 Part 3: FAQs of Ripping Blu-ray Movies to Plex Media Server
1. What type of files can Plex play?
Content matching the following can usually be Direct Played: ASF, MPEGTS, TS, MKV, WMV, etc.
2. Can Plex rip Blu-ray/DVD files?
Plex cannot read Blu-ray/DVD file structure (Video_TS), so the only way to enjoy Blu-ray/DVD videos on Plex is to rip Blu-ray/DVD videos to a regular video format that Plex supported. You can find a DVD Ripper for Plex is not as easy as you think. At this time, some people would consider using HandBrake to Rip DVD.
3. How do I rip a DVD to Plex?
You can use a free DVD ripper to rip your DVD to a Plex supported format, such as AVI, MOV, MP4, etc. Then you can stream your digital video to Plex.
4. Will Plex play an ISO file?
Plex does not support the use of ISO, IMG, Video_TS, BDMV, or other "disk image" formats. If you wish to use those with Plex, you should convert them to a compatible format.
Conclusion
It is the ultimate guide that you can understand how to rip Blu-ray movies for Plex. As a popular media server service, Plex is attractive to millions of users. By default, Plex can read unencrypted Blu-ray movies. If you want to watch commercial Blu-ray discs, you have to use Blu-ray ripping software. Free Blu-ray Ripper is not only easy to use, but also able to produce the best output quality. If you have other questions, please leave a message in the comment area below this article.