Superb Method in Making an Unforgettable Graduation Slideshow
Graduation is one of the most unforgettable events in our lives. This is a moment for students to be recognized for their talents and achievements during their studies. This is also a mark for them to move to the next stage of their life. To make graduation more unforgettable, they commonly add slideshows that are played while the ceremony is ongoing.
To know more about what is included in a slideshow for graduation and how to make graduation slideshows for this important event, continue reading this post.

Part 1: What is Graduation Slideshow
A graduation slideshow is a compilation of the memories, photos, and events during your high school or college life. In addition, it serves as a graduation gift or memento for the graduates. It is also used for presenting the students who have achievements or recognitions. It is a series of graduation pictures which is merged together to form a video usually viewed using a projector. There is music playing in the background while you watch to give a nostalgic feeling to the students, a bittersweet goodbye to one another.
Making a graduation slideshow is important because it gives character to the graduation ceremony and makes the moment special. To know how to make a fantastic graduation slideshow, continue to the next part.
Part 2: How to Make a Graduation Slideshow
Creating graduation slideshows is the same as creating any slideshows; you need a proven and tested slideshow maker. Video Converter Ultimate is a program that can effectively and efficiently create slideshows for graduations, lectures, and business purposes. With its MV feature, which you can also use for creating music videos, all the tools you need for customizing your slideshows are given. You can select different themes that are suitable for different events and occasions. Filters and effects to add more beauty and enhancements to your slideshow.
You can also add background music to make your videos more enjoyable and unforgettable.
Key Features:
1. Make great Photo and video collages
2. Supports 500+ formats for audio and video (MP3, WAV, FLAC, MP4, MOV, VOB, etc.)
3. Popular tools on Toolbox ( Watermark remover, video enhancer, video compressor, etc.)
Detailed step guide on how to make a graduation slideshow using this highly recommended tool.
Step 1
Use the Download button to download the program installer. Continue to install the program and wait for the installation process to end. Proceed to launch the tool and choose the MV feature to start making graduation slideshows.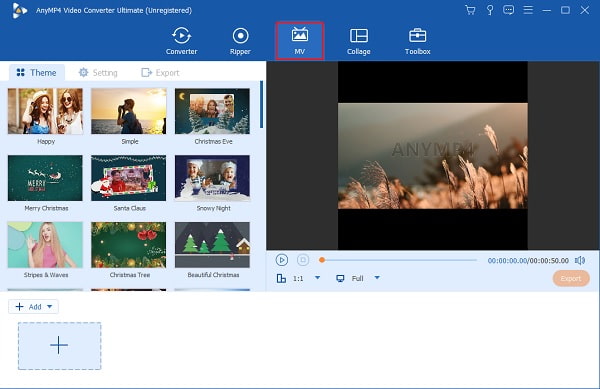 Step 2
To add photos or videos from your PC, use the + Add button located on the bottom part of the user interface. Alternatively, you can just drag the files and drop them directly on the program within the space provided. Do not forget to choose the theme to make your slideshow more presentable. You can use Simple and Happy themes for casual slideshows.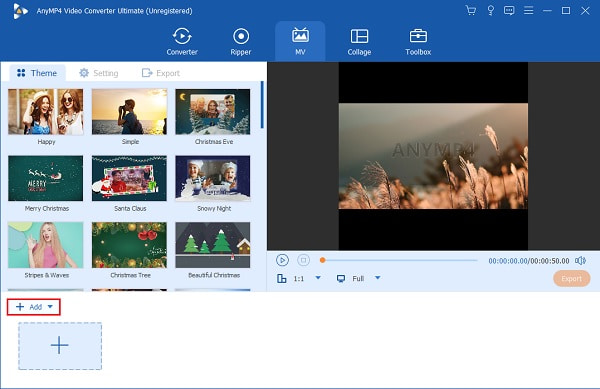 Step 3
Use the Edit button to modify the included media files individually. You can rotate or crop and even zoom the photos. You can also add filters using the filter effects provided and adjust the saturation, brightness, etc., by adjusting the given slide controls. In addition, you can also put your watermark logo or text on your media files. Tap OK to apply the changes.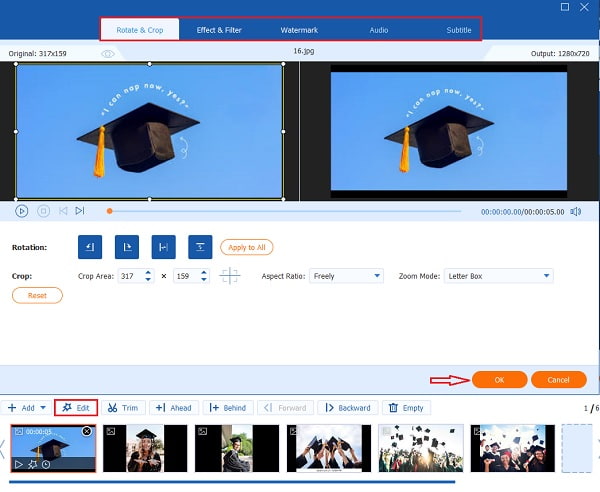 Step 4
Now head to the Setting tab to change the background music of your slideshow. In the Audio Track section, click the Plus sign icon to add audio tracks you prefer from your PC or the internet. Use the Volume's slide control to raise or reduce the loudness of the background audio. For the Delay's slide control, adjust it to add an echo effect for a dramatic approach.
Step 5
For the final part, move to the Export tab. You can change the name of the file, file format, resolution, frame rate, and quality. You can also change the file output directory so you can find your files quickly. Hit Start Export to begin the export process. Now you finish making a photo slideshow.
Part 3: Recommendation: Best Songs for Graduation Slideshow
A graduation slideshow will not be complete without a song accompanying it. So if you are having a hard time choosing what will fit the best on your slideshow, we got you covered. Here are some of the best songs for graduation slideshows that we think you will also like.
Popular Graduation Songs
1. Bruno Mars- Today My Life Begins
2. Rachel Platten- Fight Song
3. Kelly Clarkson- Stronger
4. Natasha Beddingfield- Unwritten
5. Miley Cyrus- The Climb
Crazy Graduation Songs
6. Katy Perry- Fireworks
7. Rihanna- Farewell
8. Beach Boys- Graduation Day
9. Black Eyed Peas- I Gotta Feeling
10. Nickelback- Photograph
Touching Graduation Songs
11. Adele- When We Were Young
12. Maroon 5- Memories
13. Bon Jovi- It's My Life
14. Snow Patrol- Run
15. Simple Minds- Don't You Forget About Me
Funny Graduation Songs
16. Green Day- Good Riddance
17. Foo Fighters- Times Like These
18. Oasis- Wonderwall
19. Amy Grant- I Will Remember You
20. Semisonic- Closing Time
Old-time Graduation Songs
21. Europe- Final Countdown
22. The Beatles- With a Little Help From My Friends
23. Journey- Don't Stop Believin'
24. Boston- Don't Look Back
25. Queen- We Are The Champions
This is just a short list of graduation songs for slideshows to make your graduation slideshows more memorable. You can use multiple songs in one slideshow to complement the events and happenings you experienced during your school days.
Part 4: FAQs on How to Make a Graduation Slideshow
How long should a graduation slideshow be?
Since graduation is an important event in our lives and should be celebrated and given importance, you can go longer than 5 minutes. You should aim for at least 50 pictures and a maximum of 10 minutes for your graduation slideshow.
Is PowerPoint good for graduation slideshows?
PowerPoint has a built-in slideshow maker called photo album. This saves a lot of your time in creating a graduation slideshow if you have a lot of photos you want to include in your presentation. It automatically creates a slideshow using all the images on your chosen album. And you can add music to a PowerPoint slideshow.
What is the original graduation song called?
The most commonly used graduation song is called Pomp and Circumstance. This is a song composed by Sir Edward Elgar in 1901. Yale University first used it as a recessional at their graduation ceremony. Soon after that, other colleges adopted the song, which became a tradition for the graduation procession.
Conclusion
Like any important event in our lives, graduation must be cherished and never forgotten. Graduation slideshows can help us remember once again what happened during our high school and college lives. From creating new friendships, happy and sad moments, school events, and especially the moment you will stand in front of everyone and receive your diploma. And for making a graduation slideshow, Video Converter Ultimate will always be your choice. With how easy it is to use and plenty of features included in a single program, you will not be disappointed.