Mirillis Action Screen Recorder Review & Its Best Alternative
Mirillis Action! Screen Recorder, a popular piece of screen recording software for Windows, is famous for its gameplay and screen recording feature. Users can also employ this program to capture tutorials, webinars, and visual presentations, etc.
But to be honest, almost all screen recorders can do these jobs. You may still be unclear about what makes this software different from others and how it behaves during the recording process. Therefore, this post will offer you a detailed Action screen recorder review to help you know it better.

Part 1. Action Screen Recorder Review
Mirillis Action! is an easy-to-use program that allows you to record and stream your gameplay, desktop actions, online videos, music, and more with high quality and low CPU use. Besides, you are able to take screenshots and add a voice-over or webcam to your recording in real-time according to your needs. Here are the key features you can enjoy with Action! by Mirillis.
Key Features
1. User-friendly Interface
With the intuitive and user-friendly interface of Action screen recorder, you can easily find your history recordings and create a new screencast in multiple modes. It enables you to view, delete, and share the selected file with only one click. You can also start your recording immediately after simply adjusting the settings in the main interface.
2. HUD Display
HUD shows up when your desktop or game is connected to Action screen recorder. It is used to display information like current framerate, average framerate, detected 3D engine, status icon, etc. So, you can master the whole recording process like a pro. HUD usually appears in the upper right corner of the computer screen by default.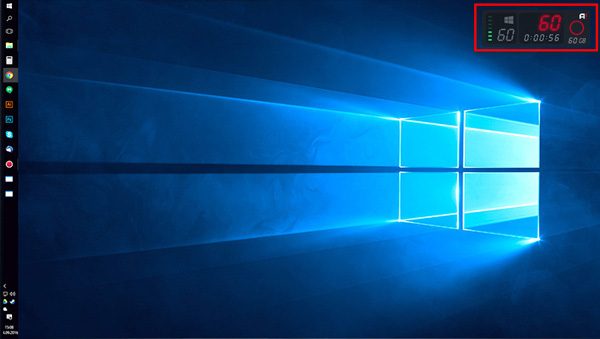 3. Greenscreen Mode
Action screen recorder even provides a Greenscreen Mode, with which you can easily remove the background from the webcam video, as long as your background is in any solid color. Just enable the Use Chroma Key option when you add a webcam. Then use Color Picker to pick the background color and modify Threshold and Blend values to make the background transparent.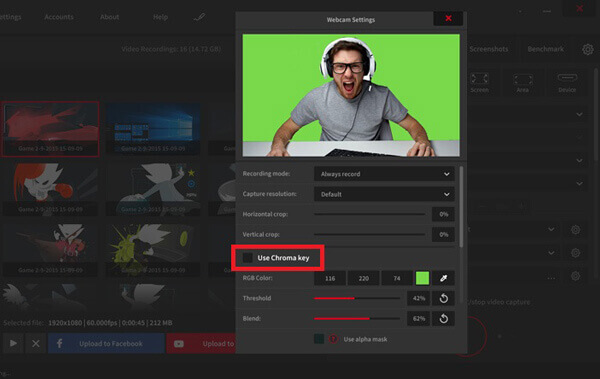 4. Time-shift Option
This feature in Action game recorder is incredibly useful when you play a game and don't want to miss any highlight moments. After enabling this option, your instant actions will be kept in a short loop buffer. All you need to do is to click Left Alt + F9 on your keyboard to save the Time-shift recording to a file. You can adjust the Time-shift buffer duration up to 10 minutes.

5. Export HD/4K Recordings
Action! supports AVI and MP4 file formats for high resolutions video recording. You can export and upload your recordings to popular devices or social media platforms, like YouTube and Facebook, directly in Action! with the fast, hardware-accelerated technologies it possesses.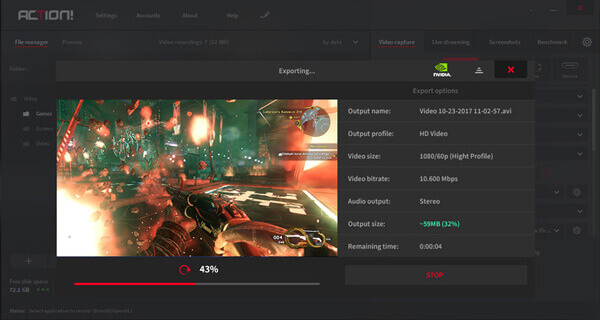 6. Live Streaming
Many popular streaming sites, such as Twitch, YouTube, Facebook, and Smashcast, are connected with Action screen recorder. This live streaming service empowers users to stream all games or PC activities online. You just need to access your account.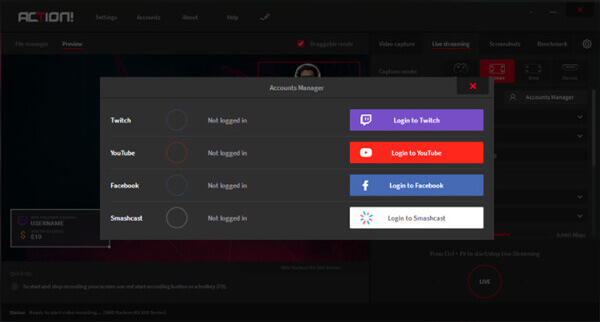 7. Monitor & Control Your Recordings with Android
With Action! RCU app on Android, you can monitor and control the recordings at ease - check FPS, start/stop/pause your screen recordings, and more. There is no need to memorize the complex hotkeys again.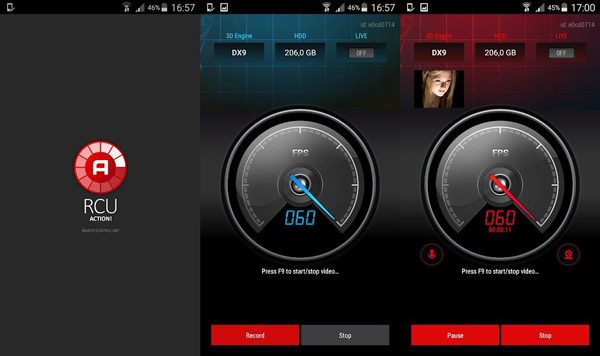 How to Use Action Screen Recorder
Action! by Mirillis has the capability to capture anything that is going on your PC screen. It can record software, webpages, videos, games, tutorials, etc. in windowed, full-screen, or selected-area mode on Windows Vista/7/8/8.1/10. The following steps will guide you to record a specific area on your screen.
Step 1
Launch Action! on your PC. Find the Area recording mode.

Step 2
Click and hold your mouse. Then drag to select the area you want to capture. If you want to resize the region, just press Shift + [Arrows] on your keyboard.
Step 3
Click on the Start/stop recording button or F9 hotkey to start recording. The frame will turn red. When you finish recording, please press Start/stop recording again to stop.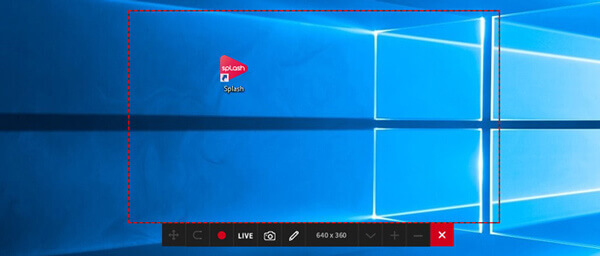 Step 4
Go back to Home and find the recorded video. You can preview the video with the built-in player of Action screen recorder.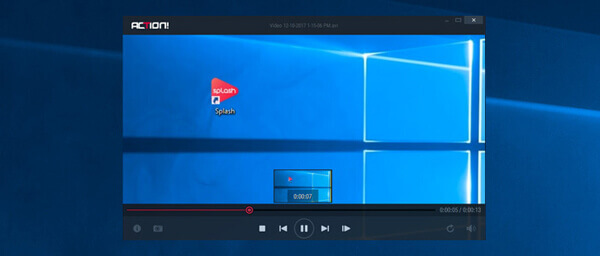 Price
The free trial duration for Action! is 30 days, which means you have to buy the full version if you still want to use this software. For now, a home-use lifetime license will cost you at least $19.77. And the price of a commercial-use license is from $32.95.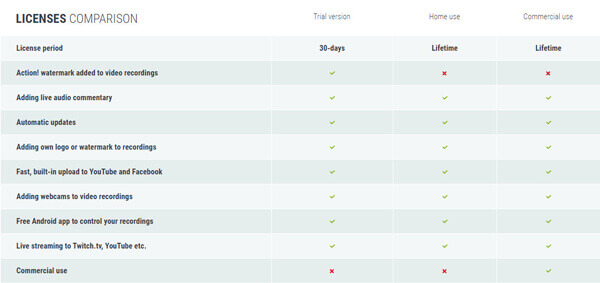 User Reviews
We have received much feedback from Action! users. Most of them adore the simple interface of Action screen recorder. Many gamers and YouTubers love to use this software to record and stream their screen activities. However, some said that they faced a lag issue while recording on older devices.
Action VS Bandicam
Many people often compare Mirillis Action! to Bandicam, another powerful screen recorder on the market. After all, Bandicam is also known as a great game recording tool like Action screen recorder. What's more, it supports 4K UHD video recording and screenshot capturing.

In order to make you understand the pros and cons of Action! better, we will compare these 2 screen recorders together for you. Please see the chart below.
Mirillis Action!
Bandicam

Pros

Useful UI design,
Greenscreen mode,
Live streaming,
Hardware acceleration,
4K support,
Smartphone controls
Easy to use,
4K video recording,
FPS overlay and controls,
Up to 144 fps

Cons

Limited video formats,
Add Action! watermark,
Windows only
Support only Windows,
Crash issue
As you can see above, both screen recorders do not offer a Mac version. So, how to create screencast if you use a Mac?
Part 2. Best Alternative to Action Screen Recorder
Since there is no Action screen recorder for Mac, here we recommend you to try Blu-ray Master Screen Recorder, the best Action screen recorder alternative. It carries similar features to Action. You can record high-quality 4K UHD gameplay, screenshot full/part of your screen, edit the recording in real-time. And the most important is that Blu-ray Master Screen Recorder can work on both Windows and Mac.
1. Best Action screen recorder alternative to capture Mac/Windows screen.
2. Record any video, audio, game, and other activities with high quality.
3. Export any popular video/audio formats like MP4, MOV, FLV, MP3, etc.
4. Preview and trim your video/audio recording files fast and efficiently.
5. Add webcam, annotation, commentary, and other real-time draws to the recording.
Step 1
Go to the official site of Blu-ray Master Screen Recorder. Download and install this program on your computer.
Step 2
After installing, launch the software and select Video Recorder on the left to record screen actions.

Step 3
In the Video Recorder window, please select Full or Custom screen size for recording. Then turn on/off System Sound and Microphone options according to your needs. If you want, you can enable Webcam to add your reactions to your recording. Then click REC to start recording.

Step 4
You can click Stop to end recording and then preview the recorded video with the built-in media player of Blu-ray Master Screen Recorder. Don't forget to save the recording to your computer.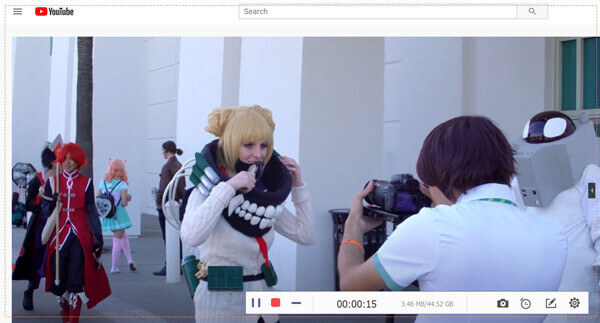 Part 3. FAQs of Action Screen Recorder
1. How to free record screen with Action Screen Recorder?
If your Action screen recorder is still in the free trial duration, you can easily record your screen for free. But it the free trial expires, then you can try this Free Online Screen Recorder.
2. Which is better, OBS or Action?
If you want a free-to-use and open-source software, then OBS is your best choice. It is compatible with a lot of devices. But this tool is not that easy to operate. So, beginners may prefer Action. And for your information, OBS does not have a player to play the recordings. You may need a third-party player like VLC media player.
3. Can I use Action! RCU for Android to record phone screen?
No, you cannot do that. Because that app is only a controller rather than a recorder. You can use it to control and monitor Action scree recorder on your PC.
Conclusion
We truly hope that you can know Action screen recorder better after reading this review. In general, it is a helpful screen recorder that you can rely on. But if you are a Mac user who wants to experience similar recording functions, you can give Blu-ray Master Screen Recorder a shot.
If you like this post, you can leave a message below. And if you want to know more about Action, feel free to contact us.