Best 3 Phone Screen Recorder for Samsung Devices
Like Android phones, Samsung also has the built-in screen recording feature. You can record screen video with audio on Samsung directly. Or you can use a third-party Samsung screen recorder app to screen record on Samsung. Whatever, this article will show you different ways to screen record on Samsung phones and tablets. Just read and choose the method you like.

Part 1: The Default Screen Recorder on Samsung
Screen Recorder is a new feature for users to screen record on Samsung Galaxy Z Flip 3, S22, S20, S20+, S20 Ultra, Note10, Note10+ 5G, S10 e, S10, S10+, S10 5G, A71, Galaxy Tab S8 and other Galaxy devices running Android OS Version 10 (Q). After customizing Samsung screen recorder app, you can start recording Samsung screen after 3-second countdown quickly. Just read and see how to screen record on Samsung Galaxy devices.
Step 1Swipe down to get access to your Quick Panel on Samsung. Then choose the Screen Recorder icon.
Step 2In the popping up Start recording with Screen recorder? dialog, set the input audio source. You can set to screen record Samsung with internal audio or external audio.
Step 3Tap Start recording to record Samsung phone's screen. When you want to end up Samsung screen recording, you can choose Record from the floating menu bar on the top.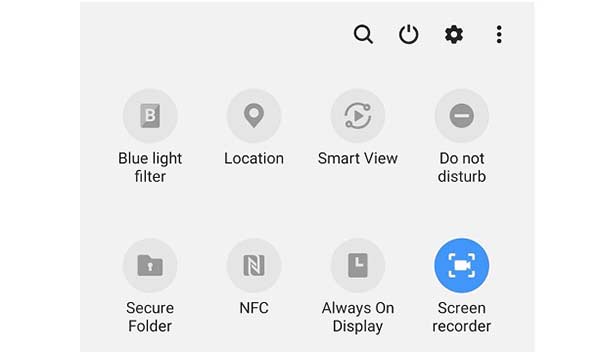 Part 2: Best Samsung Screen Recorder Alternative Software
Screen Recorder cannot record all app screens on Samsung. If you want to screen record on Samsung with more advanced features, you can use the desktop software Screen Recorder as well as well. In this software, you can use its Android Recorder function to record the Samsung phone screen on your computer without limitation. Just use an Android emulator app to emulate an Android app on your computer's screen. Later, you can record Samsung screen video, audio and webcam at the same time.
1. Record Samsung screen video while playing up to 60 fps.
2. Screen record on Samsung with internal and external audio.
3. No maximum time limit. You can record Samsung for hours or even longer.
4. Add annotations and mouse effects while recording Samsung screen video.
5. Adjust video format, quality, frame rate and other recording settings.
6. Preview and trim your Samsung recording file.
7. Save and share your Samsung recordings with multiple options.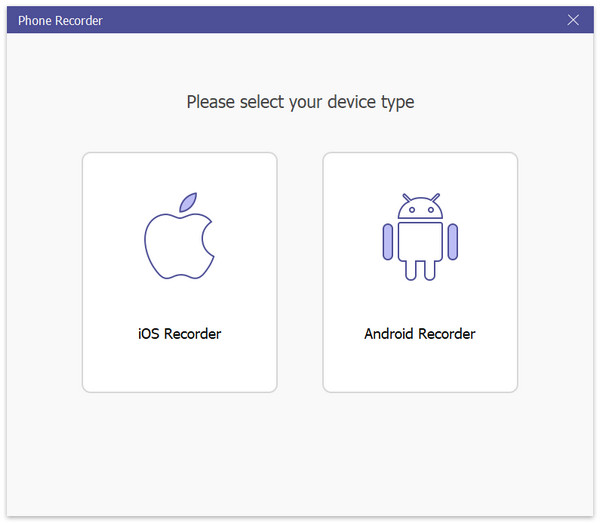 Furthermore, you can run Blu-ray Master Free Online Screen Recorder to record screen video and audio on Samsung as WMV format for free. Though the advanced screen recording features are limited. But you can still record on-screen video from Samsung online for free.
Part 3: Game Launcher App
Samsung Game Launcher is available on Samsung Galaxy S7 and later. You can record game on Samsung directly. But you cannot screen record on Samsung Home screen or App screens via Game Launcher. If you want to record Samsung game video, and Game Launcher is supported by your Samsung phone, you can continue reading.
Step 1 Open the Game Launcher app. Swipe up to drag up the Library window.
Step 2 Choose the three vertical dots Menu icon next to Library on the top. Choose Add apps from the popup menu.
Step 3 Browse and select an app you want to record. Later, tap Add on the top right corner. You can access the added app in the Game Launcher games list.
Step 4 In the Library tab, select the app you want to record. Choose the Game Tools on the bottom right corner after running the app.
Step 5 Choose Record on the lower right corner. Now you can screen record on Samsung S7 and newer devices.
Step 6 Tap Stop to finish Samsung screen recording. You can choose Watch recorded video or head to the Stop Watch recorded video app to view Samsung recording videos.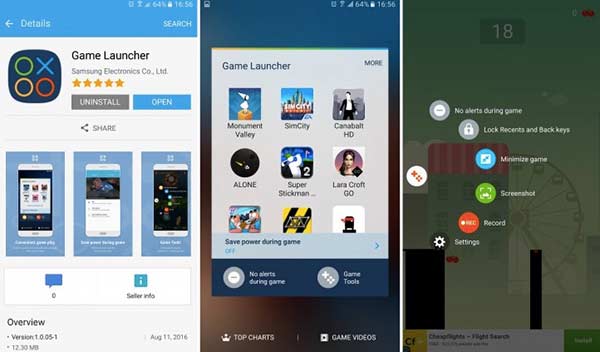 Related Articles:
How to Take a Full-Screen or Scrolling Screenshot on Samsung
Top 8 Free Samsung HD Video Player Apps for Samsung Galaxy
Part 4: FAQs of Recording on Samsung
Can you screen record on Samsung in 1080p?
Yes. You can use Screen Recorder to record Samsung screen video in 1080p, 720p or 480p. Open Settings app on your Samsung device. Scroll down and choose Advanced Features. Choose Screenshots and screen recorder followed by Screen recorder settings. Now you can adjust options of Samsung sound, video quality and selfie video size.
Can you record phone calls with Samsung Screen Recorder?
No. Screen Recorder cannot record phone, video and VOIP calls. If you want to record a phone call on Samsung, you can use Google Voice, TapeACall, Call Recorder and more.
How to use Samsung Voice Recorder app?
Samsung Voice Recorder high quality audio recording, playback and editing capabilities. You can record audio on Samsung with standard, interview ad voice memo modes. While you are using Samsung Voice Recorder, you can bookmark any point. However, you cannot use Samsung Voice Recorder on Samsung S5 and Note4 Android-M.
Conclusion
You can get 2 default ways to screen record on Samsung of almost all models. Even though you cannot record some apps or activities on Samsung, you can turn to third-party screen recorders for help. There are many other advanced screen video and audio recorders you can use, such as Mobizen Screen Recorder, Kimcy929 Screen Recorder, AZ Screen Recorder and more. By the way, you can record Samsung screen on your Windows or Mac computer with better experience as well. Though you need to install an Android emulator app first. That's all to use Samsung Screen Recorder and Game Launcher. Do you have any other questions? You can feel free to contact us.