10 Best DVD Player Software for Free on Computer
When you want to relax and watch a DVD movie on your PC, you probably prefer an application that supports DVD playback. Act as the hardware DVD Player, the software DVD player just need you to download and install them on your computer and then to use. Of course, you don't want to use much money to buy the DVD Player. Dedicated for you, here provides 10 best Freeware to play back any DVD without limitation. You can find the perfect one to help you enjoy DVD playing experience.
Top 1. Blu-ray Master Free DVD Player for Windows and Mac
Blu-ray Master Free Blu-ray Player is also powerful and all regions Free DVD Player software, which not only plays Blu-ray and DVD disc/folder/ISO image file, but also plays any popular video formats and audio files with extraordinary perfect audiovisual effect. This DVD player is compatible with Windows 11/10/8.1/8/7/Vista/XP and Mac including macOS 12 Monterey and Ventura. You can also download Free DVD Player for Mac for entertainment.
With the best Free DVD Player software for Windows and Mac, you are allowed to watch all kinds of DVDs including protected DVDs, commercial DVDs, DVDs and all region 1-6 DVD-5 and DVD-9 easily and smoothly, making you enjoy DVD movies and audios at home freely. You can select any chapter or title as well as the audio track and subtitle. When previewing video, you can capture the favorite video images to save on local disc.
Key Features:
* Play all regions DVDs, protected DVDs, commercial DVDs and DVDs.
* Easy to use and intuitive interface, perfect video and image quality
* Fully compatible with Windows 11/10/8/7 and macOS X and macOS 11/12.
How to play DVD on Windows/Mac/MacBook Pro with Blu-ray Master Free DVD Player
Step 1
Insert DVD disc into DVD drive or install virtual DVD drive
Firstly, you should insert the DVD disc into internal or external DVD drive if you want to play DVD disc on the program. When you need to play DVD ISO image file, you have to download and install the virtual DVD drive like DAEMON Tools on your computer in order to recognize the ISO image file beforehand.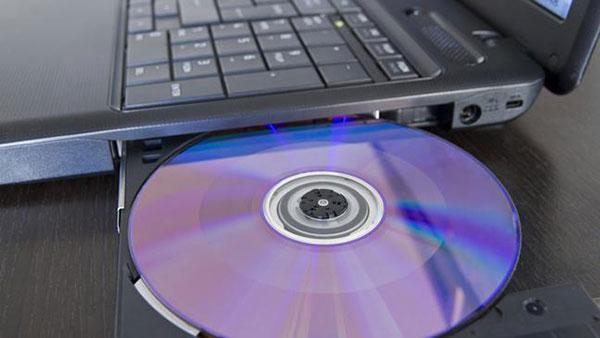 Step 2
Free download and install the program
You should download this wonderful Blu-ray Player software from above download link and install it on your computer, and then you can launch the program to open the main interface as below.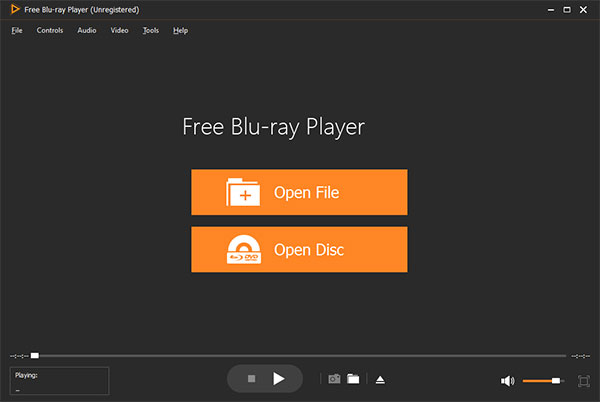 Step 3
Open DVD disc/folder/ISO image file to Play
No matter playing Blu-ray or DVD, you just click "Open Disc" button and select the corresponding disc/folder/ISO image file and then click "OK" to load Blu-ray/DVD to the program. After loading file, this program would play the movie automatically.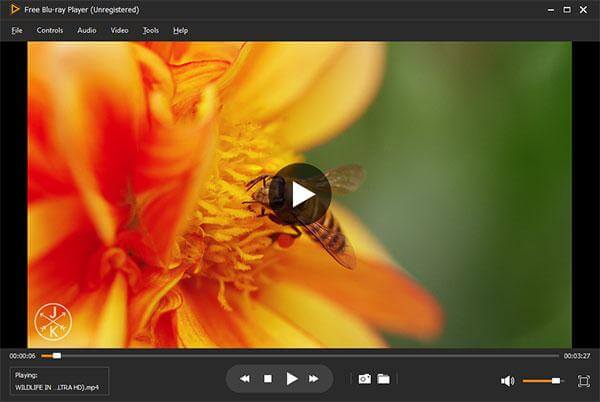 Step 4
Multiple user-friendly settings to optimize the DVD effect
At top left of the main interface, you can click "Controls" column to select the movie title/chapter, and click "Audio" or "Video" column to adjust the audio/video track and even change the screen size to meet your audiovisual enjoyment.
Top 2. VLC Media Player for Windows and Mac
VLC Media Player a free DVD and Media Playing App, which has different version to be compatible with Windows, Mac, Android and iOS operating system, you can download corresponding version to use. As you know, it is most popular open source Free Media Player to play DVDs, VCDs as well as video/audio files.
How to play DVD movie with VLC DVD Player app on Windows or Maccomputer? You can set it to automatically play DVDs when a DVD is inserted by choosing the "Play DVD movie VideoLAN VLC Media Player" option, it is easy to use.
1. Fully compatible with all operating systems especially Windows 11/10/8.1/8/7, and Mac including macOS Ventura.
2. Easily play DVD disc, DVD folder, and DVD ISO image file.
3. Play most codecs with no codec packs needed - MPEG-2, MPEG-4, H.264, MKV, WebM, WMV and MP3.
4. Provide most complete feature-set over the video, subtitle synchronization, video and audio filters.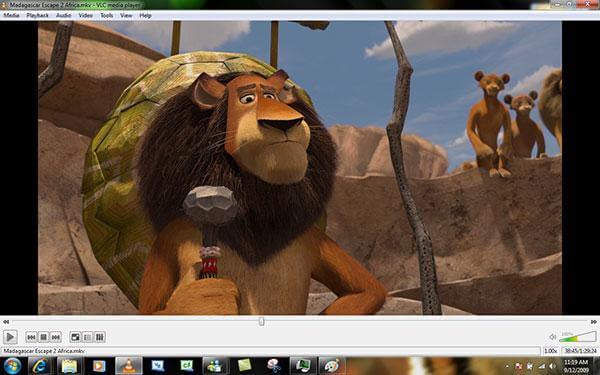 Top 3. WinX DVD Player – 5KPlayer for Windows and Mac
WinX DVD Player is also named 5KPlayer, which has the ability to play region-free DVD disc and DVD ISO image file with super high speed and quality. And it has the ability to play HD and common video on PC. You can start watching a DVD movie or a HD video stored locally on your PC by simply browsing to its location.
If you are not satisfied with your local files or your DVDs, you can browse the web, copy the link of a video you like, and then paste it within WinX DVD Player and download it to your PC. You can even choose the target format and size to suit your necessities. How to play DVDs with WinX DVD Player? You can click "Load DVD" image button to access to the "Open DVD Disc" window, and then load your DVD disc, at last click "Play" button to play DVD movie.
1. Play DVDs and videos like MP4, MOV, AVI, FLV and others with revolutionary design.
2. Work as a HD video player to play DivX, H.264, and other HD video files.
3. Play audio files perfectly to activate your senses.
4. Stream multimedia Airplay content to enjoy the tracks from iPhone (iPhone 14/13/12/11/X/8/7/6/SE), iPad or iPod.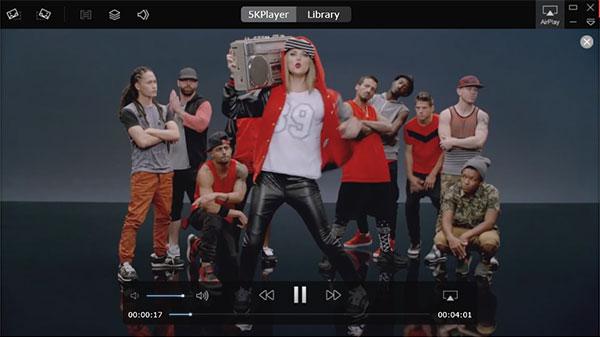 Top 4. Real Player for Windows and Mac
Real Player is widely used Free Media Player application, which has several attributes that works in its favor: it has good audio and video quality, it enables you to watch and download online videos, and it can even be used to share media content with friends through social networking sites. Of course, Real Player is also great free DVD Player on Windows and Mac computer, which allows you to watch DVDs and play back high quality videos by supporting more codecs and file types than ever before with its new advanced video playback. This free Windows DVD player cannot only work for Windows 11/10/8/7 users, but also can be downloaded to Mac, and Android devices.
All in all, RealPlayer has everything you need, and more, for you to enjoy hours and hours of music and videos on your computer or mobile device.
1. Play DVDs and more high quality videos with advanced DVD/video Playback.
2. Enjoy theater mode, just like on TV with full screen.
3. Support chapter/subtitle, easy and intuitive DVD controls.
4. Have a 10-band graphic equalizer, advanced audio/ video controls and a cross fade for a much richer media experience.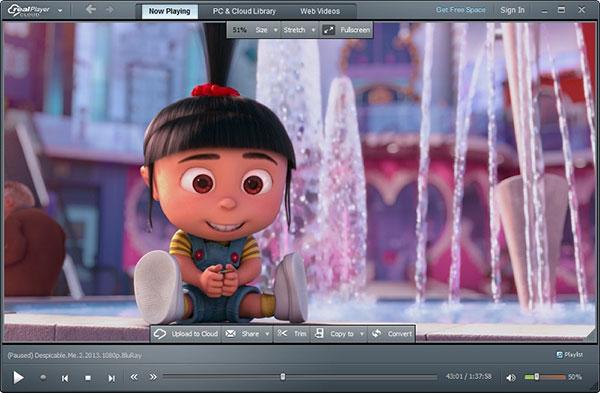 Top 5. Leawo Free DVD Player for Windows and Mac
Leawo Free Blu-ray Player, the intuitive and simple DVD Playing software to play back the newest DVD disc released in the market and DVD folders, DVD ISO files and IFO files on Windows 8.1/8/7/XP/Vista and 10. The Mac version has the same function for you to use on Mac OS X/11/12 especially macOS Ventura. Meanwhile, it's not only a Free DVD Player, but also a Free Video Player be capable of playing VOB, MKV, MP4, TS, MOV, AVI and other popular formats.
For better user experience, Leawo Free DVD Player for Windows and Mac provides detailed navigation and full playback control and allows you to adjust subtitles, audio tracks and videos during playback, customizes background picture, switches program skins and supports multi-languages and multiple screen displays, etc.
1. Play back Blu-ray/DVD disc, audio, common videos and audios smoothly on Windows 11/10/8/7/Vista/XP in lossless quality.
2. Take screenshots during movie playback anytime you like and save in either JPG, PNG or BMP format.
3. Change video aspect ratio from zoom, stretch 2:3, wide zoom, stretch 16:9, and original, or even custom aspect ratio.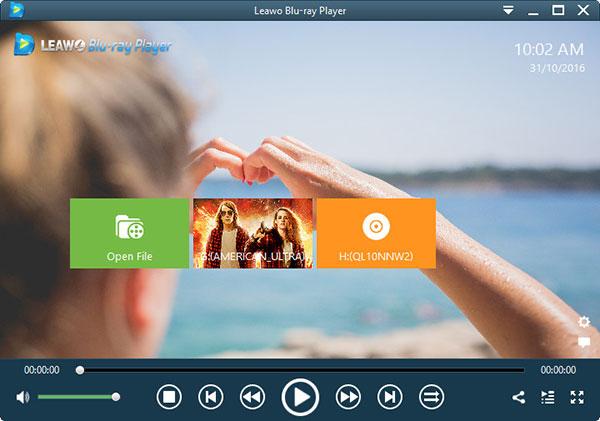 Top 6. KMPlayer for Windows and Mac
KMPlayer is Free DVD Player, which handles both DVD and video playback, providing you excellent audiovisual effect. It is simple enough to use for an average person but is not deceived by its simplicity. Its strong user base and the active official forum helps you out whenever you run into a problem with KMPlayer.
The best part of the DVD Player for Free is the number of options. You can set multifarious audio and video effects, control playback speed and octave, sharpen and change picture properties, apply external filters, select parts of a video as favorites, and make video captures within the program.
1. Easily play DVD movie with smooth video and audio quality.
2. High resolution movie (3D, 4K and UHD) supported to allow you to watch movies in superb quality.
3. Capture audio and video or screen capture is possible, and can be saved in the format you want.
4. Provide full control over DVD selection, Movie menus, audio menus, subtitle menus, brightness/contrast and more, to suit user needs.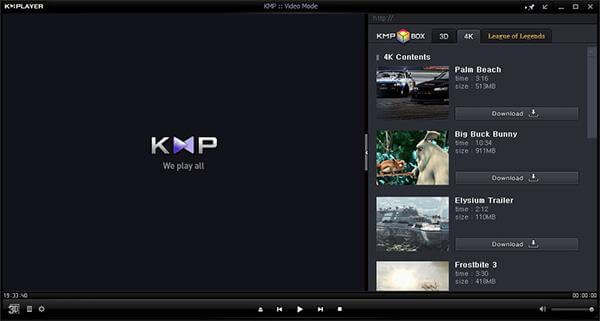 Top 7. BlazeDVD Free for Windows 10
BlazeDVD Free, a full-featured and easy-to-use Free DVD Player software, is fully compatible with Windows 11/10, playing DVD, CD, VCD, SVCD with great smooth video and stereo audio quality. You can also use it as a free common video player for MP4, AVI, MPEG, RMVB, VOB, WMV, DTS, HD (high-definition) videos. It also includes a photo slideshow player that lets you watch your pictures.
This Free Windows 11/10 DVD Player provides you with superior video and audio effect by adjusting various preferences, such as Equalizer, bringing you a wonderful audio-visual experience. You can also enjoy playback experience: Play/Pause, Full-screen, Fast-forward/Fast-backward, Volume Control, Next/Last Chapter, Select Subtitle, Video setting, Audio setting, Main menu button, Playlist and more.
1. Act as Free DVD player software, free VCD Player as well as Free SVCD Player software for Windows 10 PC.
2. Cost-free Media Player to play popular video files.
3. Add bookmark to record down the exact frame where you decide to close the Windows 11/10 DVD Player.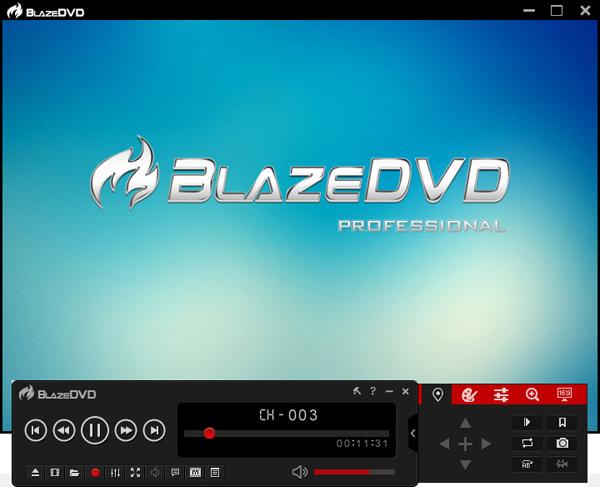 Top 8. PotPlayer for Windows
PotPlayer is a smooth and free Windows DVD Player. It works for Windows (11/10/8.1/8/7/Vista/XP) with a great looking, user-friendly interface, letting you watch DVD movie without any Cacophony. It also has an extensive range of configurable options to choose from and lots of functionality. With it, you can play Blu-ray, DVD, video formats, and audio CD with superb sound and video quality.
There are a few cool features tucked away inside this free Windwos DVD Player, too, such as the ability to take snapshots of the media you are viewing and save as a JPEG file, and great support for subtitles. If you are looking for a new Free DVD Player that has stacks of format support, and excellent codec support, then maybe PotPlayer is just what you are looking for. One thing you should notice that it only supports Windows version, and more free Mac DVD players, check it here.
1. Play DVD movie with high-quality playback as well as video and audio.
2. Multiple options like File Associations, Visualizations, Shortcuts, and Subtitle Formats.
3. Support various skins, logos, color subjects, and adjust the screen size to monitor size.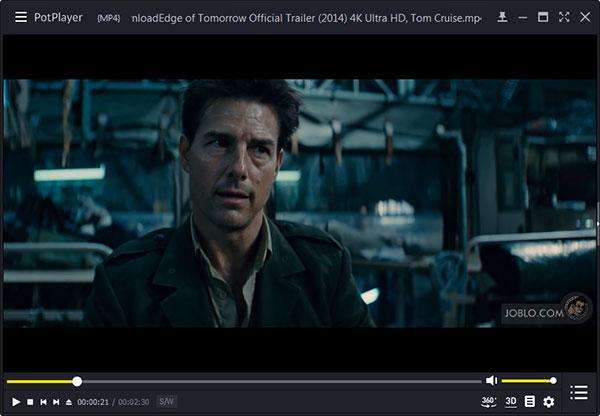 Top 9. MPL Free DVD Player (Windows)
MPL Free DVD Player, the free, open source Media Player for Windows, is capable of DVD, VCD, SVCD playback without needing any codec. MediaPlayerLite has a simple interface to make playing files easy and lightweight. It also loads H.264, XviD, MKV, MP4, WAV, WMA, MP3, OGG, AAC with ease and uses GPU assisted acceleration and enhancing.
The app can be installed on Windows 11, Windows 10, Windows XP, Win7 x32, Win7 x64, Windows 8, WinVista, and WinVista x64. MediaPlayerLite is free and open source based on the Media Player Classic – Home Theatre. You can always enjoy MPL Free DVD Player for free.
1. Play DVDs, VCD, SVCD easily on Windows computer.
2. Work as a free video player for MOV, MP4, SWF, QT, FLV, WAV, WMA, MP3, OGG, and more.
3. Playback and recording of television if a supported TV tuner is installed.
4. DivX, Xvid, Flash Video formats, and H.264 and VC-1 with DXVA supported.
5. Advanced settings for bitrate and resolutions.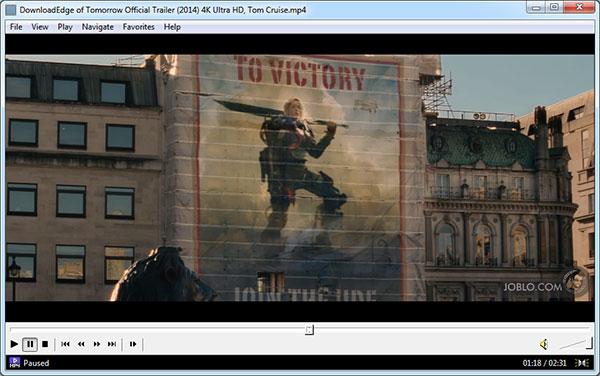 Top 10. Win8 DVD Player (Windows 8)
Win8 DVD Player is a free open source DVD Player and Video Player for Windows 8. You can play DVD, AVI, FLV, MP4, WMV, MOV, DivX, XviD, MPEG-1, MPEG-2 and MPEG-4 with smooth video and audio effect. It is also Free Audio Player to play and open WAV, WMA, MP3, OGG, SND, AU, AIF, AIFC, AIFF, and MP2 audio files.
This Free DVD Playing software is designed to open DVD movie on Windows 8, XP, Vista & 7 without the need of codec packs. Music playlists (mpl and m3u) can also be created, making it easy to open albums. It has a simple interface to make playing files easy and lightweight. It loads H.264, XviD, MKV, MP4 AAC with ease and uses GPU assisted acceleration and enhancing.
1. Play DVD really easily as well as any video file and any random audio files like FLAC or AIFF.
2. Easy to use playing features and intuitive interface.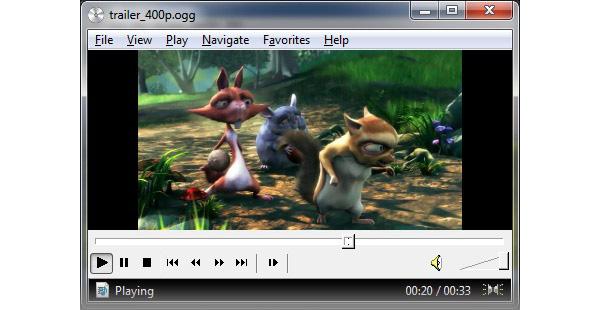 FAQs of Playing DVD on Computer
1. How can I play a DVD on my computer for free?
First, you can download and run Blu-ray Master Free DVD Player on your computer. Then, insert the DVD disc into the internal or external DVD drive. Click "Open Disc" to load the DVD disc into the program. And the program will play the DVD file for free automatically.
2. How do I play a DVD on VLC on Windows?
First, you can download and install VLC media player on your Windows computer. Insert the DVD disc into the external or internal DVD drive. Open VLC media player, and click "Media" > "Open Disc". Then, make sure that the DVD disc, Disc device, Title is correct in the prompt. Click "Play" to play a DVD on VLC on Windows.
3. Does Windows 10 have a built in DVD player?
Windows 10 doesn't have a built-in DVD player. Windows Media Player enables Windows 10 to play DVD.
4. How do I get Windows Media Player to play a DVD?
You can free download Windows Media Player from Microsoft official website. Generally, once you insert a DVD disc, it will play automatically. If it doesn't play, you can open Windows Media Player, select Disc name in Player Library.
Conclusion
The above DVD player software is for Windows 11/10/8/7and macOS X and macOS 11/12. To play a DVD movie smoothly on a computer, you should pick up the best DVD player application. Among, Free Blu-ray Player is the recommended DVD player for PC and Mac users.
If you want to play the DVD files on iPhone and iPad similar portable devices, then you will need the DVD player for iPhone iPad exactly.