2 Ways to Burn an iMovie Project to DVD on Windows and Mac (No iDVD)
iMovie is a free video editor developed by Apple Inc. for macOS and iOS devices. Its powerful video editing features and wide support of media formats make iMovie to be one of the best video editing software. If you use your iPhone or digital camcorder to record videos and take pictures, you can create a new project to retouch the footage in iMovie directly.
Some people may wonder if it is possible to burn iMovie to DVD. Of course, the answer is Yes. In the earlier iMovie versions, users can make a DVD from iMovie with the 'sharing & exporting iDVD' option. However, iDVD was discontinued by Apple since Mac Lion. In the recent iMovie 10 updates, the related options of burning iMovie to DVD with iDVD are removed too.
Don't worry, you can still put an iMovie on a DVD or CD disc. This article focuses on 2 easy ways to burn iMovie to DVD without iDVD. You can copy iMovie to DVD on any Mac OS and iMovie version with ease.
Part 1: Burn iMovie 10 Project to DVD with DVD Creator Software
By burning iMovie to DVDs, you can play the iMovie project with TV to get a large display screen. Since iDVD is not bundled as part of iLife package, you can use AnyMP4 DVD Creator to make a DVD using iMovie projects, general video and HD video files on Windows and Mac. You can add background music, image, subtitles and other video effects with the iMovie to DVD burner software. The built-in video editor is capable to handle basic video editing features.
Actually, you can burn iMovie to any DVD disc with high quality and fast speed. If you have no idea what to make up your DVD, you can choose from various menu templates in many themes. You can customize the certain part of the DVD menu template to tell your own story. What's more, you can specify the format of your burned iMovie DVD with PAL and NTSC standards. Thus, you can play the DVD disc with the standard DVD player or others bought from different countries.
Let's see some features of the iMovie to DVD burning software.
1. Burn iMovie to DVD + -R/RW, DVD-RAM, DVD-5 (4.7G) and DVD-9 (8.5GB) discs.
2. Make a DVD disc, DVD folder or DVD ISO file with iMovie projects or other common/HD videos.
3. Choose and customize the premade menu templates, such as holiday, travel, family, wedding, etc.
4. Trim, merge, rotate, flip, crop, add watermark and apply more editing functions to enhance videos.
5. Add audio track, subtitle, background music and more before putting iMovie project to DVD.
6. Put an iMovie to a DVD in PAL or NTSC (depends on the country and region you live in), with the 4:3 or 16:9 aspect ratio.
7. Work with Windows 10/8/8.1/7/Vista/XP and Mac OS X 10.6 or above (including macOS Sonoma).
Step 1
Launch AnyMP4 DVD Creator. Insert a blank DVD disc into the internal or external DVD drive. Choose DVD Disc to burn iMovie to DVD.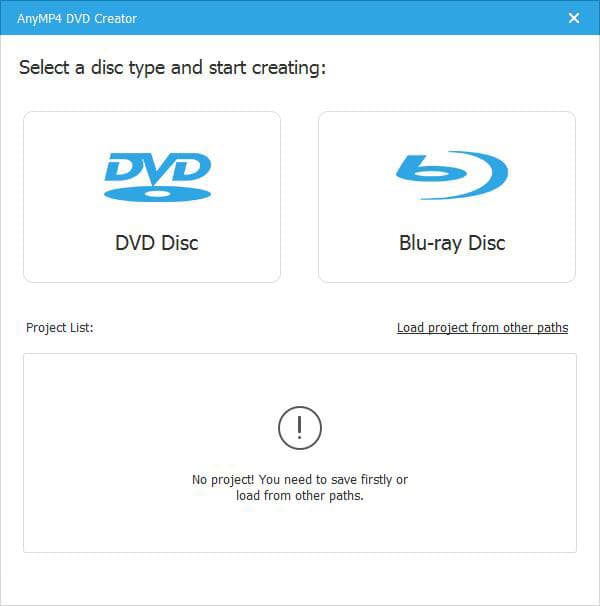 Step 2
Import the iMovie project to the main interface. You can click Add Audio to add external audio track with adjustable language, volume and delay. In the Subtitle section, you can adjust language, position, transparency and delay of the imported iMovie subtitle. Click Apply to move on.
Step 3
You will be in the main interface. Click Power Tools to access new filters in the right pane. In the Video Tools part, you can click Video Edit to get basic video editing tools. In the Chapter Tools part, you can merge and split any chapter.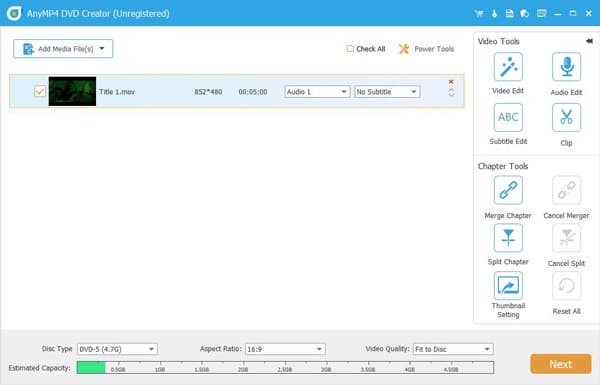 Step 4
Specify Disc Type, Aspect Ratio and Video Quality near the bottom. Then click Next to access the DVD menu templates. You can choose from Menu Template and Custom Template. Click No Menu below if you don't want to apply any menu. Furthermore, you can add background music, change background and add opening film within this window.
Step 5
Click Preview to preview the iMovie to DVD file. Then click Burn to continue the DVD burning process. You can adjust Burn settings, Playback mode and more. At last, click Start to burn iMovie to DVD to play on TV with excellent audiovisual experience.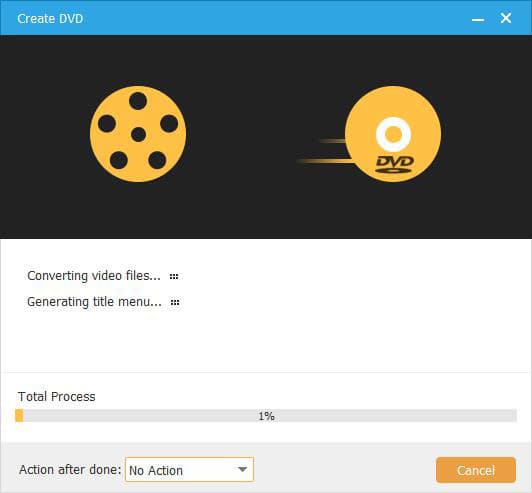 Part 2: Burn Video from iMovie to DVD with Finder
Finder is also capable to burn videos into DVD. If your iMovie video is finished, you can directly burn iMovie to DVD on Mac using Finder directly.
Step 1
Open Finder. Choose the iMovie file you want to burn into DVD. Then insert the blank DVD disc.
Step 2
Copy your iMovie file. Later, choose your DVD in the left pane of Finder.
Step 3
Paste it into the DVD interface.
Step 4
Click File on the top toolbar. Select Burn ** to Disc from the list.
Step 5
Enter the DVD name and select the DVD burning speed.
Step 6
Click Burn to start burning iMovie to DVD or CD.
All in all, you can burn iMovie to DVD on Windows and Mac with the above 2 programs. For beginners who want to get some creative templates, you can free download AnyMP4 DVD Creator to get the latest menu templates. The fast DVD burning speed, disc label, TV standard and many other details can help you make a DVD using iMovie project with better user experience.