4 Spectacular Ways to Convert FLV Videos to DVD Format
Perhaps, you are one of the billions of people who love to stream videos over the Internet. Be it Youtube, Hulu, Daily Motion, and so on. But, little did you know, for us to watch videos smoothly and without googling much data, most uploaders convert their footage in Flash Video or FLV format.
On the other side, there will be a situation where your internet connection is unavailable, and your FLV videos are waiting on the computer disk. Hence, the practical way to solve this is to convert your FLV to DVD format and play them on your TV screen. Don't go away, as we have provided how to make a DVD from an FLV file using ultra-secure offline and online programs.

Part 1. How to Burn FLV to DVD Offline
1. AnyMP4 DVD Creator
For FLV to DVD converters, hands down toAnyMP4 DVD Creator This offline program supports almost all the popular video formats like MTS, MP4, AVI, WMV, and FLV and helps you make them become DVD compatible. Not only that, if you want to burn your videos on a disc, you can customize a DVD menu for trouble-free navigation.
On the other hand, AnyMP4 DVD Creator is grafted with a superior burning speed and provides you an option to burn your files from low to high quality.
Below, we have provided easy-to-follow steps to turn your FLV files into DVD-compatible format.
Step 1
Install the FLV to DVD Converter
Installing the program on your device is the first thing you should do. Click the Free Download buttons below and after that, run the tool and follow the installation process.
Step 2
Import the FLV file
After launching the program, select the DVD Disc. Next, hit the Add Media File(s) button and select your FLV file from the computer folder. Set the Disc Type, Aspect Ratio, and Video Quality on the bottom of the interface according to your desire. Then, tick the Next button to proceed.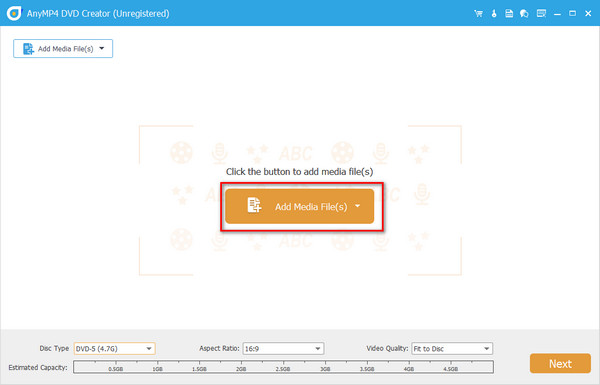 Step 3
Customize DVD Menu (Optiona
Now, the program will direct you to the interface where you can create a DVD menu. If you want to create one, feel free to check the available templates. On the other hand, untick the No Menu button if you want to skip this part. When done, hit the Burn button.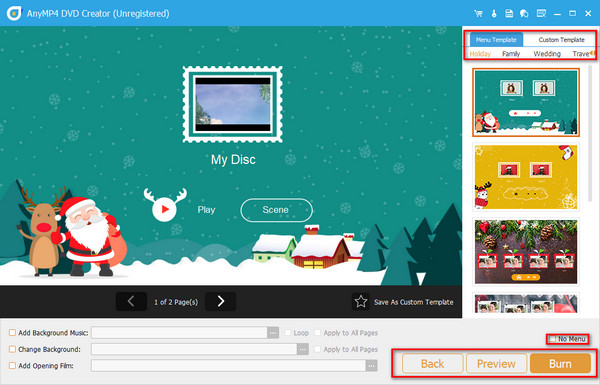 Step 4
Burning Process
Before burning the FLV files, select your TV standard, and mount the disc on your tray. When done, hit the Start button and wait for the finished output.
2. Leawo DVD Creator
Next on the FLV to DVD burners list is the Leawo DVD Creator. This offline program allows you to author in DVD 5 and DVD 9, depending on the need of your file. Moreover, it provides 40 templates, covering any occasion to customize a DVD menu. It contains a built-in video editor where you can trim, add watermark, rotate, lay a 3D effect on your file before burning them.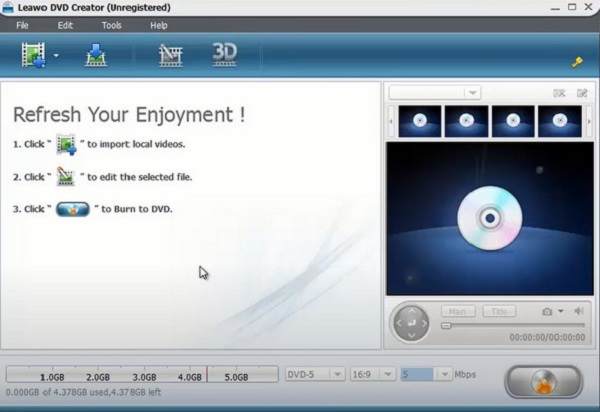 Provided below is how you can convert MOD to DVD using the tool:
Step 1
First, mount your disc on the DVD tray. As an important note, make sure that your file's size and the disk's capacity match.
Step 2
Next, click the Add Video on the center of the interface. Then, import your FLV file from the device's folder to the program.
Step 3
After importing the file, go to the Burn panel. From there, select the disc where you will be burning your files. Hit the Burn icon and wait for the final output when all is set.
3. Wondershare DVD Creator
Another tool with a drag and drop feature is the Wondershare DVD Creator. This offline program is compatible both on Windows and Mac platforms. What is more, it contains a utility box where you can rip your DVD files and create a DVD chapter. As for its built-in video editor, Wondershare DVD creator surpasses the other programs because you can enhance your footage by adjusting the brightness of your footage and the volume of your audio.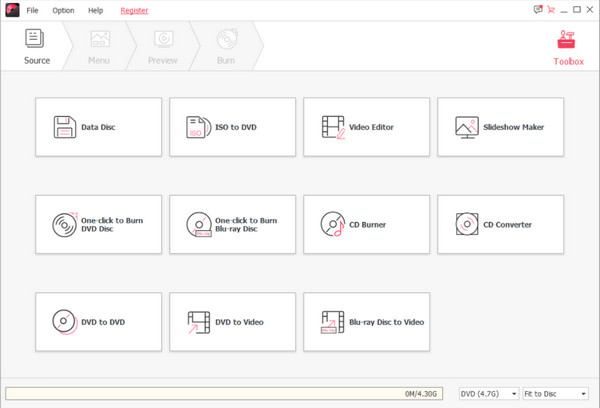 To burn your FLV files to DVD, refer to the guide we have created below.
Step 1
First, hit the Plus icon and upload your FLV video. To check if this is a success, you will see your videos in a thumbnail form in the Source panel of the program.
Step 2
Before the burning process, you can configure the DVD settings by changing the aspect ratio and customizing a DVD menu on the Menu panel. Also, in the same interface, you can edit your videos to better visual quality.
Step 3
Next, go to the Burn panel. On the setting, choose whether you want to burn the file to a DVD disc, save it as a DVD folder or as DVD media. When everything is ready, hit the Burn button.
Part 2. How to Convert FLV to DVD Online Free
Yes! To convert FLV to DVD online for free is possible. If you do not have sufficient storage space for your device, installing an offline program may not be for you. To amend this dilemma, here is a quick guide to doing it using the program none other than Zamzar.
Step 1
First, type the program's name on the search bar of your web engine. Then, press the Enter on your keyboard to load the tool's page.
Step 2
As you can see on the interface, there are 3 phases to follow. On the number 1 icon, hit the Add files button and upload the FLV file from your computer. Moving to the number 2 icon, drop down the Convert To" > Video Preset and select DVD. After that, on the number 3 icon, hit Convert Now.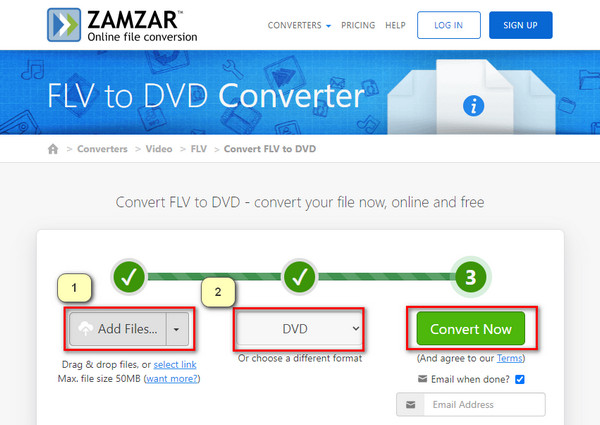 Step 3
After that, wait for the program to convert FLV to DVD. When the process is finished, hit the Download button to save the output on your device.
Further Reading:
[FREE] Top 5 DVD Creators - Burn MOV Files to DVD Easily
3 Easy Methods to Convert FLV to AVI on Desktop or Online
Part 3. FAQ on FLV to DVD Converters
What is an FLV file?
FLV or Flash Video is the most common format used for video streaming over the web. This format has a file extension of .flv and is known for its good quality with relatively small file size.
Can I convert an FLV video to DVD without a disc?
Definitely, yes! If you do not have a disc for burning, you can save your files as a DVD folder. Usually, the DVD folder contains subfolders called VIDEO_TS and AUDIO_TS.
How long will it take to burn a DVD?
The duration of the burning process always depends on your file's size. So, the bigger the file, the longer the burning process will take.
Conclusion
Burning FLV to DVD does not have to be confusing at all. Finally, you can be confident to do the task very straightforwardly. Although using an online program is pretty advisable, there will be situations where you will need to resort to an offline tool. For example, Zamzar only caters to files with a maximum of 50MB. On the other hand, with AnyMP4 DVD Creator, you can convert up to gigabytes. Plus, you can edit your video and customize a menu before burning them.