Backup Your DVD Files on Mac Using this Superb DVD Rippers
Treasures are meant to be kept forever. But do you know that there is a treasure that weighs more than money? Indeed nothing is as painful to see your captured memories deleted. If you ever become one of those who had a mini heart attack when your DVD failed to load because of scratches, worry no more as there is a sure fix to retrieve your files attached to it.
This is the right track if you do not know where to start. We will coach you to copy DVDs to the external hard drive on a Mac using these proven and tested tools for today's blog post.

Part 1. Best Way to Copy DVD to Mac
AnyMP4 DVD Copy
This desktop program has an ultra copying speed which saves you a tremendous amount of time. Unlike the other tools, AnyMP4 DVD Copy for Mac offers 3 modes that you can choose such as Full Copy, Main Movies, and Customized. But above all else, this tool extracts your DVD without losing the quality of your file. In that way, you can playback your videos on Mac and enjoy watching the way you do with a portable DVD player.
As for the program's free trial version, you can test the tool for 15 days and copy DVDs to a maximum of 3. Without further ado, let's try to copy the DVD to the Mac hard drive.
Step 1
Install the AnyMp4 DVD Copy on your device
Begin by clicking the Free Download button below. After saving the .dmg file of your device, run it and follow the installation process. After that, you should see the software launch on your desktop.
Step 2
Mount the DVD on the tray
To copy your data, insert the DVD on your tray. Expand the Source tab on the interface and choose the name of your respective disc.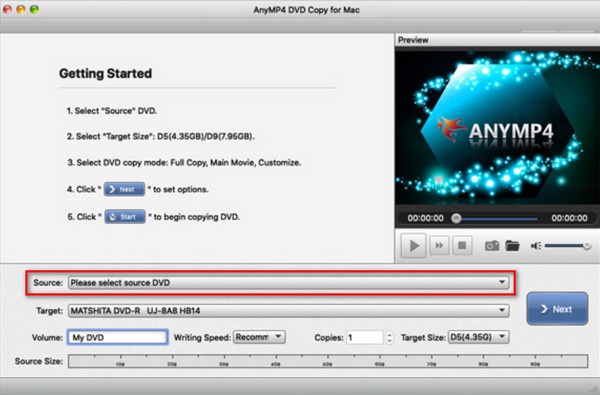 Step 3
As stated a while ago, you have three mode options. Select if you want a Full Copy, Main Movie, or Customize your DVD files. When done, click Next.
To give you a background, the Full Copy means that you will extract all the content of your DVD. Meanwhile, the Main Movie option will only take the movie and save it to the mac device. Lastly, when you tick the Customize option, you can freely select the files that you only need.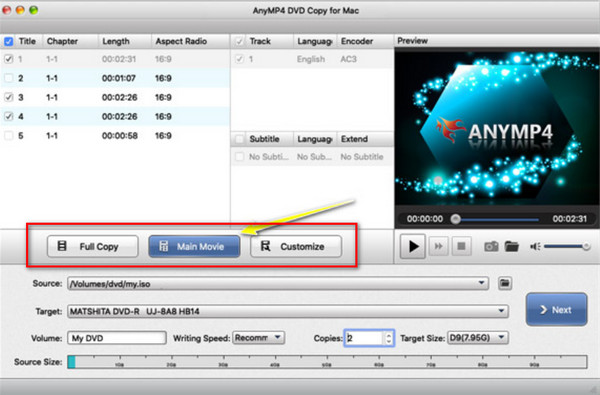 Step 4
On the Target drop-down list, choose if you want to save your file as disc, ISO or a folder. Also, check the Volume, Writing Speed, and Target Size. Once all is set, hit the Start button for the ripping cloning to begin.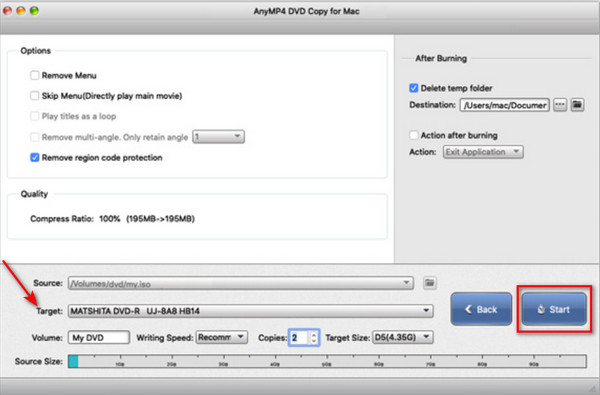 AnyMP4 DVD Ripper for Mac
On the other hand, after copying your DVD files on Mac, you might want to convert them to another format to be compatible with standard media players. Therefore, you need AnyMP4 DVD Ripper for Mac. Using this program, you can have your files turn into MOV, AVI, FLV, MKV, and more and set it either in the stand or high definition. Moreover, AnyMP4 DVD Ripper for Mac contains a built-in video editor to enhance your DVD. You should not worry about being left behind by the new features of the paid version of the tool, as it automatically updates as long as you are connected to the internet.
Below, here is a quick guide for ripping your DVD.
Step 1
Install AnyMP4 DVD Ripper for Mac
Install the program on your device by hitting the Free Buttons below or visiting their website. After launching the software, expand the Load DVD tab and choose Load DVD Disc.
Step 2
Choose Your Desired Format
After your files have been loaded on the program, go to the Profile menu. Make sure that the setting for the DVD is in Rip to Video/Audio for you to be able to convert your DVD to other formats.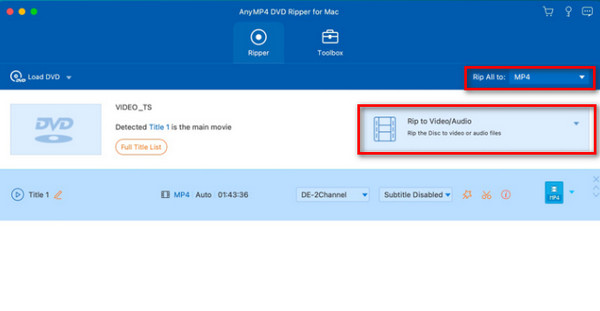 Step 3
Edit your video (Optional)
One great thing is you can enhance your videos before ripping them. Explore the icons that appear as a magic wand, scissor, and a paint palette. These icons correspond to specific video-enhancing features.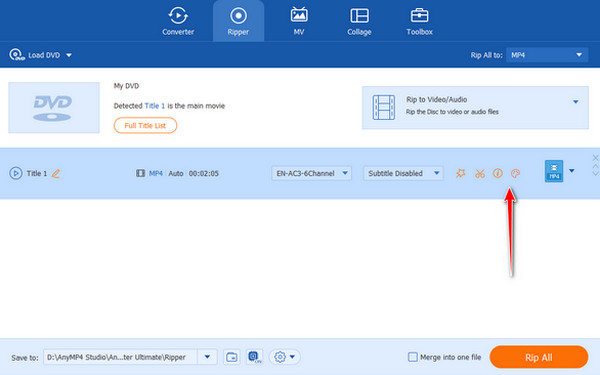 Step 4
When satisfied with your files, select your preferred output folder and hit the Rip All button.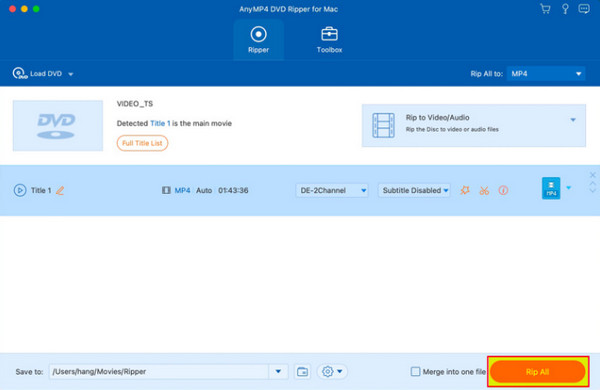 Part 2. Other Ways to Copy DVD on Mac
Handbrake
Next is the Handbrake. Not only for Mac devices, but this desktop program is also compatible with Windows and Linux. More than ripping your DVD data, most users depend on this tool for converting their video or audio files from their original file extension to other formats.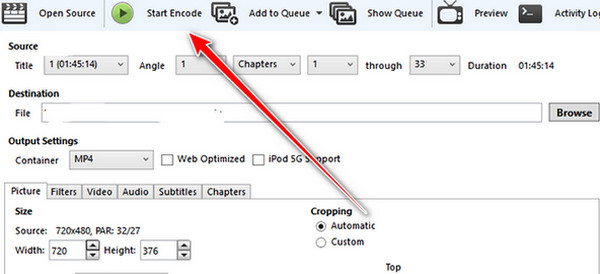 Below is how you should save DVDs to Mac using Handbrake.
Step 1
Begin by mounting your physical DVD on your computer tray. Launch the Handbrake on your device and go to the Source Selection. Choose the DVD you will be working on from the identified discs and folder list.
Step 2
After the program reads your DVD, select the ones that you want to rip or extract all the content. After adding them to the queue, modify the quality of your output based on your preference or simply select the available presets.
Step 3
Now, choose the file destination of your files. When you are all set, tick the Start Encode button and wait for the process to complete.
RipIt
If you are a newbie user, you might get confused with all of the data you have to deal with while ripping your file. Talking about the menus, subtitles, audio files, and other matters, all of these are simplified using RipIt. Not only for extracting files from the DVD, but this tool can also compress your files for some cases you want to save on iTunes or other devices like an iPhone or iPod.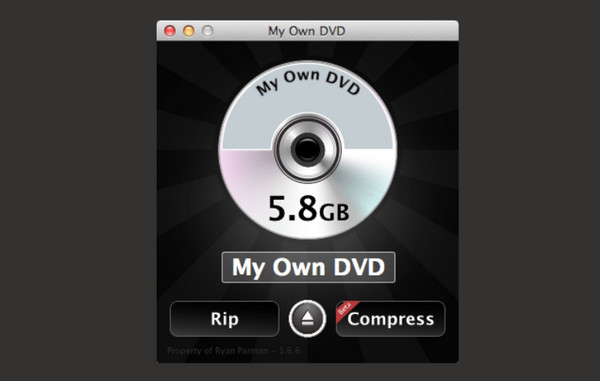 Below is how you should save DVDs to Mac using Handbrake.
Step 1
First, open the program on your Mac and insert your DVD file into the disc tray.
Step 2
When your disc is detected, hit the Rip button on the interface. On the other hand, select the Compress button if you want a smaller file size.
Step 3
Check from time to time until your output is finished. Usually, ripping DVDs takes about 30 minutes.
Further Reading:
Free DVD Cloner – 5 Best Methods to Copy a DVD with Ease
Latest Tutorial to Fix a Scratched DVD/Blu-ray Disc with Common Tools
Part 3. FAQs about Copying DVDs to Mac
What to do when the DVD files are not saved on Mac using Handbrake?
If this is the situation, you should check if your DVD is encrypted. On the other hand, you can try refreshing the tool by clicking the exit button and relaunching it.
Is it possible to Copy DVDs to Windows?
Definitely, yes! Not only on Mac devices, but it is also possible to transfer your DVD files to Windows.
Is it legal to rip DVDs sold in the market?
Absolutely, no. It is highly encouraged only to clone a DVD file. Sadly, there have been tons of malpractices where people rip copyrighted files such as movies and create multiple copies of them for profit. Be mindful that there are legal sanctions when proven guilty of this act.
Conclusion
All the best software to copy DVDs to a Mac hard drive is already in front of you. Indeed, the sales for DVDs are on a downslope, but the files saved on them have increasing importance as time passes.