iMovie to DVD Creator: The 4 Hot Picks for Mac Devices [100% Working]
Editing your footage on iMovie is undoubtedly fun and exciting. To add, this built-in program is offered on all Mac computers alone. On the flip side, you do not just want to let your works play on a small screen and the best solution for these is to burn them on a DVD. Heads up for this guidepost will introduce you to the simple yet best DVD burners for iMovie.
Part 1: 4 iMovie to DVD Creators for Mac
1. AnyMP4 DVD Creator
Pressing on, AnyMP4 DVD Creator is probably the best choice to burn iMovie to DVD, known for its fleet-footed authoring process. This DVD burner is compatible with Windows and Mac. It caters to more than 150 file video formats that you can back up on DVD, Blu-ray, or ISO folder.
Not to mention, this program is integrated with templates that you can use for making DVD menus. As a background, this is the first part that you will see when you read your disc on the player. On top of that, have your videos turn to the next level by enhancing them on the tool's video editor.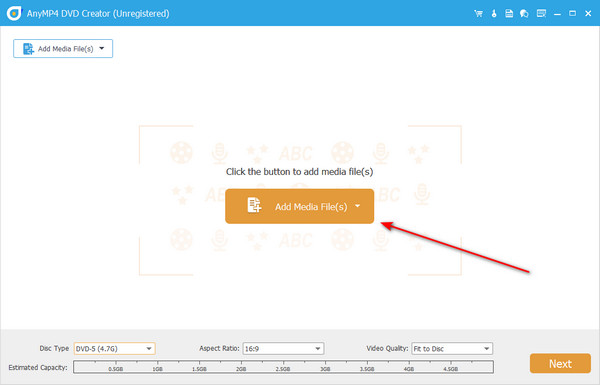 Pros:
1. Supports multiple file formats like MP4, MP3, FLV, and more
2. Offers DVD menu template at an extensive range
3. Fast burning speed
Cons:
Not compatible with Linux OS
2. Wondershare DVD Creator
With just a few clicks, have your iMovie videos saved on a DVD using Wondershare DVD Creator. This excellent tool possesses many features that make the authoring process enjoyable and lucrative. To mention some, burning music to CD is quick in just two feasible steps.
Additionally, you can produce a slideshow - not only a curated set of your photos, but you can also add a music file to make it more engaging. Lastly, Wondershare DVD Creator incorporates a built-in video editor and a DVD menu maker.
However, one of the downsides of the Mac version of Wondershare DVD Creator is that it does not support Blu-ray files for burning.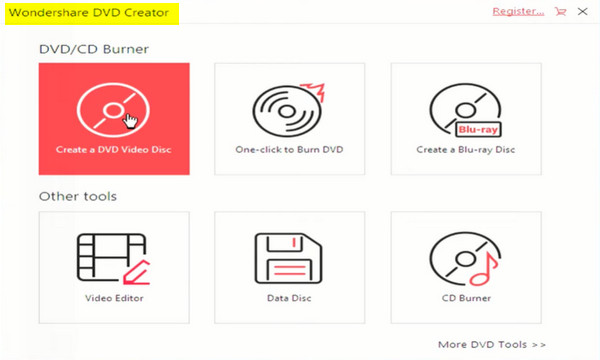 Pros:
1. Supported in Max OS X 10.7
2. Supports more than 100+ video file formats
Cons:
Bluray is not supported on Mac version
3. Toast 20Titanium
Toast 20 Titanium by Roxio can clone various media formats like audio, videos, photos, and disc images into DVD. Besides that, this product is purchasable in different languages like English, French, Ferman, and Japanese. Yes! No one likes to see their files deleted or corrupted. Interestingly, securing your files with a password is entirely possible with Toast.
On the other hand, burning files using a Blu-ray disc is your advantage when you take the Pro version of the program. Nonetheless, you can also deliver a fancy DVD menu suited for whatever the occasion demands.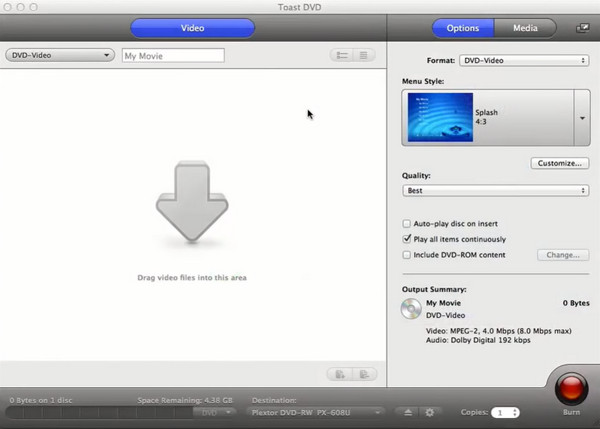 Pros:
1. 30-day money-back guarantee
2. Drag and drop feature
Cons:
Not compatible with macOS 10.13 and earlier
4. LiquidCD
Most of the time, beginners dread a program they do not have the mastery of using.
Thankfully, LiquidCD is one of the iMovie to DVD burners without complication. Above all else, this program is entirely free and compatible with Windows, Linux, and Mac platforms.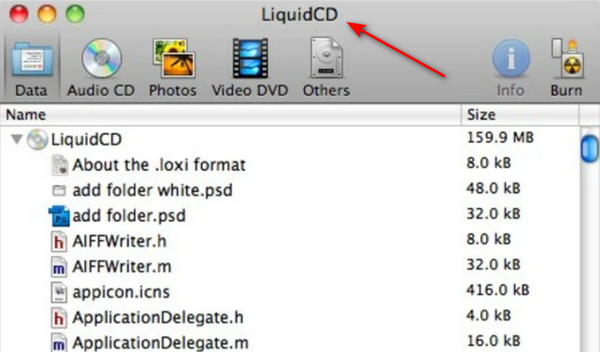 Pros:
1. Simple interface
2. Free of charge
Cons:
1. Limited features
2. Receives some reports about bug issues
Part 2: Comparison Table of the iMovie to DVD Burner
Below is the comparison table we have created to see the overall picture f the similarities and differences of the iMovie to DVD burners. In this way, you will find it easier to decide which one you will pick.
| | AnyMP4 DVD Creator | Wondershare DVD Creator | Toast 20 Titanium | LiquidCD |
| --- | --- | --- | --- | --- |
| Lossless quality output | √ | √ | √ | QUITE |
| Suitable users | Beginner- Pro | Intermediate - Pro | Beginner - Pro | Beginner |
| Pricing | $59.99 | $79.99 | $89.99 | Free |
| Customer support | ACTIVE | ACTIVE | ACTIVE | N/A |
| Money-back guarantee | 30-day Money-back guarantee | 7-day Money-back guarantee | Not found | N/A |
| Compatible OS | Windows and Mac | Windows and Mac | Windows and Mac | Windows, Mac, and Linux |
| Burning Speed | 50XFASTER | FAST | FAST | FAST |
Part 3. How to Burn iMovie Video to DVD on Mac
Now, here is a tutorial on how you can burn iMovie to DVD using AnyMP4 DVD Creator. Cutting all the chases, let's get into it.
Step 1
Download the best iMovie to DVD burner
To launch the program, tick first the Free Download button below for your device. Then, run the program and follow the installation process.
Step 2
Load files to the program
Now that the program has been launched, you will be asked about the disc type. To answer, choose the DVD Disc. Next, import the iMovie video that you want to burn by hitting the Add Media File/s button. Alternatively, use the drag and drop function.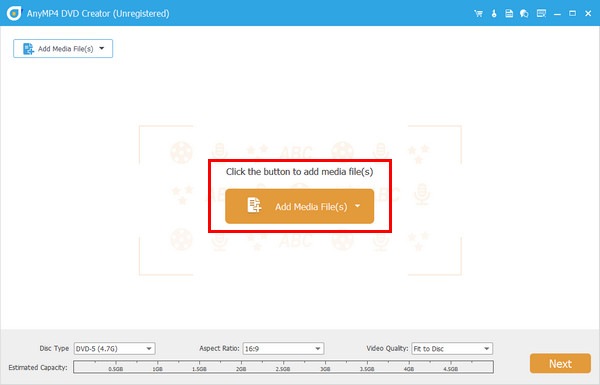 Step 3
Change the DVD settings
Before proceeding to the Next button, check the following options on the bottom portion of the interface.
Disc Type - If your disc has a 4.7GB capacity, tick DVD 5 but choose DVD 9 if your disc is 8.5GB.
Aspect Ratio - select your preferences either in16:9 or 4.3. Aspect ratio refers to the height and width of your video.
Video Quality - here, the options range from low to high. But you can stick to the Fit to Disc option.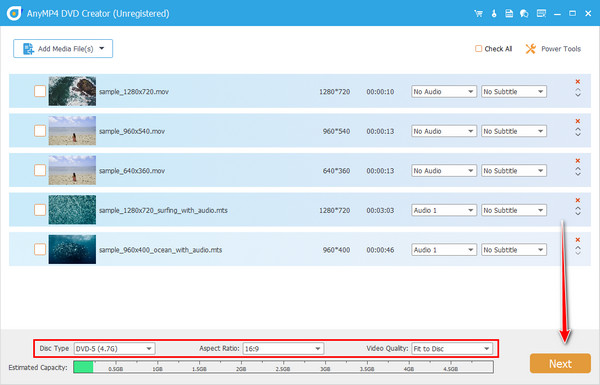 Step 4
Customize a DVD menu
Christmas, birthday, holidays, and summer? Whatever your file consists of, you can match its theme with your DVD menu. Choose your template or upload your personal picture. Additionally, add some mellow or happy background music. When done, hit the Burn button. To skip this part, check the No menu.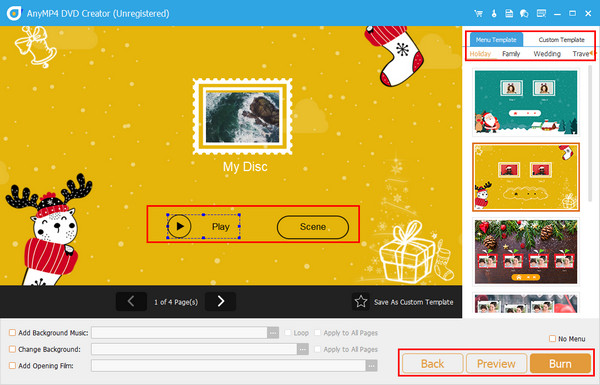 Step 5
Start iMovie to DVD burning
Ultimately, to start the DVD burning, insert your disc on the tray and wait for its detection. Then, change your TV Standard, Burn Engine, and Playback Mode. When you hit the Start button, wait for a while, and you are done.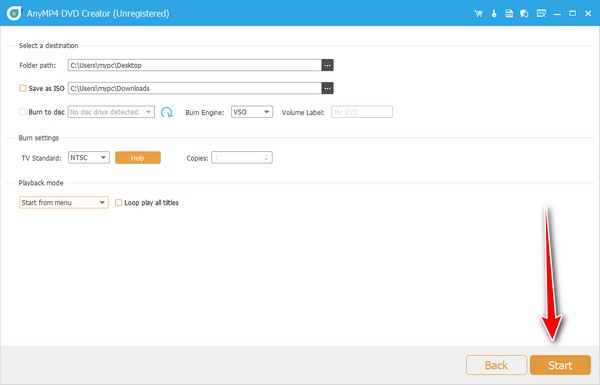 Part 4: FAQs about DVD Buring on Mac
How can I burn DVD without an optical drive?
Most advanced and modern laptops do not have a built-in optical drive as time passes by. However, for you to burn your iMovie files on DVD, you will still need an optical drive, but an external one.
Can I burn iMovies video on Windows?
Definitely, yes! After rendering your edited footage on iMovie, you can transfer them to a Windows device and burn it to DVD on the installed DVD burner.
What is the alternative for iMovie in Windows?
Unfortunately, iMovie is only available for Mac devices. However, if you want to have an alternative video-editing tool for your Windows, resort to using Windows Movie Maker.
Conclusion
And that's it. These are the best iMovie to DVD creators for Mac and windows. The best about these tools is they do not require a third-party app. However, if you opt for the lossless quality and fast burning speed, AnyMP4 DVD Creator is what we highly recommend.