Extensive Review of 5 Leading DVD Duplicators
DVD copier software is essential for data preservation and personalized DVD copies. It serves every user in duplicating their DVDs while maintaining quality and content. But, not all available tools online can make high-definition copies or backups. Due to that, we have compiled a list of the best DVD copy software in this comprehensive review. Look no further for a reliable DVD duplicator to copy your favorite collection.

Part 1. What is A DVD Copy?
A DVD copy is a process of duplicating the content found on DVDs. When you continue to use your DVDs, they are prone to damage, pick up dust, and tiny scratches, which lead them to fail. At times, you can misplace or, worse, lose them. So, it is important to keep a backup of your DVDs by copying them. Whether for entertainment, archival, or professional purposes, DVD copying is indeed helpful.
Now if you want to turn your DVD into a digital file to save it on your computer, or copy them in a blank CD/DVD, continue reading this post.
Part 2. Top 5 DVD Copy Software
There are tons of software for DVD duplication that you can find on the internet. In this section, take a look at some of the best DVD copy software you can use.
1. AnyMP4 DVD Copy
AnyMP4 DVD Copy stands out as one of the best DVD copy software available. It offers a comprehensive set of features to meet various DVD copying needs. The tool allows you to create lossless 1:1 copies of your DVDs effortlessly. At the same time, it maintains your DVD's original quality and content. It also supports various DVD formats, such as DVD-5, DVD-9, DVD-R, DVD+R, and more. You can also select from different copy mode options: Full Copy, Main Movie, and Customize. You can clone the DVD video in Full Copy, including credits, advertisements, and more. If you want to simply copy the main movie titles, you can use the Main Movie option. Finally, if you want to personally pick certain clips you want to copy, choose the Customize option. Furthermore, you can select specific audio tracks and subtitles and remove unwanted content. Last but not least, whether you're a pro or a beginner, you can use it because of its straightforward interface.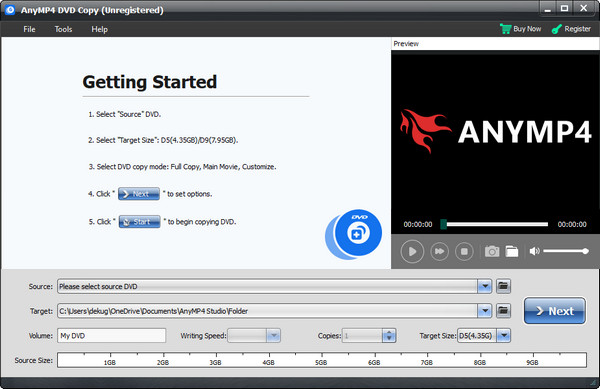 2. WinX DVD Copy Pro
WinX DVD Copy Pro is a reliable copying DVD tool that provides standard duplicating options. Using it, you can create identical DVD copies in less than an hour. You can customize the copying process based on your preferences and requirements. As a result, users looking for a quick and easy DVD duplication solution often prefer it. However, the tool is missing an important feature that is to compress it into a smaller-sized disc which hinders the success of copying it. Aside from that, it uses a lot of system resources.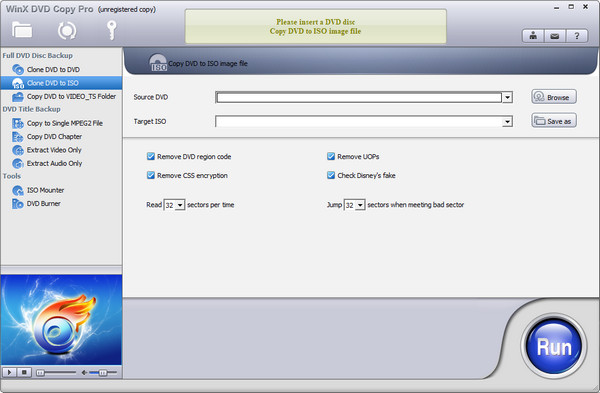 3. DVDFab DVD Copy
DVDFab DVD Copy is part of DVDFab's all-in-one software, which offers free and paid versions. Both versions support full disc copy and main movie copy. They also feature a third-party burning engine and lossless backup to DVD9. DVDFab is a reliable DVD copy software for homemade and copyrighted DVDs. The software receives regular updates to incorporate support for new Java protections.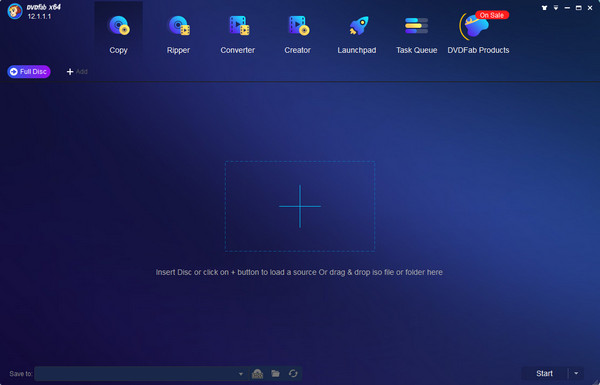 4. BurnAware
BurnAware is a DVD burning and copying software for CDs, DVDs, and Blu-rays. Users can write various content types, like digital photos, archives, documents, and more. Additionally, it offers disc-to-disc copying, erasing rewritable discs, and data verification. Yet, some first-time users may find navigating the interface confusing. Despite this, users can use its features once they become familiar with the software.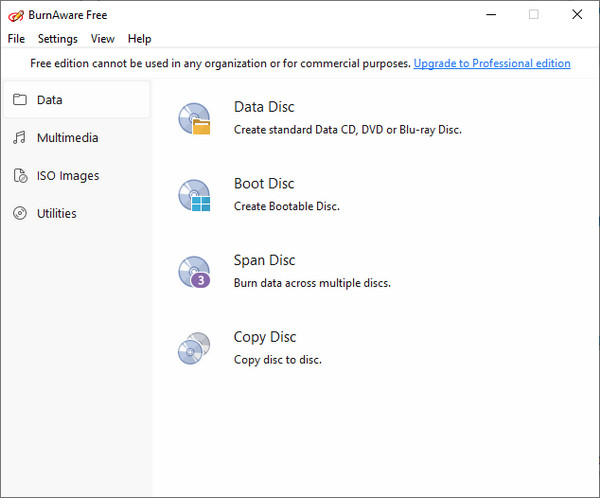 5. DVD Cloner
DVD Cloner is a software that has been providing DVD duplication services for a long time. The tool has a fast and precise DVD cloning feature. You can also choose from Express and Expert modes. That way, you will have a better view and usage of the software. Although DVD Cloner makes duplicating quick and easy, for occasional users, the price of it may be a bit high.
Part 3. How to Copy DVD to Computer/Flash Drive
If you're searching for how to copy a DVD to a flash drive or computer, AnyMP4 DVD Copy is the best choice. The tool also can copy and save DVDs to PC/Mac, DVDs to DVD, DVDs to USB, and many more. Follow the steps below to learn how to duplicate DVDs to your computer or flash drive easily.
Step 1
Download the DVD Copy software on your Mac or Windows operating system. Then, launch the tool after the installation process.
Step 2
Afterward, insert the DVD you want to copy into your computer's DVD drive. Then, select the Source DVD from the drop-down list. Pick a destination folder or flash drive to save the copied DVD. And choose Next.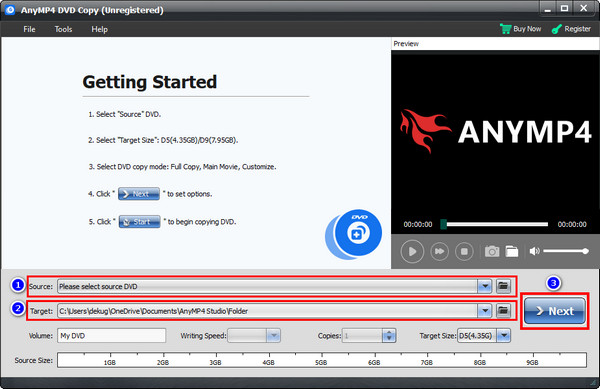 Step 3
Next, choose the copy mode from Full Copy, Main Movie, and Customize. If you select Customize, you can edit the audio tracks, subtitles, or remove unwanted content. After that, click the Next button.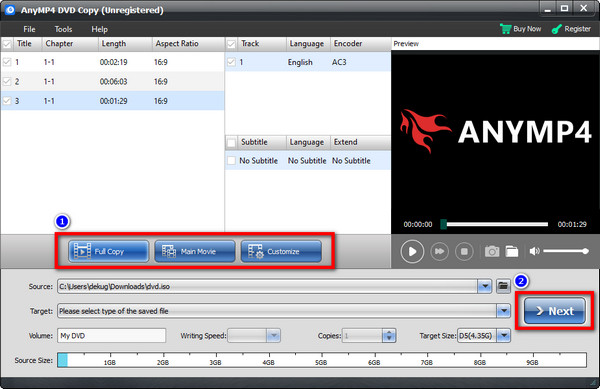 Step 4
Now, skip or remove the menu to play the main movie. Finally, tick the Start button to go ahead with the copying process. Once complete, eject the source DVD from your computer's DVD drive. And access the copied files in the destination folder or flash drive.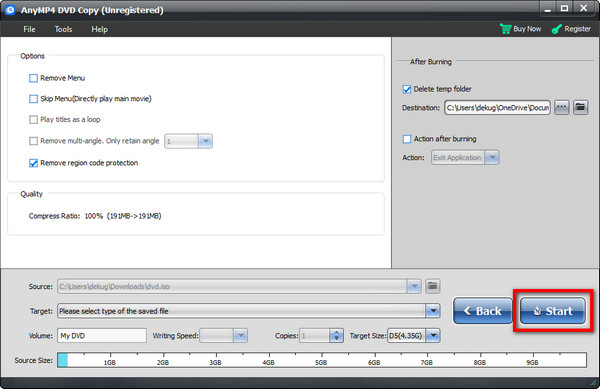 Part 4. FAQs About DVD Copy Software
Can DVDs be copied to a computer?
Yes, you can. Most of the Blu-ray discs today are capable of holding 4K videos. However, there are still some things to consider when doing so, such as the Blu-ray compatibility, capacity, and encoding to support 4K.
What does it mean to remaster a DVD?
To remaster a DVD means to enhance the quality of the video and audio of the original DVD. This process involves re-encoding the content at a higher resolution or bitrate. Then, improving color and contrast and enhancing audio fidelity. Remastering improves the viewing experience beyond the standard DVD version.
How many times can you rewrite a DVD?
The number of times you can rewrite a DVD depends on the type of DVD and its format. DVD-RW discs are erasable and can be rewritten up to a thousand times. At the same time, DVD+RW discs have a similar reusability lifespan.
Is DVD now obsolete?
No. DVDs became less popular due to digital streaming services and downloadable content. So, it is not completely obsolete.
Can you erase a DVD and reuse it?
Yes, you can erase a DVD if it is a rewritable disc (DVD-RW or DVD+RW) and reuse it. But DVD-R (DVD-Recordable) discs are non-erasable and can only be written to once. So, DVD-RW and DVD+RW discs can be erased using DVD-burning software. Then, it can be rewritten with new data or content.
Conclusion
By now, you have learned the 5 best software for DVD copy. It can be challenging to pick from the tons of software available today. Aside from that, it is vital to choose a reliable tool to help you backup or copy your DVD hassle-free. And so, we recommend AnyMP4 DVD Copy for those looking for a perfect and easy-to-use tool. The software indeed excels when it comes to copying or cloning DVDs on Windows or Mac operating systems.