6 Excellent DVD Menu Creators You Can Rely On [2023 Updated]
As technology advances, we cannot deny that there are already modern storage devices to preserve your beloved photos and videos. However, if you plug a flash drive or an external hard drive to play your clips on the TV, you will only see a plain list of names with a file extension at the end. With this in mind, you might probably miss the old days when you visualize a fancy menu after inserting your disc on the player.
Nostalgic right? So, here is a piece of good news for you. Even today, there are still programs if you want to burn your videos into a DVD and customize a menu template to make it more interactive and personal. In this blog post, we will be uncovering the six professional DVD menu makers that you may want to try after reading.

Part 1. 6 DVD Menu Creators For Desktop
1. AnyMP4 DVD Creator
User-friendly, ultra-fast, and versatile is what AnyMP4 DVD Creator is known for. This offline program is designed for Windows and Mac platforms, making DVD burning possible. Moreover, it supports almost any video format and converts them to either DVD, Blu-ray, or an ISO file with lossless quality. Above all else, what is promising with this tool is that it contains a built-in video editor and a DVD menu creator.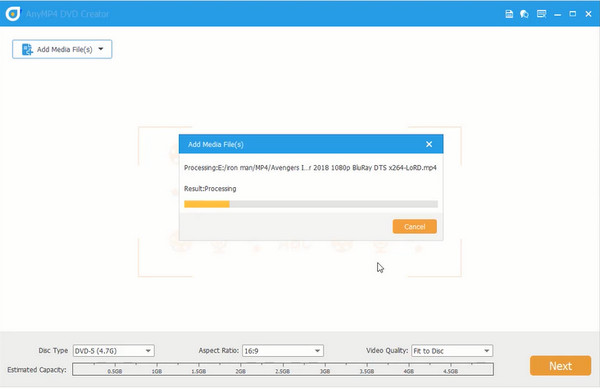 Pros:
1. Numerous templates for the DVD menu is available
2. Beginner-friendly
3. Fast burning speed
Cons:
Exclusive features are not present in the free trial.
2. iSkysoft DVD Creator
iSkysoft DVD Creator is a powerful program to author videos into DVD or ISO files. What is more, it is also one of the online programs that contain a built-in DVD menu creator to step up the game for your DVD files. In the free trial version of iSkysoft, you can have three free templates to choose from, while 123 templates are available in the paid version of the software. Lastly, with iSkysoft, you can also create a video slideshow for your pictures and add background music to it.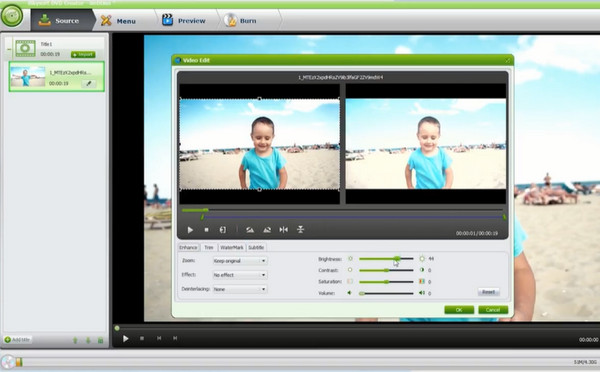 Pros:
1. Compatible with Windows and Mac platforms
2. It contains a photo slideshow maker
Cons:
1. It contains a photo slideshow maker
2. Unwanted freeze or crashes while using the program.
3. WinXDVD
When it comes to fast burning speed and feature-packed authoring programs, WinXDVD is here. In fact, if you have a 4.3 GB file, the estimated DVD authoring it will take will be in just an hour. Through this offline program, you can also customize a DVD menu. One more thing is that it supports changing the aspect ratio of your files if you have a specific screen to play your DVD files on. But more importantly, WinXDVD is entirely free of charge.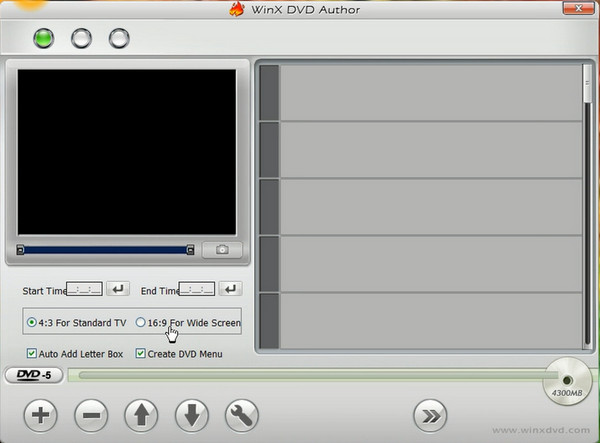 Pros:
1. The speed in burning is fast
2. Blu-ray authoring is only supported in Windows
Cons:
Outdated looking interface
4. Cisdem DVD Burner
Suppose your device is Mac operated and you are looking for a DVD burner that contains a menu maker. In that case, you can go for the Cisdem DVD Burner. Some notable features you can encounter are: adding your watermarks for your video files, subtitles, video cropping, and rotation. Above all, Cisdem Video Burner contains an abundance of sophisticated templates for your DVD menu.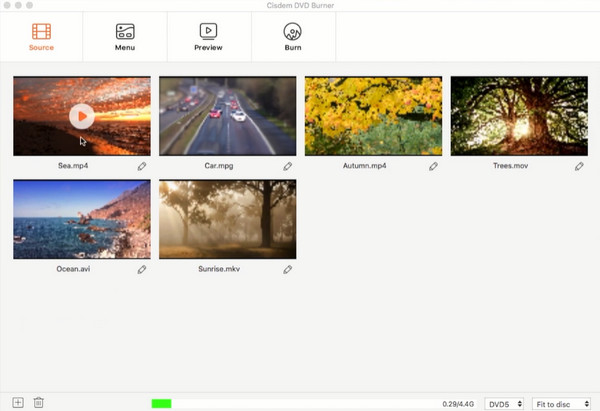 Pros:
1. Contains a drag and drop feature
2. Contains a drag and drop feature
Cons:
Only compatible in macOS 10.12 and earlier versions
5. Wondershare Simple DVD Creator
If you want to have an easy-to-use program to author DVDs, Wondershare is one of the top picks you can consider. Wondershare Simple DVD Creator supports 150 video formats to convert and burn into DVD, ISO files, and Blu-ray. Additionally, this program offers a hundred static or dynamic templates for your DVD menu. Therefore, whether your DVD files contain a collection of mundane clips or special ones, you indeed have a template to choose from that matches it.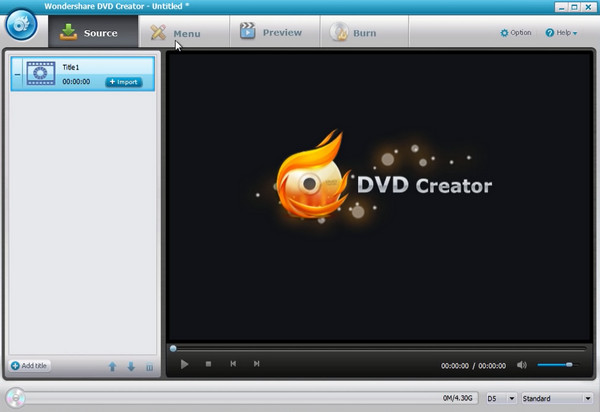 Pros:
1. Intuitive interface
2. Compatible for Mac and Windows platforms
Cons:
Blu-ray Disc only supported in Windows OS
6. DVDStyler
Although DVDStyler is considered open-source and free, this tool is also a rival to many DVD authoring programs in the market. Besides that, it supports popular video formats such as MPEG, MP4, AVI, MOV and converts them to DVD. With DVDStyler, you can create a customized menu for your files.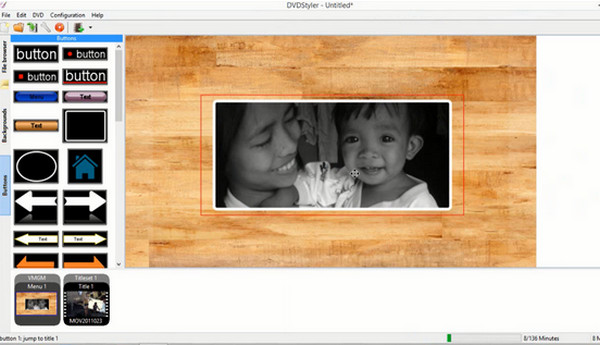 Pros:
1. Contains a drag and drop feature
2. This tool is free of charge
Cons:
Templates for the DVD menu looks out-of-date
Bonus: How To Make a DVD Menu
Now that you know the best DVD burners with a built-in DVD menu creator, we won't allow you to know them without merely teaching you how to use them. This part will uncover how you can create a professional-looking menu and chapters using AnyMP4 DVD Creator.
Step 1
Install the program
But first, you will not be able to create a DVD menu without installing a program first. Click the free buttons below to download AnyMP4 DVD Creator on your device. Then, you run the file and follow the installation process.
Step 2
Edit the Technicals
After that, hit the DVD Disc as your disc type when the program opens. Then hit the Add Media button to import your video files to burn. Make sure that the files are longer than 5 seconds, or else you will fail to add your files. Moreover, change the settings such as the Disc Type, Aspect Ratio, and Video Quality along the bottom of the interface.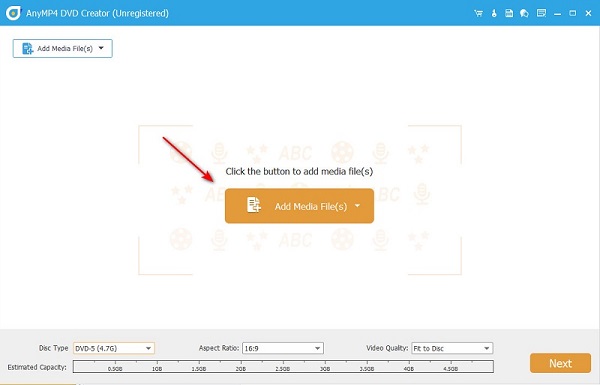 Step 3
Customize Your Menu
After that, hit the Next button to proceed in the best and most exciting part- the DVD menu making. As you can see, you can use tons of templates, or if you want to upload a new background image, you may do so. Move the buttons to wherever you want them in the working panel and rename the My Disc to your preferred title.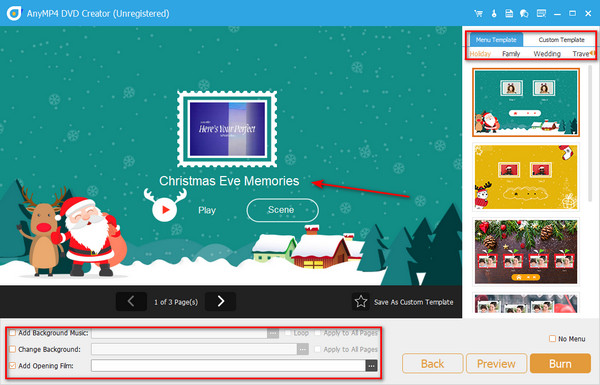 Step 4
Check the Output
Lastly, hit the Preview button and check if your work is satisfactory. When done, proceed to Burn.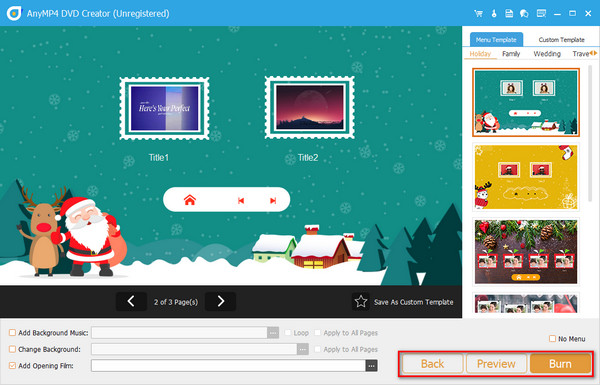 Part 2. FAQS About DVD Menu Makers
Can I rip the DVD menu along with the DVD files?
Yes, DVD rippers can extract the DVD menu. However, it will be no use to get the menu if you want to save your DVD files on a different storage device like a flash drive. By doing this, you will not navigate the chapter and move to the file you want to play.
What is the advantage of having a DVD menu?
Aside from the aesthetic value of customizing a DVD menu, one of the significant advantages you get from it is the quick navigation experience.
Can I insert a soundtrack for my DVD menu?
Definitely, yes! If you want to insert a soundtrack for your DVD menu, you must put them during your editing process.
Conclusion
We believe that you are ready to try on one of the best DVD menu makers by this time. Indeed, nothing is as good as when we can have the opportunity to revisit the beautiful things in the past, and thanks to DVDs which are ready to back us up.