Best 7 Ways to Fix a Scratched DVD or Blu-ray Disc
Due to the improper preservation or frequent use, you can find that the DVD or Blu-ray disc is not playable. A scratched DVD, CD or Blu-ray disc has the lower quality than before. Well, don't worry about that.
Before you buy the same disc, you can take measures below to fix a scratched DVD or Blu-ray. These are possible ways that can remove scratches from your disc. What's more, don't forget to make a digital copy of your DVD collection, especially for those rare and old DVD or Blu-ray discs. Now, let's see how to remove scratches from DVD or Blu-ray together.

Part 1: Check Whether Your Scratched DVD or Blu-ray Disc Is Repairable
Not all scratched DVDs are repairable. To save time on meaningless attempts, you can have a small test to access the damage. Just hold the disc up in the sunlight. If you can see the sunlight shine through scratch directly, then the scratched DVD or Blu-ray disc seems to be unrepairable. You had better buy a new disk. If your disc is scratched in circle, then it is also a badly scratched DVD or Blu-ray disc. In a word, it is hard to fix a badly scratched DVD with small tricks.
If there are just small scratches on the surface, the success rate of scratched disc repairing will be high. In addition, if most of your recently-played discs are scratched, you need to check the DVD/Blu-ray player or drive too.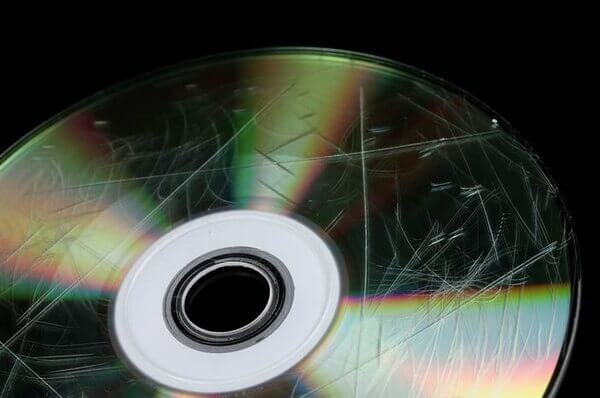 Part 2: How to Fix a Scratched DVD or Blu-ray (7 Ways)
To start with, you can use a soft, clean and slightly damp cloth to clean a scratched DVD. After cleaning a DVD full of dirt, oil and finger marks, you can fix a scratched disc with the following materials.
Way 1: Use Toothpaste to Fix DVD/Blu-ray Scratches
Prepare a toothpaste without abrasive particles or gels. Otherwise, there will be new scratches on your DVD. Squeeze toothpaste on the disc. Later, use a soft cloth to polish off the scratches. You can clean DVD disc from the center to the outer edge in a straight. Dry the disc. Make sure there is not toothpaste or water left on your DVD or Blu-ray disc.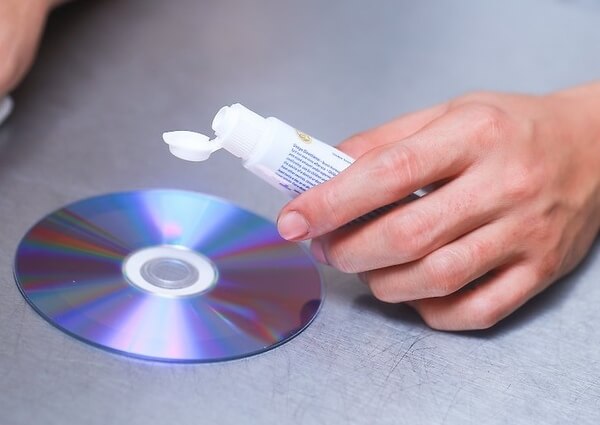 Way 2: Use Banana to Polish the Disc
Banana can be your DVD scratch remover too. You can polish the DVD disc with banana to remove scratches. Just spirally and gently rub your scratched disc with banana for about 60 seconds. Later, you can clean and try the disc to see if your scratched DVD is fixed or not.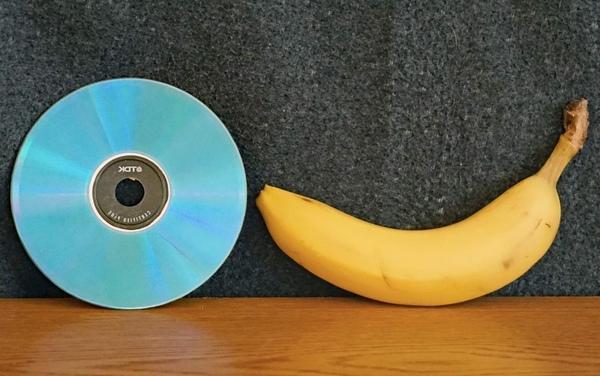 Way 3: Use Wax Furniture Polish to Remove Scratches from DVD/Blu-ray
You can repair scratched DVD or Blu-ray disc by using wax furniture polish. Moreover, you had better prepare a jewelry polish soft cloth to prevent extra scratches. Rub the scratched DVD disc with furniture polish. As a result, the DVD scratches will be filled. You can clean a disc with scratches through the similar products.
This way also works when VLC does not play DVD files on computer.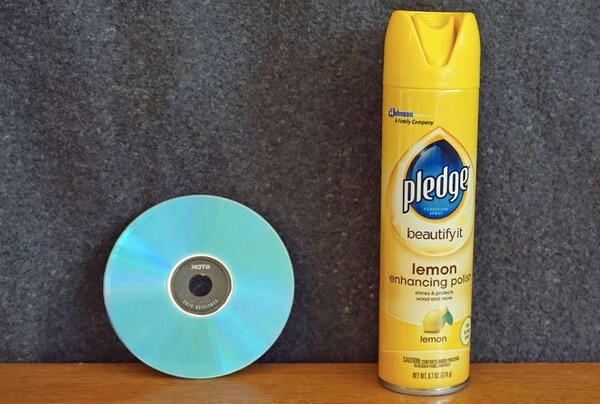 Way 4: Use Disc Repair Kits to Fix Gently Scratched Discs
You can buy DVD or Blu-ray disc repair kits from online or local stores. Then follow the guide or tutorial video to remove scratches, dust, fingerprints and other damages from the surface of your DVD or Blu-ray disc.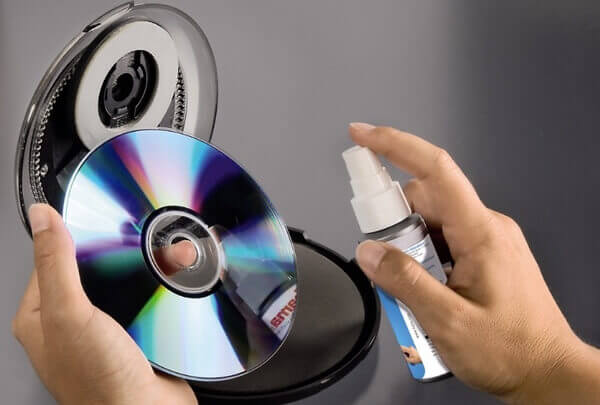 Way 5: Use Creamy Peanut Butter to Smooth Out DVD/Blu-ray Scratches
Because of its unique oiliness and stickiness, you can use repair a scratched Blu-ray or DVD. As a result, some gaps left from scratching will be filled. After wiping clean the disc, you can check if you can fix a skipping DVD, Blu-ray or CD.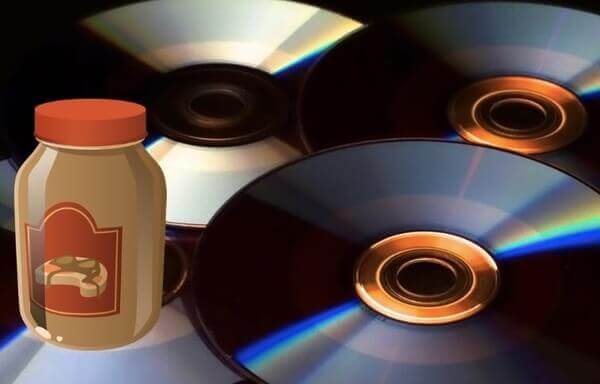 Way 6: Use Magic Eraser
Magic eraser plays an important role in household cleaning. You can wet the magic eraser, and then rub over the reflective surface with the dry magic eraser lightly. Some disc scratches can be smoothed without affecting the underneath data. What's more, you can use magic eraser to clean the surface of your phone, computer and other objects.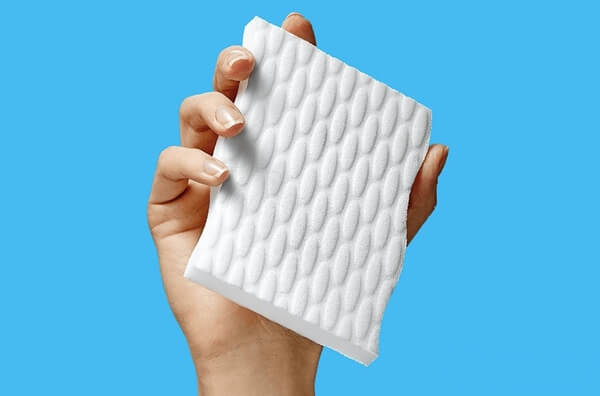 Way 7: Use Vaseline or Petroleum Jelly
You can also get scratches off a CD, DVD or Blu-ray by covering Vaseline or other similar CD/DVD/Blu-ray scratch removers. Remember not to rub the surface of the disc too thick. To totally remove Vaseline and other smudges, you can use alcohol to repair and clean your disc. It can be your best way to clean a disc.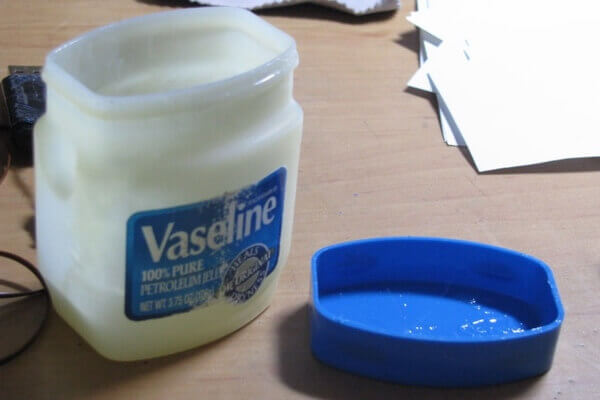 Part 3: Make a DVD/Blu-ray Copy in Case of Scratches and Other Damages
If you don't want to suffer from the risks of losing DVD or Blu-ray data again, you had better backup DVD/Blu-ray content to a new disc or your computer. Moreover, you can also upload the digitalized content to cloud service. Thus, next time your disc is extremely scratched or broken, you can still watch DVD/Blu-ray movies.
Copy Blu-ray to Digital Files with Free Blu-ray Copy
You can quickly copy Blu-ray to Blu-ray disc/folder and ISO files by using Free Blu-ray Copy. The Blu-ray copy freeware is capable to copy Blu-ray main movie or full disc smartly. Almost all popular Blu-ray discs are supported. You can backup Blu-ray to local disk or external hard drive without quality loss. It is really recommended to copy Blu-ray after removing scratches from a Blu-ray disc.
1. Copy Blu-ray disc/folder to Blu-ray disc/folder or ISO image file in 1:1 original quality.
2. Choose the Blu-ray copy mode from Main Movie or Full Disc.
3. Support Blu-ray in both NTSC and PAL formats.
4. Fully compatible with all popular Blu-ray discs.
Step 1
Free download, install and launch Free Blu-ray Copy. Insert your Blu-ray disc into your computer and make sure it is detected.
Step 2
Unfold the Source list. Choose your Blu-ray drive's name. Later, the program will load Blu-ray movies.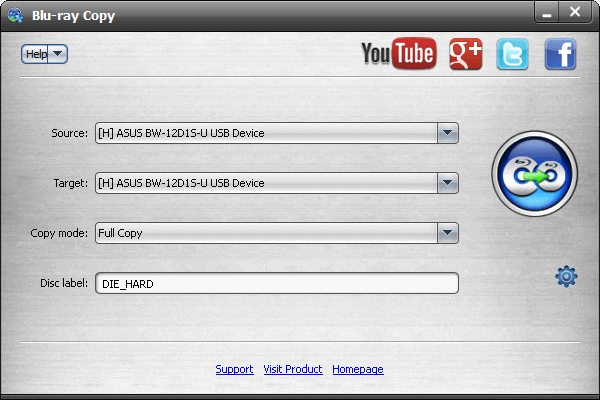 Step 3
Choose the Blu-ray folder or Blu-ray ISO image file as the Target store type.
Copy Blu-ray to hard drive

Copy Blu-ray to ISO files
Step 4
Choose Blu-ray Copy mode from Full Copy or Main Movie. Later, set the name of your Blu-ray disc in the Disc label section.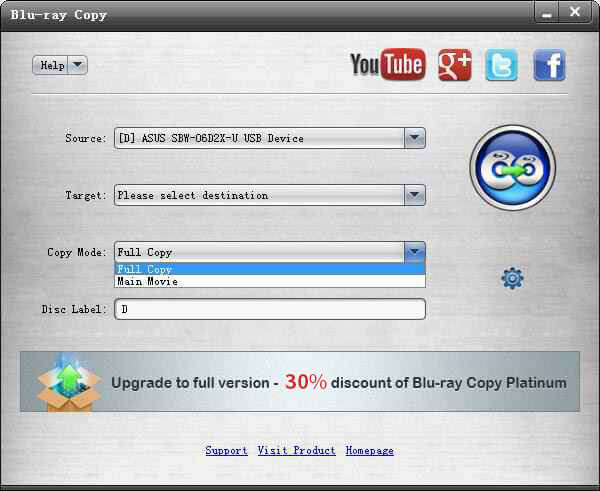 Step 5
Click the gear Settings icon. You can adjust Blu-ray copying preferences here.
Step 6
Click Start to start backing up your Blu-ray collection. Then click OK to exit the Blu-ray copying process.
Copy DVD to Hard Drive for Backup with AnyMP4 DVD Copy
Then how about making a digital copy of your DVD discs? During this time, you can use AnyMP4 DVD Copy to backup DVD content to DVD ISO file, DVD folder, blank DVD or local hard disk. There are 3 DVD copying modes that can fully meet your needs. Moreover, you can customize output settings and other details within the DVD copying software. Removing scratches from DVD discs is not the final step. If you want to keep your DVD content safe, you need to make a copy on other storage devices.
1. Copy DVD disc/folder/ISO image files to DVD with high quality.
2. Perform 200% high copying speed.
3. Copy the entire DVD, main DVD movie or custom content based on your need.
4. Select the audio track, subtitle, intro, trailer, AD, menu and other specific settings before copying DVD.
5. Compatible with DVD + -R/RW, DVD-RAM, most DVD players and burners, etc.
Step 1
Run AnyMP4 DVD Copy. Insert the DVD disc into the same computer. You can put a blank DVD disc as the target device if necessary.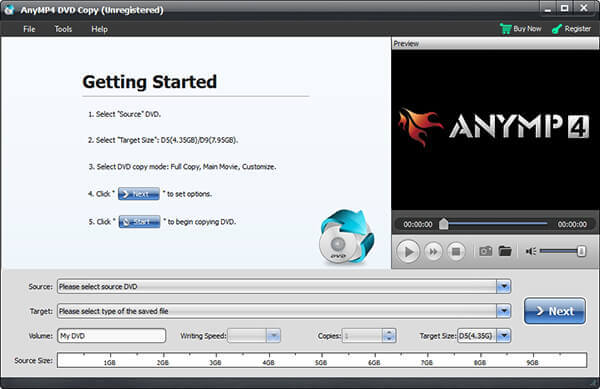 Step 2
All DVD videos will show in the main interface immediately. Set the DVD copying mode from Full Copy, Main Movie or Customize.

Step 3
Specify Volume, Writing Speed, Copies, Target Size and other details. Click Next to copy your DVD collection.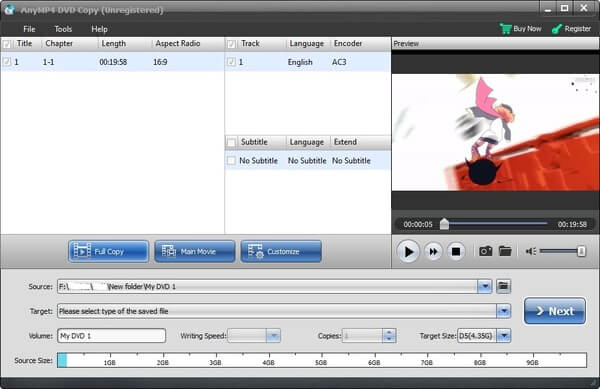 Can you fix a scratched DVD and Blu-ray with the above repairing tips? If not, you may need to buy a new copy or try the DVD/Blu-ray repair service. No matter your disc is scratched or not, it is a good habit to make a copy of your DVD and Blu-ray discs. Of course, those DVD and Blu-ray copies are available for personal use only.
Part 4: FAQs of Fixing DVD/Blu-ray Scratches
1. Are Blu-rays harder to scratch?
Yes. Blu-ray discs can resist more scratches and fingerprints than DVDs. That's because the disc surface applies a TDK hard coat.
2. Can you use alcohol to clean Blu-ray discs?
It can only be used when the case is tough to handle. Usually, water is enough to remove everything. If not, you can try isopropyl alcohol.
3. Can DVDs spoil?
Typically, no. It can stay for many decades with proper handling.
More Reading
How to Convert DVD to Digital Formats, Like MP4, AVI, MP3 and More
What should be the best methods to convert DVD to digital formats, such as MP4, MP3 or AVI, which you can use for online stream? Here are 3 frequently used methods you should know.
DVD Burning Tutorial – Workable Ways to Burn DVD on Windows 10 and Mac
This is the latest tutorial to burn DVD on Windows 10 and Mac with default disc burning features. Furthermore, you can also get beginner-friendly DVD burning software to make your DVD attractive for offline playback.
A Step-by-step Guide to Burn ISO to DVD on Windows, Mac and Linux
This concrete guide will cover how to use a disc image file to create a physical disc, burn ISO to DVD, on computer or laptop running Windows, macOS and Linux.
How to Rip Blu-Ray Movies to MP4/MKV and 4K Digital Formats
When you want to enjoy the Blu-Ray movies on iPhone, Android or other devices, you can find the best methods about how to rip Blu-ray movies to MP4, MKV and other digital formats in high quality.