KMPlayer and Best Free Alternative Solution that You Won't Miss
Today, we already enter a video era. There are oceans of video contents on social media, webpages, and mobile apps. To help people distribute animated contents, developers and technology giants released a lot of video file formats, such as FLV, MP4, WebM, MOV, WMV and more, as well as HD, 4K, 4K Ultra, etc. In result, we need a powerful media player, such as KMPlayer, to get the best experience. We will share an unbiased review in this article.

Part 1: KMPlayer Review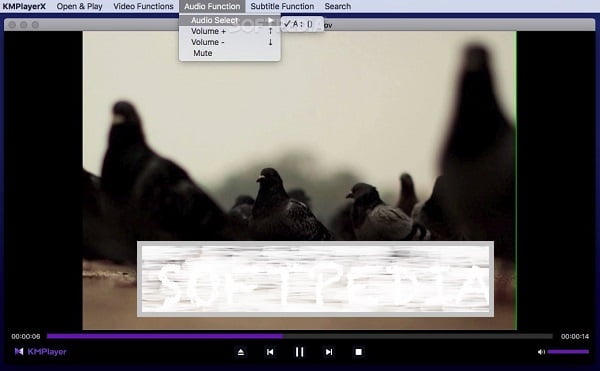 KMPlayer is a multimedia player but not a simple video player. A proper multimedia player is essential on any system since almost everyone would like to get entertainment on their digital devices. Since released, KMPlayer free player has gained enormous popularity and become first priority for music and movie lovers.
Main Features of KMPlayer
1. Play videos, music, movies, and audio files without lag.
2. Include a wide range of codecs, like WMV, MKV, MOV, 3GP, etc.
3. Decode 3D, 4K, and Ultra HD videos without quality loss.
4. Support subtitles, like RTS, MPEG1, MPEG2, AAC, WMA7, etc.
5. Steam videos from YouTube and other platforms via URL.
6. Play DVDs, Blu-ray and other optical discs.
7. Correct sound quality using normalize function.
8. Available in multiple languages, like English, Korea, and more.
9. Control video and audio playback with buttons and hotkeys.
10. Offer several advanced tools, like slideshow creator.
Brief Review of KMPlayer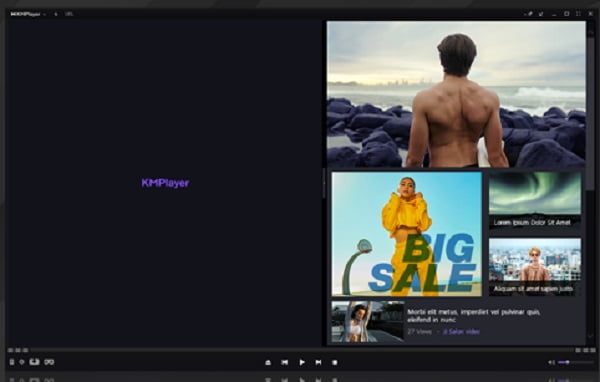 Pros
1. KMPlayer is available to Windows and Mac.
2. Mobile-first can use the mobile app on iPhone or Android.
3. It is free to download and use, even though the website ask donation.
4. The 3D playback feature is amazing and lets user get great experience.
5. Users can download extra codec from official website, such as KMPlayer hevc codec.
6. It also built-in the remote playback support.
Cons
1. KMPlayer takes lots of source when playing videos.
2. There are a lot of ads in the homepage, dedicated side panels, the options panel, and pop-ups.
3. There is no way to remove annoying ads.
4. The KMPlayer Mac is still in beta, so it is not very stable.
5. The installer contains several extra software.
How to Use KMPlayer to Play Videos
Step 1
Download KMPlayer from the official website or trustable source. Open it from your desktop once installed it.
Tip: You should monitor the installation carefully since it will install Open Candy and more extra software.
Step 2
Double-click on the blank screen part when you want to play a video or song. Then find and select the file, and hit Open.
Step 3
After the video is being played, you will get the several buttons at the bottom to control the playback.
Note: If you want to change the custom options in KMPlayer, press F2 to access the Preferences dialog. We suggest beginners not to try it since KMPlayer will work abnormally if you set options improperly.
Part 2: Best Alternative to KMPlayer
Though KMPlayer is a great video player, it still has some shortcomings, like ads. Therefore, you may want to learn more options to play videos for free. Blu-ray Master Free Blu-ray Player is a good option.
Basic Features of the Best Alternative to KMPlayer
1. Compatible with almost all video and audio formats.
2. Use hardware acceleration to improve performance.
3. Offer quick and advanced controls for video playback.
Briefly speaking, Free Blu-ray Player is the best alternative solution to KMPlayer for watching videos for free. Also, it lets you play Blu-ray movies with high quality,
How to Play Videos without Ads or Lag
Step 1
Open a video
Install the best alternative to KMPlayer as long as you are willing to watch a HD video, 4K movie, DVD or Blu-ray disc. Then launch it, click the Open File button to import a video from your hard drive, or press the Open Disc button to load your disc.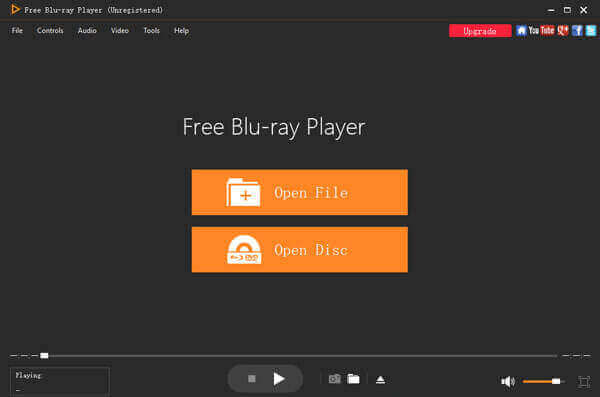 Step 2
Control video playback
After video loading, it will begin playing in the main interface. Now, you can see the quick controls at the bottom, such as fast forward, stop, pause, rewind, etc. To take a snapshot while playing video, hit the Camera icon. You can adjust the Volume at the bottom right side.
In addition to basic controls, the top menu bar offers more advanced features. If you need to change subtitles, audio tracks or other option, go to the Controls menu and you can reset them easily. The Audio and Video menus provide advanced options for audio and video effects. If the image color is not good, go to the Tools menu, select Effects, and adjust Hue, Brightness, Contrast and other parameters.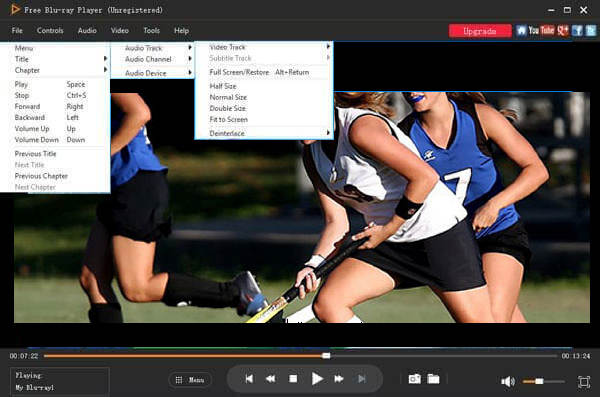 Part 3: FAQs about KMPlayer
Is KMPlayer safe to use?
KMPlayer does contain a lot of ads and extra software. So, you must be carefully when using the media player. According to our test, KMPlayer is safe to use. If your antivirus software blocks the installation, you have to disable it when installing KMPlayer.
Is KMPlayer open source?
Though KMPlayer is a free multimedia player, it is not open-source. It was developed and released by a Korea software company. When you download the player, you will be asked to donate for the software, but you can ignore it.
How to reset KMPlayer to default settings?
Step 1: Open KMPlayer and press F2 on your keyboard to trigger the Preferences dialog.
Step 2: Click the Reset Current Preset button at the bottom left side. When prompted, hit Yes to confirm it.
Conclusion
This article has talked about one of the most popular free video player, KMPlayer. Though it is free of charge, users can get a lot of useful features and custom options from the multimedia player. However, it may slow down your computer due to the high level of CPU usage. Moreover, it relies on ads to provide free features. That may make users annoying. So, we also shared a free alternative to KMPlayer, Blu-ray Master Free Blu-ray Player, which is easier to use. More questions? Please write them down below.