Comprehensive Review of Leawo Blu-ray Ripper on Desktop 2023
These days, there's a variety of Blu-ray ripping programs available for everyone to download and use. Most of them use software without even knowing what kind of program they acquired. And the result is them uninstalling it because they don't know how to use the said program. And if you are a user who chose Leawo Blu-ray Ripper but did not know how to use it, this post is for you. Everything you need to know about the program is here. We will help you understand the tool better so you won't have difficulty using it. It will give you an idea of whether this tool is what you want. Let's begin!
Part 1. Leawo Blu-ray Ripper Review
Note: You can use this product for your personal use only.
Leawo Blu-ray Ripper is a well-known ripping software solution allowing users to convert their favorite Blu-ray discs to various formats. It gives users the convenience of watching on different devices anytime, anywhere. For videos, there are MP4, MOV, AVI, MKV, and other widely used formats compatible on the internet and most devices. Not just videos, it can extract your Blu-ray audio and convert them to MP3, AAC, AC3, and other popular formats. Moreover, this program can quickly convert your files without worrying about quality loss. There are formats available for specific devices for perfect compatibility. And the video's output quality can go up to 4K HD resolution.
Key Features
1. Available on Mac and Windows
2. GPU and CPU hardware acceleration for fast conversion
3. Easy to understand interface
Pros:
1. Supports input formats of Blu-ray Folder and ISO files
2. Added video editing function
3. Perfectly safe to use
Cons:
1. It does not support batch conversion
2. It lacks subtitle conversion to SRT files
3. Ads are present on the free version
As for the pricing of the Leawo Blu-ray Ripper, there are three options for you:
1. Free Trial version with no limit on usage, but only contains basic features and limited formats.
2. 1-year subscription of the Premium version worth $44.95
3. A lifetime subscription to the Premium version that is worth $99.95
Part 2. Best Alternative to Leawo Blu-ray Ripper
Note: You can use this product for your personal use only.
If you are looking for an alternative program for Leawo Blu-ray Ripper with similar or better performance and functionality, we have one for you, Blu-ray Ripper. This excellent program is safe and free to get on any Mac and Windows computer. It has a simple user interface but is not lacking in features that are essential for ripping Blu-ray. It has lightning-speed file conversion and supports multiple file conversions simultaneously. And expect no quality loss during the process when you use this tool. In addition, it supports plenty of audio and video output formats compatible with different devices. And if you have 4K Blu-ray videos, this program can convert them with the exact resolution. As for privacy protection, this program assures you that there is no confidential information that will leak whenever you use this tool.
Key Features
1. It has a built-in video editing tool
2. Allows users to modify video output settings
3. Beginner-friendly program
4. Enables users to rip 2D and 3D Blu-ray videos
You can refer to the detailed guide step below in using the best alternative program of Leawo Blu-ray Ripper for media file conversion.
Step 1
To download this program, you can go to its official page and get the installer file or simply click the Free Download button. Install the software properly by following and reading the instructions. Open the program after the installation.
Step 2
Insert the Blu-ray disc you want to convert to your desired format. Go to the app window and hit Load Blu-ray to add the file from the disc. You can also import Blu-ray Folder and ISO file to the program.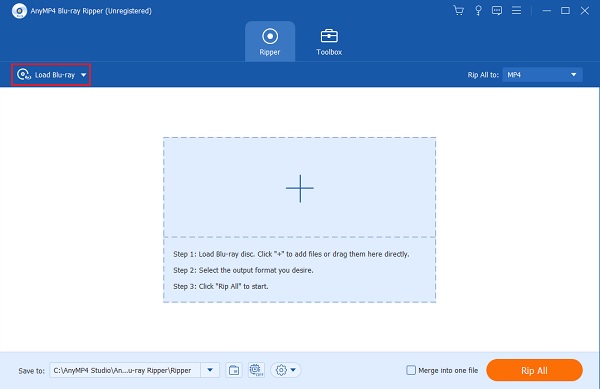 Step 3
Then next thing you do is select a media output format. Tap the drop-down menu button of Rip All to for you to see the list of all the formats available in this tool. An interface window will appear with the Video, Audio, and Device tab. Each tab has corresponding formats for different usage. Choose the one you need.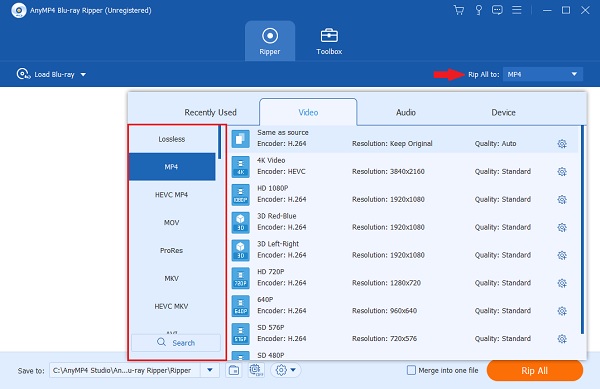 Step 4
Once you are done choosing an output format, click Rip All to begin converting. The process starts automatically and ends automatically as well. The process may take several seconds to a few minutes, depending on the length and size of the media file.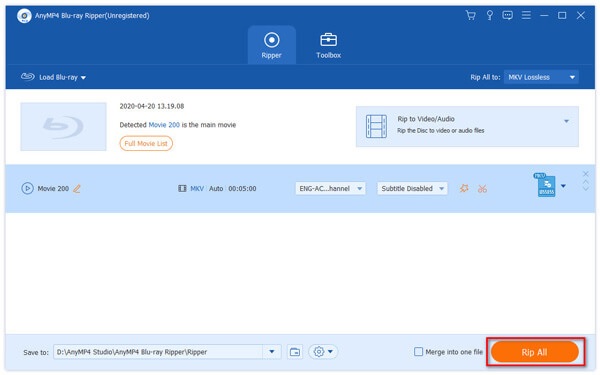 Further Reading:
How to Free Convert Blu-ray to AVI, or Vice Versa with Fast Speed
3 Best Blu-ray Converters to MP4 for PC 2023 [100% Safe]
Part 3. FAQs about Leawo Blu-ray Ripper
What are the supported input formats of Leawo Blu-ray Ripper?
You can use the files from the Blu-ray disc of any format and import them to the tool. You can also add media files from your desktop with the Blu-ray Folder and ISO file format.
Does Leawo Blu-ray Ripper have an inbuilt video editing tool?
Yes. Leawo Blu-ray Ripper has a video editing function that allows users to do basic video editing before converting their videos. You can crop unnecessary parts, add image or text watermarks, trim videos to shorten the length, add video effects, and create 3D videos.
How many languages does Leawo Blu-ray Ripper support?
There are 11 languages available in Leawo Blu-ray Ripper. These are English, German, Chinese, Russian, Japanese, Armenian, Hungarian, French, Portuguese, Dutch, and Spanish.
Conclusion
I hope that this post about Leawo Blu-ray Ripper has been of great help in answering your queries about this product. This tool truly is one of the best software solutions right now regarding Blu-ray ripping and converting. But it has drawbacks like any other software, especially the price. The good thing is that Blu-ray Ripper is here as an alternative for Leawo. Even with just the free version, Blu-ray Ripper does not disappoint. You can convert your Blu-ray videos very fast with no quality loss, it is 100% safe and supports various output formats for hassle-free compatibility.