Where Do OBS Recordings Go? Find Answers Now
OBS is a free and open source software for screen recording and live streaming. You can broadcast the screen recording to platforms like YouTube, Twitch, Mixer and more. It is easy to start a high quality video or audio recording with OBS. But Many users can't find where the OBS saves its recording. If you have the same problem, you can read this post to find out the location folder where the OBS recordings are saved.

Part 1. Where Do OBS Recordings Go
You can easily start recording computer screen or live streaming with OBS Screen Recorder. After finishing the recording with OBS, you may want to find and edit the recorded video. Generally, OBS will store the screen recording to the location where the software is installed by default.
To check the default recording location, you can click File at the top menu and select Show Recordings. In the pop-up folder, you can see all the OBS recordings. (See what to do if OBS encoding overloaded)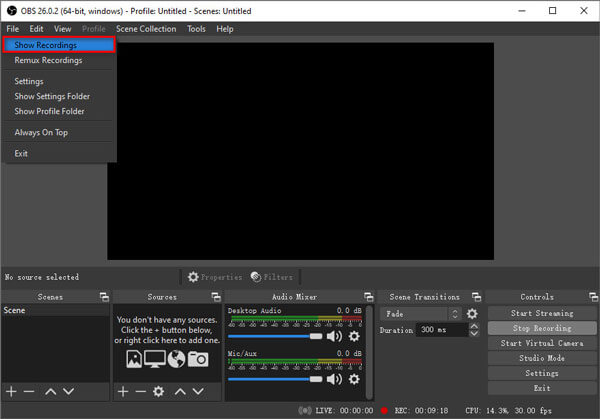 Part 2. How to Change OBS Recording Save Path
One efficient way to avoid asking where do OBS recordings go, you can change the default OBS recording save path to the location where you are familiar with. Start with the following steps.
Step 1
Open OBS and go to File > Settings at the top menu.
Step 2
Click Output in the left panel, and click Browse next to Recording Path in Recording section. Then you can change the OBS recording location to a suitable folder.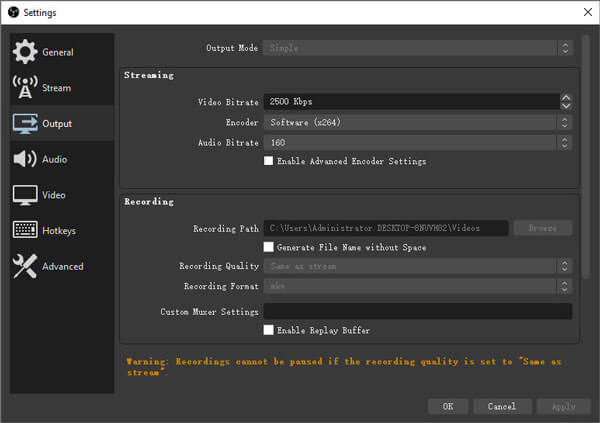 Part 3. Best OBS Screen Recorder Alternatives
1. Blu-ray Master Screen Recorder
Still can't find where OBS stores its recordings? Perhaps there are some errors that cause OBS failed to save the recording. Well, you can record video or audio with a reliable OBS Screen Recorder alternative - Blu-ray Master Screen Recorder. It is a lightweight and powerful screen recorder that you can record live streaming videos, online music, gameplay videos and online lectures without lagging.
1. Best OBS alternative to record computer screen with high quality.
2. Record online videos, music, meetings, lectures, audio calls, etc.
3. Add annotation, text, line, arrow, callouts to the video recording.
4. Change the output location, video format, screenshot format.
5. Preset a task schedule recording like time, date and recording length.
Step 1
Free download, install and launch the best alternative to OBS Screen Recorder. Choose Video Recorder in the main interface.
Step 2
Click Full or Custom to record video with full screen, window or custom region. Turn on Microphone or System Sound option to choose the audio source based on your need. Enable Webcam if you want to record with interaction.

Step 3
Click REC button to start recording after OBS failed to save the recording. You can pause, resume and stop recording via hotkeys or on-screen controls.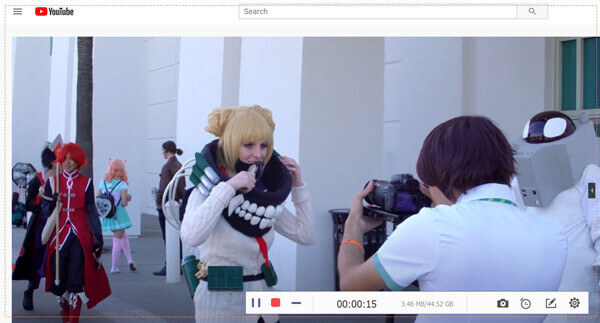 Step 4
Then preview the recorded video and cut out the unwanted part. At last, click Save button to export your recording video to computer.
This screen recording software is the best alternative to OBS Screen Recorder. Besides you can edit your recording by adding arrows, lines, shapes, callouts, changing the font size, color or styles.
2. Blu-ray Master Free Online Recorder
If you just want to find a free recording program similar to OBS, you can use Blu-ray Master Free Online Scree Recorder. The whole recording process is completed online without any limitation. Find how to record video with this free OBS alternative.
Step 1
Navigate to the official website of this free online screen recorder. (https://www.bluraycopys.com/free-online-screen-recorder/).
Step 2
Click Launch Free Recorder to download and install the Launcher. Then select Video Recorder in the main interface.
Step 3
Enable Speaker or Microphone to select recording the audio from system sound or microphone.
Step 4
Click REC button to start recording your computer screen. To stop the recording, you can click the Stop button to save the recording.
Don't miss: How to fix OBS black screen
Part 4. FAQs of OBS Recording Destination
1. Why are my OBS recordings choppy?
There are a couple of reasons why screen recording could look all choppy and laggy after recording. One possible explanation is that OBS needs to be run on a higher setting in Task Manager to record effectively.
2. What recording format should I use OBS?
Use FLV as recording format, as this format is crash-proof. MP4 is not recommended since the video can get unplayable if OBS or your computer crashes during recording. OBS can convert FLV to MP4 after recording if needed.
3. Does OBS have a recording limit?
OBS has no recording limit at all. According to our research, OBS recorded screen for over 80 hours with no problem. However, you must make sure that your hard disk has enough space.
4. How to reset OBS?
If you want to reset all OBS settings back to the default state, you can go to OBS Settings. Choose General and then Delete Cache. Later, click Restart to reset OBS settings. If you want to completely reset OBS, you can delete OBS scene collection as well.
Conclusion
After reading this article, it is easy to find where do OBS recording saved. If there are some errors existed, you can use Blu-ray Master Screen Recorder as OBS alternative. Compared with OBS, it is a lightweight and reliable screen recorder for Windows and Mac users. Still have problems while recording with OBS? Please don't hesitate to leave your comment below.