Why is My DVD Playing in Black and White: Reasons and Remedies to Learn
All through these years, DVD discs and players have been impactful to many people for entertainment. This is still true even today that media or video contents are easier to obtain via download. Hence, for some reason, DVD discs and players still occupy a dominant position in the hearts of many people, especially the aged ones and people engaged in some business. However, it is only sometimes a bed of roses for DVD users. There is this recently raised question on the internet given by people whose concern is about why their DVD is playing in black and white, which has annoyed them. This is why we have decided to provide these people with the best solutions below that we know could help them.

Part 1. Why is My DVD Player in Black and White
There are various reasons why your DVD player plays in black and white. This typically happens when you use a new DVD player, try to change the output settings, and do some things or some factors we listed below.
1. Improper Input of Cable.
Your DVD plays black and white display if the cables connected to your TV from the DVD player are connected improperly.
2. Wrong DVD and TV Broadcasting Format.
The two broadcast formats consist of PAL and NTSC. PAL also means Phase Alternating Line, while NTSC is the abbreviation of National Television System Committee. Now, if you play the NTSC on a TV that is PAL, then the risk of having a black-and-white display is high.
3. Weather Condition.
Yes, weather conditions also coexist with the factors that cause the problem. The physical state of both your DVD and TV may vary with the kind of weather in your place. DVDs can suddenly turn black and white on display when the weather is too hot. This factor may also cause the malfunction.
4. Broken TV Blacklight.
If the backlight of the TV output is broken, it greatly affects the picture or displays color.
Part 2. How to Fix a DVD Playing in Black and White
With the cause of the issue presented above, let us now have the solutions below.
1. Connect the DVD to Your TV Properly
Since a wrong connection causes the main problem, then make sure to put the connectors properly. Connect the HDMI to the right port and the RCA jacks according to their respective colors.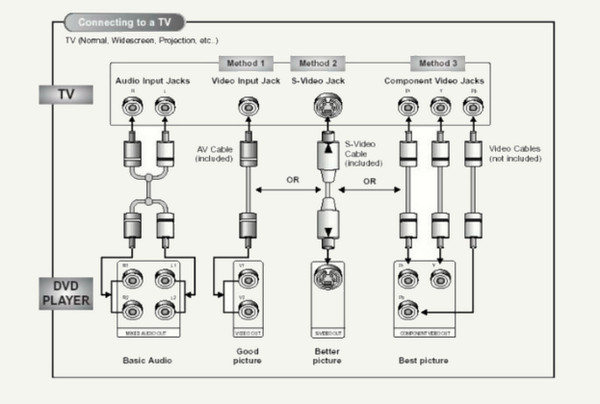 2. Use the Proper Format
The DVD will only play in black and white if you use the wrong format for your TV. To have the correct format, you should confirm it on the TV system. To do so, turn on the player without a disc, then when this status shows, click on the panel. After that, press the pause button for 5 seconds to see the selection.
3. Use a Ripping Tool
In cases where you already did your best to fix the problem with the above solutions but still get the same issue, then you can turn to the ripping process. With this being said, utilize the DVD ripper of Video Converter Ultimate, where the DVD decoding process is 70 times faster. This tool is amazing because it comes with many features and tools besides a ripper that supports all types of DVDs and AVCHD. Ripping DVDs has been the trend nowadays, especially for people who want to compile numerous DVD movies on their computer devices and hard drives. Thus, here's how to fix the black and white screen on the DVD player by ripping the DVD.
Key Features:
● Rip all types of DVDs without losing the quality.
● Support over 500 various video formats for your ripping outputs.
● Customize your ripped videos with various editing tools.
● It carries many added features like collage maker, movie maker, 3D maker, and GIF maker.
Step 1
Prepare your computer device and install the ripping tool on it. Then, insert the DVD disc on your PC drive and open the software. On the main interface, hit the Load DVD button to import the DVD.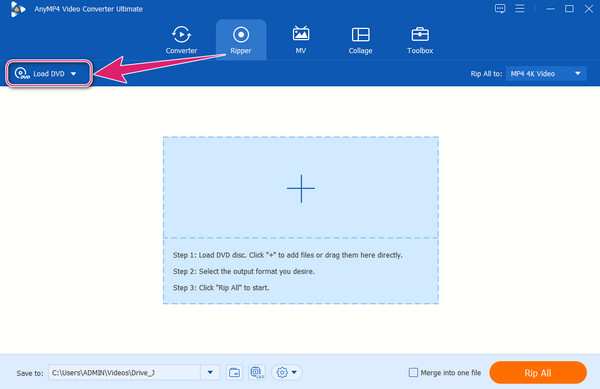 Step 2
When the DVD content is loaded, you can now select the digital video format you want to use as an output. To do so, click the Arrow button of the Rip All To section. Then, choose among the formats under the video option.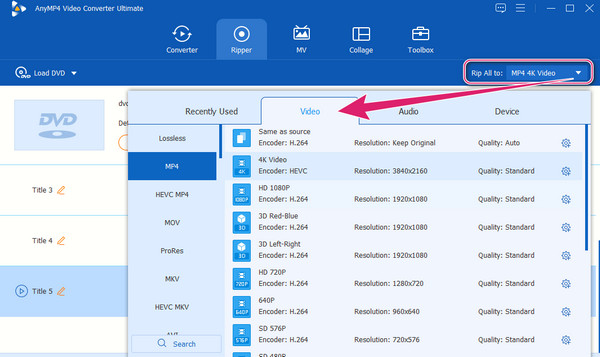 Step 3
Finally, you can now hit the Rip All button to begin the ripping process.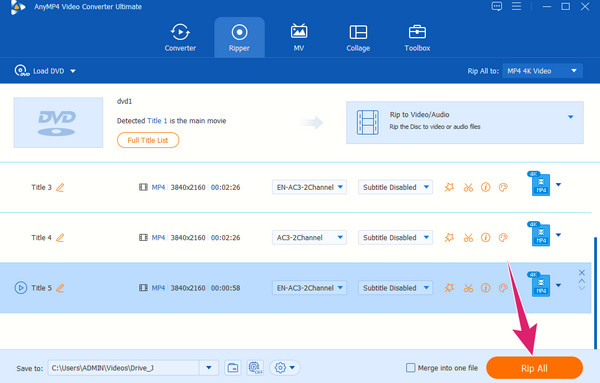 4. Use an Alternative DVD Player
One way to fix your DVD is in black and white problem is using an alternative player. Here we recommend you use Blu-ray Player, a software player that can play your DVDs, Blu-rays, and digital media files in one. An amazing player lets you play 1080p and 4K content with a cinematic picture display and audio track. Furthermore, it offers a user-friendly and neat interface design, giving you the confidence to use it perfectly, even for the first time. Thus, let us have the procedures for using it to play your DVD.
Key Features:
● It supports a broad range of digital media files and DVD types.
● Cool and complete playback controls.
● Manageable DVD movie playlist.
● Adjustable video and audio effects for the DVD content.
Step 1
Open the flexible player after grabbing it to your computer. Then, insert the DVD disc into your optical drive and hit the Open Disc to import the DVD you inserted.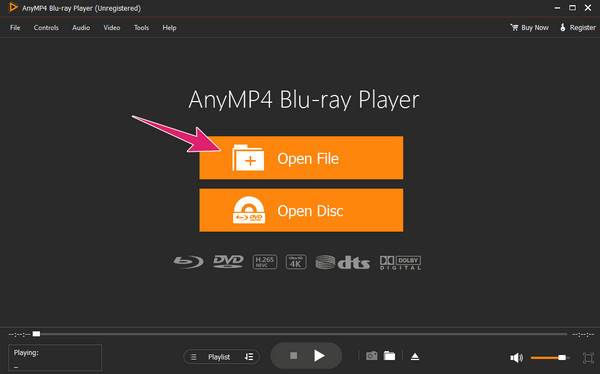 Step 2
As quick as that, you can now enjoy watching your DVD movie with the full-packed playback control.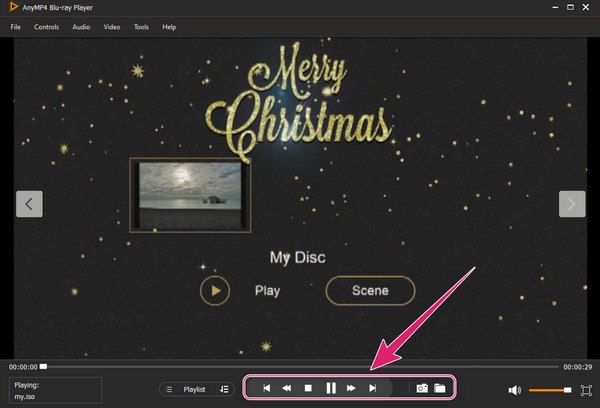 Part 3. How to Play DVDs via DVD Ripper
Can I switch from PAL to NTSC on a DVD player anytime?
Yes. Most of the latest DVD players today allow you to switch formats anytime.
Does overheating cause DVDs to play black and white?
Yes. Overheating can cause a DVD player to malfunction, and one among those is playing with a black-and-white display.
Can I fix the black-and-white display of a DVD player without HDMI?
Yes. You can use the other classic A/V connector as an alternative to its HDMI for you to fix the black-and-white issue.
Conclusion
There you have it, the causes and the solutions when DVD is playing in black and white. If you cannot follow the given solutions about the connectors, then you can still have other easier ways to solve the problem, which is ripping the DVD or having an alternative DVD player. Either of these two is a great option that you can do even if you do not have the skills. All you need to do now is to install the Video Converter Ultimate and Blu-ray Player to have a good deal.