How to Achieve Exceptional DVD Upscaling: Upgrade DVDs to 720p/1080p in Three Easy Ways
We have encountered users who want to know how to upscale DVDs. Unlike regular videos nowadays, DVD videos, especially the old ones, are more challenging to upgrade. It is because of the older video elements that they have that make them fragile to upscale. The first thing to remember in upscaling is transforming low-resolution videos into higher ones. It is not an easy process in the first place, for it needs an interpolation algorithm that will fill the video with the required pixels. But we have good news for you because this problem is no longer a reason to fret. Why? Because we have found the most effective ways to upgrade your DVD home videos to the latest resolutions you are enjoying now, such as 1080p. So, let's not delay this any longer and immediately proceed to the solutions on how to upscale DVD to 1080p below.
Part 1: How to Upscale DVD to 720p/1080p on PC in Three Efficient Ways
Since you already seek solutions to upgrade your DVDs, we assume you have already acquired the first stage before this. This first stage is the process of ripping your DVDs into digital videos. But if not, you can still proceed to the ways below.
1. Video Converter Ultimate
Video Converter Ultimate is an all-out video editing software you can enjoy in the two stages of upscaling DVDs. Why? Because one of the amazing features of this best DVD upscaling software is its DVD ripper. Its ripper is guaranteed to be fast and efficient. It efficiently works to maintain the quality of your DVDs even after the ripping process. It rips and works fast due to the acceleration technology that it possesses. Specifically, it comes with ultrafast and hardware acceleration technologies that benefit your device and video files. Furthermore, it makes you enjoy an AI-powered procedure for upscaling your DVDs that can enhance your videos in no time!
Not just that, it also allows you to have your personal touch with the resolution and quality of your video output, where you can choose between 720p, 1080p, and 4K. Along with this is the freedom to choose what format you want to have for your video. All of those you can contain by following the guidelines below.
Key Features
1. It comes with a DVD ripper, converter, and editor in one.
2. Rip DVDs losslessly and quickly.
3. Support numerous video outputs for your DVDs.
4. Powerful advanced technologies will process your videos.
How to Rip and Upscale DVD to HD
Step 1
Suppose your video is still on DVD. This is what you're going to do. Launch this best software, go to the Ripper menu, and click the Load DVD tab. Then, choose however you upload your DVD video.
Step 2
After loading the DVD video, go to the Rip All To tab and choose the MPG Lossless option as your output format. Then, click the Rip All orange button at the bottom-most part of the interface.
Step 3
Now move to the Toolbox menu, look for the Video Enhancer tool, and click it. Next, upload your ripped video by clicking the Plus symbol that you will see on the next window. Then go and proceed to upscale the DVD to 1080p in this software.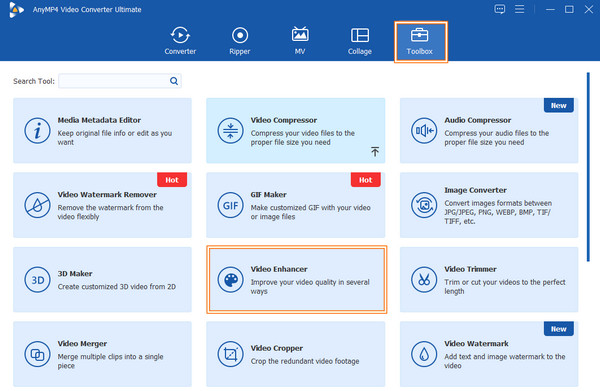 Step 4
After importing the video, you enter the enhancing window where you need to toggle the Upscale Resolution option. Then, you can also access the Resolution and Format sections for you to personalize the file. Otherwise, hit the Enhance button to apply and save the changes.
2. EaseFab DVD Ripper
Another amazing software that you must watch out for is this EaseFab DVD Ripper. It is the secondary third-party software that holds powerful yet easy-to-use navigation. Furthermore, it maximizes the quality of your DVD output after quickly ripping it into various formats like MP4, AVI, HEVC, WMV, etc. It works with a deep edge refinement algorithm that makes the edges and residual lines fine and thin. Therefore, this DVD upscaling PC software is something that deserves to know. However, EaseFab DVD Ripper has limited features and options compared with Video Converter Ultimate. Nevertheless, if you want to try its power, follow the instructions below.
Step 1
Launch the tool, and click the Load DVD button to import the DVD video file.
Step 2
After that, choose an output format from ripping. To do so, click the Profile tab and choose among the format choices in the Common Video option.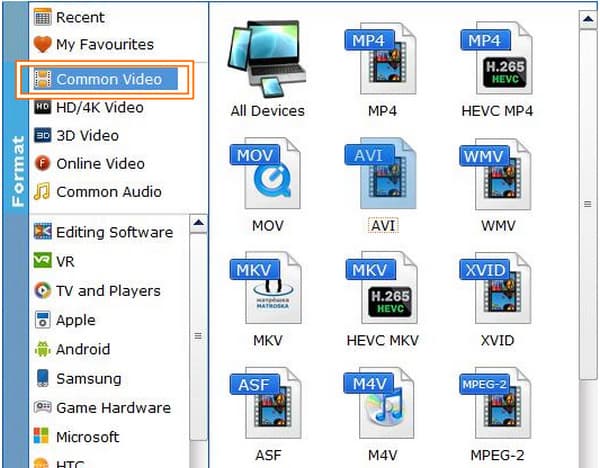 Step 3
After choosing the format, it will direct you to the upscale setting. Here, you need to click the Resolution, choose the 1920*1080 option, and then hit the OK tab. This will give the result of this DVD upscaling software to 1080p video.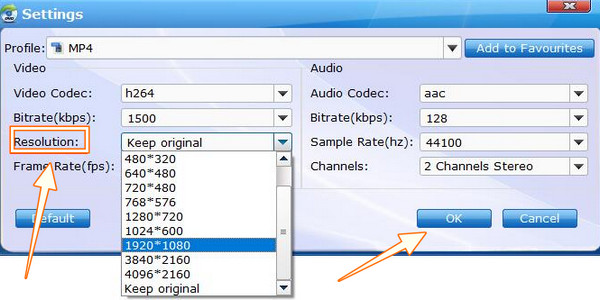 Step 4
Finally, hit the Convert button on the main interface and wait for the process to finish.
3. Leawo DVD Ripper
Finally, we have this Leawo DVD Ripper. As its name suggests, it is another DVD-ripping software that is capable of upscaling your video efficiently. Leawo DVD Ripper is a cross-platform software like Video Converter Ultimate, and aside from ripping DVDs, it also has the tools to rip Blu-rays and a video converter that claims to provide a free service for a lifetime. This software can convert your DVD videos into HD with various output formats and devices, including AVI, MKV, MP4, Android, and iPhone. However, since it's a DVD ripper, its capability to enhance and fix videos is limited. Thus, let us see how this DVD upscaling software works for this task.
Step 1
Open the tool, and click the DVD ripper or the Convert button to load the DVD file.
Step 2
Once the DVD file is in, go to the Format-HD Video section and choose the HD MP4 Video option. Then, click the Edit tab and select 1080p resolution.
Step 3
Finally, hit the Convert tab to start ripping.
Further Reading:
AI Upscaling Video: How to Upscale Video in Two Best Ways
How to Make the Video Quality Better [3 Ways to Solve]
Part 2: FAQs on How to Upscale Homemade DVDs
Can I upscale my homemade DVDs on my PS4?
Yes. You can try upscaling your DVD with your PS4 since it also supports playback. However, it cannot give you a better result than you wish since it is not its line of the field.
Why does my DVD video look bad on a 4K TV?
This might be because you are playing an old DVD video with a lower resolution. If you want to have a good display on your 4K TV, you must play an equivalent resolution that fits the aspect ratio of the TV screen.
Will it take time to rip and upscale DVDs?
No, if you use a practical DVD ripper and upgrader, just Video Converter Ultimate.
Conclusion
DVD Upscaling will never be a problem if you use the amazing software in this article. As you see, all of them are perfect for the task and show the efficiency we were looking for. However, Video Converter Ultimate stands out due to its lossless result in outputs.