How to Transfer Music from Cassette Tapes to Computer
"I have a few old cassettes and want to digital them. I used cassette to digital tools but they are crappy - lots of hissing and background noise. The conversion software only converts cassettes to WMA format. I'm looking for a way to get these cassettes converted to the best, lossless quality I can find."
If you have a lot of old mix tapes or precious recordings, you'd better digitize them right now for better saving. In this article, we are going to teach you how you can transfer the audio cassettes to your Windows or Mac computer.

Part 1. Preparations to Record Cassettes
There are many materials you need to prepare before recording your cassette on your computer. You need a cassette deck and a cable.
Computer with sound card. To record cassette audio on computer, you need a computer that have line-in port.
Cassette deck. A tape deck is used to play and record audio cassettes. The cassette deck should have headphone jack or line out jack at least.
Audio cables. You need connect one end of the audio cable to line-out port of cassette deck, and connect the other end of the audio cable to your computer.
Part 2. Best Way to Record Cassettes to Computer
When you are ready, it's time to record cassette tapes to computer. Blu-ray Master Screen Recorder is a professional audio and screen recording tool that helps you record cassette to MP3 on Windows computer and Mac. Besides, you are able to capture online streaming music from music sites like Spotify, SoundCloud, Pandora and more.
1. Record cassette tapes to MP3, WMA, M4A, AAC on computer.
2. Capture online music from YouTube, Pandora, Spotify, iTunes Radio.
3. Record gameplay, conference, lectures, streaming music and video.
4. Record computer audio from system sound or microphone.
Simple steps to copy cassette tapes to computer
Step 1Run Blu-ray Master Screen Recorder after installation. Choose Audio Recorder in the main interface.

Step 2To capture cassette tapes clearly without any other noise, you need to turn on the System Sound option and turn off Microphone option.
Step 3Press Play button on the cassette deck, and then click REC button to start recording the cassette music.
Step 4When the cassette music has finished playing, you can click the Stop button to pre-listen the cassette audio. Then click Save button to save the cassette music to MP3 on your computer.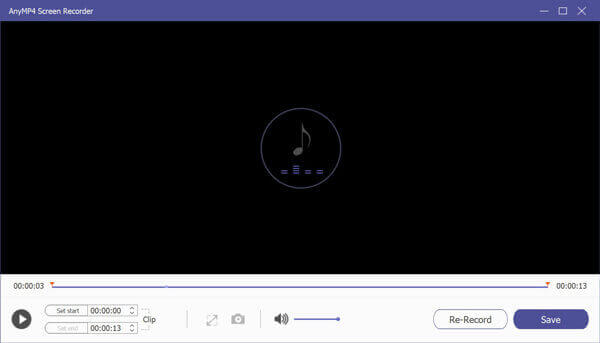 Part 3. Transfer Cassette Tapes to Computer with Audacity
Audacity is an open source audio recording tool for Windows, macOS, Linux and other Unix-like operating systems. If you have installed Audacity on your computer, you can transfer the cassette tapes to computer with it.
Step 1Open Audacity on your computer, and click Edit > Preferences to set the playback, recording device and channels.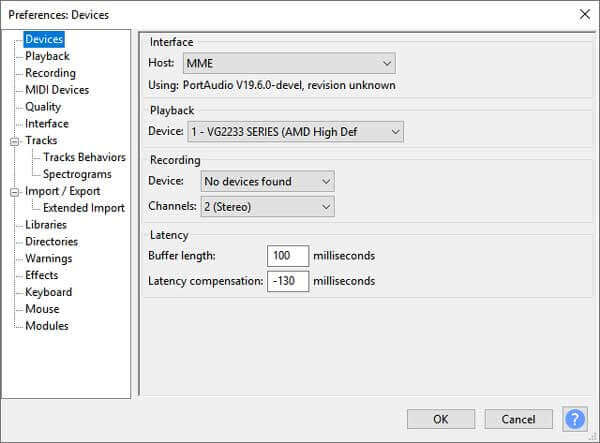 Step 2Play your cassette tape and click the red-dot Record button to record your cassette audio. Click the Stop button to finish the recording.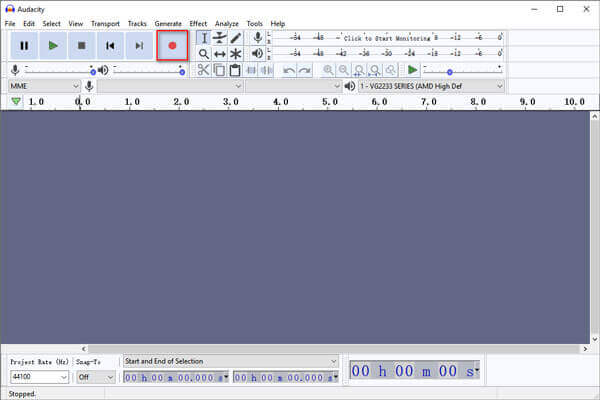 Step 3Edit your cassette recording with the features like cut out silences, erase some tracks, adjust volumes and more.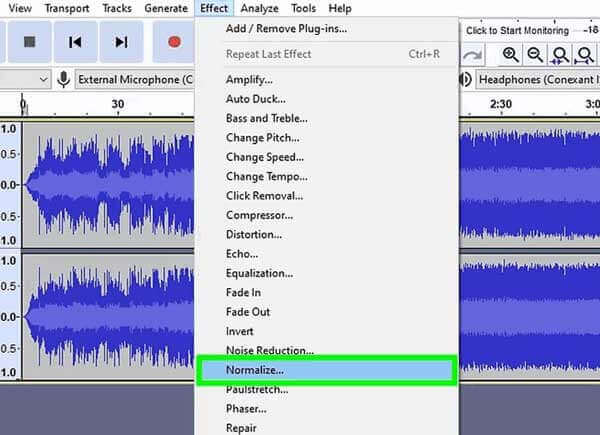 Step 4Go to File > Export Audio > Export as MP3 to save the cassette tapes in MP3 format. You can also choose Export as WAV or Export OGG to save the cassette tape in other audio formats.
Part 4. FAQs of Recording Cassette to Computer
1. Can you convert cassette to CD?
Yes. To transfer cassette to CD, you need to connect your cassette player to your computer's sound card, and record the audio in MP3 or WAV format. After that, you can transfer the audio files to a CD.
2. How much data can you store on a cassette tape?
A cassette tape can store a lot of data. Generally, a modern LTO-8 tape cartridge stores 12 TBs.
3. Can cassette tapes be converted to digital?
Yes. Cassette tapes can be converted to digital formats like MP3. Connect the cassette player to computer's sound card via a cable. Then convert the cassette audio to digital formats with Audacity.
Conclusion
With the Cassette recorders, hope you can record cassette tapes to MP3 or other audio formats on your computer. If you have any questions, please leave a comment.