Efficient Techniques to Convert Folder to ISO [2023 Tutorial]
Organizing a vast number of files gets more accessible and easier through virtual organizers known as folders. However, you cannot deny that there are instances when your device gets bombarded with these storage spaces, and there seems to be no way to keep them all at once. Or, you may have a folder that contains an enormous amount of your footage, but you cannot transfer them on a physical disc due to its unavailability.
Thus, here is a piece of good news for you. If you want to save your files on a disc but do not yet have one, you may convert them to a disk image like an ISO file. Stick around this guidepost as our team provides you with 100% effective methods to create ISO from a folder.

Part 1: How to Create ISO from a Folder on Windows and Mac
If you need to make an ISO file from folders, AnyMP4 DVD Copy is your must-have. Moreover, this program facilitates multiple functions, such as cloning a DVD to ISO or burning an ISO file to a disc.
Suppose that you are backing up your DVD files to an ISO. With AnyMP4 DVD Copy, you have three types of copy modes. First is the Full Copy that allows you to clone all the data from your disc. The Main Movie is for taking the necessary footage, while the Customize option is made for you to choose your targets in the disc.
This program is lightweight and supported on Windows and Mac devices. Interface-wise, you should not worry about it because even a beginner without experience can master using the program without experience. Lastly, users are guaranteed a 200% fast copying speed through a dual-core CPU.
Without much ado, here is a guide to create an ISO file from a folder using this excellent AnyMP4 DVD Copy.
Step 1
Install the ISO from the Folder creator.
But first, you should have the program installed on your device. Click the Free Download button below according to your operating system. Then, install the program by following the dialog box.
Step 2
Upload the folder on the tool.
Now that your program is already launched, uploading your folder to the program is the following action to take. To do this, click the Source tab and expand it. If you have a DVD folder, tap the Open DVD folder.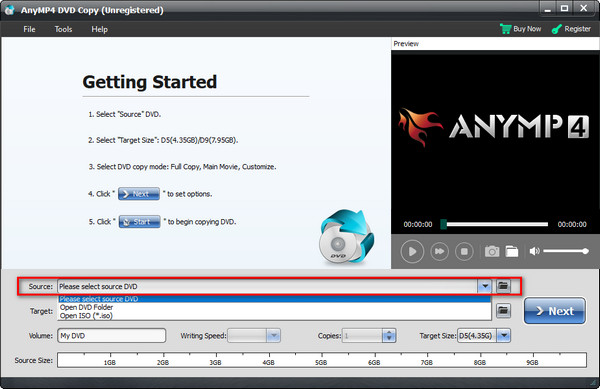 Step 3
Select ISO as output
After that, drop down the Target tab and select Save as ISO (*ISO). After that, hit Next.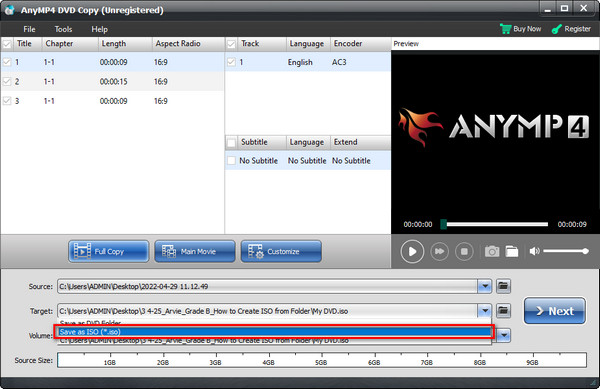 Step 4
Save folder to ISO
If you are saving a DVD to ISO, you can tick the several options on the interface, such as Remove Menu, Skip Menu, and Remove Region Code Protection. Anyhow, you can hit the Start button to commence the process.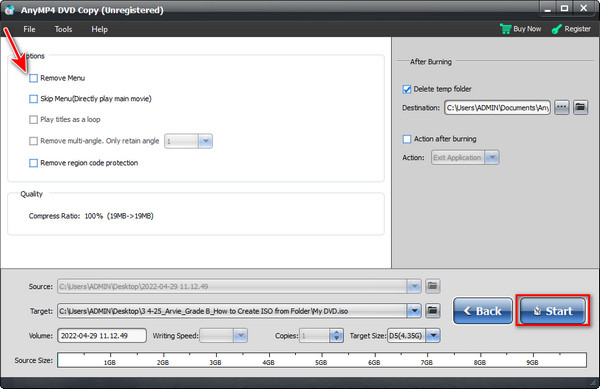 Part 2: Two More Ways to Create ISO from a Folder
If you find yourself looking for other cost-free methods, this next part is for you. Here, we examined the best free programs in the market that can help you do ISO creation.
1. AnyBurn
AnyBurn is one of the best free ISO from File creator. Besides this, it allows you to burn image files from a disc, burn audio files to CD, rip disc to a hard drive, erase the writable disc, and the like.
When the system requirements are concerned, you do not have any problems with it. This program is supported from Windows 2000 and later versions and weighs only 1 MB upon download. Not to mention, you can also have the program on your Linux-operated devices.
To get a glimpse of converting a folder to iso on Windows 10, refer to the guide below.
Step 1
Select the Create image file from file/folders from the pool of options upon launching the software.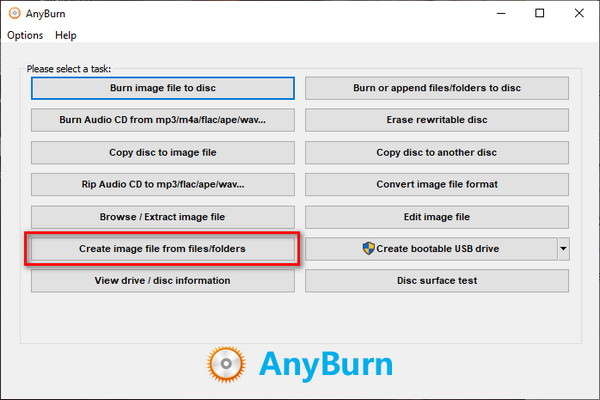 Step 2
After clicking your option, hit the Add button at the top of the interface. Then, select from the pop-up window the folder from which you wanted to create an ISO file. The time of importation will take a minute or longer, depending on the size of your folder. When done, hit the Next button.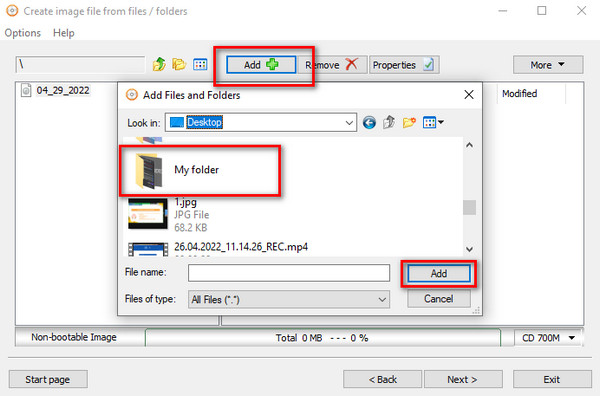 Step 3
Lastly, create a name for your output and tik the folder icon to choose your file location. You should also see that your file output is set to Standard ISO Image (.ISO). When all is set, hit Create Now.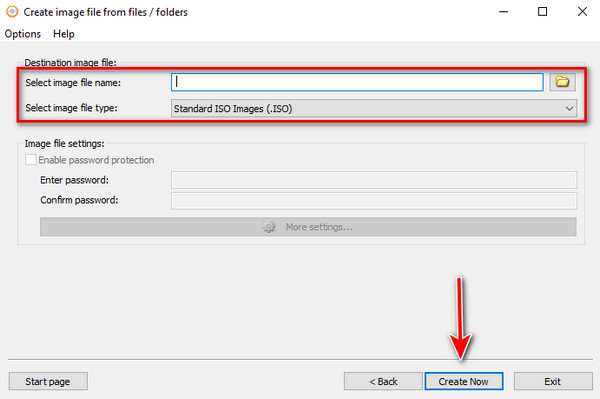 2. Free ISO Creator
As the name suggests, Free ISO Creator is for making ISO images alone. The program's interface is far from being complicated, making your experience smooth and easy. Like the AnyBurn tool, Free ISO Creator is compatible with 32 and 64 bits Windows and Linux platforms.
To teach you on how you can utilize the tool correctly, the following is an instruction:
Step 1
Open the Free ISO Creator on your device. Hit Browse on the Source Folder to add your target directory on the interface.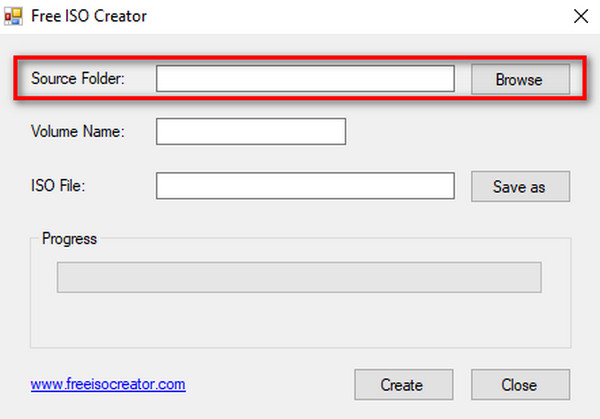 Step 2
Next, you can put the label for your ISO file output on the Volume Name.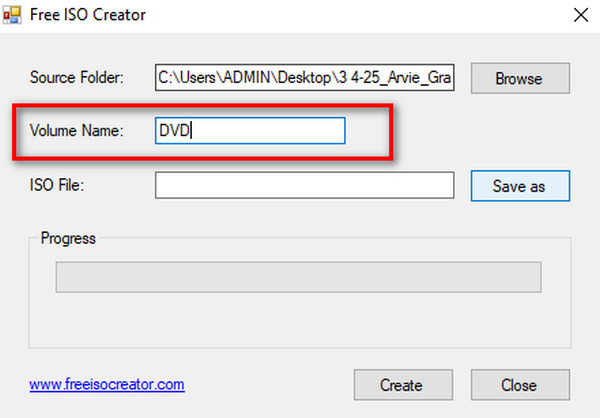 Step 3
At last, hit the Save as button, put the name of your ISO file and the output location. Then, hit the Create button. Check on the progress bar to see the status of your ISO.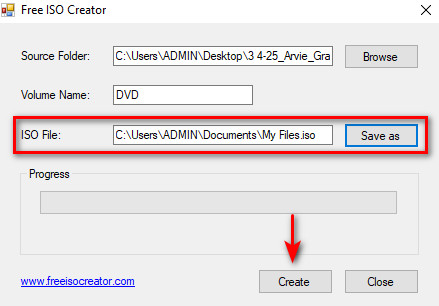 Part 3: FAQs about ISO Folder Creation
What is an ISO file?
An ISO file is a kind of disc image containing identical data of an optical disc. This is usually beneficial when you have a large file set or intend to burn your files on a disc in the future.
Can I open an ISO file on my phone?
Definitely, yes! It is easy to extract an ISO file on your phone. However, if you do not have a built-in application on your device, you can install a third-party application or transfer the the ISO file to your computer and play it with the best ISO player.
Can I make a bootable USB from an ISO file?
Absolutely! Since optical discs are somehow getting outdated, using a flash drive is one of the fastest ways you can use especially when you want to install an application on your computer.
Conclusion
And there you have the valuable methods to make ISO from a folder! If you are using an ISO file few and far between, the free tools like AnyBurn and Free ISO Creator are a decent action. However, if you constantly find yourself converting folders to ISO files, AnyMP4 DVD Copy is what we recommend. Besides, this program works with Mac devices, unlike the two. If this article gave you valuable insight, feel free to share it with your friends!