What are DVD Region Codes and Solutions to Bypass Codes on DVD Player
Does your DVD player have a region error when playing your DVDs? If that is so, your DVD player might not have the same region as your disc. It is indeed frustrating to see how your disc and player don't collide. For this reason, we cannot blame you for being here for wanting to claim the best solutions on how to change or bypass DVD region codes using your dedicated player. Thus, let's cut to the chase by moving to the content parts below.
Part 1. What is DVD Region
The DVD region is the system implemented for DVDs and even Blu-rays to control their distribution and playback worldwide. This means that region-encoded DVDs are restricted from playing with DVD players due to their specific geographical region. For example, you cannot play a region coded 1 DVD with a DVD player that comes with another region, unless you have a region-free DVD player. Another purpose of a DVD region code is to protect the copyrights and release schedules of movie makers all over the world. So yes, it is to benefit the distributors or owners of DVDs from encroachments.
Part 2. List of DVD Regions
As mentioned above, region codes are geographic zone worldwide, which also represents the language of the DVD. Overall, there are 8 regions for DVDs, but only 6 of them are commonly used, and where regions 7 and 8 are used for special cases other than marking regions. In some cases, if you find a Region 0 DVD, it means that the DVD applies to all regions. In other words, the DVD has no region code implied to it. Meanwhile, here is the list of the regions outlined in the chart below.
| DVD Region Number | Included Countries in the Region |
| --- | --- |
| Region 1 | Canada and U.S.A and its territories. |
| Region 2 DVD | Middle East, South Africa, Japan, and Europe, along with Egypt. |
| Region 3 | Hong Kong, East Asia, and Southeast Asia. |
| Region 4 | New Zealand, Australia, Central America, Pacific Islands, South America, Mexico, and the Caribbean. |
| Region 5 | Africa, North Korea, Eastern Europe, Mongolia, and the Indian subcontinent. |
| Region 6 | China. |
| Region 7 | Reserved for special cases. |
| Region 8 | Reserved for special international venues like cruise ships and airplanes. |
Part 3. Common Solutions on How to Change/Bypass Region Codes
Solution 1. Change the Region Code with Your Standalone DVD Player
To change the region code using your player, turn it on and remove the disc from it. Now press the Start button and select the Control Panel>System>Maintenance>Device Manager. Once you have pressed all of them, get your remote, press the number 314159, and wait until the FF or CODE shows on your TV screen. When shown, input your desired new code and, click the Pause button, then turn off the player. And that's how to change region code on a DVD player. If you encounter other issues when changing the region code of the player, check the following article to get more relative solutions.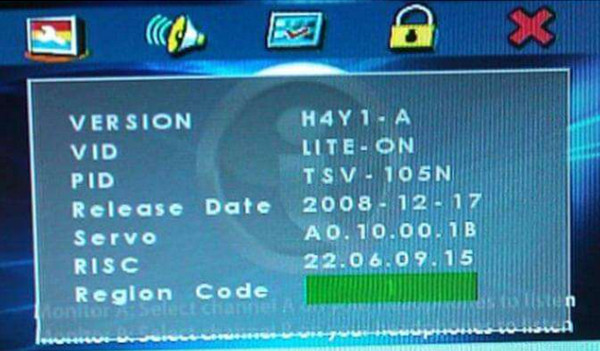 Further Reading
DVD is Playing in Black and White: Why and How to Fix It
Solution 2. Modify the Region Code of Your DVD Drive
Aside from your DVD player, your DVD drive may also be locked with region codes. Suppoed you have a region-1 DVD, you can follow the steps here to change your DVD drive to be compatible with that DVD..
Step 1
Launch your Explorer, and look for your DVD drive located at the Devices and Drives.
Step 2
Click on your drive, and select the Properties option. Now go to the Hardware tab, click your DVD drive, and hit the Properties button at the bottom.
Step 3
Click the DVD Region tab menu in the next window, and then choose your desired region for the DVD regions list. After that, hit the OK button.
Solution 3. Remove the Region Code By Ripping the DVD
Since changing the DVD region codes can only be done five times, you will need to know about this solution just in case you exceed the changing limit. Here, you can remove the code of the DVD by ripping it. That being said, it would be best to know about this Free DVD Ripper by Blu-ray Master. It is a ripping software that also perfectly extracts DVDs and converts them to various video and audio formats, MP4, MKV, AVI, WMV, MOV, and 200 more. Thus, it is a good solution to rip the DVDs with incorrect regions. Additionally, this program supports various output profiles that you can optimize for different devices, such as tablets, smartphones, gaming consoles, and other media players. Hence, here are the steps on how to bypass DVD region codes through ripping.
Key Features
• Advanced acceleration technology that rips DVDs rapidly.
• Support ripping DVD to 3D videos.
• Editing features and functions are present.
• Rip and convert your DVDs in batches.
Step 1
Insert the DVD into your disc drive and launch the software. Click the Load Disc button and upload the DVD.
Step 2
Once the DVD files are loaded, click the Format button and choose your desired format from the popped-up window.
Step 3
Now click the Apply to All button, then hit the Convert tab.
Part 4. Best Region-Free DVD Player
One best way to play to enjoy all the DVDs with regions is by using a region-free player. And for this best way, you will need the best player, like Blu-ray Player. It is an amazing program that can playback any type of Blu-ray and DVD regardless of their region codes, ISO, and folders. Blu-ray Player loads the disc and automatically plays them with the help of nice playback controls and an elegant interface. In addition, it also lets you configure the audio and video effects while watching, to have an excellent playback experience when playing DVD on Windows and Mac.
Key Features
• Play DVDs and Blu-rays without code limitations.
• Enjoy even the movies with up to 4K quality.
• Hardware acceleration technology.
• Smooth playback and transitions to files.
Step 1
Download the player to your computer device by clicking the Download buttons above.
Step 2
Launch the software, and click the Open Disc button to load the DVD you have inserted into your drive.
Step 3
As easy as that, you can now enjoy watching the DVD you uploaded. Use the playback buttons shown at the center-bottom part of the interface.
Part 5. FAQs About DVD Region
Are DVD players region locked?
Most of the stand-alone DVD players are region-locked for digital rights management.
Are external DVD drives region-free?
Most of the external drives are locked by regions. But some are free-form regions.
Are most DVD players multi-region?
No. DVD players are designed to play their designated region only.
Are PC DVD drives region-free?
No. Built-in PC drives are not free from DVD region.
Are PS3 and PS4 region-free DVDs?
No. PS3 and PS4 are locked with regions of DVDs.
Do Blu-ray players play Region 2 DVDs?
Only those Blu-rays with a Region 2 code can play Region 2 DVDs. This is because Blu-ray players are also locked with regions.
Conclusion
This article talks about the DVD Region codes and the corresponding countries they cater to. Now that you know the region codes sufficiently, playing your DVDs will be much more efficient in avoiding playback errors due to incompatibility.